Back
Winners tales – Ed Fernon and Barry Armitage – 2017
A tale of two gritties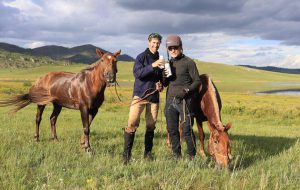 2017 was always going to be competitive.  It more than lived up to that billing, and in amongst the usual Derby tall tales of adventure and mishap was a thread of more tactical sporting behaviour. The champions, appropriately, were two sportsmen who embodied an Olympic level of focus and energy, aimed for the victory, and achieved it.  Barry Armitage of South Africa, on his third attempt at the race with big scores to settle, and Australian Ed Fernon, an Olympic pentathlete on his wildest ride to date, crossed the line hand in hand at tea time on August 15th. The glorious surroundings, of Khangal Nuur, a beautiful and secluded lake in the almost Alpine meadow of Khentii province, north eastern Mongolia, and the genteel final fifty metres, an almost comically tentative walk to the line aboard their final Derby mounts, might have suggested they were just two guys about to take tea in the sun.  World's Toughest Horse Race? What happened to that?
The truth was that both Barry and Ed felt that if they were to race for the line, they would hand the race to their rival.  Better a pact for a joint victory – this was our second ever joint win so they had the comfort of knowing that HQ would have to go and get a second trophy…I don't know why more riders don't do this – than losing the win right there on the finish line by failing the final vet check.  Is such a cruel fate possible?
Oh, very much so.  There is precedent, starring Barry himself. In 2012, he crossed the line in a dead heat with the Irish jockey Donal Fahy, in what was undoubtedly the most thrilling finish ever.  But as the beers and cheers were rained down upon them both, and they walked their horses off, it was obvious that Barry's horse was lame. He was awarded a vet penalty, and suddenly, a two hour gap separated him from the winner, which meant an eventual sixth place finish for him.  So – careering over the finish line to get the best photo (oh, it was a pearler) can have very heavy consequences. It made total sense for Barry to hang back not gallop.
But why didn't that hand the victory to Ed, unencumbered by such Derby-specific trauma?  He could have just trotted past, no? Here I think Ed made some canny calculations about risk and reward, perception and reality. There is something unsavoury about victory at all costs, even perhaps in shaking on it a kilometre out and saying "may the fastest horse win".  Firstly, the Derby riders are carried and propelled by nearly thirty horses. 1000kms is a very, very long way, with some kilometres whooshing past almost without touching the sides. Others requiring many hours of faithful and tedious chewing to be digested. It's a marathon, so to turn it into a sprint finish, judged only by the talents of a single horse, is perhaps not doing it justice.  Maybe Ed and Barry judged the spirit of the event there and came to a philosophical agreement – if 999.9 kms hadn't separated them, don't let the last 100 metres do it.
An equally plausible theory is that Ed had endured his own fair share of Derby-specific trauma, and had reached the same conclusion as Barry – this race is yours to lose, not to win – for subtly different reasons.  No one rider has rattled the infrastructure of the event as Ed has. The most competitive and meticulous man we have ever admitted, and one of the most decorated as a bona fide Olympian, he was there to ride as fast as he could, in every available racing minute, no more, no less.  He wasn't there to enjoy a cultural exchange or to "see what the horses were like". The vet checks were tactical obstacles to be overcome, rather than discussions about how the horse was feeling and recovering, and within the rules of the 30 minute recovery window, he did everything he could to get through them as quickly as possible and on to the next horse. He tended to ride most of the leg so fast that he could spend the last half hour at a walk or walking in circles, waiting for the horse's pulse to drop sufficiently before presenting to the vets. Whilst not technically against the rules, this pattern caught the attention of chief Referee Maggie Pattinson, and perhaps more importantly the herders who own all the horses we use on the event; yes, they were passing the vet checks, but they were also finishing their leg exhausted rather than fit to travel home. Ed was not making friends, though he was certainly making great headway on the race. Only at station 8 did his horse fail the vet check on pulse, and by then most of the field, many with far more experience as endurance riders, had had the same experience.
In a Derby first, Maggie herself issued a veterinary penalty, which is within her powers as referee, for inappropriate riding in the closing chapters of the race, having already issued a warning to him, and a long discussion of the gallop and walk style and its effects on the horse and its metabolism.  More marathon, less sprint, please Ed. HQ were instructed to track his speeds with every shred of data we could get our hands on, and when we spotted another very fast leg, extended stoppage time 5kms out, and walk in to the station, we reported back that the discussion did not seem to have stuck. It was an exceedingly terse discussion between HQ and Ed as his penalty was issued, challenged, and eventually upheld.   He made the excellent point that we were not tracking everyone else with that degree of fervour, so how could we prove that he was doing something different. The event had never felt so serious, nor generated such a bank of bad feeling. The Derby had hit peak identity crisis; was this an adventure, (in which no horses can be harmed), and if you don't agree well it's only two hours and you'll forget about it by the time you go home? Or was this an equine Olympic Games?  Certainly plenty of the Twitterati had things to say about the situation. Whose opinion really mattered here? What data is appropriate, and what analysis is expected to be available? Is there a 'too fast'?
In the end, the herders' opinions, and the refs' opinions mattered.  The core principle of the event would be eroded if not – horses before humans. Always.  If we were wrong, he sat two hours unjustly and knew he was being watched like a hawk, unjustly, for the rest of the race.
And here's where it gets interesting.  A less composed, less professional, less Olympian individual might well have thrown the towel in.  Ed just zipped it, rode on and found another strategy. He was briefly headed by South African challenger Jakkie Mellet, whose laid back charms and highly horse-centric methods made him the darling of the steppe.  He would habitually unsaddle his horse and walk it in for the last kilometre to help take the heat out of him, and rode at a nice consistent pace which kept them squarely in the aerobic happy zone throughout. The vets, the herders, the horses all loved him.  And yet….even Jakkie got hot headed in the crucible that is the last 100kms of the Derby. By this stage, Barry, Ed and he were all vying for the lead, and it was Jakkie who took a vet penalty, for pulse, at HS27, the very last one before the line. He had pushed too hard and gone too fast, despite all of his skill and experience.  That could so easily have been Ed, or indeed Barry, but it wasn't. Both of them had learned their lesson and refused outright to smell the finish and be drawn into a suicide dash for the line. More marathon, less sprint. Suddenly, Maggie's remonstrations made perfect sense. Perhaps her harsh administration of Ed in fact handed him the win, in the end?  Barry had been saved five years earlier, and in fact, his training ground might have been the 2011 edition, when riding with his partner-in-adventure and brother-in-law Joe Dawson. Having overcome myriad mishaps and carved their way back up through the field from last to within 3 hours of the leader, they both developed the chasing instinct and picked progressively wilder horses to be strapped onto.  Just 100kms from home, one of these equine missiles bucked Barry clean off, and he suffered a torn rotator cuff. Unable to even lift the arm, barely able to manage the pain, he could ride no further. He didn't finish.  
In fact, until August 2017 I would have ranked Barry as the unluckiest rider to date.  No-one had earned a clear round more, and he rode an almost exemplary race in 2017. He tempered his ambition with his horsemanship, correcting for mistakes made in hard won lessons on previous editions.  He is a true adventurer and a master tactician. It felt entirely appropriate for Barry to finally take the crown, and to see him share the podium with Ed, as two genuine sporting greats, both bruised from their encounters with this race, was deeply gratifying.
Author: Katy Willings