Back
Day 1 – 2019 Mongol Derby
Holy thundering hooves of wonder that was one hell of a start to the race. Currently, your correspondent is exhausted after getting no sleep for a week in the run-up to the launch so I apologise in advance for the brevity of this update.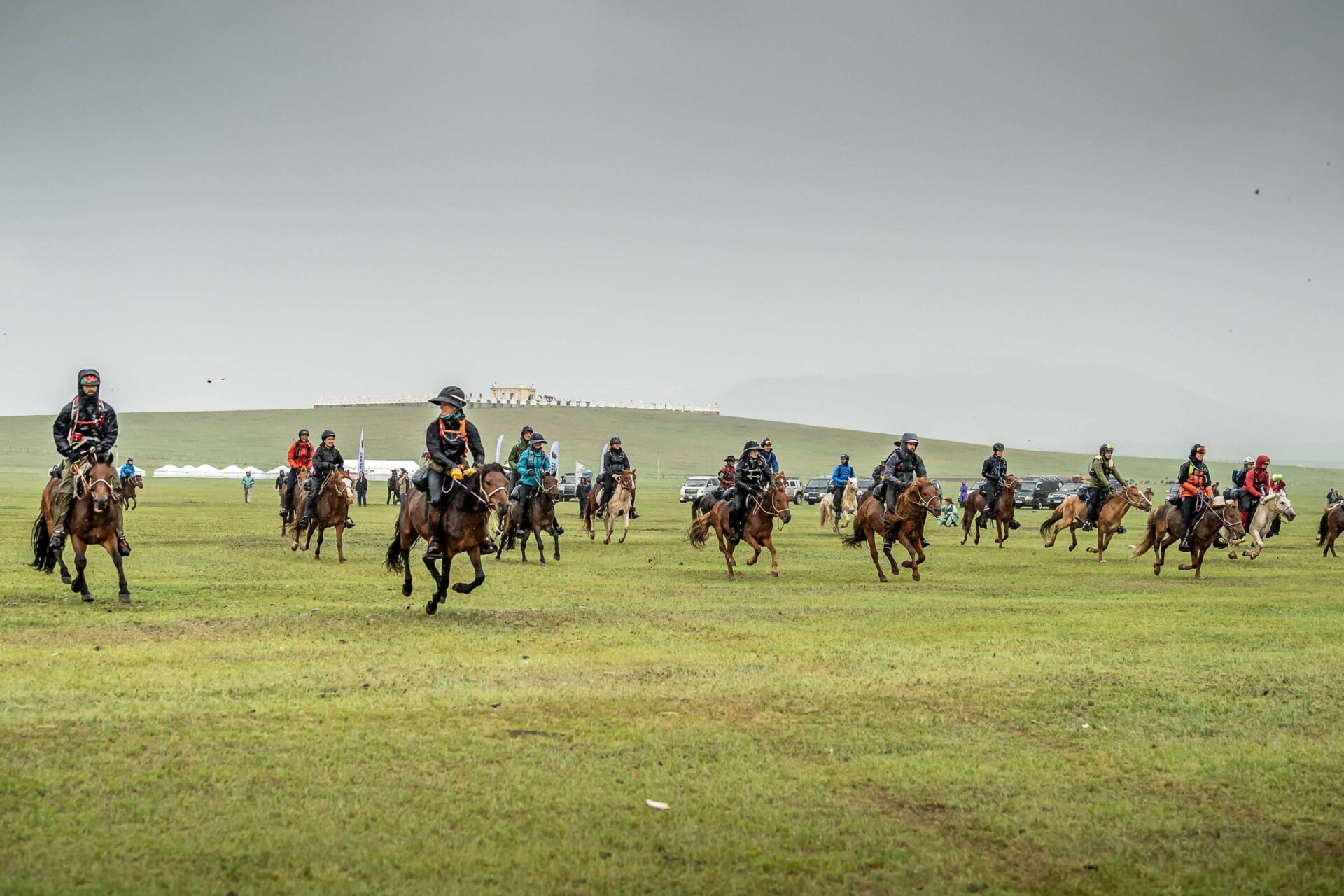 After being baked in the sun for the training sessions, the riders had their first slap about the face by the weather of Mongolia. The skies opened just as the riders started to tack up. What began as a slow drizzle evolved into a prolonged soaking that made sure it was hanging around most of the day. Our concerns for the riders turned from heat stroke to hypothermia.
They lined up and ripped out into the wilderness at about 10:30 am Mongolia time.
Bob Long (RL) and Frank Winters (FW) (Both hailing from the USA) pushed into the front pack showing all these young whippersnappers how it's done. Frank somehow managed to sneak out of HS2 forgetting to go through the vet check and came right back to lose his place in the front herd and leaving Bob to continue to show some most marvellous horsemanship.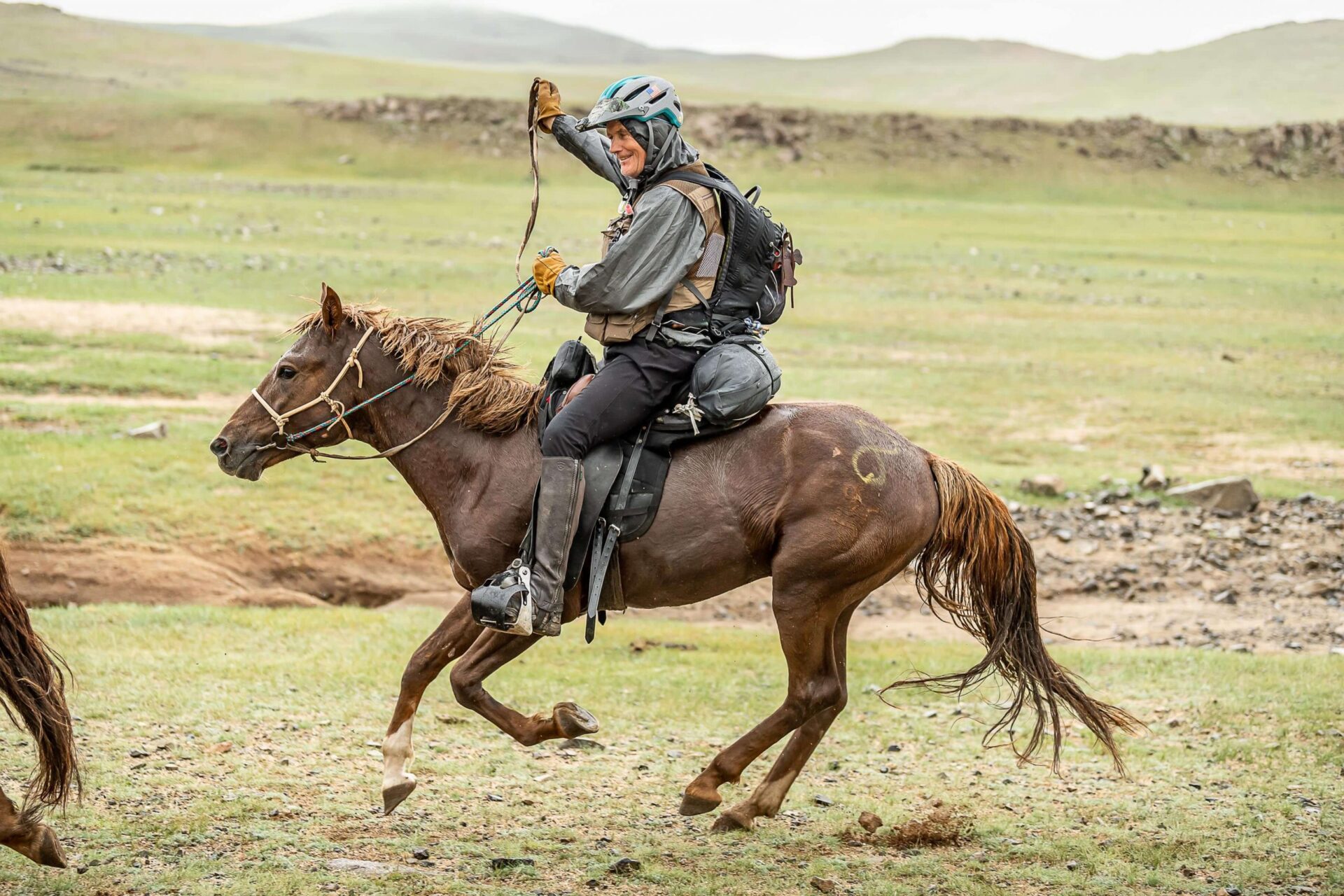 Bob Long (RL) making it look easy as he flies along the course.
Sampie Mokoakoe (SM) was riding with fellow South African Wiesman Nels (WN) after we sadly we've had to say goodbye to the third of this SA party, Vasin Govender (VG) who fell badly on his shoulder at the pre-race training damaging his shoulder.
Another rider who unfortunately couldn't start was Sam Franklin (SF) who had a rather nasty case of the grollies. He has come back to UB to rest up and we hope to see him back on the field shortly.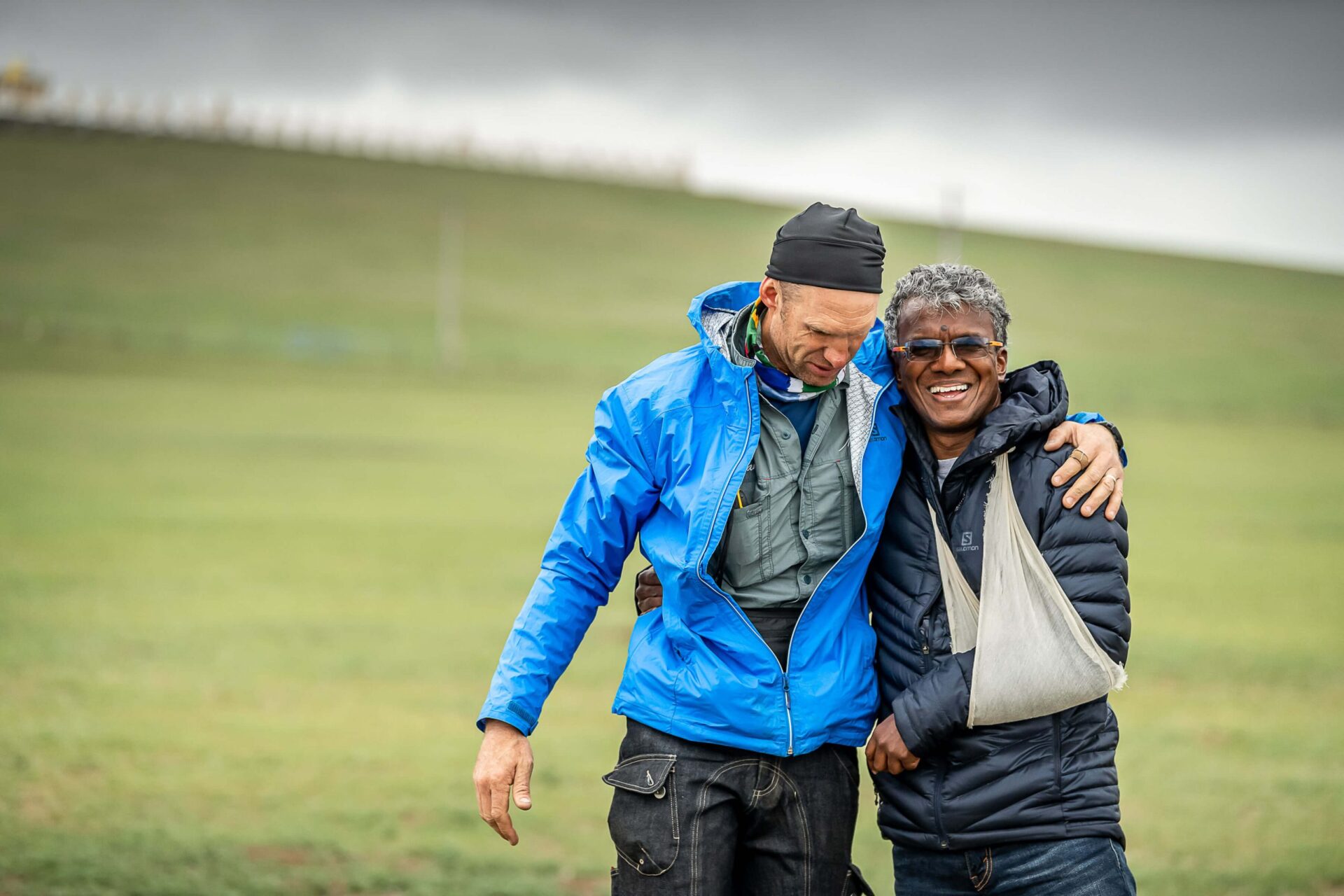 Vasin (VG) seems a lot less concerned by the fact his arm is buggered than Wiesman (WN).
After about an hour Erin Nagel (EN) riding with Benjamin Materna (BM) took a nasty fall and a bang on the head that's left her with a mild concussion and a broken nose. She's doing well now back in UB to rest up.
The tail of the Derby is comprised of 10 riders overnighting at Horse Station 2…
JK, FD, MF, RR, ASB, AM, TV, AD, MP, EM
Then camping out between 2 and 3 we have HB, WN together and EL camping on her own with a family.
Filling up the gunnels of Horse Station 3 we have the bulk of the pack…
SB, AB, JB, PL, JH, LG, FW, LV, AK, BM, HR, SC, KE, KA, ES, MV, CK, AW, SCH, SM, NC, LK, JC, RRO, KH
And pushing the early lead by camping out together between HS3 and HS4 are the global trio of Bob Long (RL) from the USA, Ahmed Alghurair (AA) from Dubai and Zsofia Homor (ZH) from Hungary. After a brilliant day of riding from all three.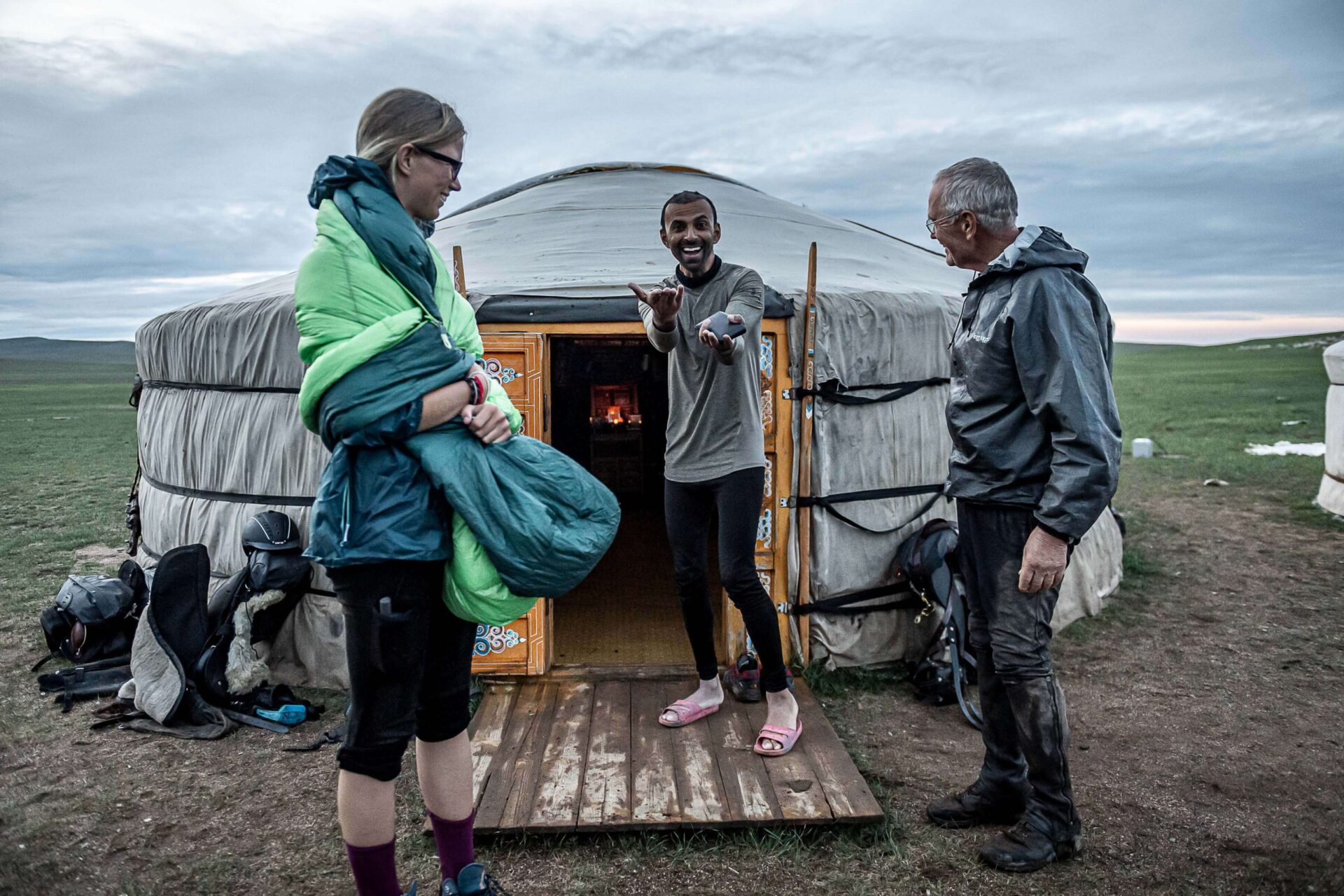 Team Planet Earth camp out in the lead.
But at this stage, it's anyone's race. New/old navigation rules are already bringing an extra dimension back into the race. In the previous few races riders have been given a breadcrumb trail on their GPS units to follow. But for 2019 that's gone and replaced with topographical maps and the riders have to navigate for themselves. It means navigation skills are once again a core part of the riders success-probability-matrix.
Having said that 12 riders will be held for a small technical penalty tomorrow for not following the marked path from the start line to HS1. The breadcrumb trail was kept for the first leg only. So in the interest of fairness to those who stuck to the rules we will hold the riders who ignored the line in favour of a shortcut for the average amount that we can calculate it saved them.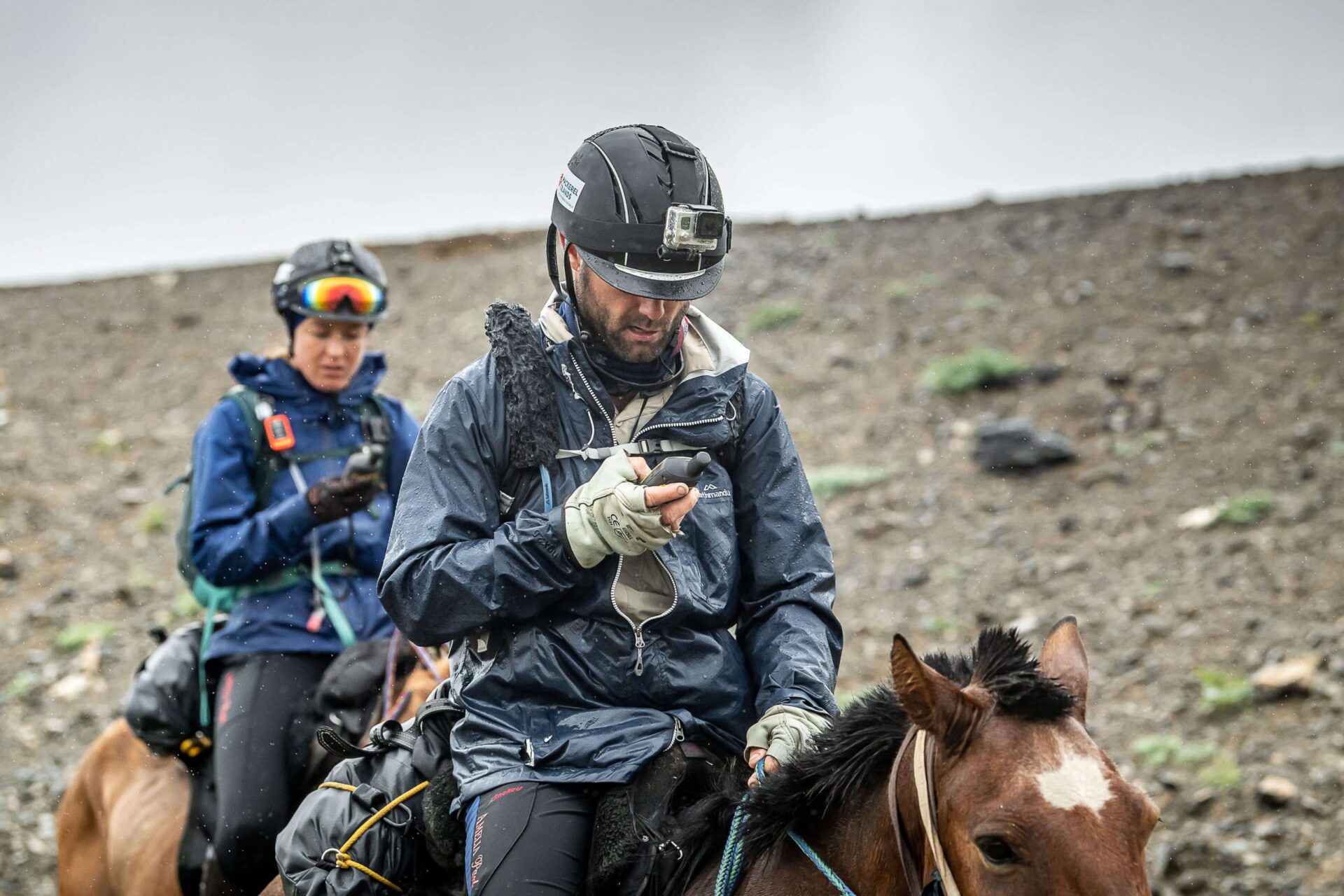 Sarah Brown and Jesse Byrne from Australia figuring out which way to go under the new navigation rules.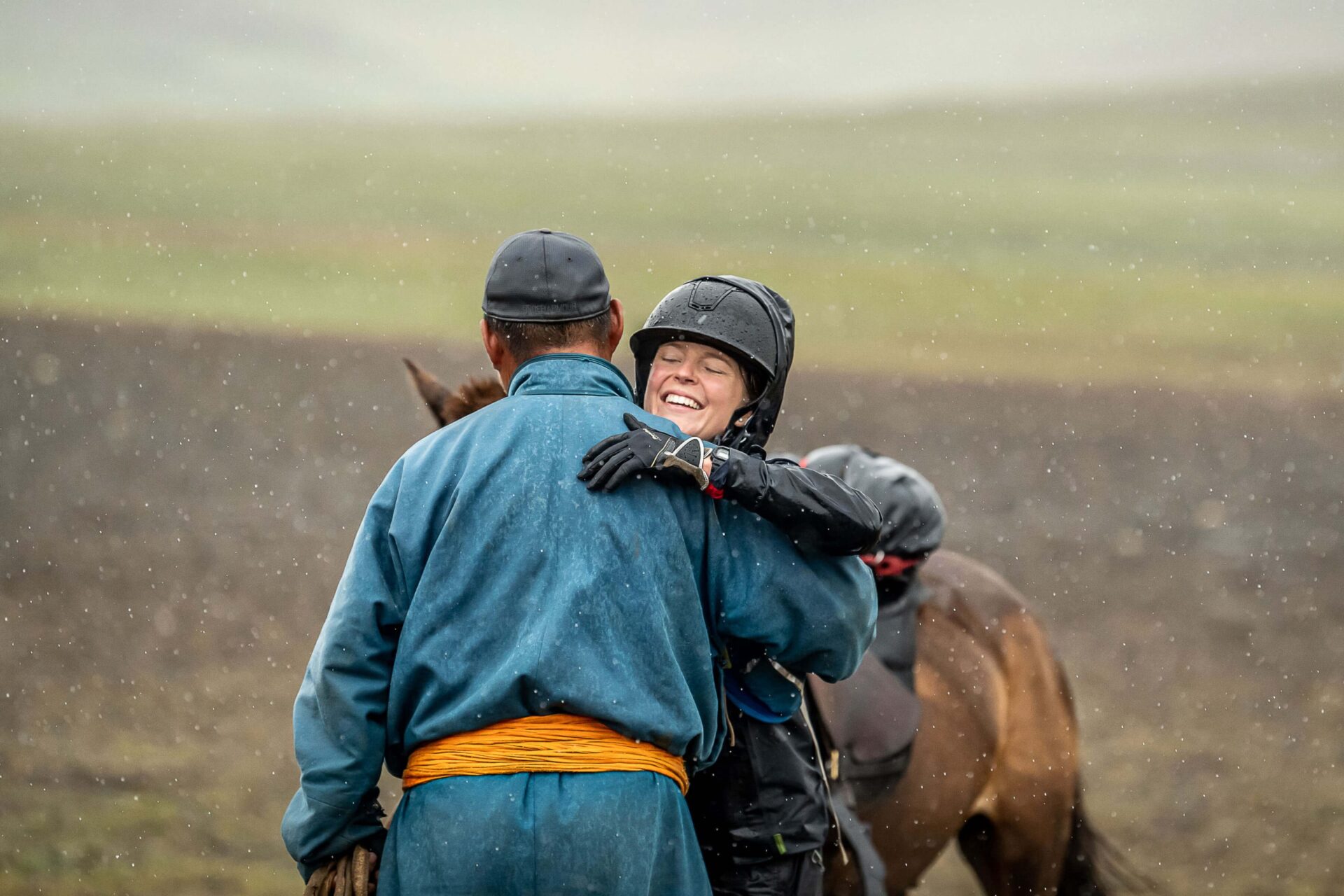 Julia Conway hugs one of our awesome herders who supplied her equally awesome horse.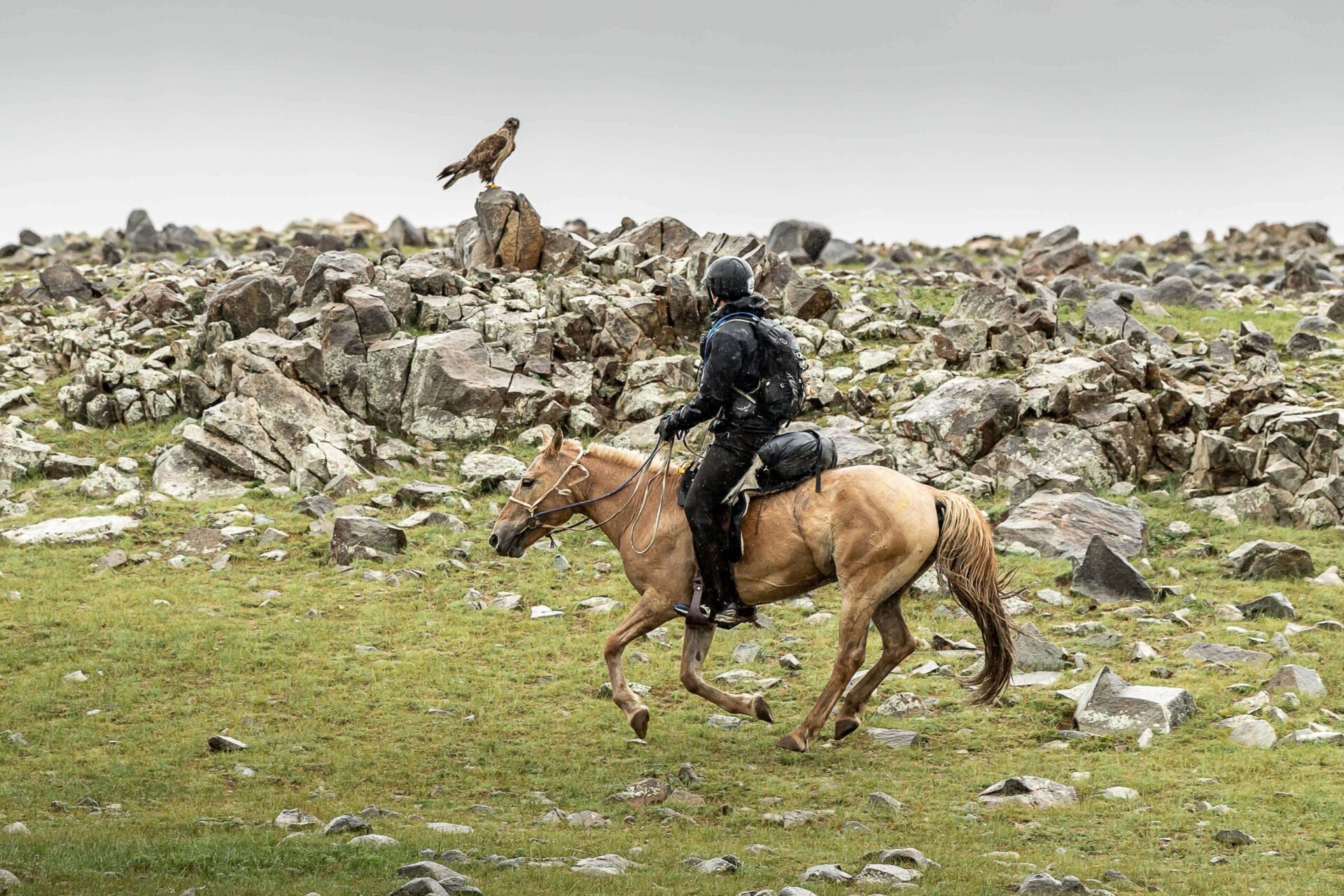 And this shot of Australian Sam Chisholm (SCH) takes the image of the day. Thanks to the rather incredible Sarah Farnsworth (photographer).
Follow all this live on the website tracking map, on twitter or Instagram.
Tomorrow we'll give you a better update. Promise.
RIDER CALLSIGNS
| | |
| --- | --- |
| ASB | A.S. Binnendijk |
| AB | Abbi Bell |
| AA | |
| AW | Alanna Watt |
| AM | |
| AK | Annette Kriller |
| AD | Ava Drake |
| BM | |
| CK | |
| ES | Elise Stables |
| EM | Ella Mildon |
| EN | Erin Nagle |
| EL | Esther Leenen |
| FD | Francis Delaey |
| FW | Frank Winters |
| HB | |
| HR | Holly Rivett |
| JK | |
| JB | Jesse Byrne |
| JC | Julia Conway |
| JH | Justine Hales |
| KA | Katie Angus |
| KH | Katie Hasse |
| KE | Kelsey Eliot |
| LG | |
| LV | Linda Vegher |
| LK | Lucinda Kyle |
| MV | |
| MF | Michael Field |
| MP | Molly Pearson |
| NC | Naomi Cheyenne Carmen Candide Crombeen |
| PL | Patti Long |
| RRO | Rachel Roman |
| RR | |
| RL | Robert Long |
| SC | Sally Conway |
| SCH | Sam Chisholm |
| SF | Sam Franklin |
| SM | |
| SB | Sarah Brown |
| TV | Taggert VinZant |
| VG | Vasin Govender |
| WN | Wiesman Nels |
| ZH | Zsofia Homor |