Back
Day 6 – 2019 Mongol Derby
Day 6:  
Jump in, let's go
Lay back, enjoy the show
Everybody gets high, everybody gets low
These are the days when anything goes 
Every day is a winding road…   
– Sheryl Crow 
There's only one thing certain about this race: no two Derby days are ever the same, but that just makes it more fascinating. When we closed up action on Day 5, we had the front runners gunning for HS20, a few of them camping out and expecting to rocket into the station, do a quick changeover and be well on to their way to HS21 before the rest of us had time to wipe our bleary eyes and brew a coffee. Two medical evacuations late yesterday threw a wrench into that plan, however, and HQ called a race hold for the morning of Day 6 until medical teams could get back in place. Most riders no doubt enjoyed the extra bit of R & R, especially since the weather once again did a complete 180 sometime in the night and began bucketing down.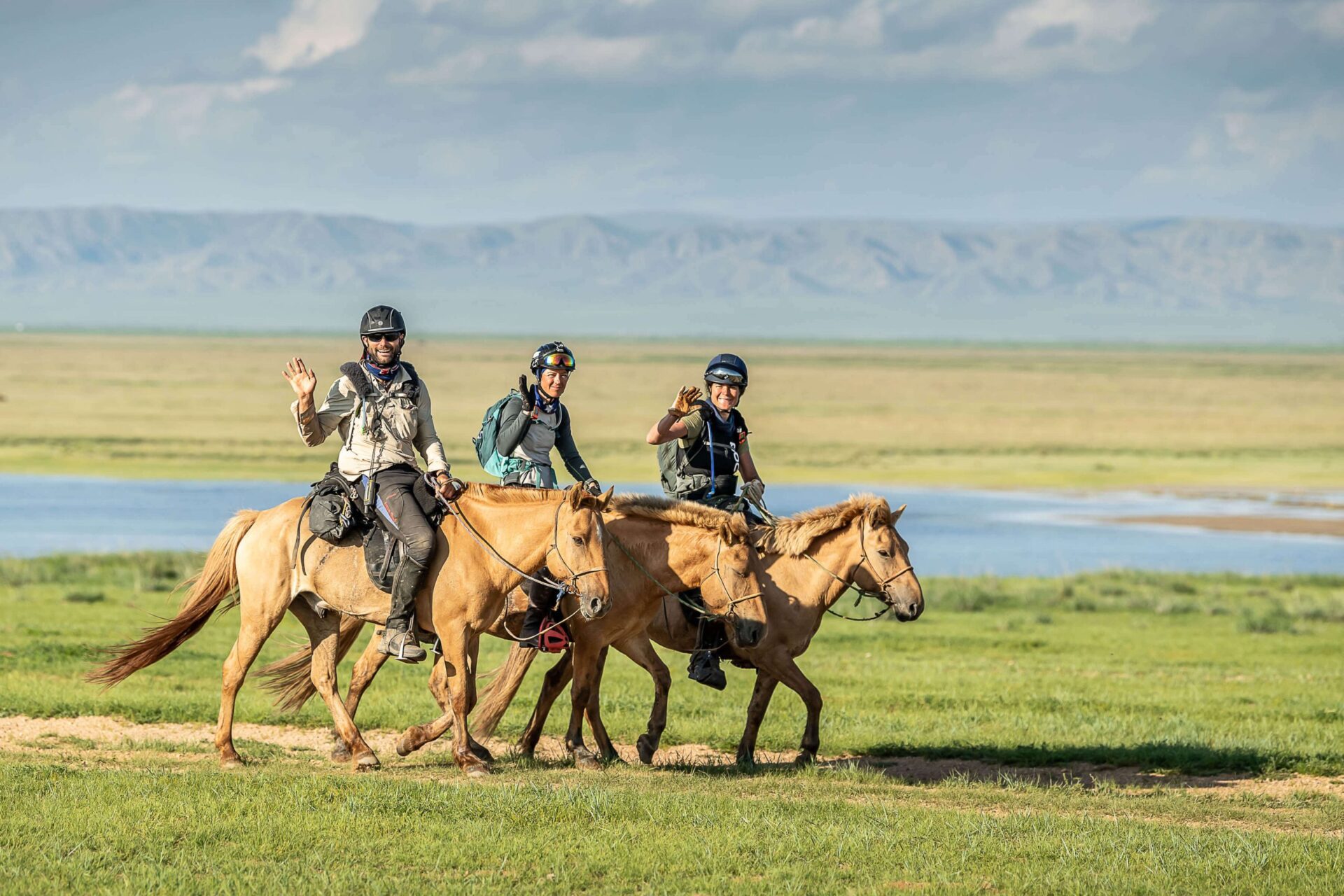 Sarah Farnsworth (photographer).
We were back up and racing at 10am, with Bob (RL), who didn't get the race hold memo (it was broadcast to each rider's tracker the night before, but – ?) having to delay departure from HS20 for 28 minutes to square up for riding in before the hold was lifted. Ah well, nothing fazes this guy, and he arrived at HS21 at 12:35 where Anna vetted his horse in with a pulse of 52, noting the horse "looks like it could go again!" Bob, by the way, looked strong and we would expect nothing less at this point. "Bob the Cowboy Spirit Warrior" they're calling him now, and he's become a veritable legend on the steppe amongst the herders, who are no slouches themselves in the horsemanship department. May we also mention that Bob has nary a penalty to his name besides a 25-minute tech penalty for missing a course marker way back on Day 1 which will be accounted for at the finish line. Let's not forget to factor that in, should it come to a sprint for the finish. When asked by vet Cozy at HS22 how it feels to be in the lead, Bob deadpanned "Am I? I can only see frontwards; I don't know what's behind me." He was frontwards through HS23 tonight at 7:28pm. It will be a push for him to get to the finish tomorrow, but the last leg is shorter with a one-hour window at the finish for the horse's heart rate to recover, so…Go, Bob, Go. Tomorrow will be an exciting day regardless.  
Camped just behind Warrior Bob this morning were Jesse (JB), Margreet (MV) and Sarah (SB) who are also riding impeccably, the only penalty amongst them Jesse's technical penalty for a carryforward to HS20 after losing his horse sometime in the night. This separated him from Margreet and Sarah for the rest of the day, but at close of business Jesse had narrowed the gap, making it to HS22 while Sarah and Margreet were camped out just beyond HS22. The front pack has somewhat reformed, with SM, JH, JB, ZH, FW, WN, SCH, and ES overnighting at HS22 and the majority of them having late riding penalties to sit out in the morning.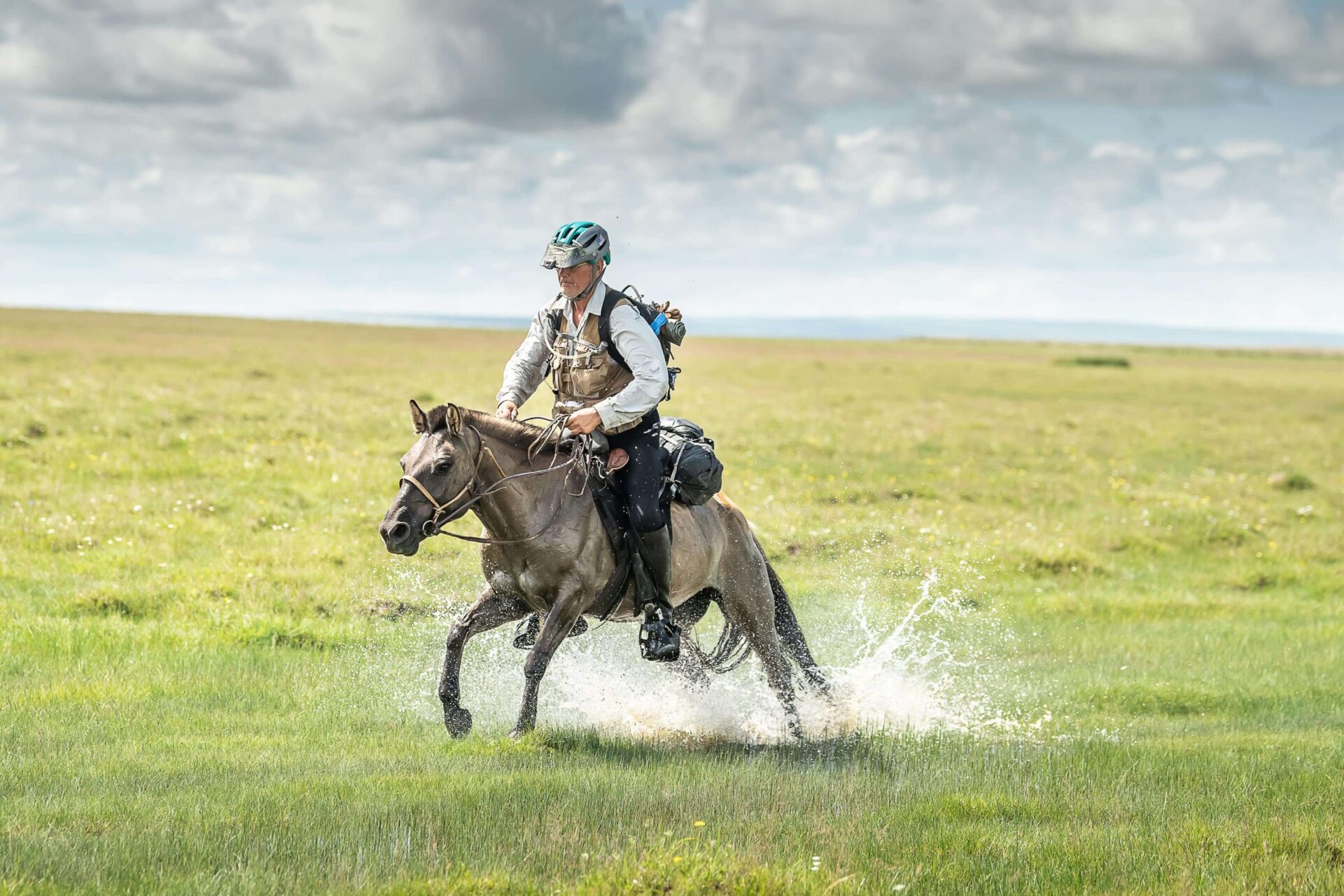 Sarah Farnsworth (photographer).
 Ahmed (AA) who kept pace with RL for many a leg has dropped back two stations behind the lead after picking up his third vet penalty (two for heart rate, one for lameness). Annette (AK), back for her second attempt at the Derby after an injury late in the game in 2017, has been doing a steady pace after sitting out a late riding penalty (30 minutes) for late arrival at HS17. 
Riding at the back, Alanna (AW) and Holly (HR) continue to amaze and entertain HQ with their utter lack of navigational prowess. In the words of Tom, Mongol Derby Chief and found of  The Adventurists: "Alanna and Holly: Brilliant riders; can't navigate for shit." The duo each chalked up three-hour late riding penalties for riding between HS15 and 16 after 8pm last night, and were one minute shy of a DQ when they finally stopped at 8:59pm. Their explanation? Thought they saw a ger…but nope, they parked on the steppe and crawled into their sleeping bags.  Just as the skies opened up at 3am, vet-in-shining-armour Fred from HS15 appeared in the mist to shepherd them back to warmer environs, and they rode out this morning in slightly less soggy gear.  
The news from the back of the field has been mostly of the "steady on" or "bucked off" variety. By Day 6, you're nobody if you haven't been bucked off a few times, and Sam (SF) 'fessed up that until today, he had never had an involuntary dismount. Welcome to the club, Sam, you're no longer a dirt-plant virgin.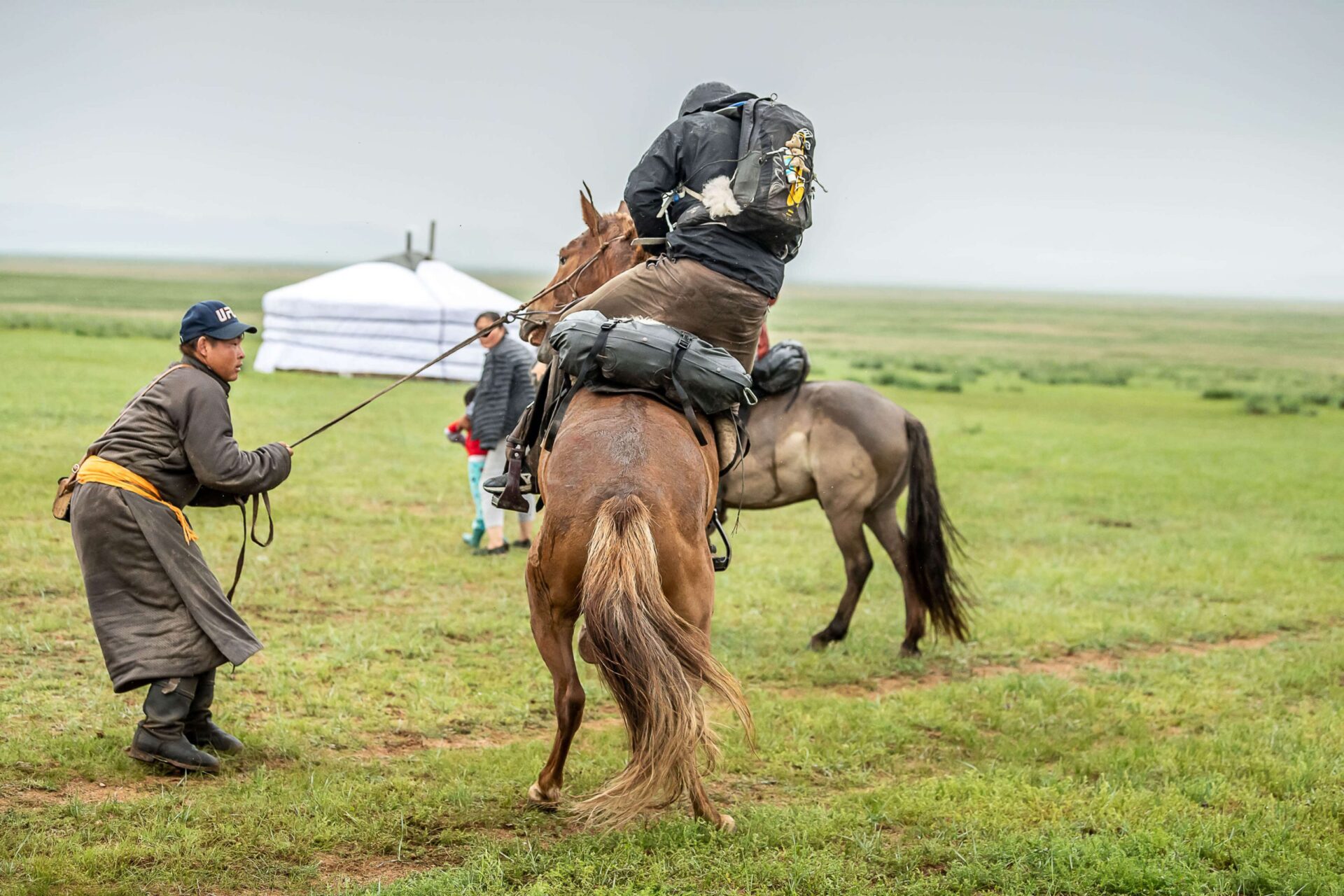 Sarah Farnsworth (photographer).
Speaking of dirt, the dirty dozen at the very back of the group are sweeping up the steppe to HS17, and will need to continue their three-horse stations per day quota to finish the race by Friday. The crew has been working hard to get this bunch around, despite their own challenges with the soggy landscape. No fewer than three crew vehicles were stuck today, making crew logistics more challenging than usual.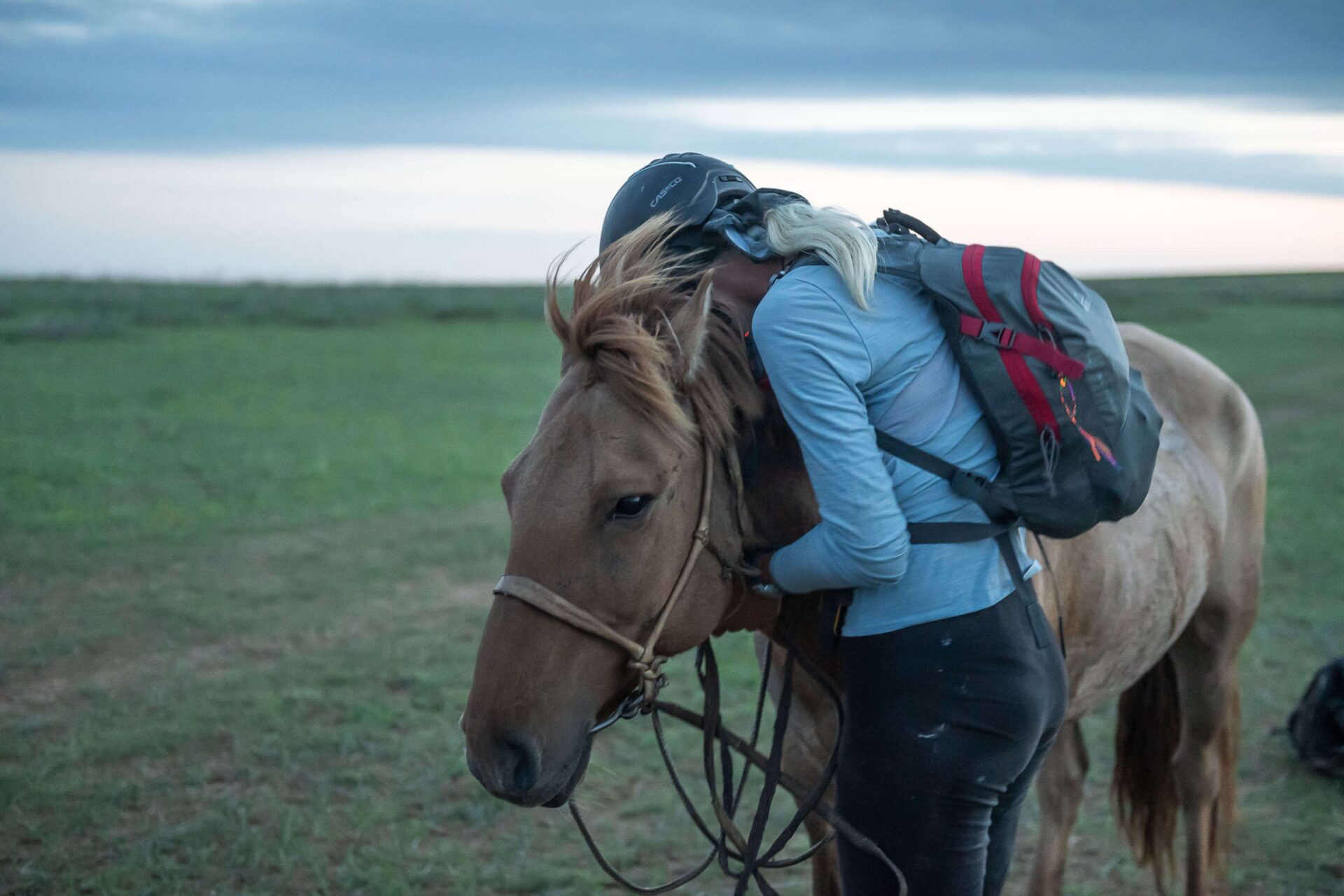 Sarah Farnsworth (photographer).
Tomorrow is another day on that winding road. Will we see the first rider across the line? Watch this space… 
Leaderboard – 12th August
1st RL
2nd SB, MV
4th JB, SM, JH
7th WN, SCH, FW, ZH, ES, LK
13th LV, BM
15th AA, KE, KA, JC
19th AK, LG
21st PL, AB, EL, AM, RR0
26th AD, FD, TV, CK, AW, HR, KH, MF, ASB
Adventure Category
EM, SF, RR, EN, JK, NC, SC, MP, HB
Retired
VG, PC