Back
Day 8 – 2019 Mongol Derby
It was a beautiful sunrise on the steppe this morning, and the crew at finish camp was up at the crack of ridiculous, getting ready for the flourish of riders set to cross the line today. As trackers sprung to life across the board, eyes turned to the horizon hoping to catch that first glimpse of Mongol Derby's 2019 champion. At the close of business last night, it was Bob (RL) parked just beyond HS27, a mere fifty-ish kilometer from the finish line, and Wiesman (WN) thirty-some kilometers behind him. The odds were in Bob's favour, what with his stellar, consistent riding from Day 1; but who could forget Wiesman's come from behind? He started the race on the back foot, picking up a vet penalty on Day 1 which placed him somewhere in the middle of the pack; yet he rode his way quickly back into the ranks past the front of the chasing pack to give Bob something to think about (if he was thinking about that at all; by all reports he is a single-minded machine when he's on a roll.) More than one Derby has been won and lost on the basis of heart rate penalties, and since Bob had a 25-minute technical penalty looming, anything could happen. Similarly, Wiesman was skating on thin ice penalty-wise with two heart rate penalties, and a third could cost him not only the race, but a place in the top five. Head vet Jeremy offered some insight into the respective strategies of Bob and Wiesman: Wiesman, an experienced endurance racer, monitors his horse's heart rate methodically, while Bob plays to his navigation strengths by riding the straight line as much as possible. Two excellent horsemen, two serious contenders, which one would take the top honours?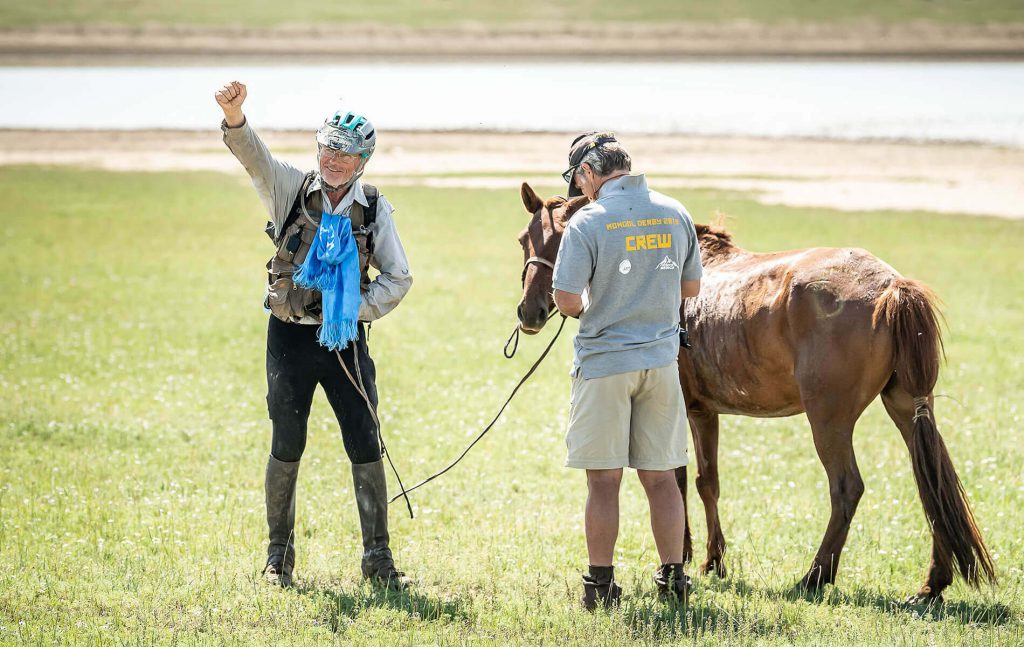 Sarah Farnsworth (photographer).
Bob and Wiesman were both away at 6:30 sharp, with Bob rolling into HS28 at 8:25 where he narrowly passed his heart rate check. We all waited with bated breath while he took his time in the turnaround, choosing his last horse for this amazing race. He rode a steady pace and the crowd was out in full force when he crossed the finish line at 11:03am. Not one to do things by halves, he completely drained a ceremonial bowl of airag ("I'm sure thirsty" he said) and took his horse down to the lake for a drink while he waited for his mighty steed's heart rate to settle. And settle it did. Passing his vet check with flying colours, he was officially declared the winner of the 2019 Mongol Derby.
Wiesman was quick to follow, riding in across the finish line at 1:05 pm, looking tired but strong. He vetted out with no problem whatsoever to claim second place – no mean feat, considering he put himself at a disadvantage on Day 1 with the penalty that put him in 26th place. He rode a steady and unrelenting race from Day 1 forward, however, working his way back up the ranks to where he was a serious challenger for first place.
The chasing pack of Jesse (JB), Sarah (SB), Margreet (MV), and Justine (JH) joined hands to ride across the line for joint third, an amazing finish for this bunch who have chased, chivvied and cheered each other and across 1000 kilometers. Chasing pack members Zsofia (ZH), who picked up her third heart rate penalty at HS28 putting her four hours behind the pack, and Sam (SCH), with a two-hour heart rate penalty, were across the line in the late afternoon. Sam ended his Derby experience in style, riding sans stirrups after injuring the tendons in his foot.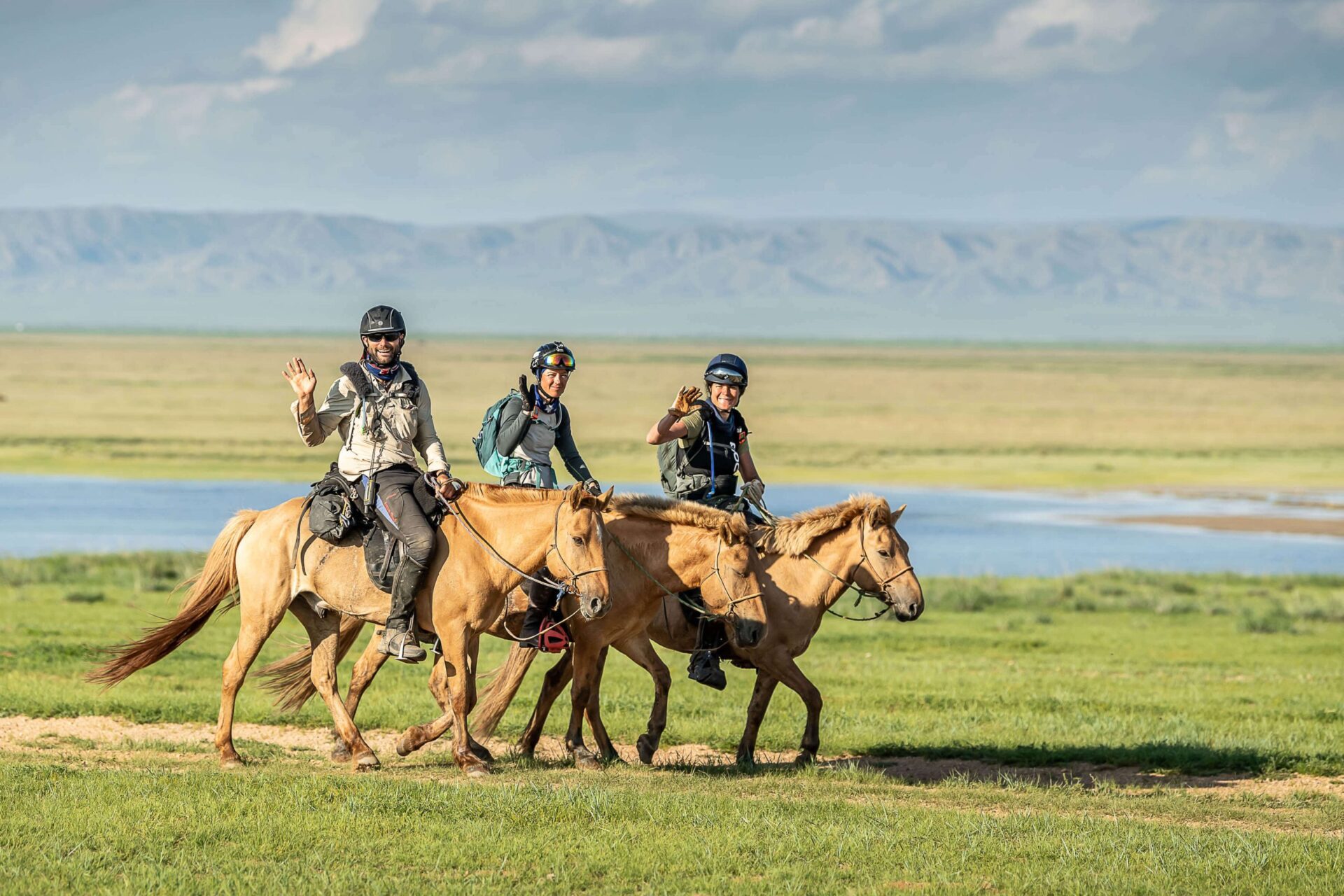 Sarah Farnsworth (photographer).
Frank (FW) rode to a respectable seventh-place finish, which is all the more remarkable considering he has shunned the typical long-distance riding gear. No quick-dry synthetic technical wear here; Frank rode 1000 kilometres in true cowboy style, wearing his Wranglers
and cowboy boots. Gotta respect that. He remarked he may just take those jeans home and stand them up in the corner, a souvenir of the steppe. Fitting, as they are composed of more than a little bit of steppe at this point…
The remainder of the field is parked at horse stations 24, 25, 26, and 28, with our serial campers Ben (BM) and Linda (LV) camped out between HS27 and HS28. We expect half of the remaining riders to finish tomorrow, with the tail end of the field finishing on Friday providing they continue to ride three-horse stations per day.
Special shout out to Sampie (SM) tonight, who rode today with the chasing pack for most of the day before finding himself on a scenic tour of the mountains en route to HS26. We had to call upon the translation services of event manager Charles to send an Afrikaans message to Sampie, asking him to hold his position so our team could reach him and help him return to the racing line. Before vet Kit could reach him, however, Sampie oriented himself using some kind of internal compass. Or maybe he navigates by the stars…astounding, considering it was mid-day.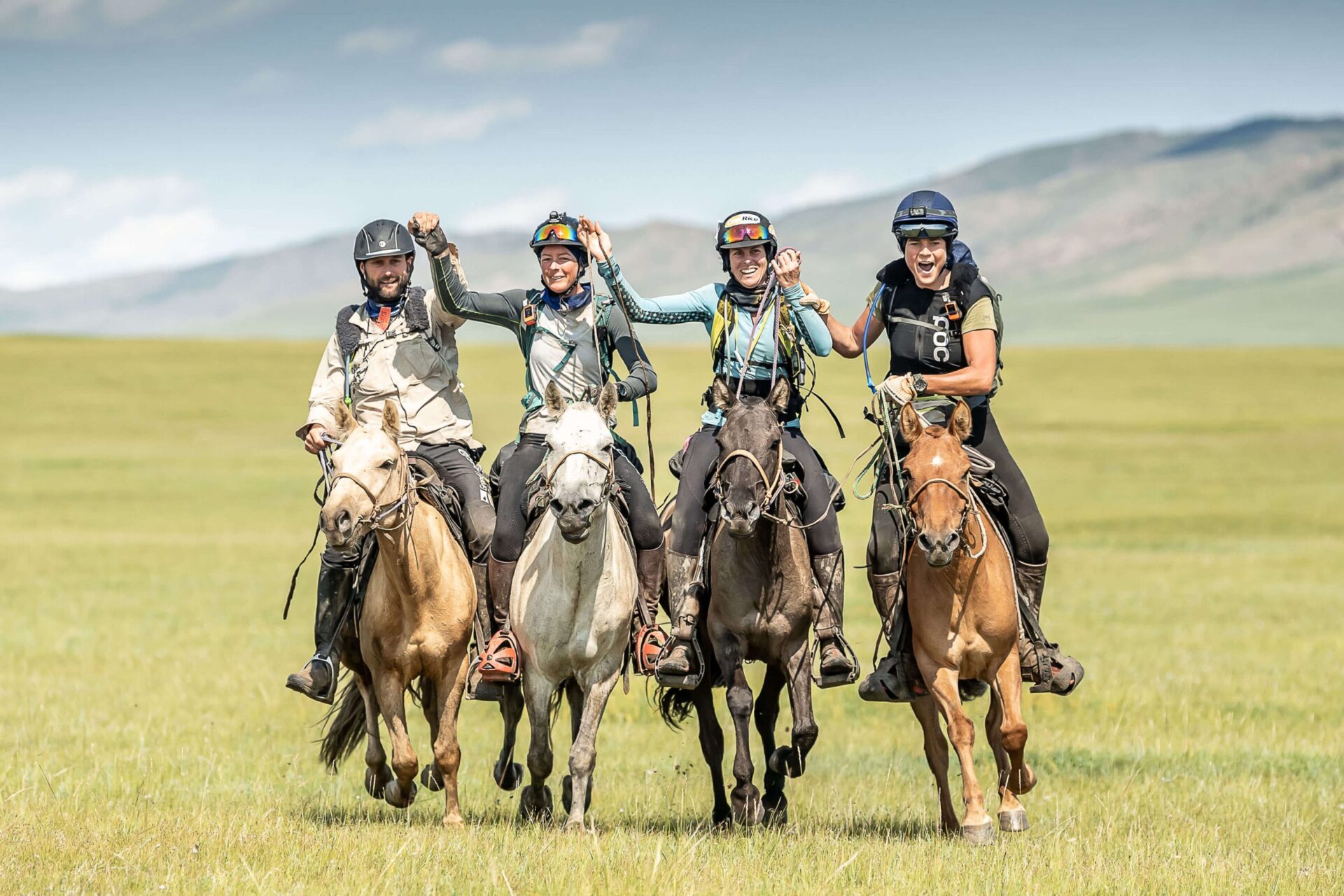 Sarah Farnsworth (photographer).
Tomorrow will see another dozen riders across the line, with only two more racing days left in the mighty Derby. Stay tuned…
Result board
1st Robert L
2nd Weisman N
3rd Sarah B, Jesse B, Margreet V
7th Frank W
8th Sam C
9th Zsofia H
10th Elise S
11th Lucinda K