Back
Day 9 -2019 Mongol Derby
Day 9:
There may be only one (or perhaps two, or in the odd case three) winners of the Derby, but each and every rider's experience is unique, extraordinary, and often life-changing. No matter where you place, or indeed even if you have an official placing, to ride in the Derby is the chance of a lifetime, an equine adventure dream come true. As the Derby winds down, the stories ramp up, bonds with other riders are forged, and friendships are solidified based on the sharing of an experience that is extraordinarily unique, difficult to define, and impossible to forget. With eleven riders across the line, finish camp is alive tonight with such stories, and with another day of racing yet to come, we have not heard the last just yet.
Day 9 of the Derby kicked into gear under a cold and rainy sky on the Mongolian steppe. Four riders – Katie (KA), Kelsey (KE), Julia (JC), and Sampie (SM) had parked themselves at HS28 at the end of Day 8, and were expected to ride in to finish camp by breakfast time. This group of riders had been trailing the leading pack for the past few days, riding consistently, keen to join their fellow competitors who had already crossed the line. The spectators, including many friends and loved ones who had arrived by bus at finish camp the day prior, gathered at the cold and blustery finish line just in time to catch the first three – KE, JC and KA – who rode over the line securing 12th, 13th, and 14th place respectively. They were followed in by Sampie, who capped off an unforgettable Derby journey that began eight days earlier with his partner Wiesman. Sampie, himself a crack rider and creative navigator, unfortunately, picked up his 3rd heart rate penalty at the finish line, putting him in 17th place overall. Campers Ben (BM) and Linda (LV), who win the "Most Authentic Derby Experience" award for their between-stations stopovers – who can forget the haunted ger incident? – rode in shortly after to claim joint 15th place.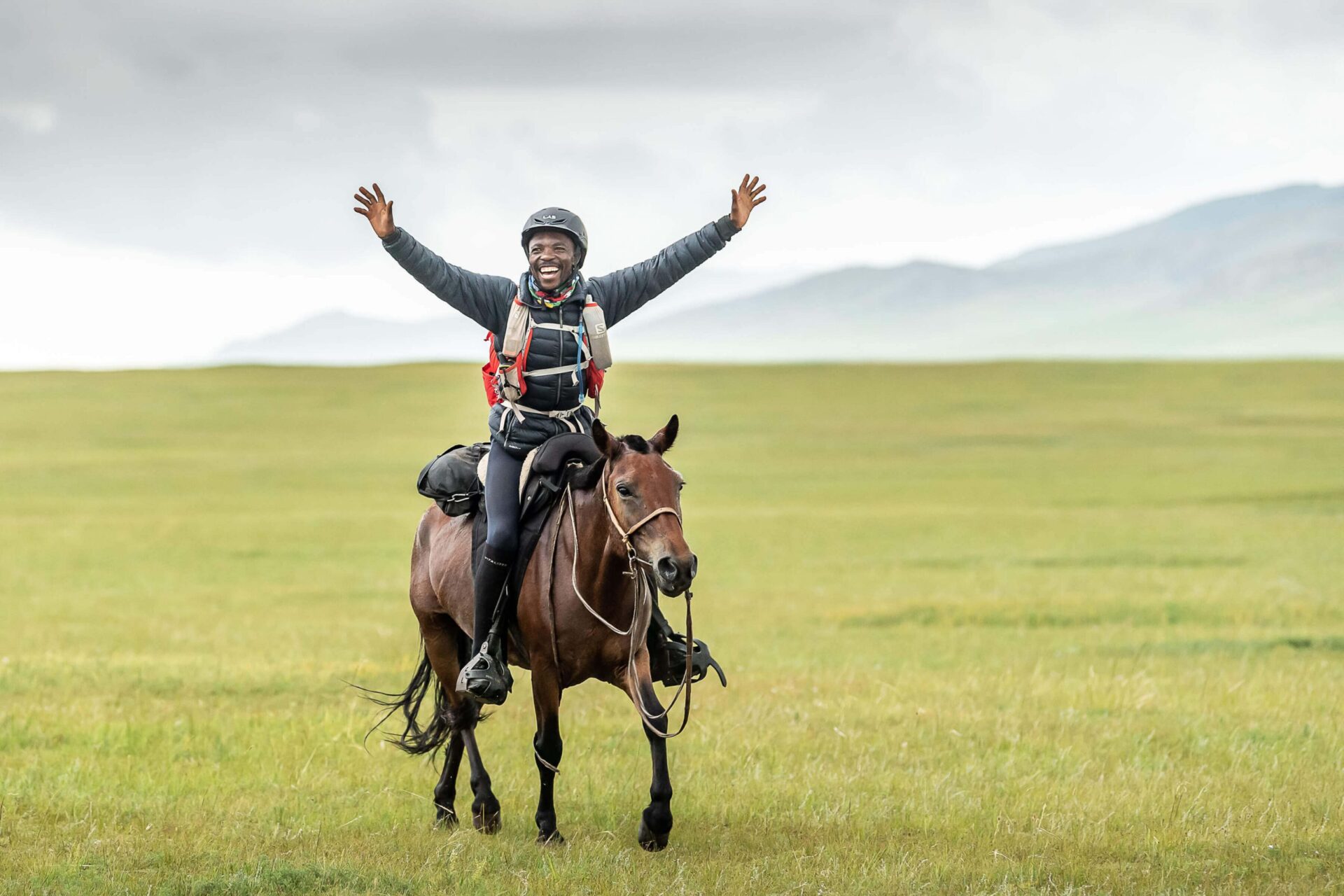 Sarah Farnsworth (photographer).
As the skies cleared in the afternoon and the sun turned up the heat, Annette (AK) and Linda (LG) departed HS28 and we expected them to make good time for the finish. Dot watchers perhaps noticed that this dynamic duo added a solid 10km to their last leg by reversing their route 5km out of HS28…sometimes you just don't want a good thing to end, I guess. Nevertheless, they made it to the finish line to tremendous cheers from the crowd. Annette, her second time riding the Derby but first time making it to the finish line (an injury on day 10 in 2017 shortchanged her Derby experience) hopped off her horse, accepted the customary bowl of airag, and was reunited with her husband who had been patiently waiting for her for the last couple of days. To say that this was an emotional moment is an understatement.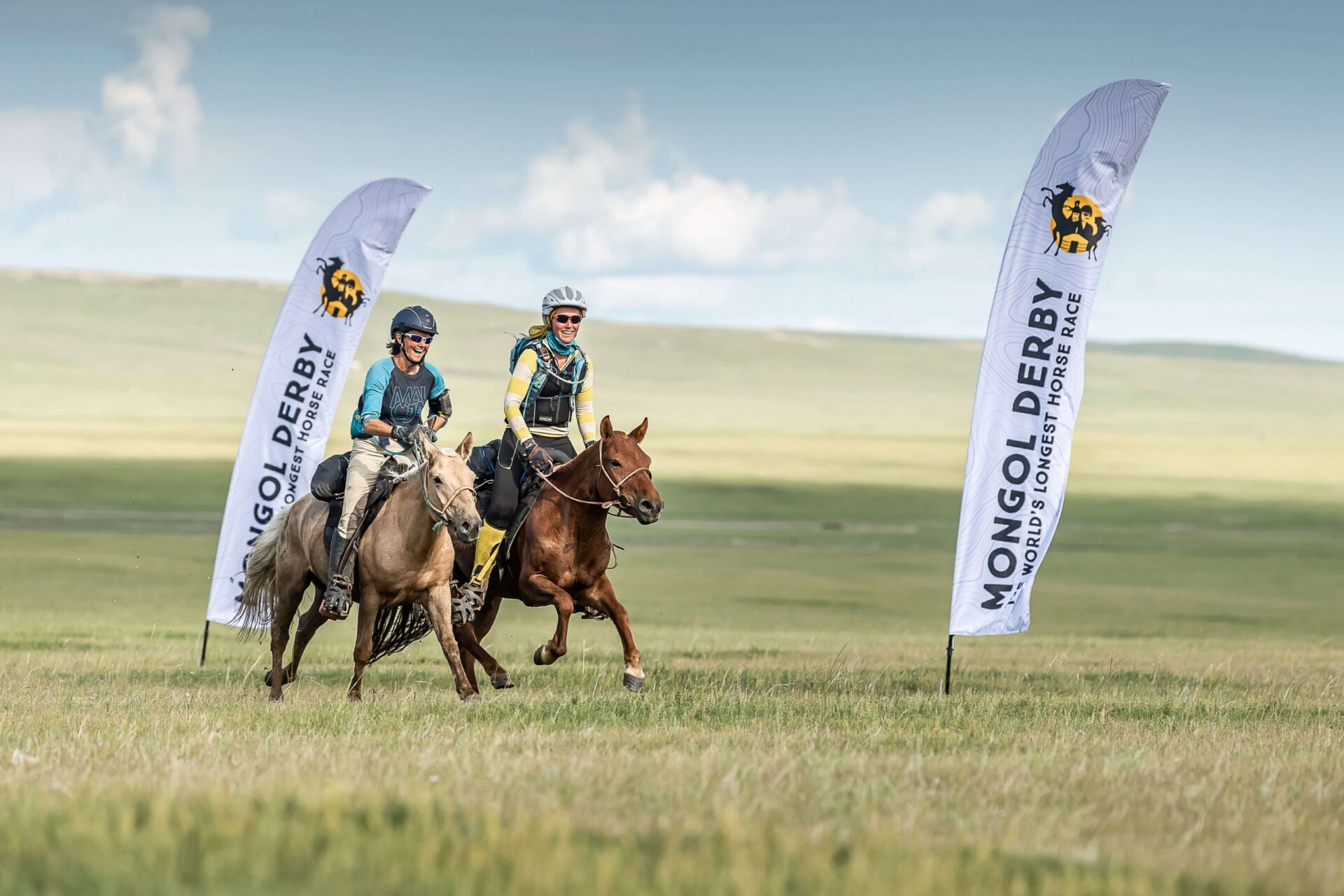 Sarah Farnsworth (photographer).
Late afternoon saw riders Alanna (AW) and Holly (HR) across the line, and we all breathed a sigh of relief that their navigational escapades were finally over. Molly (MP) and Sam (SF), and Rachel (RRO) arrived just in time for supper, with Rachel claiming an official placing of 20th, after a vet penalty at the finish line. Molly's and Rachel's families, flying in from the USA and Canada, cheered exuberantly from the sidelines and wiped away no small amount of tears.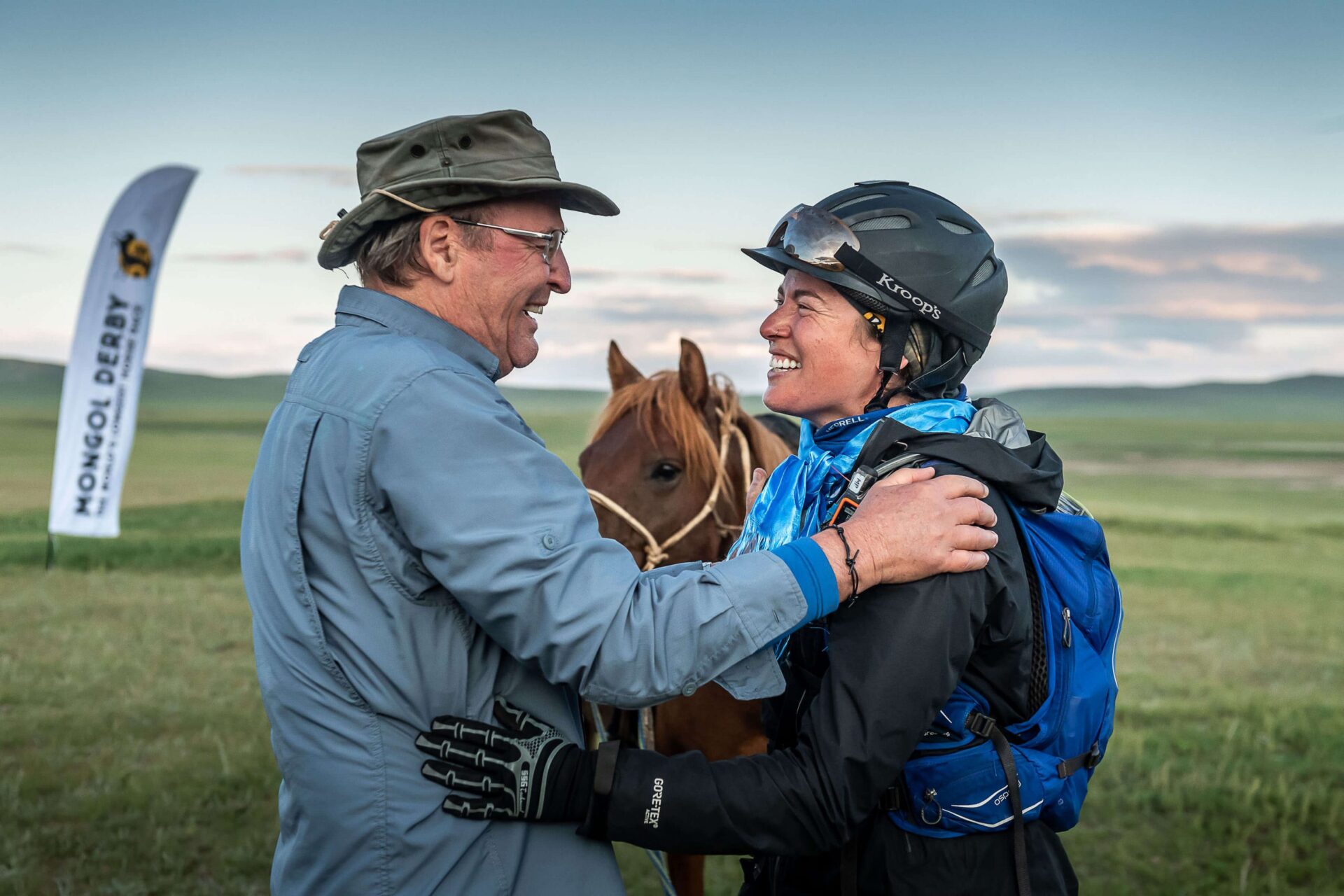 Sarah Farnsworth (photographer).
Tomorrow we will see our final riders across the finish line. Come-From-Behind Sneak-Attack specialist Michael (MF) who seems to have found his second (or third, maybe even fourth) wind broke away from the backpack and finished tonight at HS28, one full station ahead of his riding mates. We expect him to join us for a late breakfast tomorrow. Overnighting at HS27 tonight are Esther (EL), Aly (AM), Francis (FD), Taggert (TV), Katie (KH) and Catherine (CK). Riding at the back where it's often the most dramatic and chaotic, they will depart HS27 in time to make it to the finish line by early afternoon.
As we wait for the final participants to cross the line, those who have made it to finish camp are getting creative with their idle time. Rumour has it that tomorrow, Frank (FW) will be demonstrating his roping prowess, and victims – er – willing participants are lining up to volunteer to be his "prey".
Derby Day 10 action will swing into force bright and early tomorrow morning, as the final riders cross the line, and it comes to an end for another year. Stay tuned…
Result board
1st Robert L
2nd Weisman N
3rd Sarah B, Jesse B, Margreet V
7th Frank W
8th Sam C
9th Zsofia H
10th Elise S
11th Lucinda K
12th Kelsey E
13th Julia Conway
14th Katie Angus
15th Ben Materna & Linda Vegher
17th Sampie Mokoakoe
18th Linda Van Gorkum
19th Annette Killer