Back
Day 3 – 2019 Mongol Derby
Derby Day Three and it's been three days of ride-rinse-repeat here (emphasis on the "rinse" – the rain has been relentless) on the steppe, and we are starting to see a more definitive split between the front runners and the back-packers. At the front end, the rat pack of 21 riders pushed on through five-horse stations to bring race action to horse station 12 – a mere 350+ ish km from the start line. Only 650+ more kilometres to go, guys – a piece of cake!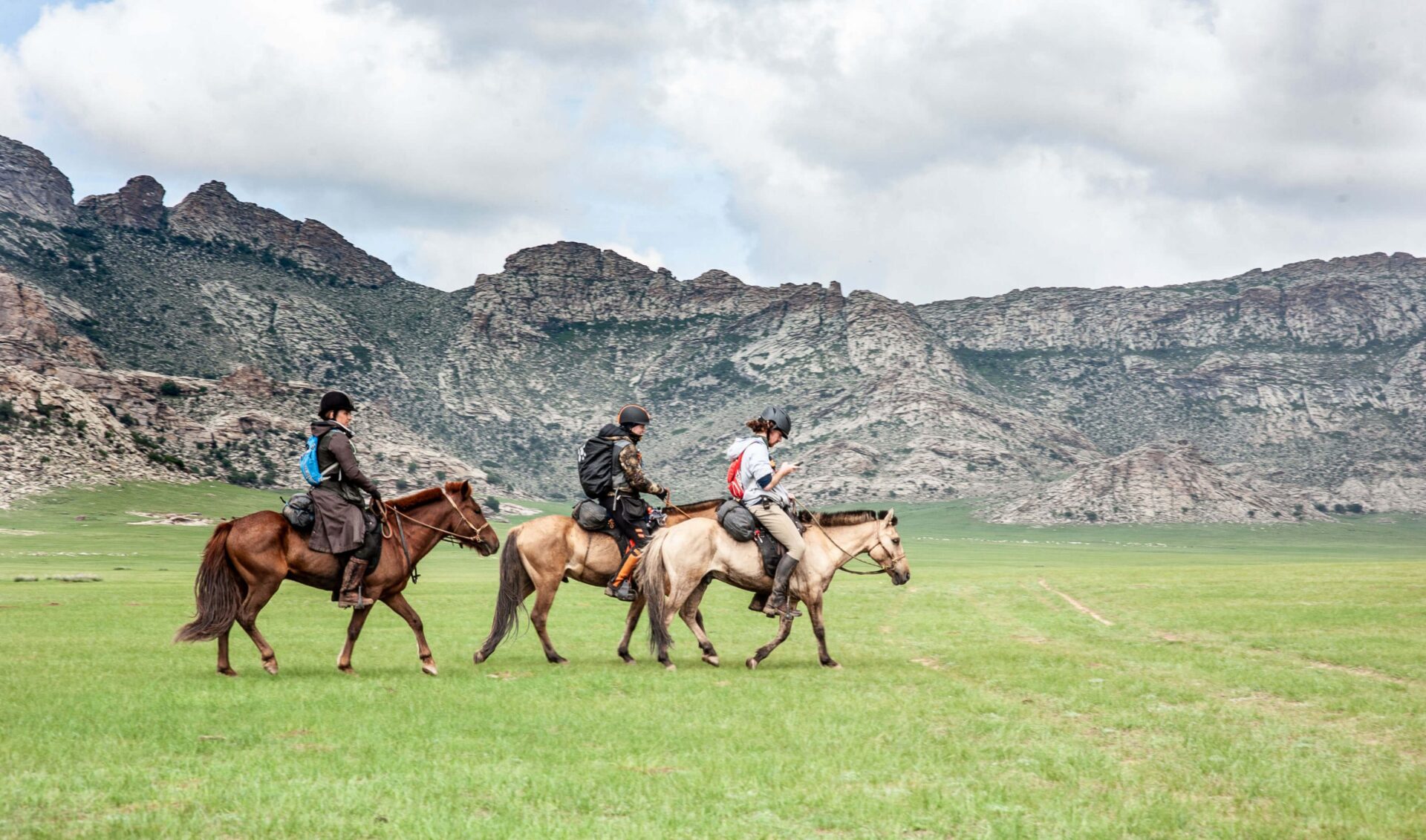 Sarah Farnsworth (photographer).
The lead has toggled back and forth between the front runners numerous times during the day, and our eyeballs have been crossed trying to keep tabs on who was doing what, where and why. The superb navigation skills of Ahmed (AA) Bob (RL) kept us all engrossed as their course zigged where other riders chose to zag, but ultimately cost them some precious time in the form of technical penalties for missing some mandatory course markers. A later navigation decision saw them cutting cross-country while the rest of the pack took the slightly less challenging dirt road, which put them towards the trailing end of the leading pack at the end of the night – still an enviable position to hold. At 12km out of HS12 with 30 minutes left of riding time they pulled up and decided to camp for the night. Tactical decision? This will make for an interesting start in the morning with the rest of the pack overnighting at HS12.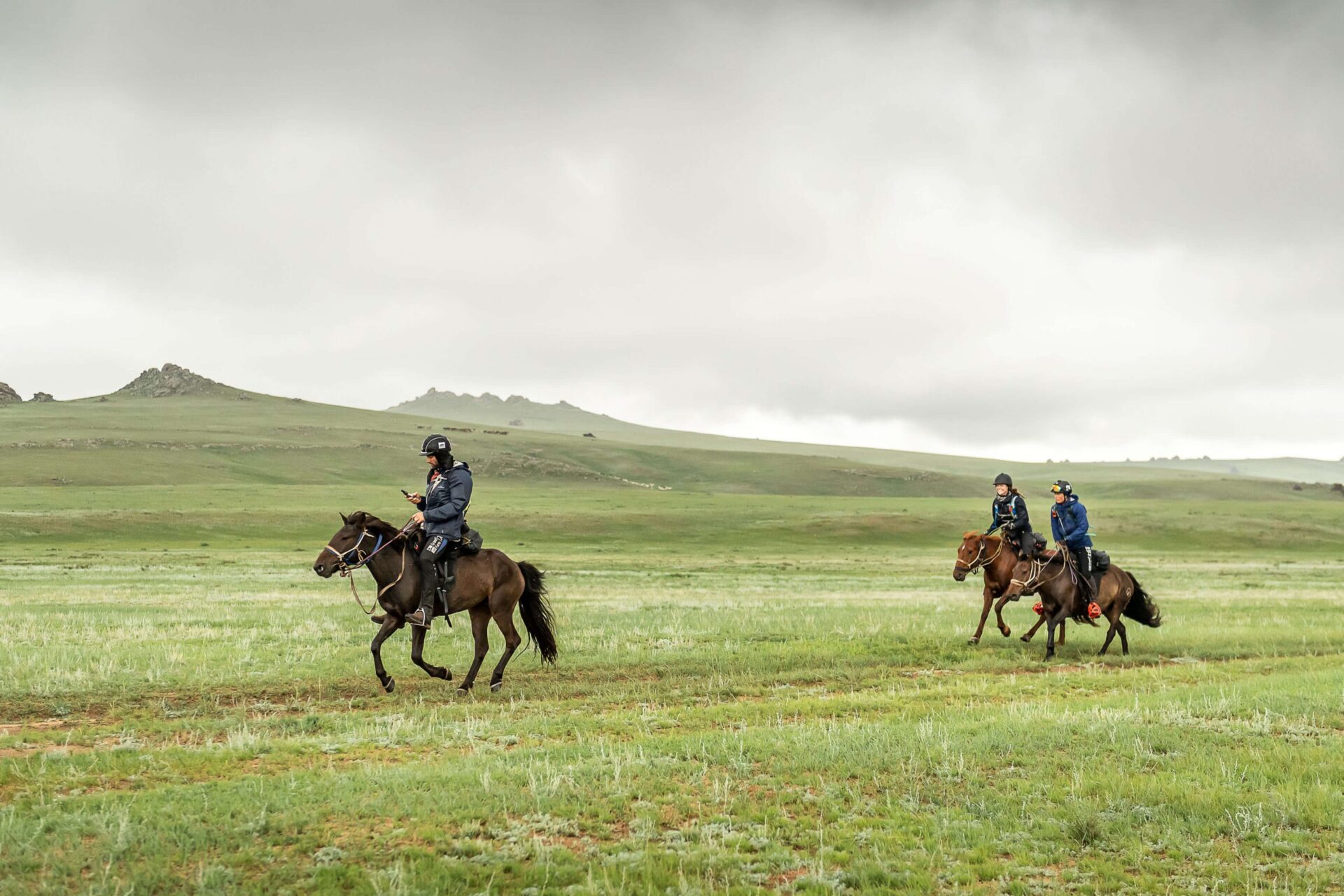 Sarah Farnsworth (photographer).
Meanwhile, South African team of Wiesman (WN) and Sampie (SM), reunited after Wiesman's cracking comeback after his vet penalty at HS1, pulled up at HS11 for the night where Sampie is serving out a 2-hour heart rate penalty. Wiesman has been riding hard all day to keep up with Sampie, who is perfect jockey weight so this is a bit of a turnabout. Zsofia (ZH) is keeping them company at HS11 after a heart rate penalty incurred at HS9. Linda (LV) and Ben (BM), camping out 10km short of HS11, gave us an "All okay atgher" message which we took to mean that they were at a ger…I guess they were finding it difficult to type coherently on those small tracker screens with those crabbed-up weather-beaten hands. A quick check by event manager Charles found them outside a locked ger – but wait! A local herder took pity upon them and offered them refuge in the back of his truck, provided they distance themselves from the ger in question as someone had died there…Yes, that's right, they are sleeping under the stars in the back of a herder's truck, the herder sleeping in the cab, horses presumably in hand or tethered to the vehicle, somewhere in the vicinity of a haunted ger.
The riders at the back of the pack, although trailing the front end by 4 ish horse stations, were no slouch in the perseverance department. Lost a horse? No problem. Hit the deck? Welcome to the club. This group has had wind and rain and bog and boggles but they keep on keeping on. They have been making steady progress up the course despite being a bit bedraggled and water-logged-wrinkly-prune-fingered. Rendel (RR ) and Ella (EM) were guests in the infamous Blood Mobile, jumping from HS5 to HS9 which now puts them firmly in the adventure category; and Sam (SF) and Erin (EN) made their second Steppe Debut after being medically cleared to ride on. The adventure spirit is alive and well, and they timed their reappearance just as the sun decided to shine upon the soggy steppe. Steady on, guys.