Back
July Mongol Derby Day 1: A family affair
The July 2022 Mongol Derby is officially underway. Day 1 has been a real rollercoaster. At close of play, with riding hours limited to between 07:00 and 18:00 local time, we have an early breakaway: Annie Hackett (AHA) and Sam Edney (SED) have set a blistering pace to rocket all the way to HS3. Riders have been treated to some of the most pristine green rolling hills and sunny, cool conditions Mongolia has to offer. Read on for all of the day's notable events.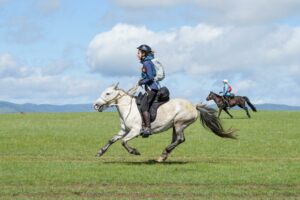 Before kick-off, riders lined up for their final weigh-in, this time for their riding kit. A strict 5kg limit resulted in emotional goodbyes to some treasured but stubbornly weighty snack items. The riders' bridles were honoured with a traditional Mongolian blessing, before riders packed up and headed for the horse lines. Easier said than done for some: Eleanor Aitken's (EAI) horse threw a bit of a tantrum when introduced to his saddle.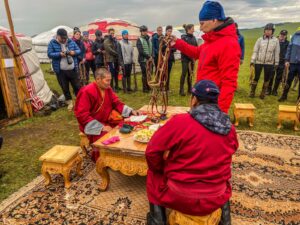 All 46 riders tore away from the start line at around 10:15 Mongolian time in spectacular sunny, cool conditions, with SED taking advantage of a stunning spurt of acceleration out of the blocks to seize an early lead ahead of the pack, all galloping flat out for HS1.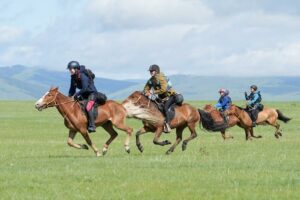 Soon after lift-off, Nathan Tarlinton (NTA) and Nancy O'Neill (NON) found themselves trailing the rest of the field at something of a steady plod: would NON's daughter Janet (JON) wait for her mother at HS1, or power on ahead in an act of sporting matricide?
Lena Haug (LHA), Deirdre Griffith (DGR) and Alexandra Fetterman (AFE) opted to ride outside the box and broke away from the main pack to attempt a more direct route towards HS1. The scenic route didn't seem to pay off, and they soon found themselves at the back of the herd.
EAI's horse's behaviour apparently didn't improve much, as she and Alexa Towersey (ATO) were spotted somewhere short of HS1 on their feet and distinctly soggy. Both had taken an unplanned dip with their steeds, who had unceremoniously deposited them in a river before rejoining the race free of the shackles of their human navigators.
AHA and SED joined up early on, and decided to risk splitting off from their competitors by taking a more direct route to HS1 along a road. They made it in good time ahead of the main group, along with Heidi Falzon (HFA) and Tiffany Atteberry (TAT).
HFA and TAT were the first to vet check through and blast out of HS1, while Sarah Endress (SEN) found herself faced with a bit of a conundrum when vetting out in 2nd place and noticing she had lost her teammate and brother Tobias Endress (TEN) somewhere along the way from the start line. SEN decided to press on without him (snooze you lose, TEN). TEN arrived in HS1 to the news that his sister had left without him and put on a brave face: "I would have done the same thing…well, maybe not." The siblings were reunited at HS2, where SEN decided to wait for TEN to catch up (despite a navigational whoopsie meaning TEN was in the saddle a little longer than necessary en route to HS2). The filial bond survives to fight another Derby day, although TEN seems to have shunned his sister for the company of the local inhabitants of HS2 this evening. We can't imagine why.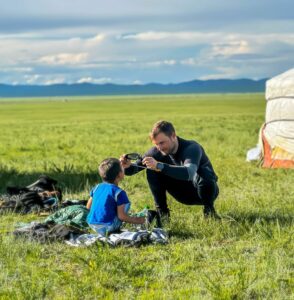 Ciara Cahill (CCA) found herself lagging behind teammates TEN, SEN and Flurina Hammer (FHA) at HS1. She seemed to have chosen the correct partner to catch them up: her very exuberant steed was not wasting time hanging around for CCA to switch her GPS on before charging off over the horizon. CCA has adapted well to Mongolian riding: "OK, well we'll just start anyway," she muttered, while being tanked off with past the horse lines.
Kayleigh Davenport (KDA) pulled a squirmer at HS1, who slipped out of her saddle and bronced away across the steppe still bridled. A supportive herder quickly lent her his bridle and set off in hot pursuit of the errant steed on a motorbike, but things were not looking promising. KDA later managed to make it to HS2, where she is overnighting.
LHA's horse's heart rate failed to drop down to 56bpm within 30 minutes of her arrival at HS1, so she incurred a 2 hour vet penalty. She sat 1hr 30mins straightaway at HS1, but was released early to saddle the final horse left at the station and head to HS2 with enough time to reach the ger without camping, with the remaining 30 minutes to be sat out there tomorrow morning. The intended mount had other plans: he broke away from the horse lines, leaving LHA with no wheels. She was driven to HS2 as a result, but won't incur any further penalty as there were no horses left available for her to ride.
Meanwhile, electing not to incur a time penalty by getting a carry forward to the next horse station and accepting replacement gear, ATO and EAI decided to wait until all other riders had left HS1 in the hope that a generous herder could work some magic and wrangle their errant steeds (still bearing their gear). This admirable but somewhat ambitious strategy failed to pay off as hoped: a few hours later, the ladies were remounted with borrowed gear on new horses and back in the race, now at the rear and carrying time penalties to be sat out later, but still sporting massive grins.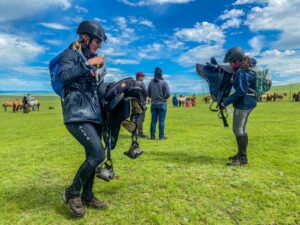 The drama continued at HS2. Except for Brian Stengel (BST), whose horse was frequently spotted snacking and ambling along at a relaxed trot. A laudable approach to life, except when you're supposed to be tackling the Mongol Derby.
Meanwhile at HS2, Kathy Gabriel (KGA) and Claire Vile (CVI) were pondering their next horse choice. KGA asked the herders for something "humble" to camp out with; CVI sensibly decided to choose KGA's mount's friend, in the hope he would be similarly laidback and chuffed to be heading out with his pal. CVI's request was granted, accompanied by some unnerving herder sniggering. Undaunted, CVI approached to mount, and gave an excellent demonstration in rodeo riding as her previously laidback horse staged a passionate protest. Well sat, cowgirl. The ladies headed out of HS2 and are now spending the night camping between HS2 and HS3. Let's hope CVI can get back on in the morning in the absence of herder assistance…
WJA had a similar problem. He asked for a rocket to get him as far as possible out of HS2 before the riding cut-off. A rocket he got, skyward bound. Luckily, some expert herder assistance saw him onboard and heading off in the right direction.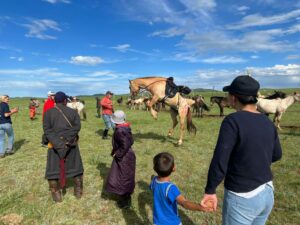 Towards the end of riding hours an ominous sign appeared on the horizon, as the previously boundless blue skies were split by some growling black storm clouds. Although riding hours are set at 07:00 to 18:00, some riders opted to take a riding penalty to continue on past cut-off time, in order to make it to shelter at the next horse station rather than face the torrential rain out on the steppe. Others managed to find shelter elsewhere: NTA is delighted to be overnighting in a local English speaking family's ger, while ATO and EAI's baptism of fire has ended in a family ger between HS1 and HS2 via a short pitstop at a fuel station, apparently confused about how best to power their horses.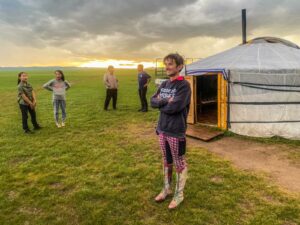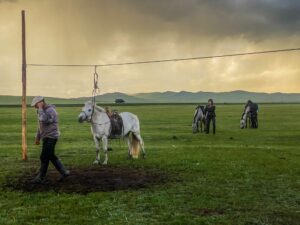 Iona Hutley (IHU), having had only 2 months to prepare since taking her brother's spot on the race, has had some medical attention for some savage rucksack burn but has safely made it to HS2 for the evening (albeit a little stiff).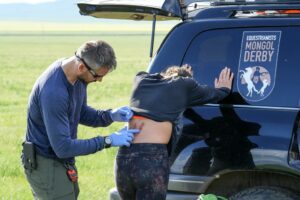 In other news, mother and daughter NON and JON were reunited and are spending their first night on the Derby together at HS2. A happy ending for both families tackling the steppe as a team.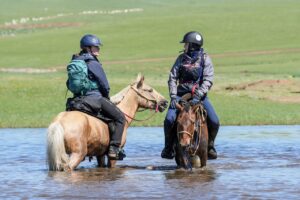 At the close of play on Day 1, AHA and SED are the only riders to have made it to HS3, with TAT, Chris Walker (CWA) and Patrick Heffron (PHE) closest on their heels camping just short of HS3. Can they maintain their lead?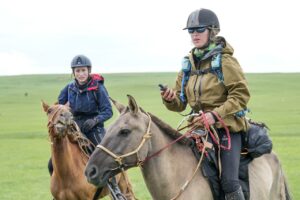 We leave you with the words of a beaming Sara Beck (SBE) on reaching HS2 today in the blazing sunshine: "I've had a wonderful day, seen some of the most beautiful country, and rode some of the most beautiful horses." Cheers to that.
Day 1 Leaderboard
HS3: AHA, SED
Between HS2 – HS3: CWA, CCA, CVI, FHA, HBA, JWO, KGA, PHE, RSE, SMC, TAT, TDO, WJO, WHE
HS2: PRA, AFE, AKO, AGA, BFA, BDO, BST, FGR, CCA, DGR, GTI, HFA, IHU, JON, KDA, KCA, LHA, MMO, MFI, MFE, MKE, NON, PGO, SBE, SEN, SRY, TEN
Between HS1 – HS2: ATO, EAI, NTA, WOS
Day 1 Penalties
Late riding: AFE (136 mins), AHA (94 mins), ATO (TBC), BST (256 min), EAI (TBC), JON (102 mins), NON (102 mins), SED (94 mins), TAT (TBC), WOS (54 mins)
Vet penalties (2 hours): GTI, IHU, LHA, MFI, MKE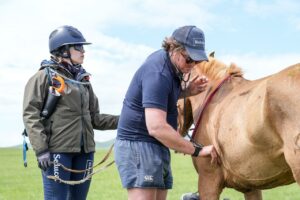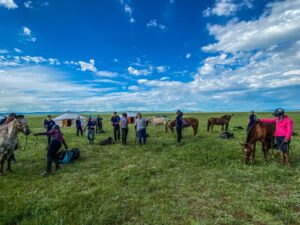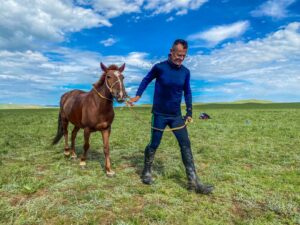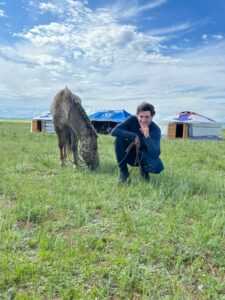 Photo credits: Shari Thompson, Louise Crosbie, Erik Cooper, Stevie Delahunt.