Back
July Mongol Derby Day 3: Golden hour
Day 3 of the July 2022 Mongol Derby, and the drama just keeps coming. Six riders remain locked in battle for the lead at the head of the race, but there's been a change in the line-up since yesterday: Chris Walker (CWA) managed to catch up to the leaders to join their camp at HS9, while Tyler Donaldson-Aitken (TDO) has dropped off the pace and finds himself camped somewhere between HS8 and HS9. We recount the day's highs and lows below.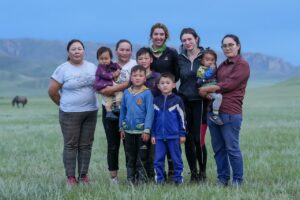 For the third day in a row, riders awoke to blazing sunshine on the steppe. Taking full advantage of permitted riding hours, Ashton Garner (AGA), Kristin Carpenter (KCA) and Morgan Kelly (MKE) bolted out of HS4 where they had spent the night at 07:00 on the dot. Michael Field (MFE), Claire Vile (CVI) and Lena Haug (LHA) were the first to depart HS5, leaving behind their 10 other campmates still busy wrangling their horses and wolfing down some breakfast. CWA, Deirdre Griffith (DGR), Sean McBride (SMC) and Willemien Jooste (WJO) were quick to hop onto their mounts this morning, making a punctual exit from their campsite somewhere between HS5 and HS6. Nancy O'Neill (NON) and Janet O'Neill (JON) were back in the saddle, leaving HS4 after NON's sojourn to Ulaanbaatar hospital yesterday which left her unscathed but riding in Adventure Class.
Triple act "Stirrup-less and Stupid" woke up to a Christmas present come early this morning: 3 sets of stirrups and leathers, delivered by Father Derby's little helper. How's that for next day delivery?
Meanwhile, vying for poll position at the front, overnight leaders Annie Hackett (AHA), Howard Bassingthwaighte (HBA), Patrick Heffron (PHE), Sam Edney (SED), Tiffany Atteberry (TAT) and TDO all incurred some late riding penalties last night for rolling into HS6 a little late, so had to sit them out this morning before vaulting onto fresh horses. Literally champing at the bit, they zoomed out together for HS7 and made blistering time.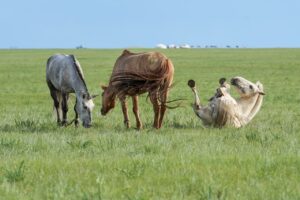 Early on in the day Ciara Cahill (CCA) elected to hitch a ride in the infamous Mongol Derby blood wagon. She was feeling a little sore after a long day yesterday in which she took a few tumbles, so decided to skip ahead to the next horse station on four wheels rather than four hooves. This puts her in Adventure Class, meaning she is no longer riding competitively but can hop back on a horse at the next station and make it across the finish line.
MFE was feeling optimistic on departure from HS5 this morning, declaring himself to be feeling "competitive" having pulled a pretty palomino pony from the horse lines and giving a shout out to all the good folks in the Netherlands cheering him on. Iona Hutley (IHU), Bianca Farmas-Griffith (BFA), Gabrielle Tigan (GTI), Alexandra Fetterman (AFE) and AGA got down to business and grouped together in the middle of the field to make for HS6.
Kathy Gabriel (KGA) proved what she's made of today: tough stuff. Back for her second crack at the Derby after being scooped up by the blood wagon in 2018, she has been marching along the lines sniffing out the fieriest horses Mongolia has to offer in a determined attempt to propel herself to the top of the leaderboard. Fiery she asked for, fiery she got: spotted sitting some exceptional acrobatics today like a pro, she is travelling at pace across the steppe.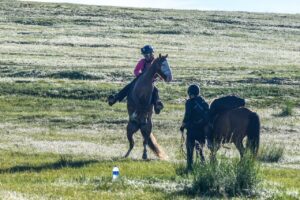 CWA proved his competitive intentions by staging a breakaway from his overnight camping companions DGR and WJO to take a stab at the leaders. His tactics paid off: he has caught up with them after riding a stormer.
The leading group splintered off at HS7, with SEN, HBA and PHE gaining the upper hand and zooming out at 11:15 en route to HS8. The trio were spotted shortly afterwards standing rather still and glaring in stony silence, brows furrowed, at their GPS's. Navigation: the temporary downfall of practically every Mongol Derby rider.
TDO fell victim to a vet penalty at HS7, and was detained for 2 hours to watch his former riding buddies melting away into the horizon, soon joined by TAT and AHA who caught up with the leading trio before HS8. Meanwhile, CWA continued to make up time on the leaders and soon leapfrogged TDO to lock onto the front pack, despite parting company with his horse briefly between HS5 and HS6 owing to losing a fight with a marmot hole: "I fell off but just thought, 'Gotta hang onto the bugger!' Got back on and made it there." The man is not one for giving up.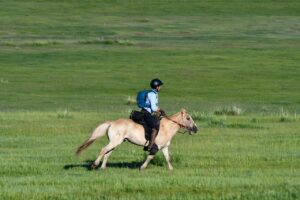 HS8 brought heartbreak for AHA: a vet penalty for an elevated heart rate meant she was forced to take a 2 hour time out, while watching TAT, PHE, HBA and SED hop onto new steeds and tear out towards HS9. Perhaps luckily for her, CWA pitched up just at the right moment: the two rode out together, with the leading quartet firmly in their sights.
HQ decided to allow an extra hour of riding this evening, in order to give riders time to exploit the glorious conditions to hustle a little further along the course. CWA and AHA could hardly believe their luck: the extra hour came just in the nick of time to allow them to hit the gas and motor all the way to HS9 to catch up with their former string, a whisker before the extended cut off time of 19:00. Golden hour indeed.
Also taking advantage of the extra riding time were Allison Kohlberg (AKO) and Wojciech Heliasz (WHE), unable to make it all the way to HS8 but hoping to happen upon an accommodating Mongolian family to take them in. AKO is still riding gear-less after parting company with her equine companion yesterday, so finding a cosy ger is something of a necessity this evening.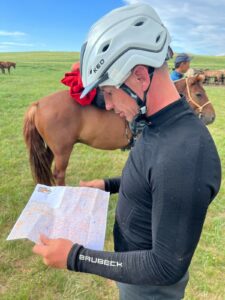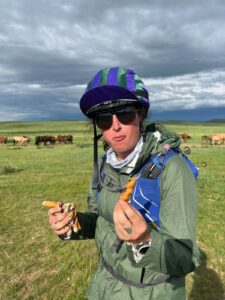 Also kit-less last night was CVI, who had hunkered down under a pile of old mattresses found in a ger in lieu of her sleeping bag at HS5. Enterprising.
AGA made it into HS7, recounting tales of horses picked up at HS5 capable of bolting the entire leg to HS6 and vetting in straight away at a cool 52bpm. Her strategy is apparently to pick a pony amenable to petting, on the assumption these are the animals less likely to have a go at flattening you. So far, so good.
Unfortunately, mother and daughter team NON and JON took the decision today to retire as a pair, after NON had returned to the steppe. We are sad to see them go, but are comforted by the fact that they are both well and will return to the finish camp to cheer their fellow riders over the line.
IHU displayed exemplary horsemanship today, choosing to turn back to HS6 in order to return a horse she had picked up but felt wasn't fit enough to continue the leg. She selected a more robust steed, and rejoined the fray, finishing at HS7 for the evening.
It's not all about the horses: SBE had a special evening last night at HS4, where she formed a special bond with a local Mongolian girl. SBE parted with a toy belonging to her late mother in a touching moment to remind us all just how special the riders' interactions with the incredibly generous families who host them are.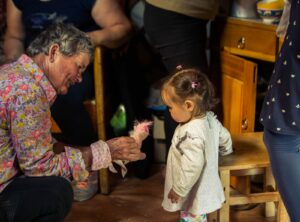 We couldn't close out today's round up without mentioning Phoebe de Raeve (PRA), who has displayed an uncanny knack for pulling consistently frisky ponies out of the line up. Undaunted, she continues grinning and muttering, "Just the way I like 'em," as she strides towards the firecracker in question, now riding with improvised tack. What a champ.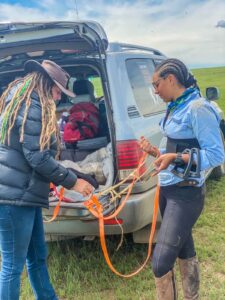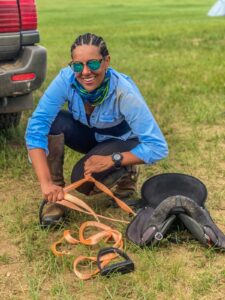 Day 3 Close of Play
HS9: AHA, CWA, HBA, PHE, SED, TAT
Between HS8 – HS9: PRA, AFE, AKO, DGR, SMC, TDO, WJO, WHE
HS8: CVI, FHA, HFA, JWO, KGA, KDA, LHA, RSE, SEN
HS7: AGA, BFA, GTI, IHU, KCA, MMO, MFI, MFE, MKE, PGO, SBE, SMC, SRY, WOS (CCA – Adventure)
HS6: ATO, TEN (BDO – Adventure)
En route back to steppe (Adventure Class): BST, NTA
Retired: JON, NON
Penalties
Vet penalties (2 hours): AHA, FHA, GTI, KGA, SEN, TAT, TDO, WHE
Photo credits: Louise Crosbie, Eledv-Ochir Bayarsaihan, Stevie Delahunt, Tulgaa Skizz, Shari Thompson.