Back
July Mongol Derby Day 8: Here come the girls
Day 8 of the July 2022 Mongol Derby will go down as one of the most thrilling in Derby history. In scenes of unbelievable drama that went right down to the wire, Deirdre Griffith (DGR) and Willemien Jooste (WJO) held their nerve and rode a tactical blinder to snatch victory from right under the noses of Chris Walker (CWA) and Patrick Heffron (PHE), who had been clinging onto the lead since Day 4. Timing their move to perfection, the ladies, who had been snapping at the erstwhile leaders' hocks for days, overtook them at HS27, the second last horse station before the finish line. A few hours of almost unbearable tension later, and they crossed the line holding hands to take joint first place. A stunning performance by two outstanding horsewomen and athletes. We salute you, ladies. Read on for the blow-by-blow account of how the day's drama unfolded.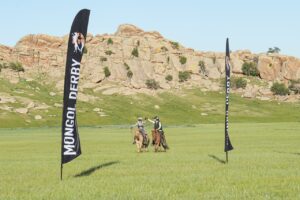 CWA and PHE awoke to a glorious morning at HS25 this morning, still ahead of the menacingly close chasing group of DGR, WJO and Tiffany Atteberry (TAT) camping just behind them between HS23 and HS25. They knew they weren't out of the woods yet, and the stunning morning was likely to mean fast riding would be risky for fear of dehydrated horses with elevated heart rates, but the finish line was so close they could practically taste the airag. The mountains behind them, the terrain to come was mercifully flat and perfect for letting rip, if they could secure themselves the requisite horsepower for the job.
PHE, however, was facing a dilemma: when to sit out his 2 hour vet penalty, incurred at HS20. The latest point at which he could sit it out was HS27. Would he ride out with CWA at his side this morning and hope to make up enough time on the three riders bearing down on them from behind to be able to sit it out later and cling onto their lead, or elect to stay behind at HS25 and get it out the way, most likely letting the ladies overtake? PHE opted for the former option, the teammates sticking together to saddle up for what they were hoping would be their last day of riding on the Derby. The pressure was on. Neither was in the mood for much of a chat, as they grappled with their tack and mounted up, counting down the seconds to blast off at 07:00. Every nanosecond counted.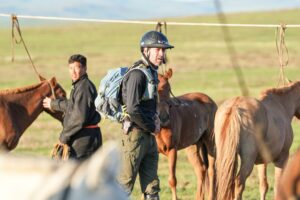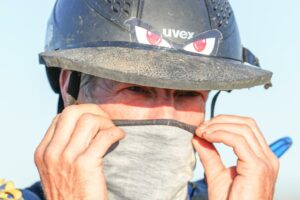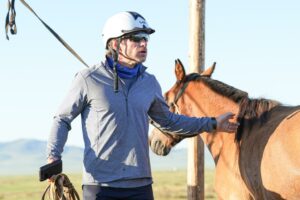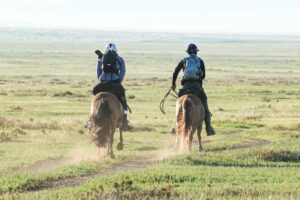 DRG, WJO and TAT were not going to make it easy for them. Well aware their chances of clinching the victory could come down to the narrowest of margins, they were also up and flying from their overnight campsite for 07:00 on the dot, eyes on the prize. You could cut the tension with a knife at HS25 when the ladies rolled in this morning. WJO and DGR cleared quickly, while TAT had to wait for her horse's heart rate to drop a little longer. Working as a team, WJO was spotted sprinting across the horse station to fill up on water while DGR tacked up, sharing responsibilities to get out of there as efficiently as possible. There was no doubt about it: the ladies were riding for the win, or, as WJO put it while hurriedly tacking up her next horse, "hunting, hunting, hunting."
TAT's horse pulsed down quickly and the trio remained united as they swiftly picked their new mounts and shot out of the station, following the boys' tracks. TAT had a particularly handsome partner for this leg and looked to be the best mounted of the three to execute her detailed plan: "haul ass". Leggy and spirited, he understood the assignment perfectly and zoomed out of there with a swish of his tail after the others.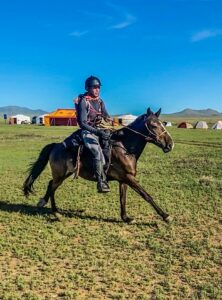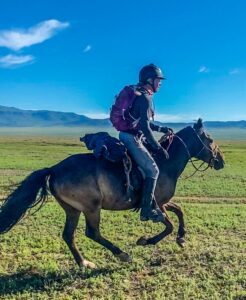 While the ladies ate up the steppe, just ahead of them PHE and CWA had almost reached HS27, and their reckoning. Would CWA sacrifice his chances of the win and wait with PHE, or ride on without him to stay ahead of the chasing pack?
Into the horse station, and CWA's decision was taken out of his hands. Under the unbearable pressure of his dogged pursuers, the vets at HS27 gave him a 2 hour vet penalty, after his horse's heart rate failed to drop down to 56 beats per minute within half an hour of his arrival at the station. Disaster for the boys. Surely, this was the end of their dash for the line: how could they possibly make up two hours on the trio behind them, gaining on them second by second?
Just 40 minutes later, DGR and WJO had flown into HS27 and vetted out cleanly, clearly coming as a big relief to WJO. They had done it: they had finally, after days of non-stop chasing, taken the lead. Sadly, this was the parting of the ways for the threesome. TAT, still with a 2 hour vet penalty hanging over her from yesterday, had to wait behind with PHE and CWA, watching forlornly as DGR and WJO wasted no time in selecting their next horses and scrambling to make the most of every minute of penalty time they had on PHE and CWA. They rode out in the knowledge they had only one more horse station between them and the finish line: would they keep their cool and make it home unchallenged, or would some freak tragedy befall them between here and eternal glory?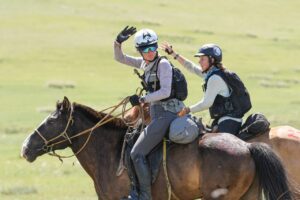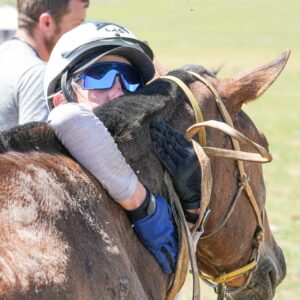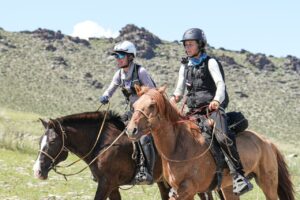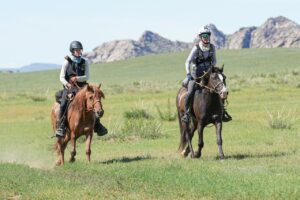 They made good progress towards HS28, moving at a steady pace, ensuring their horses could handle it. But behind them, PHE and CWA weren't giving up so easily. Pacing the horse lines well in advance of their release from HS27 and getting tacked up ready to go as soon as the countdown stopped, the boys knew it's not over until the fat mare neighs. The rollercoaster continued, as the gents acquired some equines apparently crossed with ferraris to make astonishing time between HS27 and HS28. The gap between the dots narrowed, as the leading ladies were still keeping to their steadier scoot into HS28, knowing a vet penalty now would almost certainly be fatal. The crew and all those following from home could hardly believe their eyes: comms were checked and re-checked, and creative methods employed to keep up with the drama.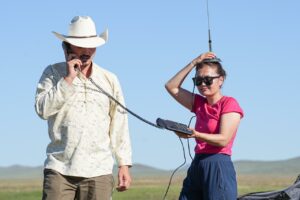 By HS28, the ladies still had the lead, but PHE and CWA were making up ground at a terrifying rate. Anxiously glancing back in the direction they had come, dreading the sight of appearing dots on the horizon, the ladies were wasting no time: after a slightly tense moment for WJO vet checking out, she was cleared and leaping on her new steed. Her next mount was dancing around in circles champing at the bit, while DGR hastened to assist the herders in tacking up her final steed. Successfully mounted up for the final time in the Derby, for a heart-stopping moment they galloped out in the wrong direction, prompting some gasps of horror from the watching crew. Swiftly they corrected their error, and disappeared into the blazing sun, now locked onto the correct co-ordinates. The brakes were off for this last leg: knowing that they have a full 60 minutes for their horses' heart rates to drop down to 56bpm at the finish line vet check, DGR and WJO hit the gas and let their mounts fly, clocking in at speeds of 27 km/h but with just 90 minutes of riding time left to reach the finish line without a late riding penalty.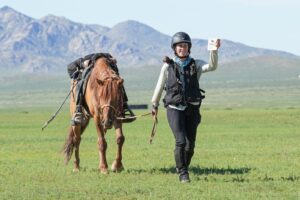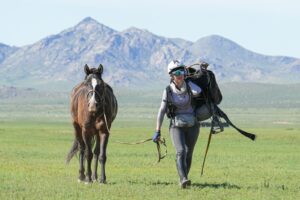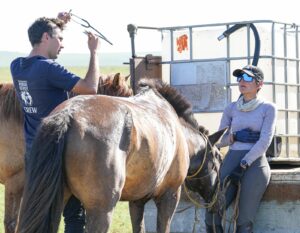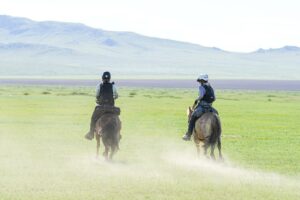 Staggeringly, PHE and CWA were making rapid progress towards HS28 on their freakishly fit and fast picks. They both vetted through HS28 in 10 minutes, allowing them to wrangle their new mounts and hothoof it out of HS28 on the final stretch to the line just 50 minutes behind DRG and WJO. Fortune favours the bold, although PHE had a slight mishap in his rush to get his new horse tacked up and managed to break his bridle. Some hurried repairs later, and he was mounted again and galloping flat out across the plain on CWA's heels in hot pursuit of the leaders.
TAT also made it into HS28 shortly behind the gents, but elected to stay there for the evening to savour the ride on her last leg to the finish line tomorrow morning.
CWA and PHE continued to make up incredible time on the leaders, charging towards HS28 on some sensational steeds. But it wasn't enough. At 18:58 Mongolian time, the news was confirmed: DRG and WJO crossed the finish line of the July 2022 Mongol Derby in joint first place, holding hands raised triumphantly and beaming from ear to ear.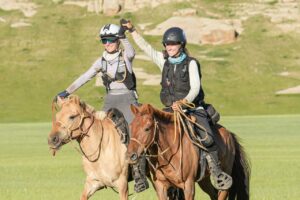 But it wasn't over yet: with the vet check still to clear, CWA and PHE appeared on the horizon. With the boys hurtling towards the line, after a final few minutes of squeaky bum time for DRG and WJO the results were confirmed: they cleared the final vet check, and were declared the victors of the July 2022 Mongol Derby, incurring zero vet penalties in the process.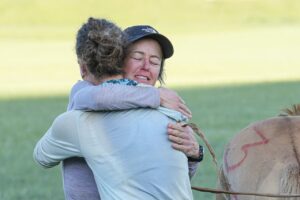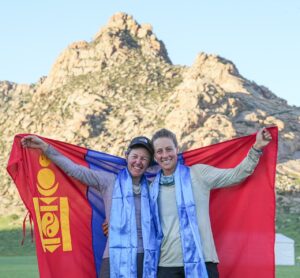 Remarkably, CWA and PHE crossed the finish line just 35 minutes after the front runners, also hand in hand and embracing each other and their horses in glee. A bromance for the ages.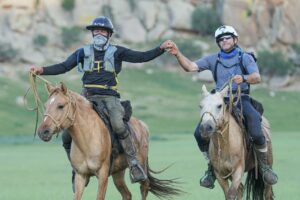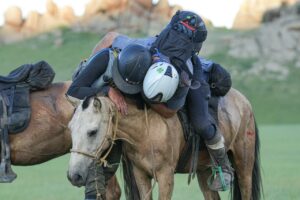 Congratulations DGR and WJO, and to CWA, PHE and TAT for giving us all a day of absolutely unbelievable nail-biting sport to savour. What a race, what a finish.
As CWA and PHE crossed the finish line 35 minutes after close of riding hours, they now have 70 minutes each of time penalties. Could this give TAT the chance to hop up the leaderboard tomorrow, if she rides a stormer? Anything is possible…
While the leaders wrestled over the title, there was plenty of action further down the field today. The catchily named "Awesome Fivesome" left HS23 this morning in dreamlike conditions, still riding as a happy team. They rolled into and out of HS25 as a unit, fantasising about hot showers and cold beers awaiting them at the finish line. On reaching HS27 shortly before close of riding hours today, Sam Edney (SED), Annie Hackett (AHA) and Sean McBride (SMC) had no option but to sit out their remaining vet penalties, while Tyler Donaldson-Aitken (TDO) and Howard Bassingthwaighte (HBA) decided to crack on and make hay while the sun shines. They find themselves camped 8km outside of HS27 this evening. Could they ride a blinder tomorrow to catch TAT and cause yet more upset to the final placings, or will they hang back and cross the line with all the band back together again?
Behind them, Kathy Gabriel (KGA) was riding solo today, setting off from her overnight camp at HS22 and plodding into HS23 in good time, where she carefully selected her next mount. In her eagerness to reach the finish she hopped on and promptly shot off out of HS23 on a wildly inaccurate bearing, but soon righted herself and was back on track to HS25. Dealt with in short order, she passed through smoothly to make it to HS26, where she lays her head tonight.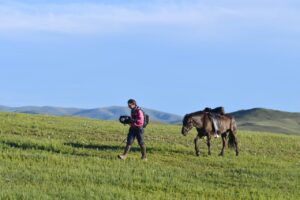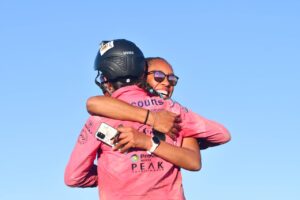 But she's no longer alone: Gaucho Derby veteran Sarah Endress (SEN) and compatriot Flurina Hammer (FHA) kept up their fantastic form from yesterday to haul themselves even further up the field today, negotiating each horse station and leg with ease. Keen to make it to the finish line sooner rather than later, they have also made it into HS26 this evening having trotted out of HS25 on a very swish matching pair of appaloosas. Unfortunately, in their determination to sink a cool beverage sooner rather than later, they slightly overshot riding hours today and arrived into HS26 120 minutes late, meaning they have been whacked with a hefty 240min penalty each, to be sat at or before HS27.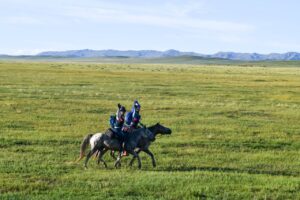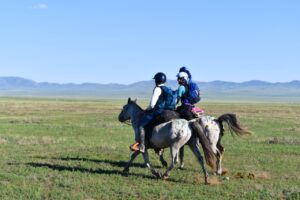 Janet O'Neill (JON) made a glorious return to the steppe today, and remounted to participate in Adventure Category. She has blasted her way to HS25 this evening, along with Heidi Falzon (HFA), Kayleigh Davenport (KDA) and Lena Haug (LHA). LHA and KDA were also overheard today ruminating on the prospect of an ice cold brew, now no more than two days' riding away. A common, if slightly concerning, theme seems to be emerging amongst those still out on the steppe.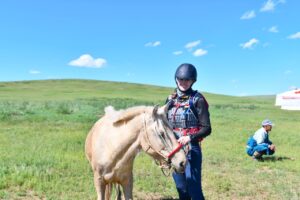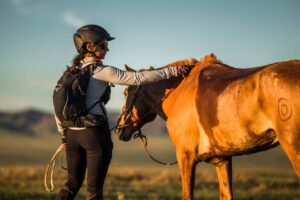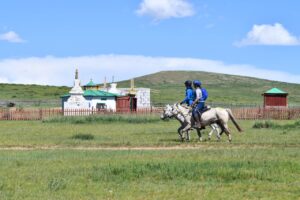 Brian Stengel (BST) has also returned to join the party, awaiting riders at finish camp and enjoying generating some oohs and aahs by flashing a monstrous bruise from his earlier antics.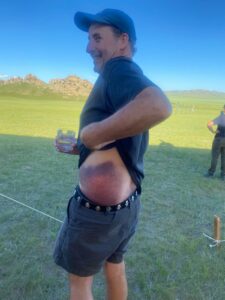 Ashton Garner (AGA), Gabrille Tigan (GTI) and Michael Field (MFE) are camped out tonight en route to HS25, with MFE having had a particularly hair-raising day. Prior to HS23 he found himself caught up in an impromptu mini naadam, triggered by a group of local herders on bikes and in cars getting very into the spirit of the Derby, and vocally spurring MFE and others' mounts along for a respectable 17k of galloping along the leg. That ordeal survived, he and Kristin Carpenter (KCA) struck out as a pair heading out of HS23 with some imaginative navigation, which took them on a meandering path to HS25 through some mountains. Both survived to tell the tale, although MFE pushed on through HS25 this evening with KCA elected to call it a day.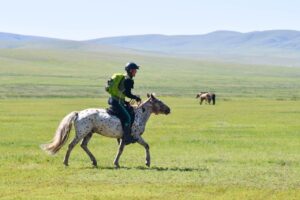 Renee Senter (RSE), Julie Wolfert (JWO) and Claire Vile (CVI) continue to show off their unique navigation strategies at every opportunity, again pottering off on a slight detour today on their way into HS22. No such antics were pulled on the way to HS23, where they are bedded down together with Wendy Oswood (WOS) this evening, along with Alexandra Fetterman (AFE), Iona Hutley (IHU), Morgan Kelly (MKE) and Allison Kohlberg (AKO), the latter having a very pleasant time of it out on the steppe in Adventure Category.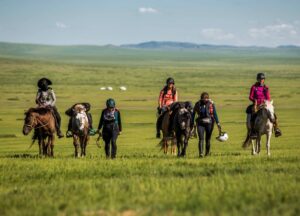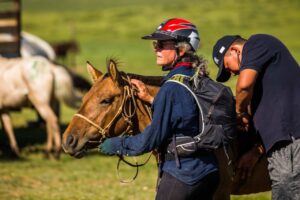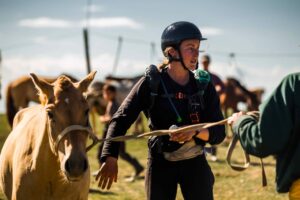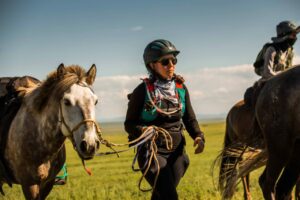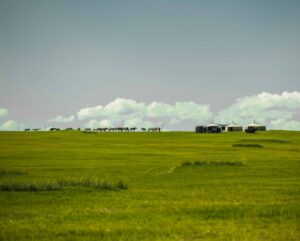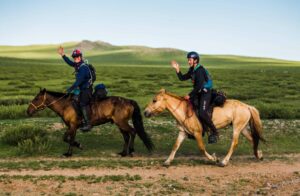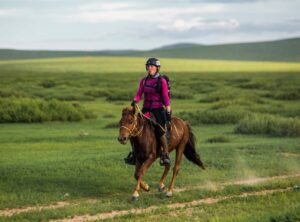 Sara Beck (SBE) was up to her usual tricks at HS19 to put a smile on the face of everybody she came across, announcing she would ride all the way back the way she had come from the finish line if she could. Find us a happier human, we'll wait. SBE has now decided to join Adventure Category, and is taking a carry forward to a later horse station, from which she will rejoin the party to ride across the finish line.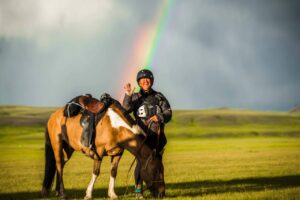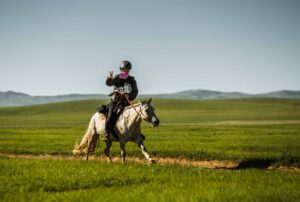 Pumba Goess-Saurau (PGO) was less effusive: asked if she shared SBE's sentiments, she replied, "F*ck that, not in this lifetime or the next." We'll wait until she's a few drinks deep at finish line to try that one again. She spends tonight camped out on the steppe in the care of the Derby favourite Naranbaatar family after stretching out across the steppe today, with loyal companion Madeleine Motelay (MMO) for company.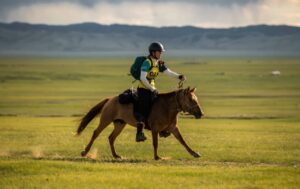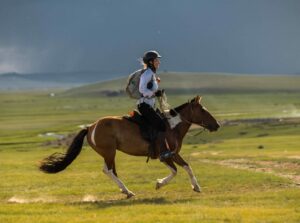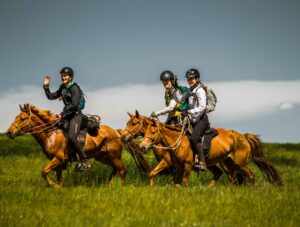 Bringing up the rear in superb style, Alexa Towersey (ATO), Tobias Endress (TEN), Eleanor Aitken (EAI) and Wojciech Heliasz (WHE) are camped tonight at HS22, and still going strong. ATO has brought a big smile to the face of the herder at HS22 today, arriving into the horse station lavishing praise on him and his horse, her best of the Derby yet. Smiles all round then.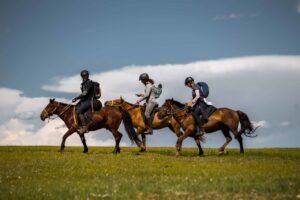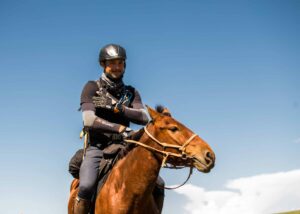 We'll be back tomorrow, to bring you more news of ecstatic riders crossing that long awaited finish line.
Day 8 Close of Play
Finish camp: CWA, DGR, PHE, WJO
HS28: TAT
Between HS27 – HS28: HBA, TDO
HS27: AHA, SED, SMC
HS26: FHA, KGA, SEN
HS25: HFA, KDA, LHA (JON – Adventure)
Between HS23 – HS25: AGA, GTI, MFE
HS23: AFE, CVI, IHU, JWO, KCA, MKE, RSE, WOS (AKO – Adventure)
Between HS22 – HS23: MMO, PGO
HS22: ATO, EAI, TEN, WHE
Blood Wagon (Adventure Class): BFA, BDO, FGR, MFI, NTA, SBE, SRY
Retired: CCA, JON, NON, BST, PRA
Penalties
Late riding penalties: CWA (70 mins), FHA (240 mins), PHE (70 mins), SEN (240 mins)
Vet penalties (2 hours): MFE
Photo credits: Louise Crosbie, Eledv-Ochir Bayarsaihan, Stevie Delahunt, Tulgaa Skizz, Shari Thompson, Erik Cooper.