Back
Winners tales – Adrian Corboy and Annabel Neasham – 2018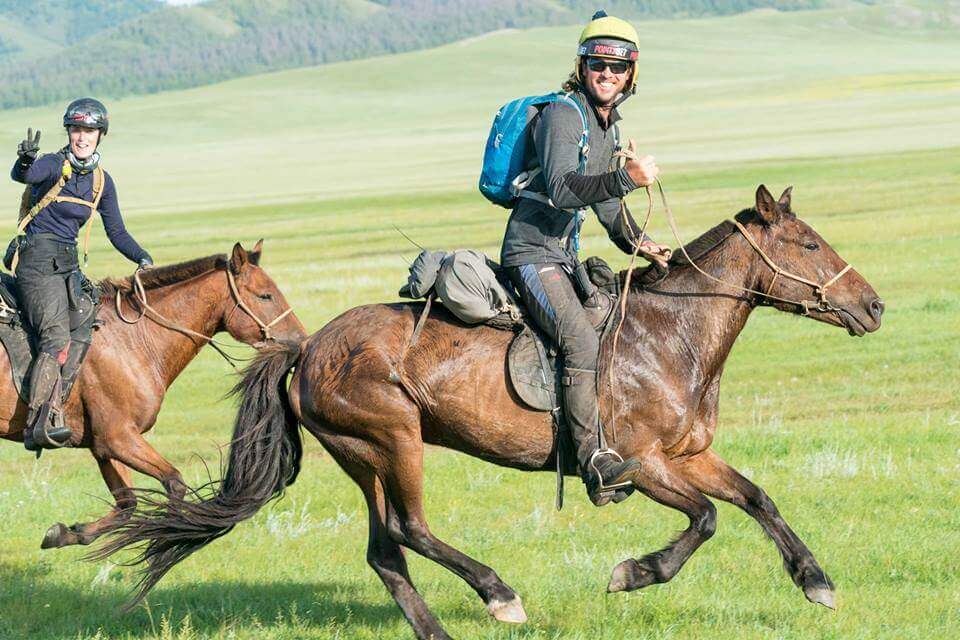 Adrian and Annabel flying across the steppe
2018 will be remembered as one of the more dramatic editions of the Mongol Derby; as the riders circled on the start line, nerves fluttering, a year's planning physically embodied on their backs, in their hands, between their stirrups, the operations room in Ulaanbaatar confirmed that they were not getting a tracking feed from a single one of them.  HQ was blind. Further investigation revealed that the servers for the satellite data we relied on had been updated overnight, (we had executed a perfect dress rehearsal 15 hours earlier) and in that classic IT support manoeuvre, boffins in space somewhere were switching them off and on again. Until further notice. As Chief Tom explained this rather dangerous predicament to the assembled 45 contenders – no tracking means no emergency summons, if you're in trouble, we won't know – a lone rider called out "better safe than sorry", and dismounted.  The entire field followed suit, and graciously sat out the day as a biblical storm almost washed the start camp and its surrounding valleys away. Were the gods of Adventure smiting us? 
No. They were simply setting the scene. By 10pm, enough IT support butt hole beard had been scorched, and plans B, C and D initiated, and the data feed from the trackers was back up.  By 6am, the skies cleared and there was even a flicker of blue. This was a composure test for the riders, and it strongly favoured the most laid back and adaptable, the least encumbered by micro-plans.  
Enter stage left, Adrian Corboy. Some salient facts. He entered the race as a substitute just a couple of weeks before. His team-mate on this adventure, Annabel Neasham, a decorated event rider from the UK who moved to Australia to work with racehorses and was now Racing Manager to leading trainer Ciaron Maher, put Adrian forward when Ciaron, her original partner, took a crunching fall from his best mare in July and snapped the neck of his femur.  Horses – caveat cavalier. Ciaron was on the phone to Adrian even from the back of the ambulance, and Annabel was plaintive and vehement in her support of his application. "He's the best horseman I know". Well no-one just gets in without an interview, hold your horses.  
When HQ managed to reach him for a selection interview, he was on his second or third horse of the day (at 5am), and had the soothing and slow-twitch delivery of someone who habitually slows down the more frenzied around him to match his own deliberate pace.  A career starting racehorses, of being the first to sit astride a nervous thoroughbred, when it's all instinct and limited coordination, will do that to you. Though he standardly rode just a few kilometres on each juvenile horse, when you strung together the dozens of breakers he worked with on a daily basis, for Ciaron and many others, here was a man riding 80kms every day, most of them before breakfast.  Meanwhile, Annabel and Ciaron had done most of the heavy lifting of preparing for the race on his behalf, assembling the right kit and making the right logistical preparations. Nevertheless, as a pair they cut a refreshingly inexpert dash, forsaking the lightweight endurance kit and micro-managed straps and supplements for just…crash hats, jods and 'normal' half chaps. It was also clear that they had not read every blog, mailout and piece of Derby folklore by way of bed-time company, they seemed wonderfully unencumbered by advice from Derby veterans. I think they were always going to ride as a pair, and not seek any further fraternisation with the rest of the field. The usual power brokering and alliance forming flirtations and kit comparisons just went over their heads.
Compare that to their main competition, the hot favourite Devan Horn, returning for her third attempt on the title.  As she had twice before, she carried the burden of being "the one to beat", on broad shoulders, had friendly advice for her fellow riders, and showed every sign of being meticulously prepared and formidably focused.  As ever. So many of the best-known Derby stories revolve around her. The relief of starting, just riding out for the horizon as a capable 24 year old woman, and leaving that noise of expectation behind, was palpable, and she rode straight into the lead, as many predicted she would.
If Adrian carried any such burden on the event, it was the need to get home again post race to witness the birth, or aftermath thereof, of his eighth child.  Yes, eighth. Here was a man who would be unlikely to lose his sense of perspective over the cut and thrust of this notoriously mercurial, destiny-mockery-making-of an event. Also a man who could probably sleep soundly with upwards of fifteen other humans in a tight space. A pretty handy Derby skill.
So where was the race lost and won? Devan was headed for the win at Urtuu 21, about 250kms from home.  She incurred a vet penalty and had the agony of sitting it out whilst Adrian and Annabel passed through the urtuu, remounted and rode away. They got 20kms beyond her before the cut-off that evening. One more penalty would have seen Devan eliminated (to be clear all of her horses were fine, just their heart rate dropping to the required amount a couple of minutes after the 30 minute vetting cut-off – we are talking about the most marginal of judgement errors, not a pattern of abusive riding) and perhaps she adjusted her riding strategy, appropriately, after that.  Adrian and Annabel had a true talent for pacing their horses, and reading them, and perhaps their mounts enjoyed the companionship of cruising in a pair, while Devan was always out front solo, being chased, having to push. What is most commendable is that Adrian and Annabel's style changed not one iota when the tables turned and they were the ones being chased. Here's Annabel explaining their biggest advantage; their ability to read and work with their horses.
"The horses are what we do, day in day out anyway. You've got to look after the horse and they'll look after you. Reading the horses and essentially learning to judge pace, you just have to go slowly the whole way – medium tempo is better than going quick and burning out.  We went a steady canter the whole way and if the horses told us they needed a breather we gave them one. We got them in the water whenever we had the chance. From 5km out we trotted and from 1.5km out we'd walk. If it was hot we'd take the saddles off just to get the heat out of them."
They finished with not a single vet penalty between them.
This was the first time Adrian had ever left Australia.  And yet, here was a man who seemed to have experienced the smallest degree of culture shock out of any of the competitors.  He made a natural Mongol; horse-centric, practical, laid-back, opportunistic. In his team-mate. 
Author: Katy Willings