Back
Day 10 – The final chapter
Catch all the video highlights
It's been a long journey for these riders who set out 10 days ago to pit themselves against 1000km of rugged steppe and relentless weather, not to mention a selection of the feistiest and finest horses that Mongolia has to offer. For some, the journey began months or even years prior: commitments have been rearranged to accommodate training, piggy banks have been emptied to fund the travel to the steppe, all to satisfy the drive to become one of a very select group of riders who have experienced this event. It's no wonder that we often say that to make it to the start line is a big win in everyone's book, and to ride any length of the Derby is something to be very proud of. In the words of one of our illustrious alumni Kevin Price-Moor, "More people have climbed Mt Everest than have competed in this event. This is our Everest." Thus we salute all our riders, no matter where they placed. You are all very much winners in our book.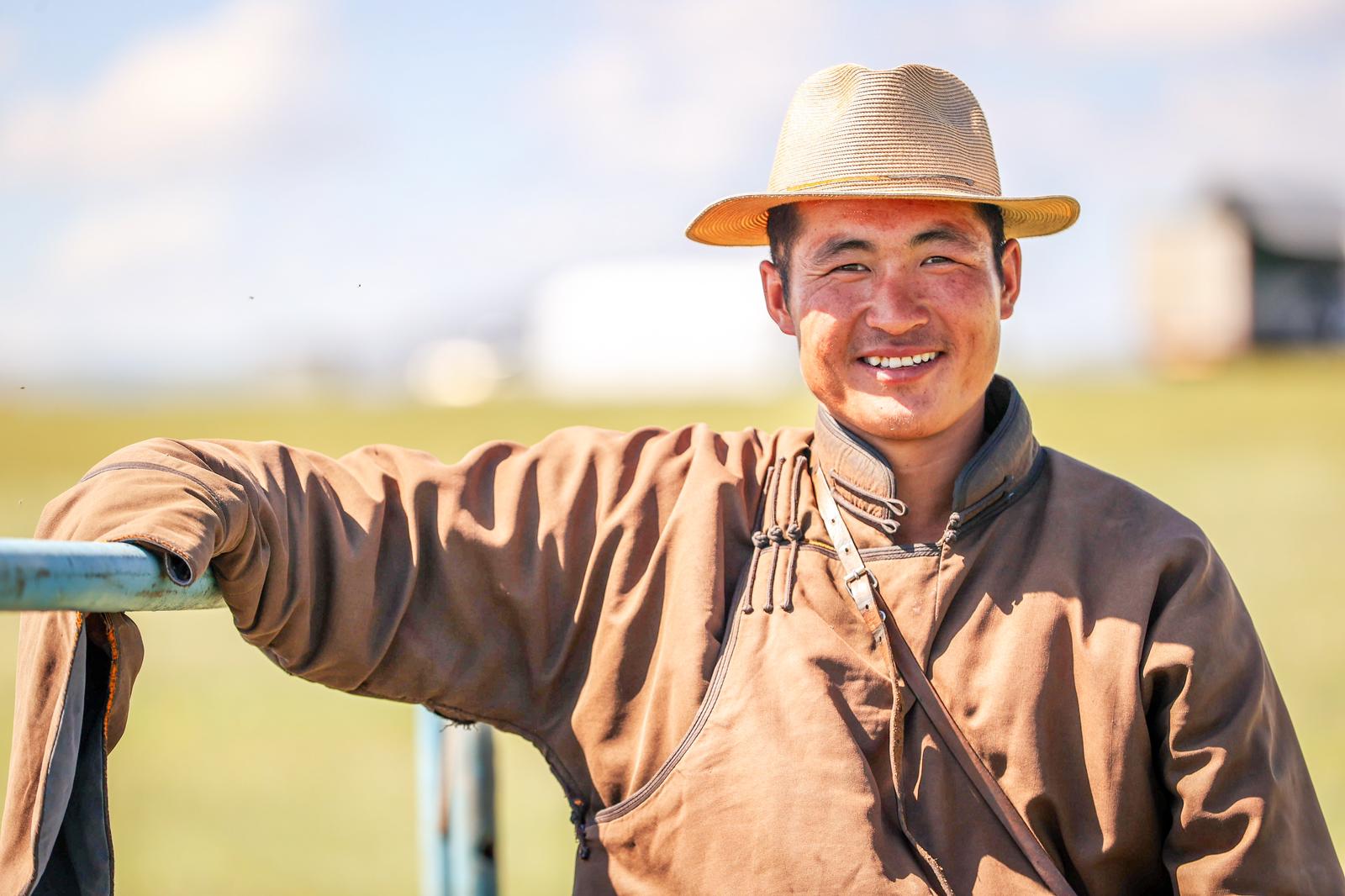 Day 10 began with a glorious sunrise over the distant mountains near Finish Camp. With only nine riders finishing the course on Day 9 we still had a lot of excitement to come as the balance of the field set off from HS27, between HS27 – HS8, and HS28 in the final push to the finish. Banners were waving and crew and a few lucky friends and family members were anxiously awaiting the arrival of the riders. Beer was chilling, celebratory airag was decanted, and cameras were ready.
At the crack of 0845 we welcomed Jock JRA and Sidney SPY. These two have ridden faithfully together from the start and were renunited down the course after SPY's short jaunt to town for a checkup in the SOS clinic.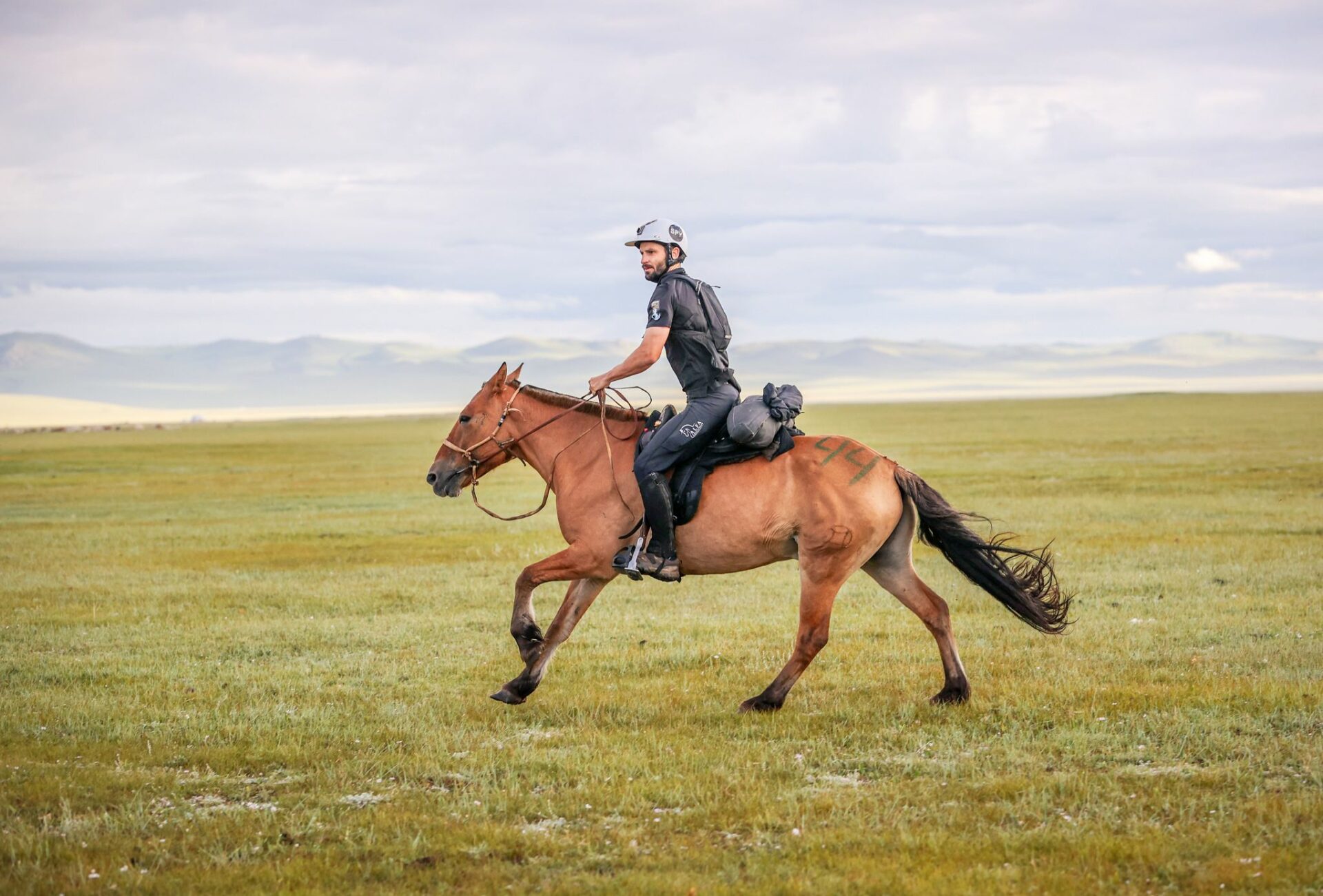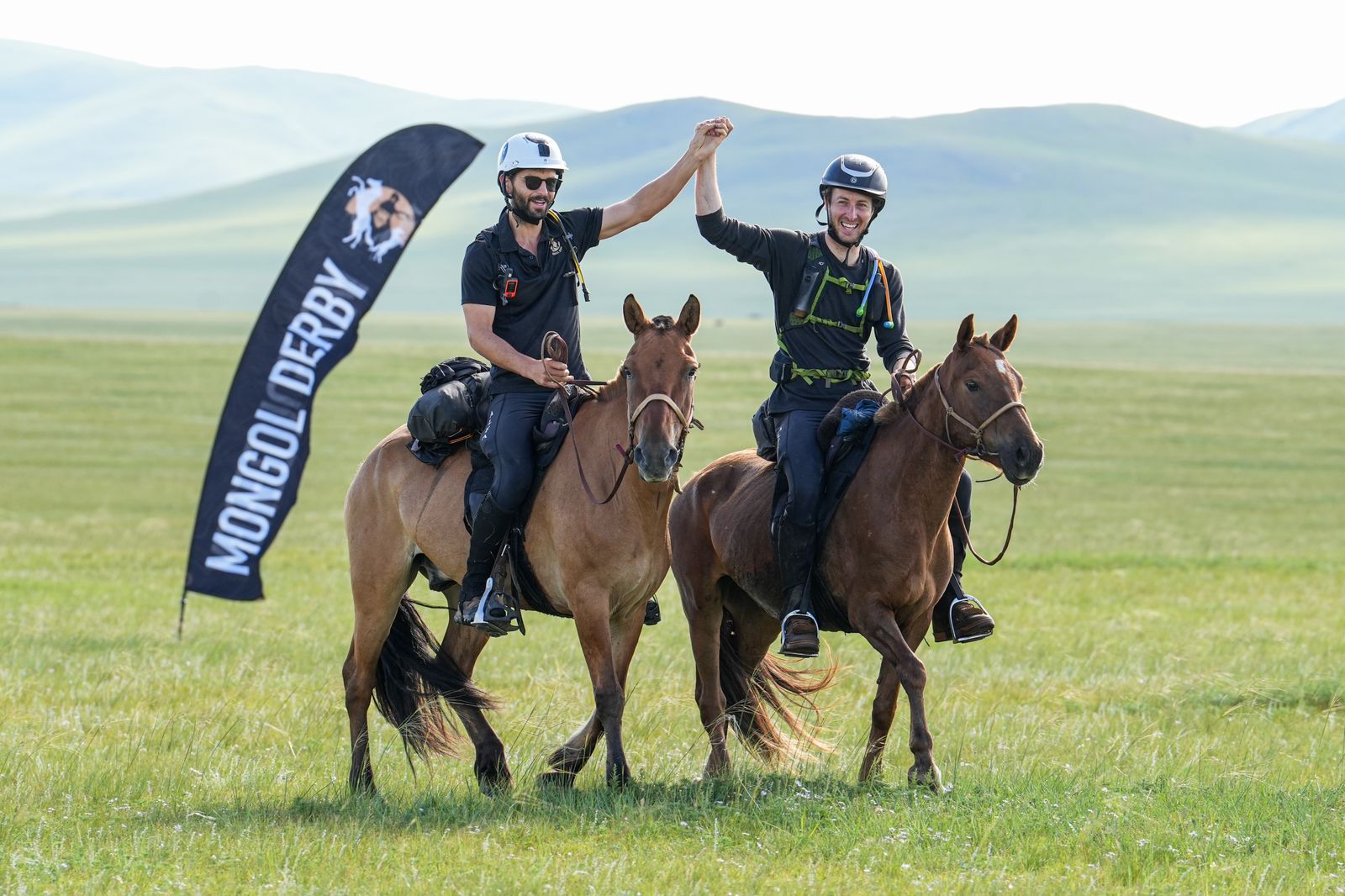 Team Kenya Chyulu CFA, Aisha AGR and Keren, KDU followed shortly after, and were cheered by friends and family who had flown in especially to mark this tremendous occasion with their loved ones.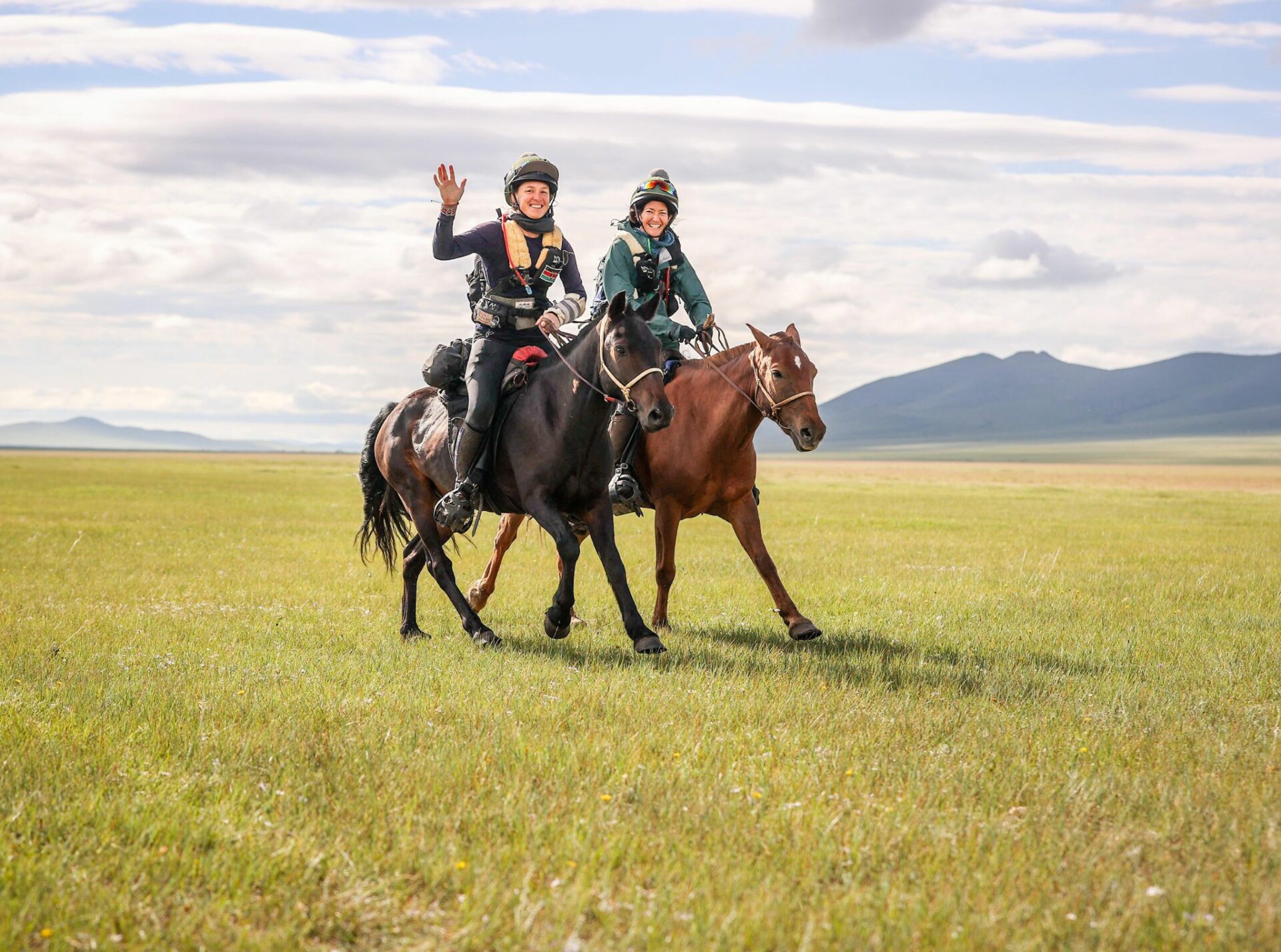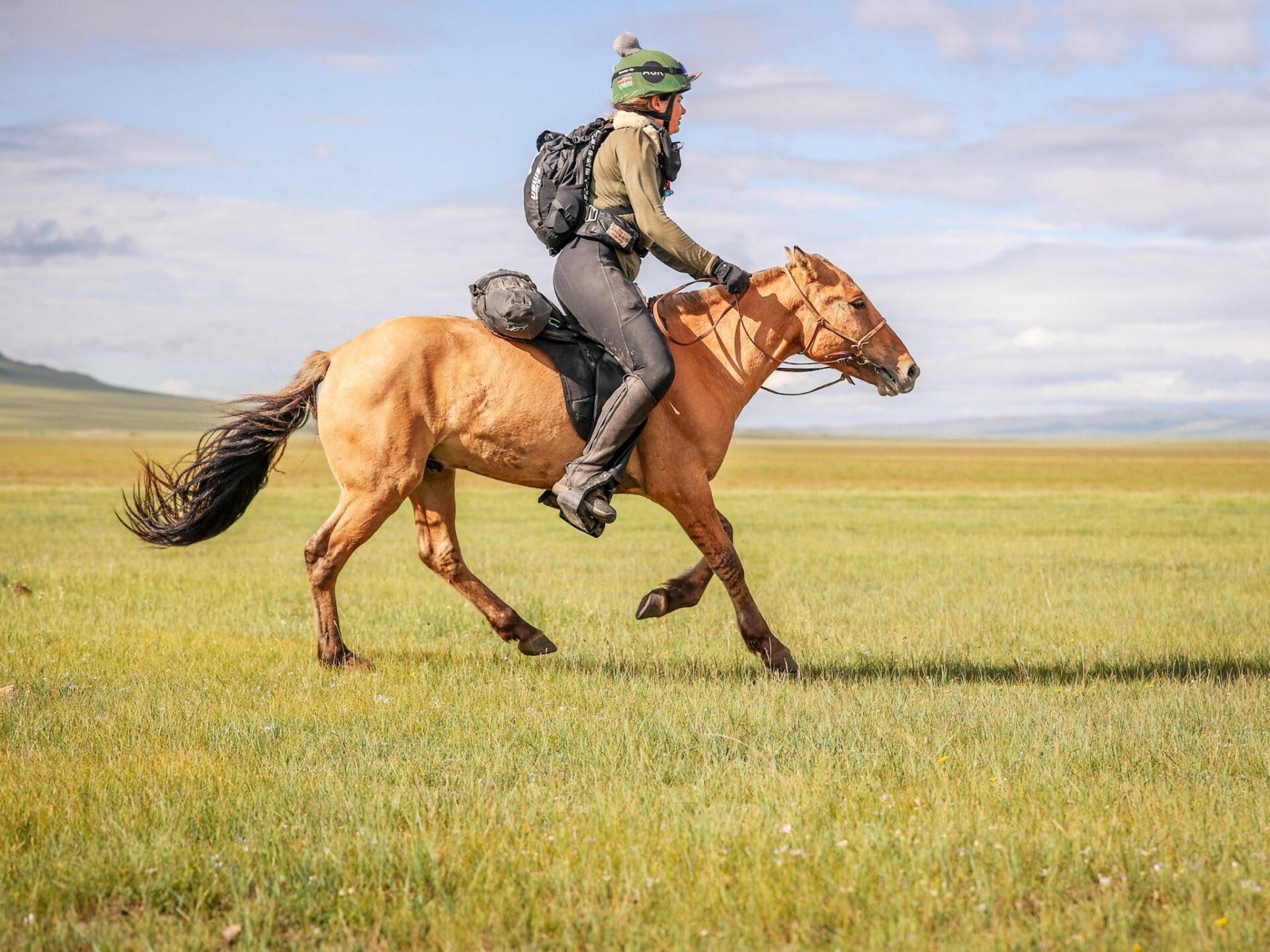 Not far behind was our intrepid warrior Reid RAL who was overheard at HS28 that his goal had now become to not have a fall so close to the finish. He has battled on remarkably since the beginning and could almost taste the finish (and the cold beer) and was looking forward to not being on a horse for the next day or two. Riding alongside and sharing in the glory was Jessie JDO who has also ridden a stellar race, showing us all how it's done.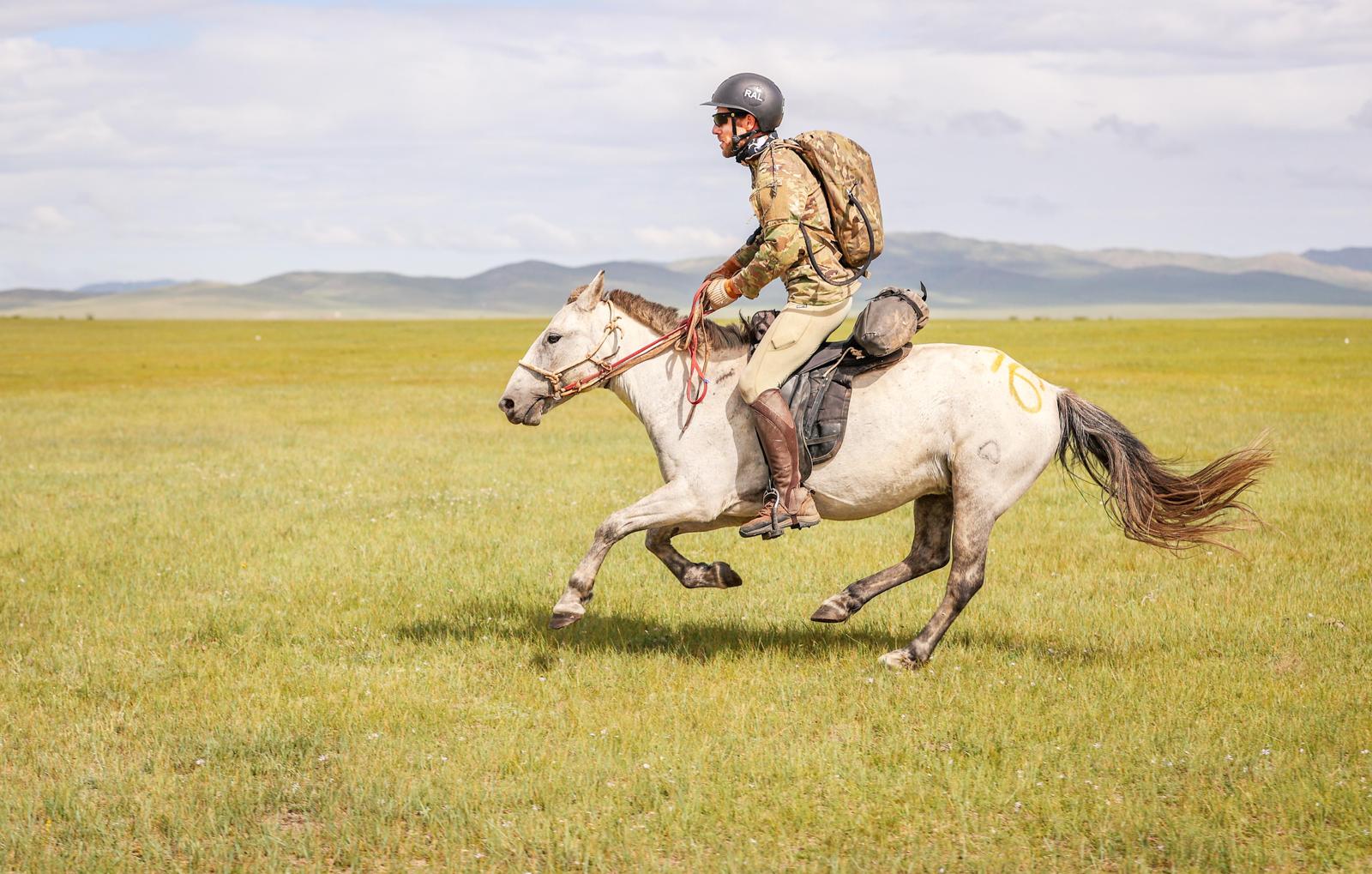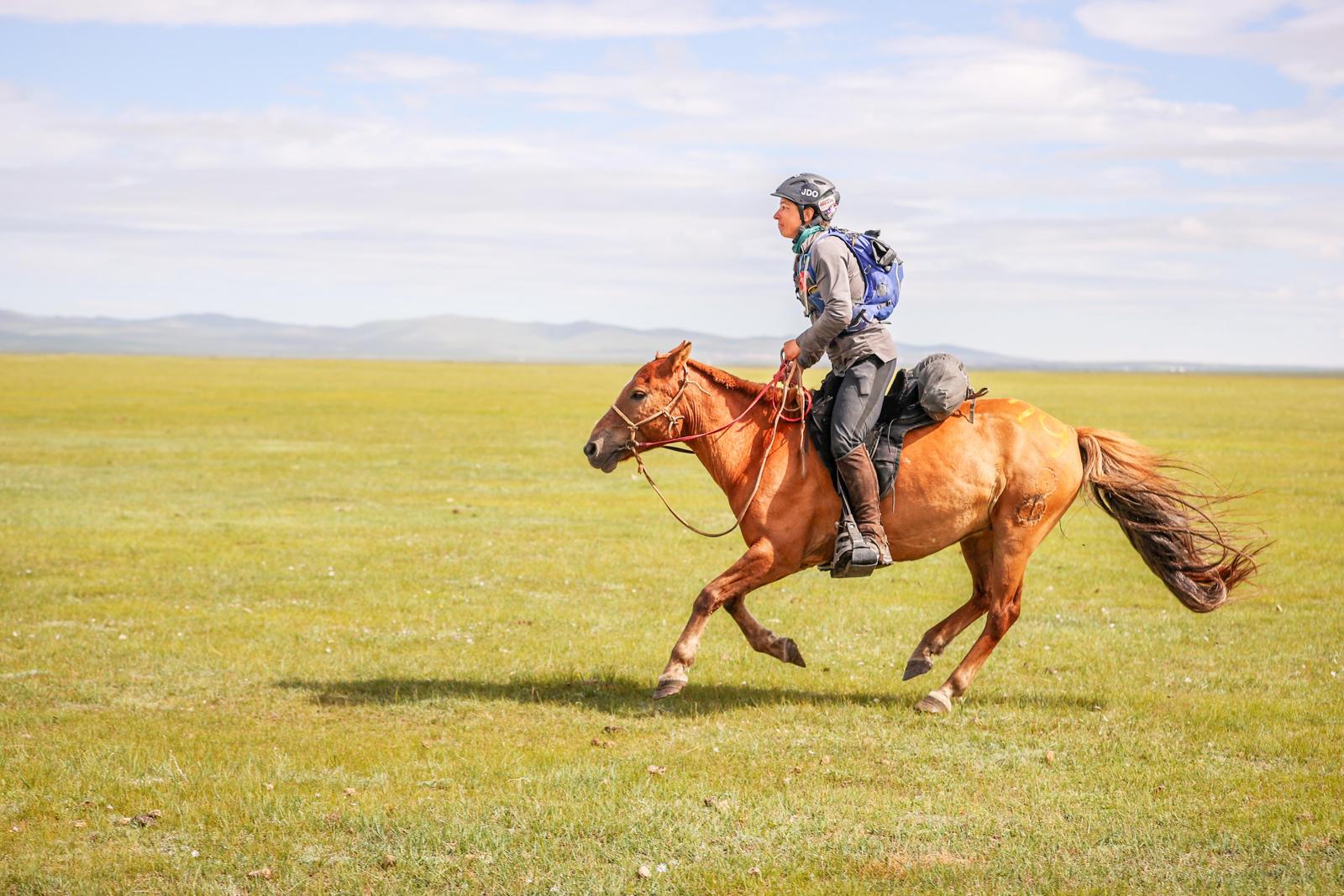 Brothers Dominic DGJ and Rollo RDJ made the final leg shortly before noon, just in time for lunch and a well-earned cold beer. Hannah HBC, a veteran of the Gaucho Derby, rode in alongside.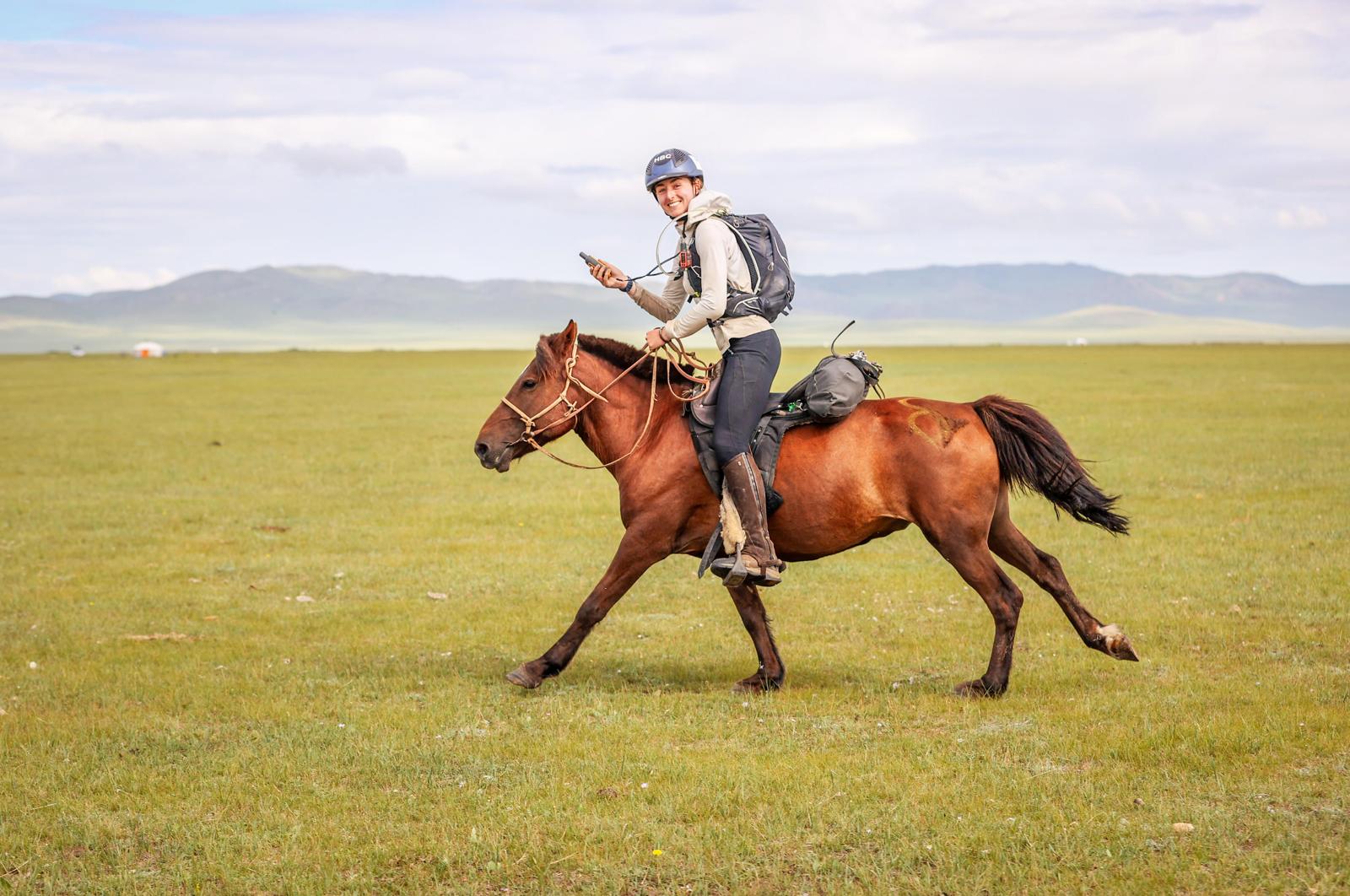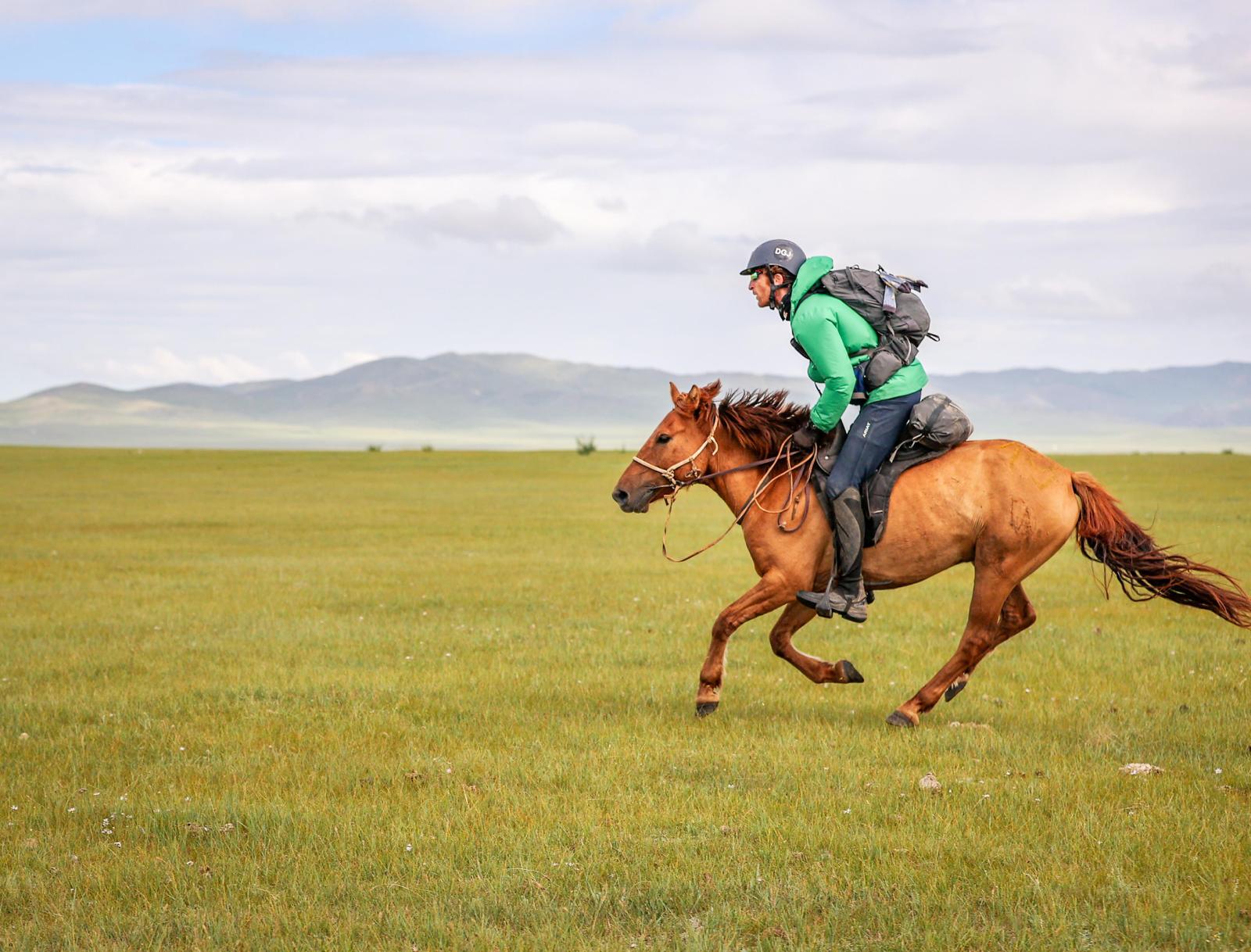 Walking into the finish leading his horse and welcomed with a tremendous display of appreciation for his bravery and determination in the face of hardship was Arthur ADO. Arthur was well on his way from HS27 – HS28, a mere 40km from the finish line when he suffered a hard fall and a suspected fractured elbow. He insisted he was fine (the evidence of his elbow very much to the contrary, by the way) and was determined to walk as much of the rest of the course as possible to get across the finish line. He was relocated closer to the finish for his triumphant last push, before being whisked off to UB for further assessment. Our collective hats are off to you Arthur, you won the day no matter where you placed in the field. We all wish you a speedy recovery.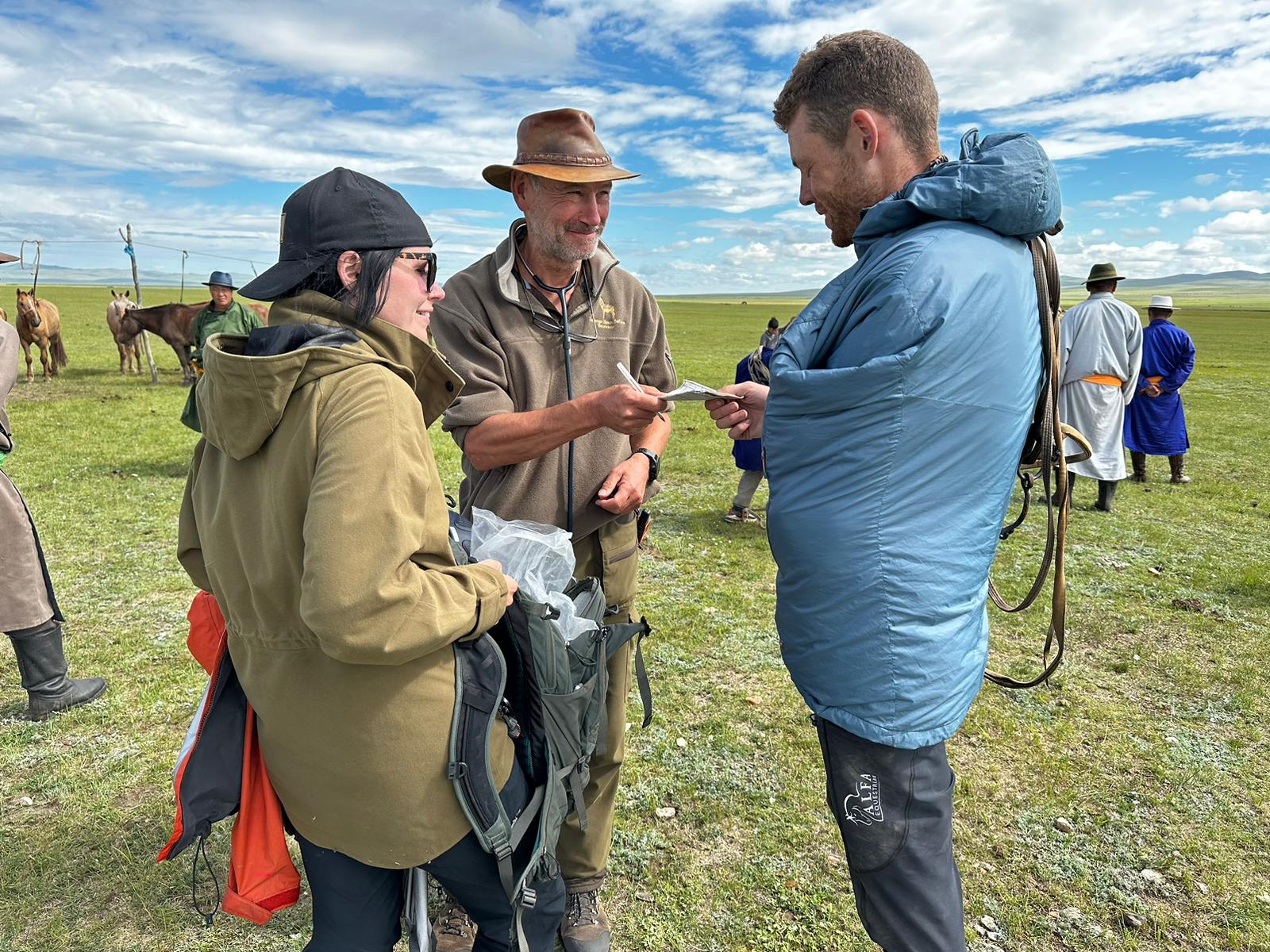 The balance of the "horde" who had been riding consistently as a pack for the better part of the Derby rocked up to the finish shortly after lunch. Lucy LJO, Alice ARO, Micaiah MSO, Lexi LPE, Emmelia EPO, Olivia OGA, Seb SCO, and Erin ESY ended their odyssey on a fine note, with cheers all round and smiles as wide as the Mongolian sky.
And finally, bringing up the rear like the responsible rear guard that they have been, was Ashlin AOC and Madliene MHA. These ladies have ridden a steady pace throughout the race and their determination and grit has not gone unnoticed.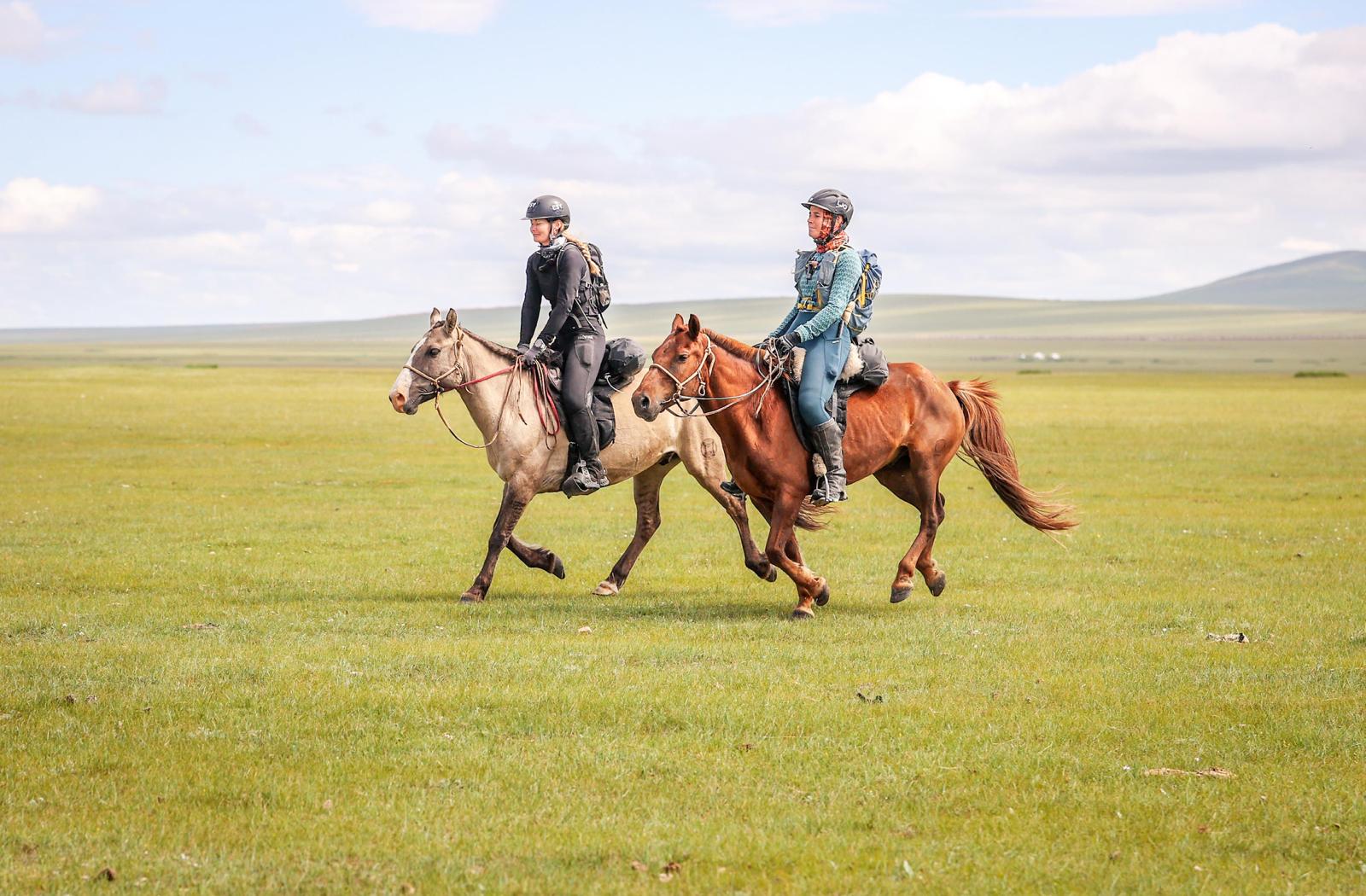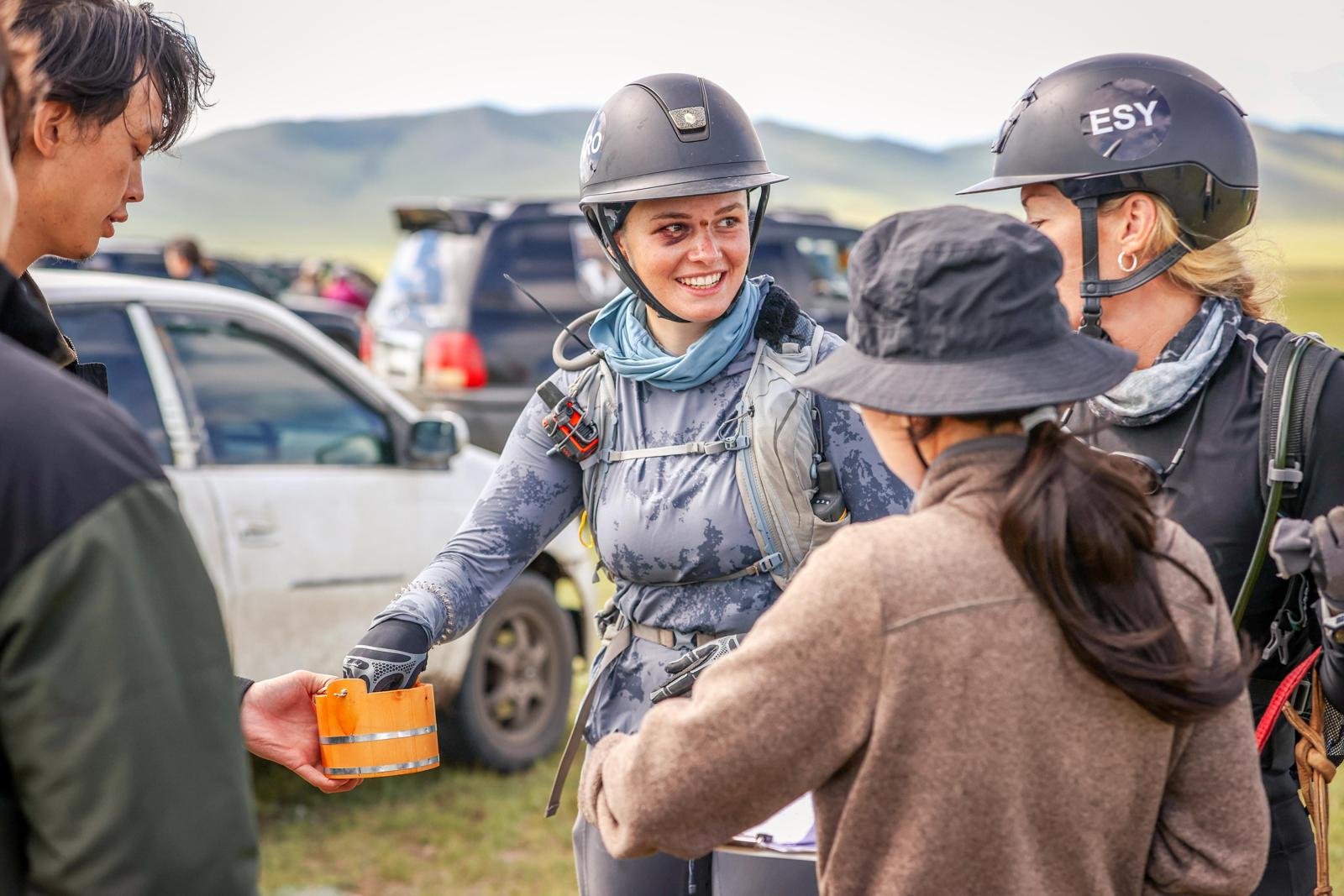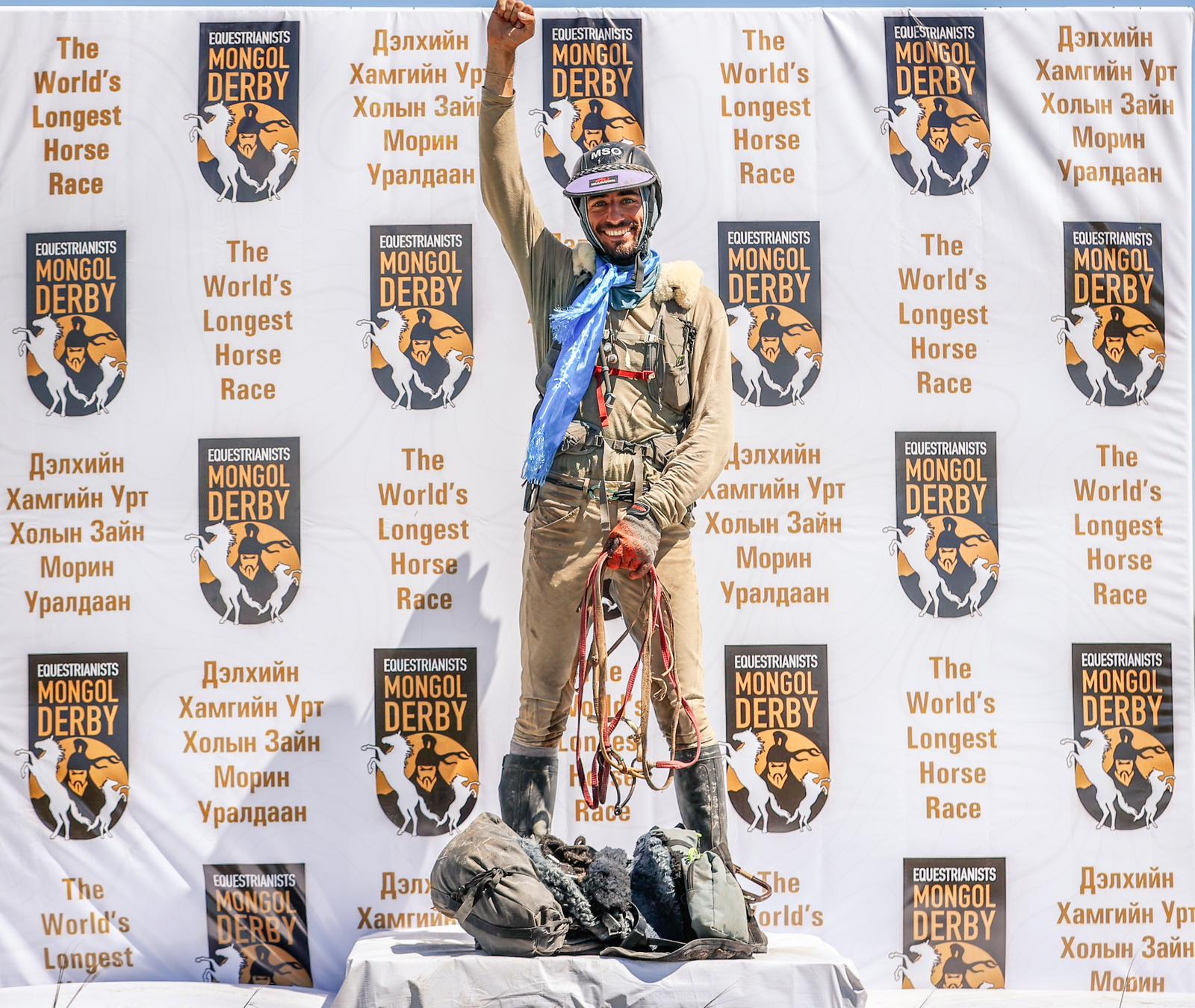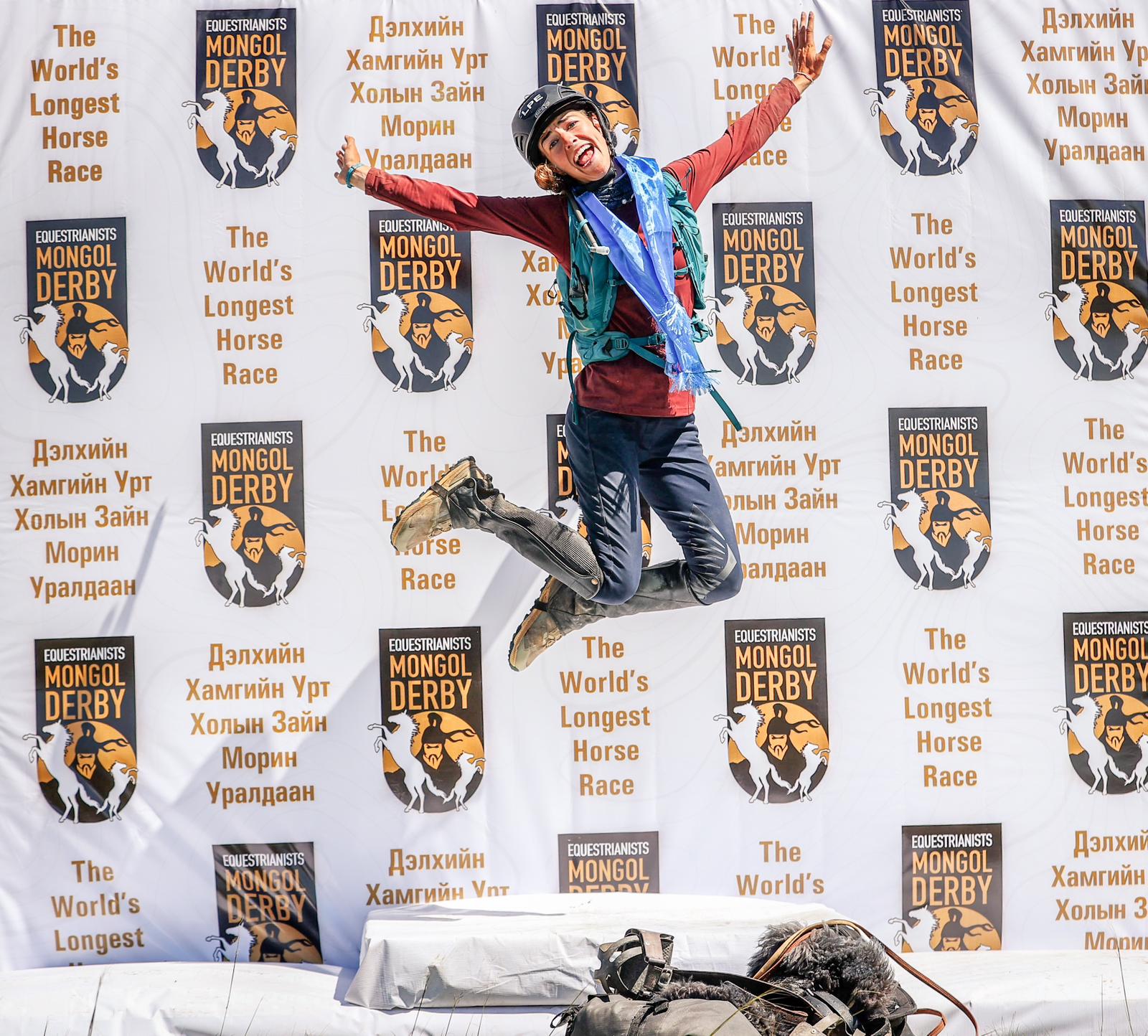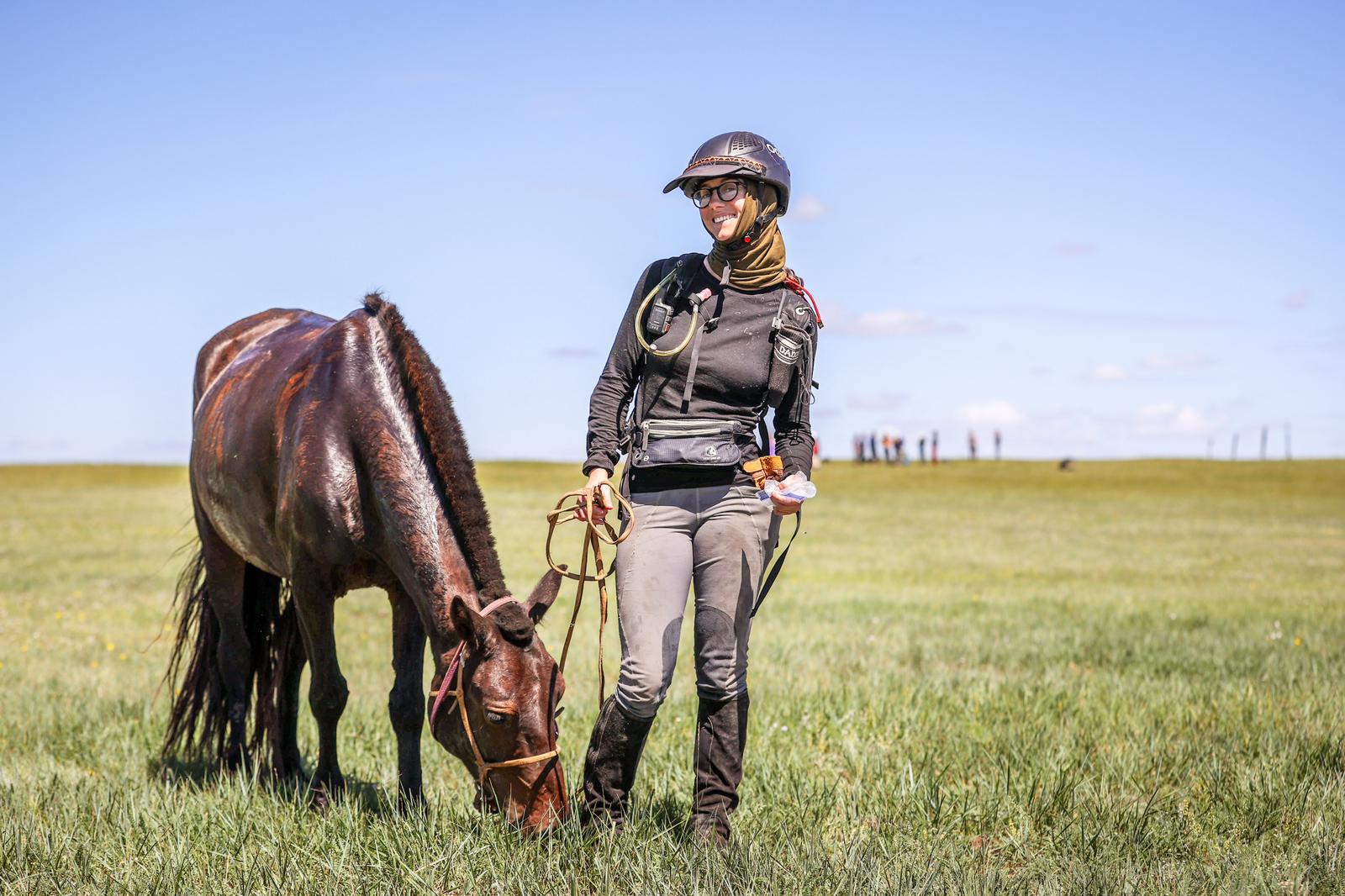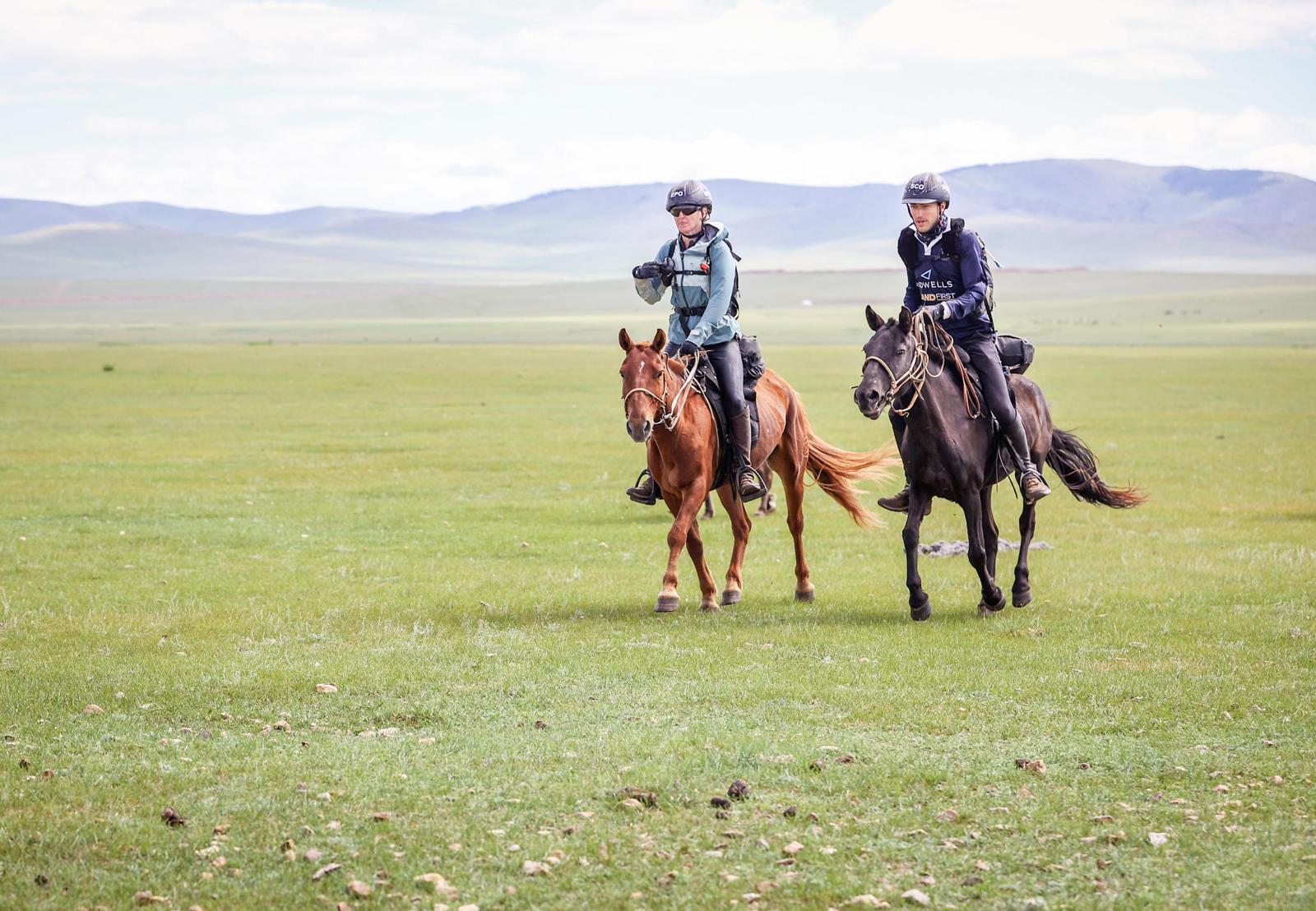 As is the custom here on the Derby, the retired riders who have been off the field for various reasons but who have been cleared by medics and HQ to ride the last leg, made their way back up to HS28 to ride the last leg of their amazing journey. These walking wounded are by no means any less competitive or accomplished than the official placers in the race and have suffered circumstances beyond their control that put a slight crimp in their Derby plans. They plastered a smile on their faces, swung up into the saddle and rode into the finish to a very warm welcome. Riding with adventure class riders Randy "the gentleman of the steppe" RCA and Elizabeth EBA, were Trinity TNE, Phoebe PRA, Solana SPE, Sam SFL, Izzy IDS, and Hilaire HBL. Well done guys and congratulations to all.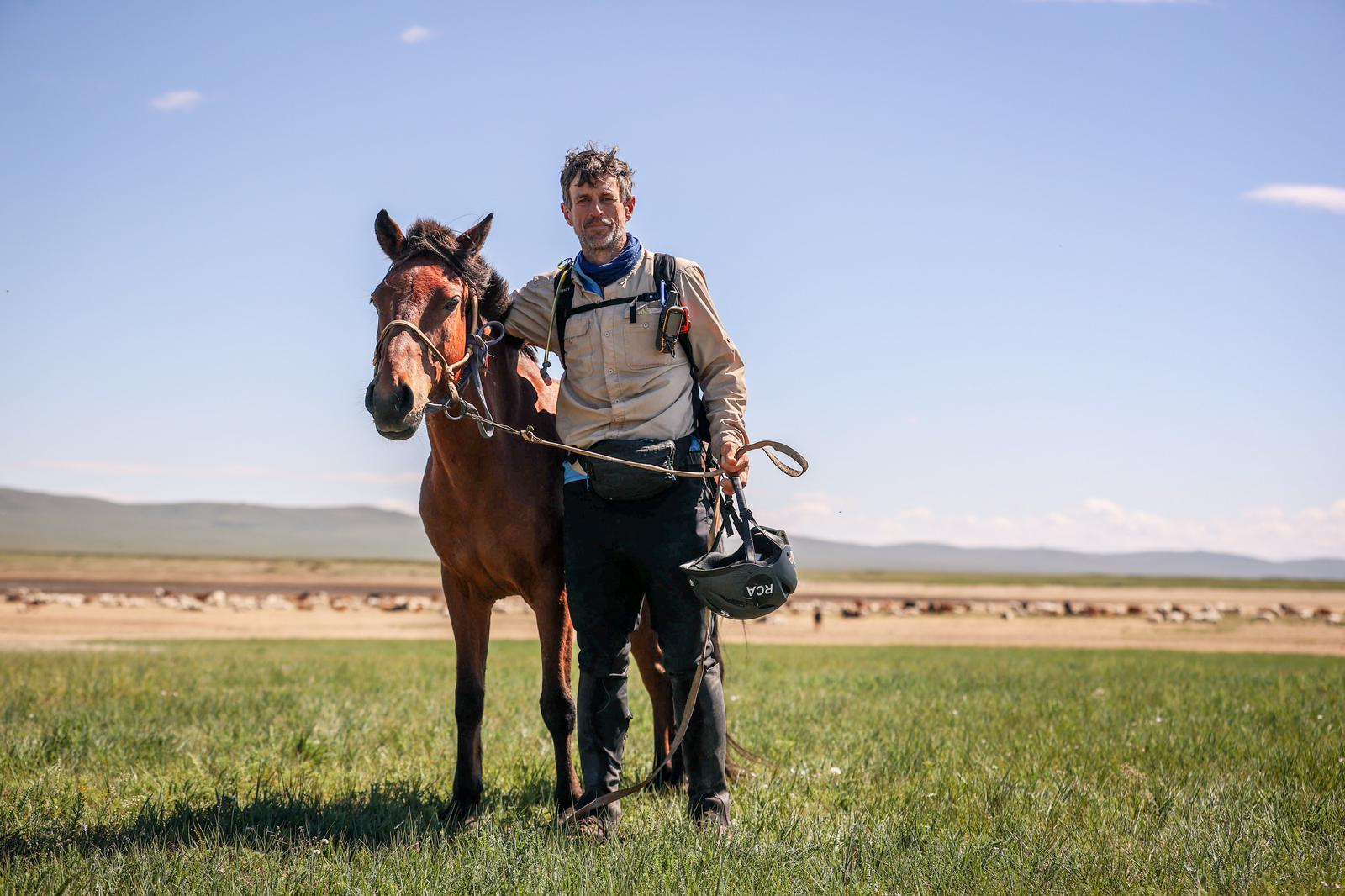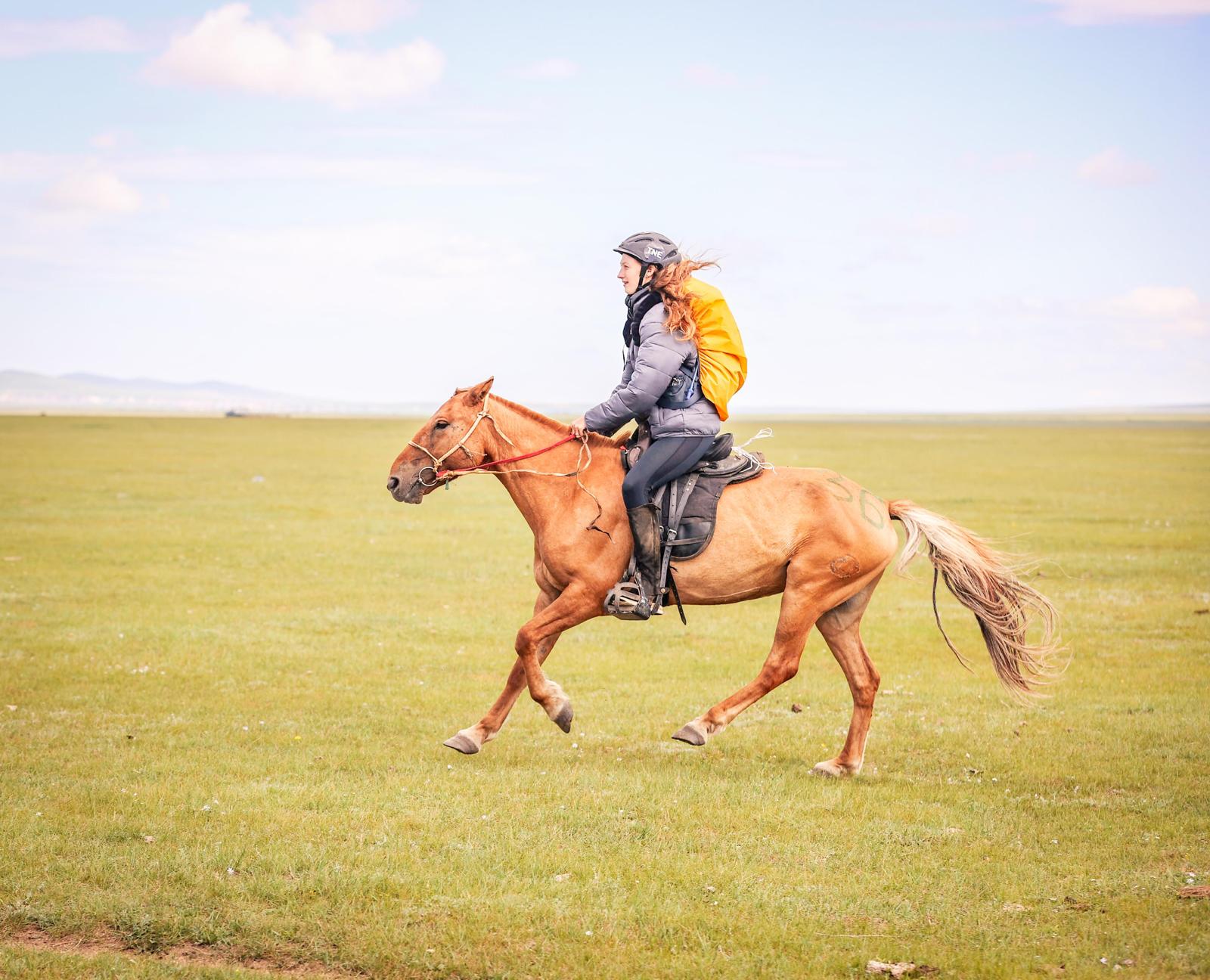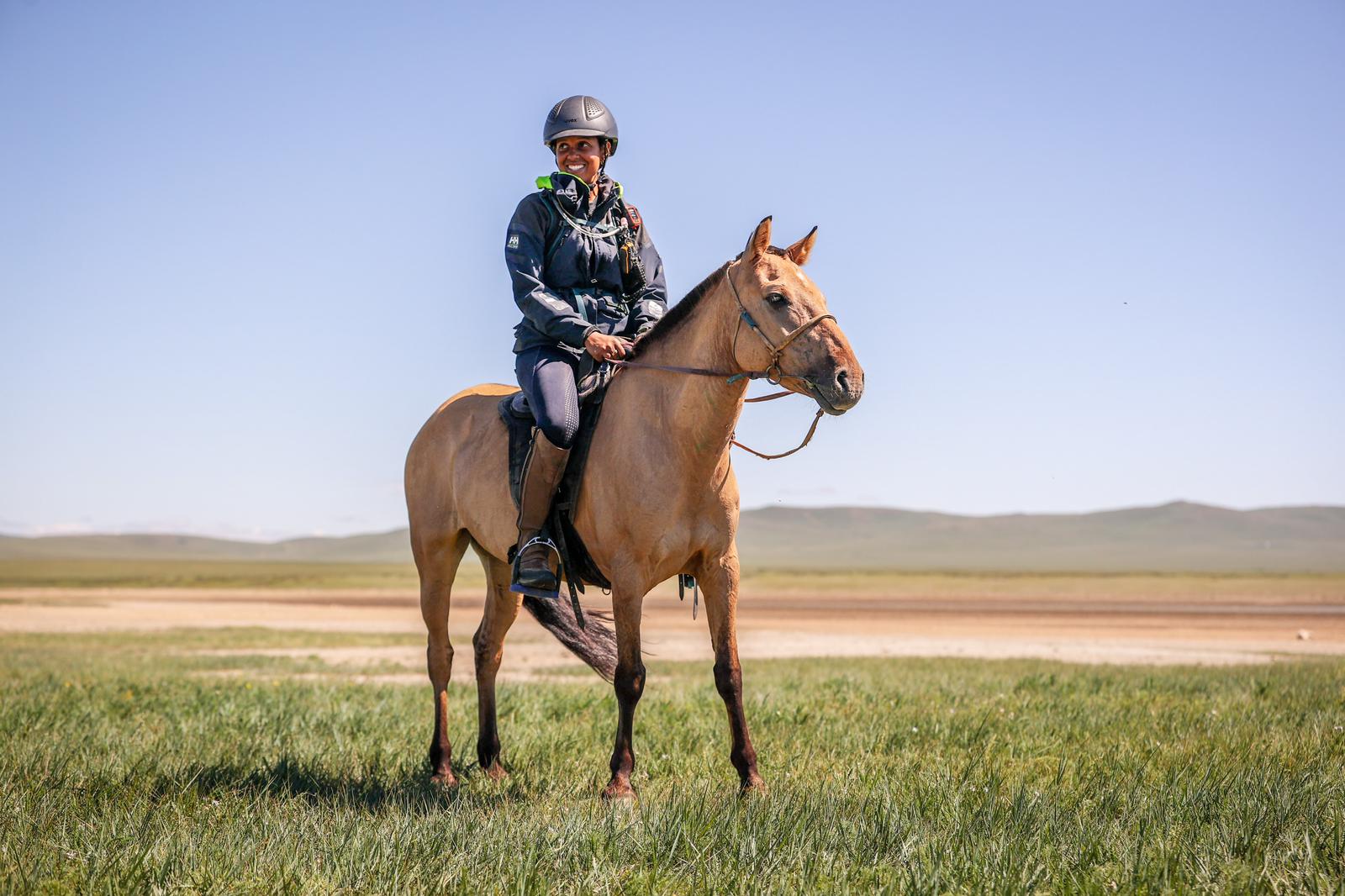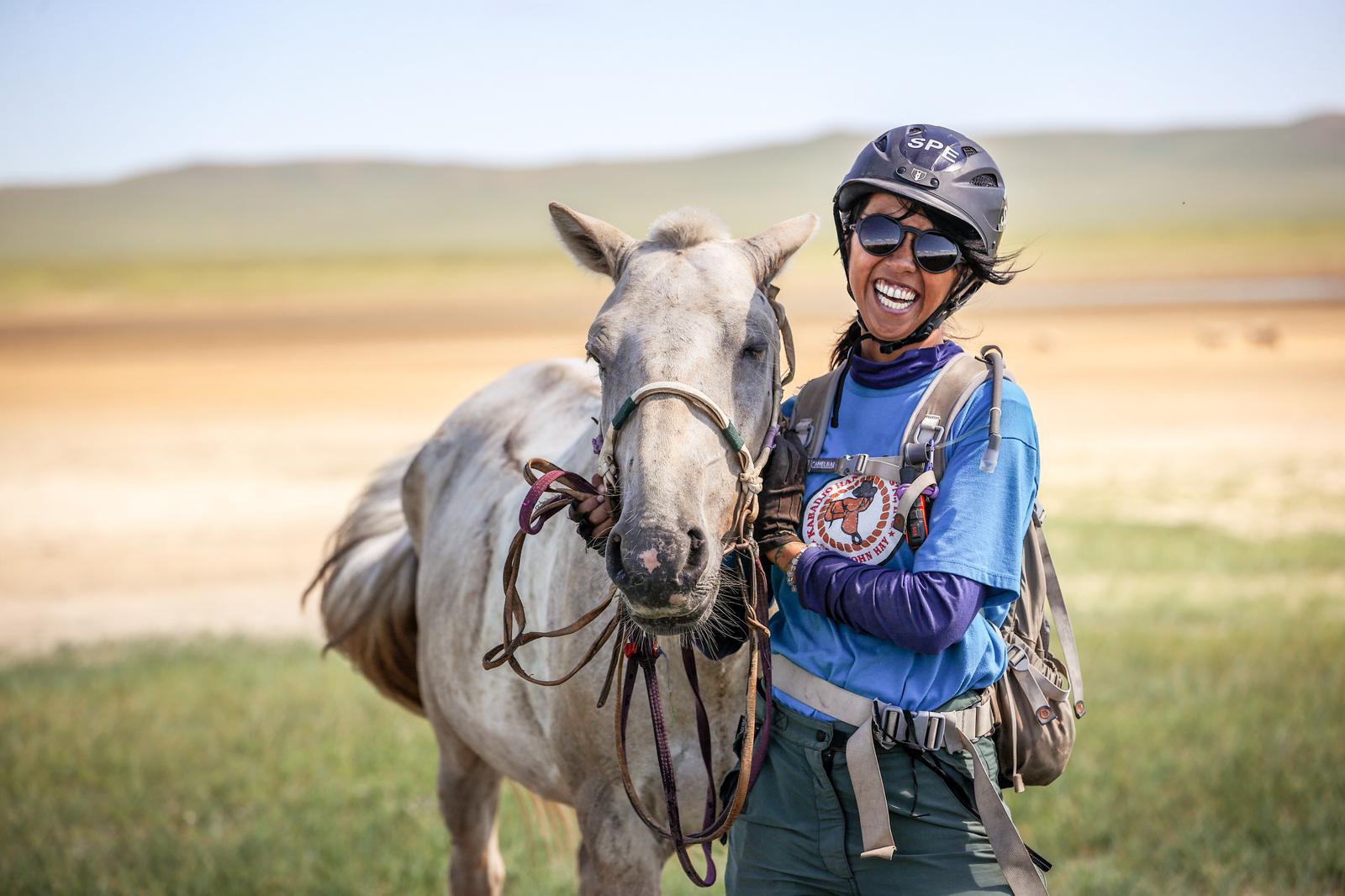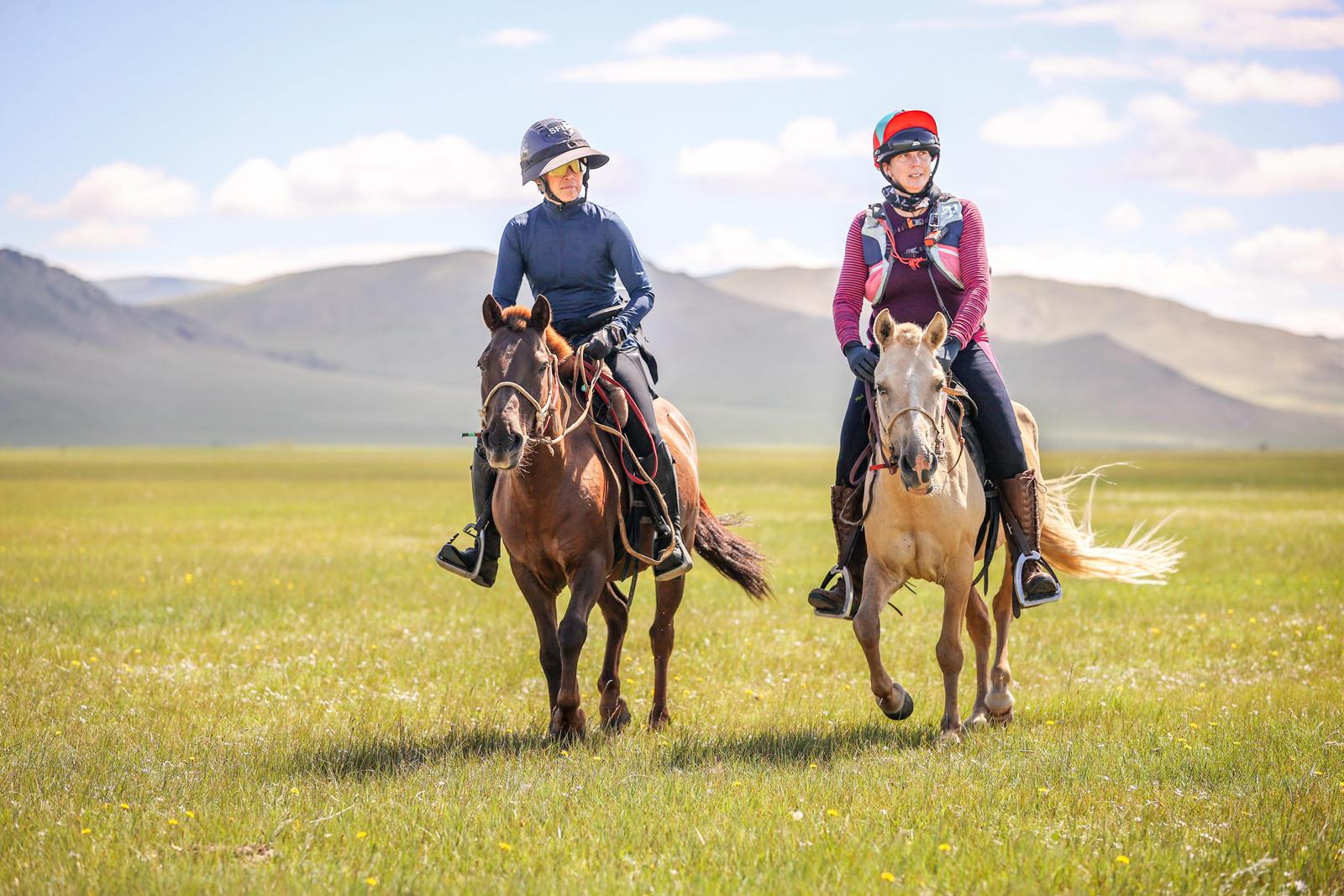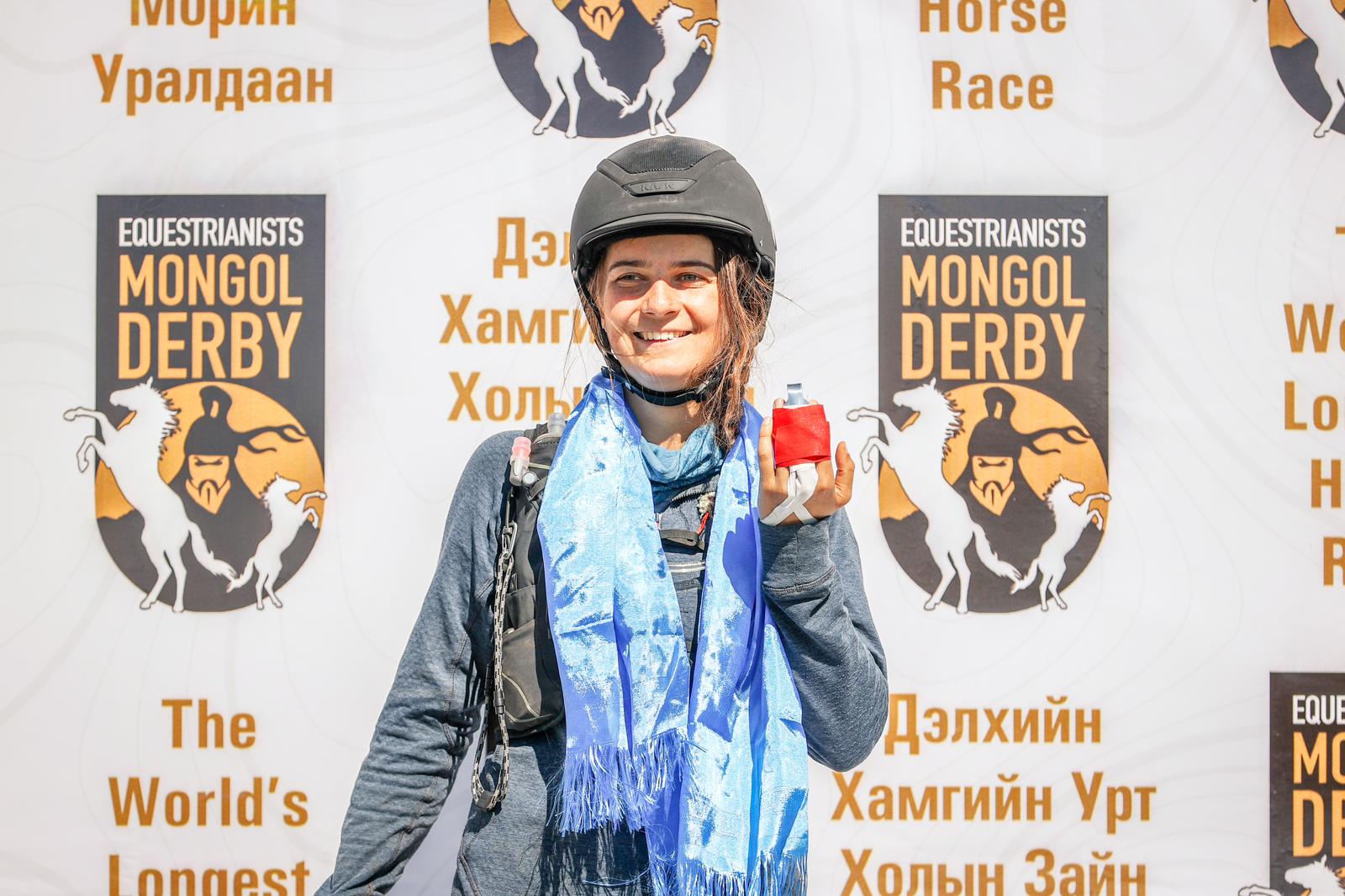 Once the dust had settled the riders tottered off to various gers at finish camp to peel off layers of dirt-encrusted clothing, inspect war-torn wounds and hit the showers for the first time in over 10 days. An evening celebration was on tap, and in addition to recognizing the official placings of the Derby, many awards were dispensed to deserving riders for various feats of endurance or bravery.
Here are the official placings for the Derby:
(Official times are calculated considering official finish time plus or minus any adjustments for accumlualted penalties not sat or ride time credits not used):
1st LHE
2nd MPE
3rd JJA
4th XFE
5th MHK
6th HCO
7th FJA, OHK, UKA
10th JRA
11th CFA
12th AGR
13th JDO, RAL
15th DGJ
16th HBC
17th ARO
18th AOC, MHA
20th LJO, MSO, EPO, ESY
24th LPE
25th RDJ
Adventure category (carried forward and missed one or more stations but continued to ride):
SPY
KDU
RCA
OGA
SCO
EBA
ADO
Retired: (injured & off-field or carried forward to finish line):
RHE
EAS
MMC
BFA
SFL
SPE
HBL
TNE
PRA
IDS
*Final results are finish times plus or minus any time adjustments for penalties not sat or accumulated ride time credits