Back
Day 5 – 2019 Mongol Derby
Day Five – We've reached "hump day" here at the Derby and like it or not, we have only five more days of racing excitement left. Judging by where the riders were situated at the close of racing this evening, we still expect to see a winner (or two) (or three) (I think our record so far is three) on day seven – a mere two days from now – barring extraordinary circumstances. When you consider what these riders have endured thus far, the circumstance would have to be extraordinary indeed to put a stick in their spokes at this point.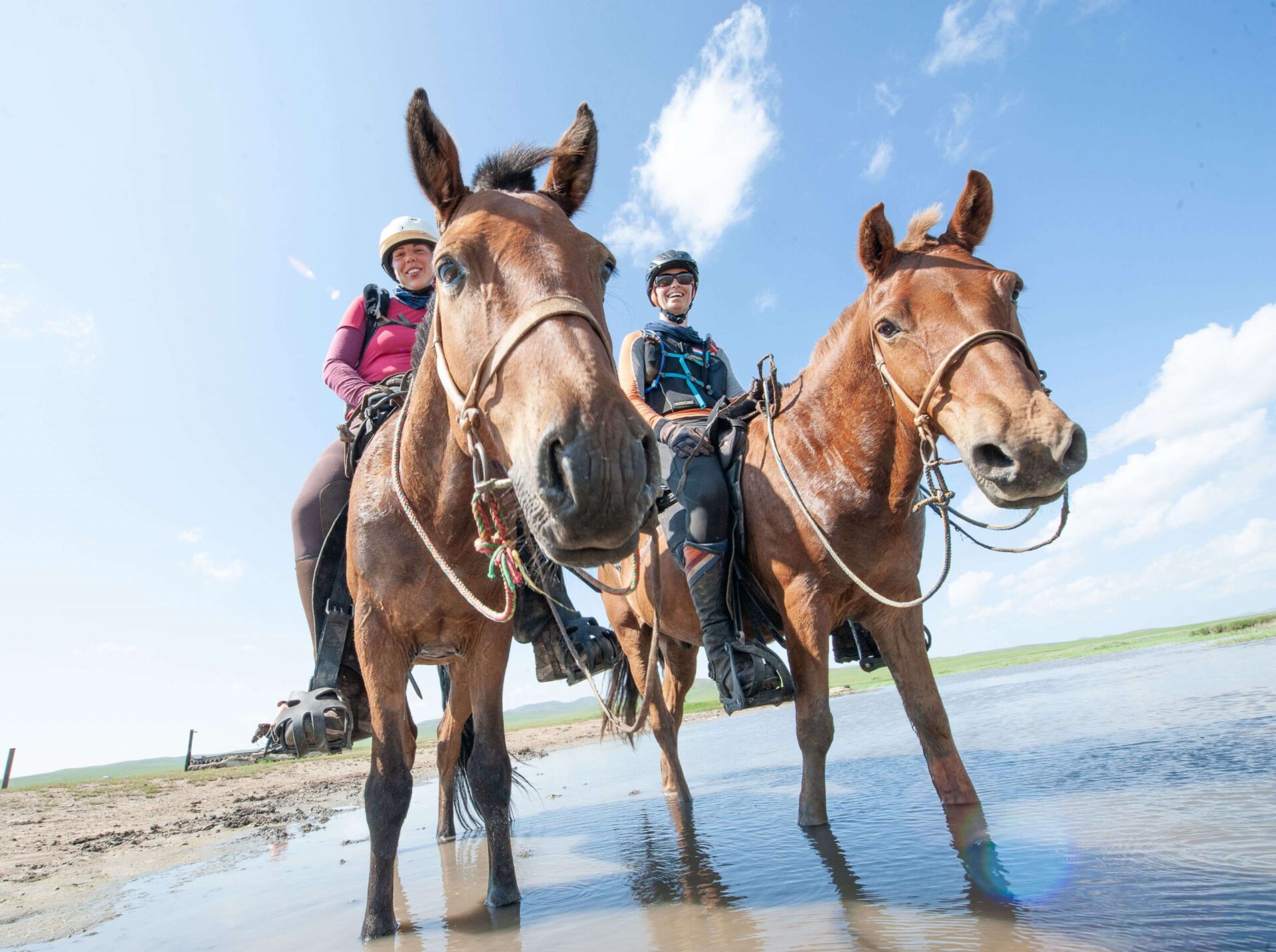 Sarah Farnsworth (photographer).
Let's have a look at where things stand: 
At the front of the pack, Bob (RL) is within yodelling distance of HS20 tonight, his navigation prowess and sheer unmitigated grit blowing him past HS19, where he did a respectable 19-minute changeover. "Holy cow!" we exclaimed at HQ. "He's gunning for HS20! Does this guy ever stop?" No, apparently he does not. His erstwhile riding companion Ahmed (AA), having sat out a two-hour heart rate penalty at HS17, parked it at HS18 tonight; LK, ZH, JH, WN, SM, SCH, ES, and FW (FW with his first penalty today) chose to stay at HS18; and MV, JB, and SB, who followed Bob out of HS19 after their own speedy 22-minute changeover, camped a bit further out. We expect the front of the action to wind up somewhere between HS24 and HS25 tomorrow night. 
The midfield, consisting of AK, JC, KA, KE, BM, LG, and LV is situated between horse stations 16 and 17, with BM and LV camped out past HS17. The backpack of HR, AW, SF, RRO, AB, PL, AM, EL, AD, MP, HB, FD, EM, ASB, JK, KH, TV, CK, and MF are located just shy of HS14 to just past HS16. Just in case you lost track in there somewhere, this means the field is spread over approximately six-horse stations, or somewhere in the vicinity of 180+ kilometres… mind-boggling, I know.  That's what WE thought when we put the course to bed this evening.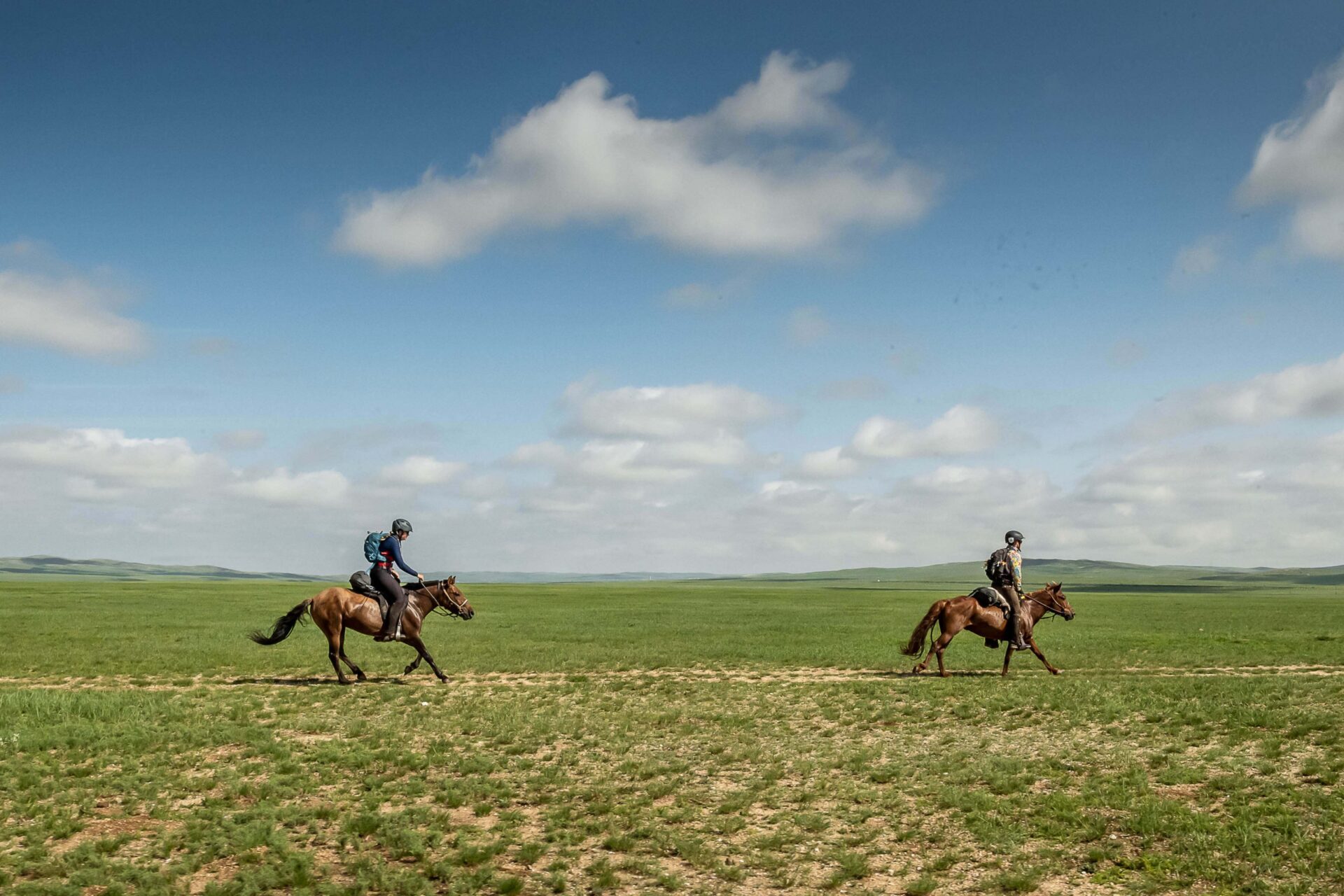 Sarah Farnsworth (photographer).
And did we mention it was hot? The relentless heat has slowed up the field somewhat, with riders showing signs of heat-related wear-and-tear. The vets handed out heart rate penalties to Ahmed, Zsofia, Frank, Justine, Elise, Annette, and Wiesman – his second heart rate penalty – he will have to be on top of his game to avoid a third and the possibility of a discretionary 4-hour disadvantage. Speaking of which, Wiesman and Sampie, late riding into HS 19, will each sit out a 50-minute penalty first thing tomorrow. That could change things up just a bit. 
In amongst all the action, there were the inevitable moments of pure gold that brightened our day. Who can forget seeing evidence of Taggert's (TV) impromptu loin cloth fashion show? (We are trying to forget, believe me; some things you just can't unsee.) Or Michael (MF), camped out just shy of HS14 this evening, not only sending us the mandatory "I'm okay" message, but a "Please deliver sleeping bag" message too…what does he think we are, Amazon? I'm not sure what magic he worked, but he did end up with a sleeping bag delivered to his location. The Steppe is smiling on him tonight. Sleep well riders, tomorrow is another long, hot, dusty, glorious day.
Day 5 Leaderboard – 11th August 2019
1st RL
2nd SB, JB, MV
5th FW, SCH, LK, SM
9th ES, JH, JC, ZH
13thAA
14th BM, LV
16th KE, KA,
18th LG
19th AK, WN
21st AW, HR
23rd EL, AD, MP, AB, PL, RRO
29th AM, HB, FD, TV, KH, ASB, CK
36th MF
Adventure Category
EM, SF, RR, EN, JK, NC, SC
Retired
VG, PC