Back
July Mongol Derby Day 2: Who needs stirrups anyway?
Daybreak on Day 2 of the July 2022 Mongol Derby was a sight for sore eyes (and even sorer behinds): bright sunshine, a cool breeze and wispy clouds. The perfect weather to cover some serious miles across the rolling steppe, stretching as far as the eye can see. By sundown, a hot afternoon had slowed the pace of the field, but the two leading riders from close of play on Day 1 would see their lead clawed back by the chasing pack: we now have six riders vying for the lead, camped together at HS6. The race is on.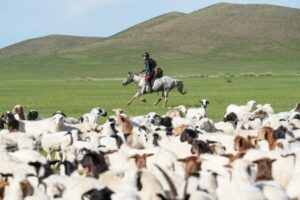 At the head of the race this morning at HS3, Annie Hackett (AHA) and Sam Edney (SED) had no option but to sit out a late riding penalty from the previous evening, incurred by riding past 18:00 in order to reach shelter at HS3 rather than risk camping out in some serious rain. A sensible tactical decision last night, an agonising wait this morning watching the seconds tick by and praying the chasing pack didn't appear on the horizon before they were released. They managed to make it out before their pursuers appeared, but how safe was their lead?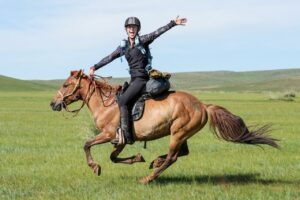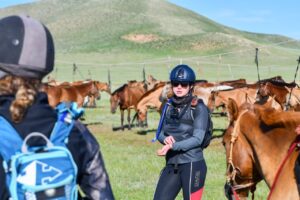 Hot on their hocks this morning were Chris Walker (CWA), Patrick Heffron (PHE) and Tiffany Atteberry (TAT), camped just 5km short of HS3. With no penalties to serve, they all managed to remount their steeds from the previous evening and barrel on to HS3 early in the morning. A stonking day's riding has seen PHE and TAT make up the ground on the leaders, catching them at HS6 to make camp for the night. CWA incurred a 2 hour vet penalty at HS5 along with Willemien Jooste (WJO), with both ending up camping somewhere between HS5 and HS6: will we see them back in the mix?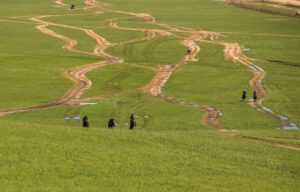 Also close behind at opening of play this morning and setting themselves up for an excellent day's riding were Howard Bassingthwaighte (HBA) and Tyler Donaldson-Atiken (TDO), the latter proving that despite having turned up with none of the gear he has firmly grasped all of the idea. The two have ridden together all day to work their way up to the front of the field to join the other trailblazers at HS6, despite HBA making a brief unplanned dismount en route to HS6 which barely seems to have broken his stride. Will the nascent partnerships hold strong, or will the pairs chop and change on Day 3?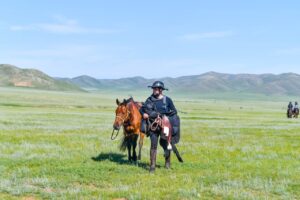 Meanwhile, further back in the field, the day has been delightfully action-packed.
After their rollercoaster ride yesterday, Alexa Towersey (ATO) and Eleanor Aitken (EAI) made it into HS2 this morning, where buddies Marianne Finch (MFI) and Sarah Beck (SBE) were waiting for them. ATO declared she had already left her soul behind somewhere on the steppe. Good to shed excess baggage early, really. MFI was serving part of a riding penalty, with SBE loyally sticking by her side while also waiting for ATO and EAI: "You don't leave a teammate behind." All mounted up and rolled out of HS2 shortly afterwards to make the most of the gorgeous conditions. SBE, her infectious grin continuing to light up the steppe wherever she goes, later strode into HS4 beaming, announcing she will be shipping this leg's horse home with her to Australia. A fitting souvenir. All four are camped together tonight at HS4.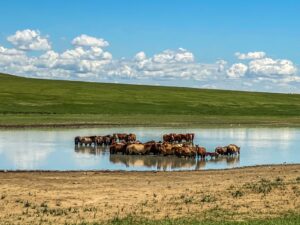 Wendy Oswood (WOS) also made it into HS2 this morning, having found herself a bit navigationally challenged last night and huddled beside a sea of goats and sheep in the biblical rains. To her amazement, as the deluge abated a nearby ger loomed out of the clouds like a mirage: she found a welcoming family to take her in, before she was packed off this morning to head for HS2.
Some interesting gear adjustments have been made today. Pumbaa Goess-Saurau (PGO) first decided to shed her seat-saver before leaving HS2 this morning, proclaiming that it was "saving no things" and undeserving of its name. Apparently unsatisfied with one adaptation, she later shed both her horse and all of her gear while PGO attempted to hone her herder skills in hot pursuit of birthday girl Madeleine Motelay's (MMO) loose (and also gear-laden) horse. Both ladies soon found themselves on foot, and, remarkably, very nearly stumbled across a missile languishing in the middle of the steppe. Remaining irrepressibly jolly throughout, the pair joined forces with Allison Kohlberg (AKO), who had also found herself lacking both horse and gear, bought some bridles from herders and nabbed some stirrup-less saddles from crew members at HS4. The three trotted off (cautiously) into the sunset, now self-identifying as "stirrup-less and stupid." PGO even tried to deposit her vet card in a long-drop but fortunately for her veterinarian Kit was on hand to avert disaster, retrieving the soggy card with the help of a veterinary arm-long glove.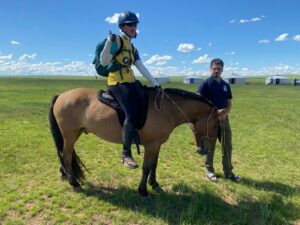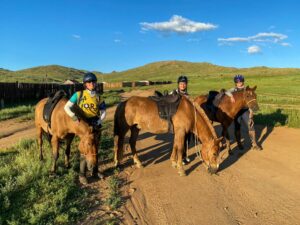 Happily, the trio ran into Wojciech Heliasz (WHE) camping with some hospitable Mongolian hostesses in their ger camp in a nearby soum (Mongolian steppe settlement) between HS4 and HS5, and have bedded down with their horses safely fenced in for the night. A birthday MMO won't be forgetting in a hurry.
WHE had his own drama to deal with this morning, having woken up to a bridle hitched to a post but disappointingly empty of his horse, which had seen no reason to wait for WHE to wake up before making its own way from his camping spot last night to HS3. Mercifully still in possession of his gear, WHE traipsed back to HS2 using mysterious "local sources" (which we assume involved two wheels and an engine), before selecting a new mount and following in the hoofprints of his erstwhile steed towards HS3.
Brian Stengel (BST) was setting off from HS2 this morning hoping for an energetic partner, having described his previous mount with whom he enjoyed an 11km walk as "very safe and focussed on self care." Deirdre Griffith (DGR) was also in the market for "a bunch of fast horses" today while eyeing up the horse lines at HS2 with local herders making a plan to catch up to the front, while Sarah Endress (SEN) relieved Tobias Endress (TEN) of horse-selection duties in an effort to ensure he kept up with her today: the herders were directed to provide him with "the wildest and best horse you have." Sadly, her efforts were in vain: the siblings are apart this evening, with SEN with riding buddy Flurina Hammer (FHA) at HS5 while TEN makes camp back at HS4 alongside fellow Gaucho Derby veteran Ciara Cahill (CCA).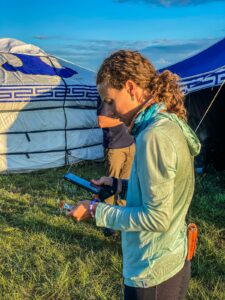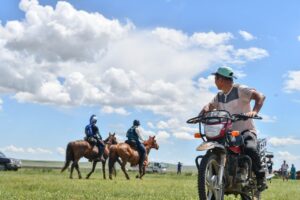 Gaucho Derby Academy graduate Gabrielle Tigan (GTI) was spotted liberally applying bodyglide to her horse this morning, and then again galloping along happily having fallen in love with a Mongolian Black Beauty, screaming to event manager Erik in his crew vehicle, "I love this horse! He was wild at first but making good time!" before zooming off in the direction of HS3.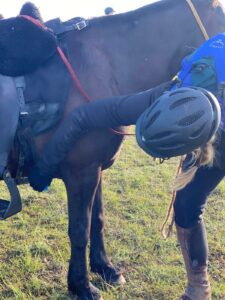 Siobhan Ryan (SRY) and Nathan Tarlinton (NTA) covered themselves in glory today. They take the prize for horse care: both rode out of HS4 before cut-off time, but then returned shortly after as they were concerned about water supply for their horses camping out. As if that wasn't enough, they also win the prestigious hero award for stopping to help PGO and MMO in their hour of need. Gold stars, both.
Cesca Green (FGR) and Brandy Dobbyn (BDO) have involuntarily joined Adventure Category today, owing to some bumps which meant they required a medical once over. Both are now fine and will be back in the saddle riding out from HS4 tomorrow morning, but are no longer in contention for the title. Nancy O'Neill (NON) also took a quick detour to Ulaanbaatar hospital to deal with an asthma attack, but bounced right back and has returned to join the party at HS4, albeit in Adventure Category too.
We wrap up with the motivational mantra of BST this morning in the glorious sunshine at HS2: "If you want to go fast, go alone; but if you want to go far, go together." We'll be back tomorrow with more tales of the Derby, to see whether teamwork really will triumph…
Day 2 Leaderboard
HS6: AHA, HBA, PHE, SED, TAT, TDO
Between HS6 – HS6: CWA, DGR, SMC, WJO
HS5: PRA, CVI, FHA, HFA, IHU, JWO, KGA, KDA, LHA, MFE, RSE, SEN, WOS
Between HS4 – HS5: AFE, AKO, BFA, GTI, MMO, PGO, WHE
HS4: ATO, AGA, BST, CCA, EAI, JON, KCA, MFI, MKE, NON, SBE, TEN (BDO – Adventure, FGR – Adventure, NON – Adventure).
Penalties
Late riding: AHA (60 mins), AKO (34 mins), ATO (4 mins), EAI (4 mins), HFA (74 mins), IHU (20 mins), JON (16 mins), KDA (20), LHA (10 mins), MMO (34 mins), PGO (34 mins), SED (60 mins), TAT (52 mins)
Vet penalties (2 hours): CWA, IHU, KDA, KGA, LHA, MMO, PGO, WJO, WOS
Lost tracker (1 hour): KCA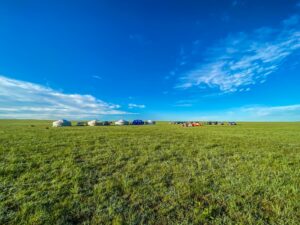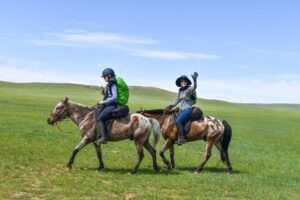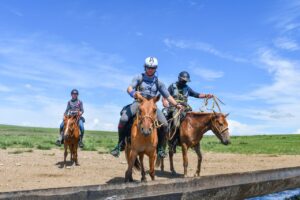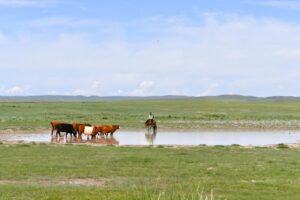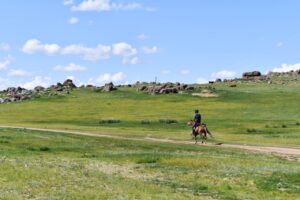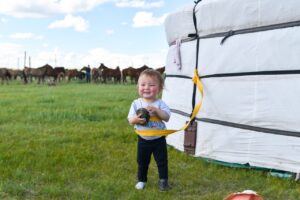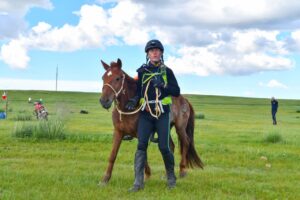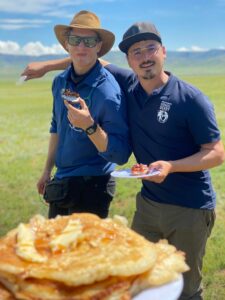 Photo credits: Louise Crosbie, Eledv-Ochir Bayarsaihan, Stevie Delahunt, Tulgaa Skizz, Shari Thompson.