Back
July Mongol Derby Day 9: Coming in hot
The podium positions may have been decided yesterday, but Day 9 of the July 2022 Mongol Derby brought plenty more action and emotional scenes as the rest of the field continued to bomb across the steppe towards their goal. On another summer sizzler, 11 more incredible riders made it across the finish line, with the rest of the field inbound tomorrow.
Riding hours were extended until 20:00, in order to try and allow as many knackered, creaking bodies to get themselves across the finish line and into a hot shower sooner rather than later. We would like to say this is solely for their benefit, but we also have the crew coming into close contact with riders to think about, now that riders are generally smelt before they are spied coming into horse stations.
It was an early start for Tiffany Atteberry (TAT) this morning, the only rider leaving from the final horse station, HS28. Yesterday had brought bitter disappointment after having to sit out a vet penalty at HS27 while the victorious Deirdre Griffith (DGR) and Willemien Jooste (WJO) had pushed on without her, but there was a slim chance she might be able to pull herself up into 3rd position overall if she could tear through the final leg in under 70 minutes, as a result of Chris Walker (CWA) and Patrick Hefffron's (PHE) late riding penalties from last night.
She rode an exceptional leg which came as no surprise after her phenomenal innings throughout the whole race, but it wasn't to be: she crossed the line just before 09:00, roughly two hours after kick off, putting her in a fantastic 5th place overall.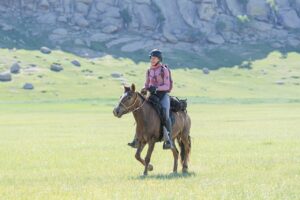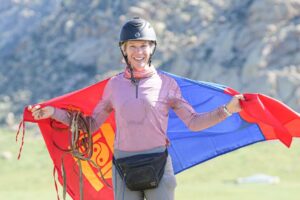 Emotions were, understandably, running high: she crossed the line wiping tears from her eyes, gazing up in astonishment at the Mongolian heavens. We don't call this the hardest and longest horse race in the world for nothing. Arriving to a raucous round of applause, her final steed looked pleasantly flattered by all the attention, but shortly got down to sampling the grass on offer at finish camp.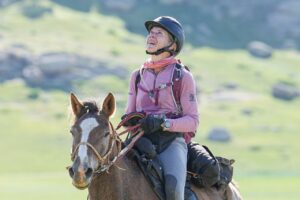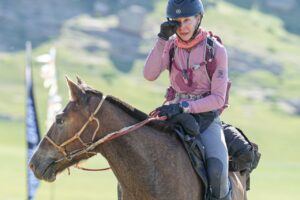 She had an emotional reunion with WJO and DGR, and had comforting news for them: after they had to leave her behind at HS27, she pulled her favourite horse of the race, a gorgeous buckskin who "cruised" her all the way to HS28. Her final steed was also a cracker, a safe and smooth ride to the long awaited finish line. Ending on a high horse. She vetted out easily shortly after while watching over her contentedly grazing horse, ever the consummate horsewoman.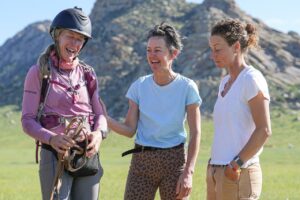 Just behind her, Howard Bassingthwaighte (HBA) and Tyler Donaldson-Aitken (TDO) made it into HS28 in good time this morning after camping out last night between HS27 and HS28. One last horse left to choose, they switched onto their final mounts and were off, honing in on cold beers. Sam Edney (SED) and Sean McBride (SMC), parted from HBA and TDO last night by dint of their unsat penalties, left HS27 at the same time, doing their best to reunite the "Awesome Fivesome". Fifth and final supergroup member Annie Hackett (AHA) was last out the gates at HS27 this morning, having had the largest penalty to work off. Sadly we will have to wait a little longer for the reunion tour: HBA and TDO had a cracking day's riding to hold the others off, and crossed the finish line as a unit. A fitting end to the race, having ridden the majority side by side.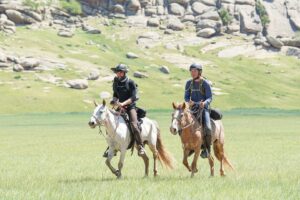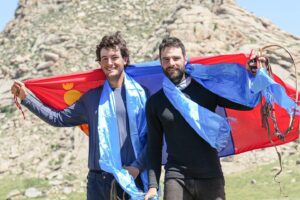 But their margin was relatively narrow, with SED and SMC galloping across the line, hands clasped together and held aloft in triumph, half an hour later. Grins of relief and joy all round once they had managed to pull up their horses, who cantered across the line and decided they'd seen enough, turboing round in a wide arc to face the way they had come and taking some persuasion to give finish camp a chance.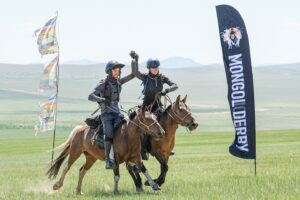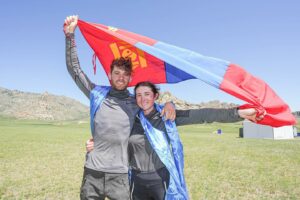 Last across the line out of the team was AHA, who evidently knows how to make an entrance: she flew into camp on a little bay rocket with plenty of gas left in the tank, hands held high and beaming irrepressibly. Despite having spent the last nine days in the saddle, she was not keen on dismounting: her last "frickin' awesome" horse had been her favourite, and she was not in a rush to part company with him any time soon.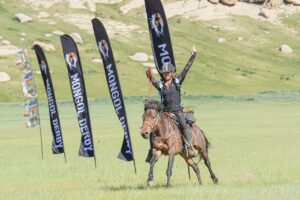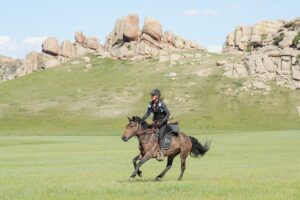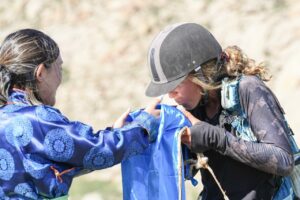 Kathy Gabriel (KGA) was next to arrive into camp, riding solo across the finish line on her second attempt at the Derby. Apparently not quite ready for the whole thing to be over, she took a meandering route to the finish line from HS28, but looked pretty happy to be here, hollering to the heavens in sheer joy and galloping through in fine form.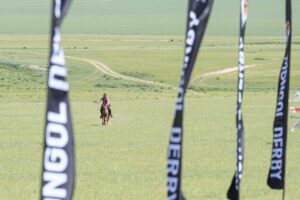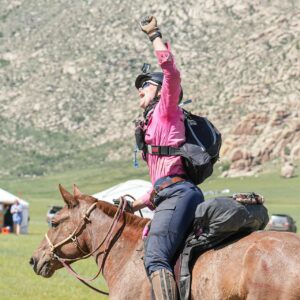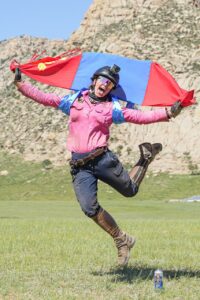 Not far behind her were loyal companions Sarah Endress (SEN) and Flurina Hammer (FHA), who survived a near brush with disqualification last night for some rather late riding to make it home today. Late riding penalties sat at HS27 having departed from HS26 this morning, they made light work of the final stages of the course, and also crossed the line proudly hand in hand. Their two very obliging little final steeds were politely bemused by all the fuss, with FHA rolling in on a pretty majestic grey stallion. Once satisfied their jobs were done, the horses got straight down to business, tucking into the lush green banquet on offer at finish camp while their jockeys were still in the saddle.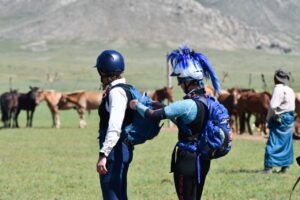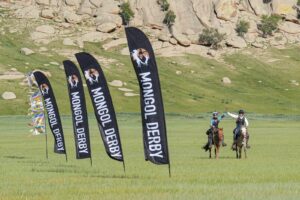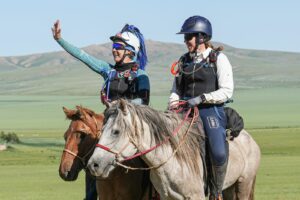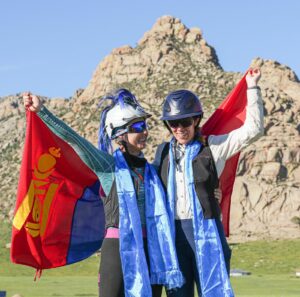 Also sneaking across the line today in Adventure class were Cesca Green (CGR) and Allison Kohlberg (AKO), remounted to round out their adventures in style. CRG is sporting a rather serious looking knee brace, but was determined to get back in the saddle to finish what she started. What a woman.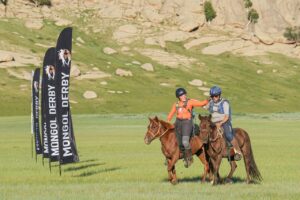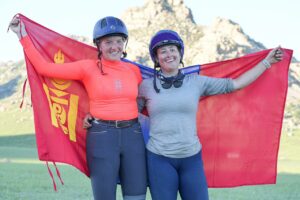 Meanwhile, the rest of the field have one last glorious day on the steppe to savour. The day was relatively drama free by Derby standards, with the exception of Heidi Falzon (HFA), who suffered an emergency ejection en route to HS27. Displaying the plentiful tenacity which has earned her some serious kudos with the Mongolian team on the ground (alongside the nickname 'Tiny'), she got back on the horse and has made it into HS28 tonight, along with Kristin Carpenter (KCA), Gabrielle Tigan (GTI), Michael Field (MFE), Bianca Farmar-Griffith (BFA) and Janet O'Neill (JON), the latter two still having the ride of their lives in Adventure class.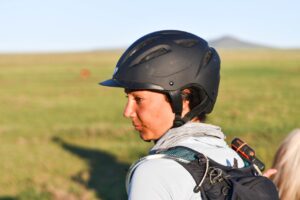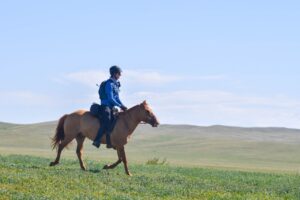 KCA has suffered a little in the sun today and has had some attention for heat exhaustion, but was spotted bowling along en route to HS26 earlier today with BFA in some stunning conditions. BFA had a pretty exciting ride into HS28 when a local herder, a little overly keen to join in the fun, challenged her to a race to the horse station.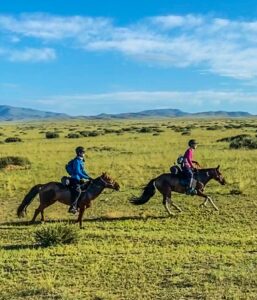 Lena Haug (LHA) and Kayleigh Davenport (KDA) can practically hear the party at finish camp, camped just 10km out having come dangerously close to overshooting riding hours. We'll be keeping our eyes peeled for them early doors tomorrow morning.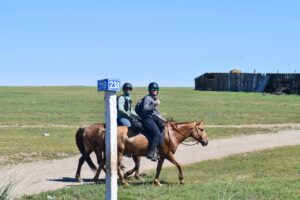 The rest of the field find themselves spread out from HS26 onwards this evening: a finish tomorrow should be achievable for all, but what order should we expect them in?
Meanwhile, at finish camp, our joint winners DGR and WJO, now washed and well rested, had a very special moment today with the owner of the horses who carried them across the finish line. Understandably feeling pretty grateful, the three had a touching chat with the help of our Mongolian interpreters. A proud moment for all.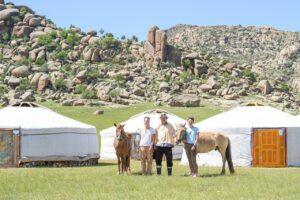 Day 9 Close of Play
Finish camp: AHA, CWA, DGR, FHA, HBA, KGA, PHE, SED, SEN, SMC, TAT, TDO, WJO (AKO, FGR – Adventure)
Between HS28 – finish camp: LHA, KDA
HS28: HFA, KCA, GTI, MFE (BFA, JON – Adventure)
Between HS27 – HS28: AFE, IHU, MKE
HS27: AGA, CVI, JWO, RSE, WOS (BDO – Adventure)
Between HS26 to HS27: MMO, PGO
HS26: ATO, EAI, TEN, WHE
Blood Wagon (Adventure): MFI, NTA, SBE, SRY
Retired: CCA, NON, BST, PRA
Photo credits: Louise Crosbie, Eledv-Ochir Bayarsaihan, Stevie Delahunt, Tulgaa Skizz, Shari Thompson, Erik Cooper.