Back
July Mongol Derby Pre-Race: 'Twas the night before kick-off…
Briefings are over, test rides are complete, saddlebags are packed and jockeys are quivering with excitement (and a touch of terror): today is crunch time for the riders of the July 2022 Mongol Derby. We are pleased to report that all have made it through start camp in one piece, and we have already enjoyed a hearty helping of thrills and spills.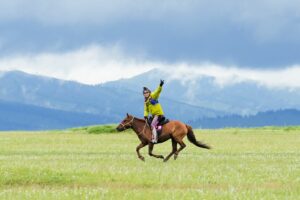 Day 1 of start camp dawned bright and sunny. Fresh off the bus after successfully negotiating the weigh-in in Ulaanbaatar, riders were bounced into an introduction to the Mongolian horse led by horse manager and vet Sansar. A sudden hush fell over the assembled riders as Sansar sternly repeated, "Keep them tight, keep them neat, keep them tight, keep them neat!" while deftly demonstrating how to hobble and mount a Mongolian horse to minimise the risk of finding yourself swiftly back on the ground. As Tobias Endress (TEN) subsequently commented through a slightly nervous giggle while preparing to meet his first steed, even the Mongolians seem to be a little afraid of their horses…nothing wrong with maintaining a healthy respect for the equine, eh?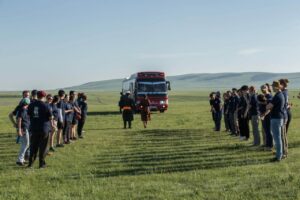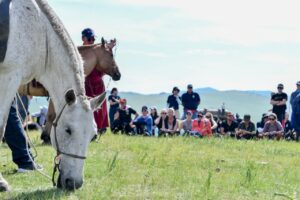 Intrepid Medics did a terrific job of briefing riders with all they need to know to stay safe on the steppe, including a thorough and mildly alarming education on the very real risks of heatstroke. Bianca Farmas-Griffith (BFA) emerged sufficiently "freaked out". That's the spirit.
Riders were allowed some time to grapple with tack adjustments and stubbornly overweight saddlebags. Aussie rider Tyler Donaldson-Aitken (TDO) was in a particular pickle, having parted company with his luggage somewhere between Sydney and South Korea. His fellow riders displayed exemplary team spirit and rallied around to cobble together a full collection of kit from their spares allowing him to make it to the start line, albeit begrudgingly donning a riding hat bearing a diamanté Canadian flag.
Nathan Tarlinton (NTA) is tickled pink with excitement to be here and will be hard to miss on the steppe. Keep an eye out for a flash of fuschia on pretty much every item of kit he brought. The gemstone pink boots are a particular hit.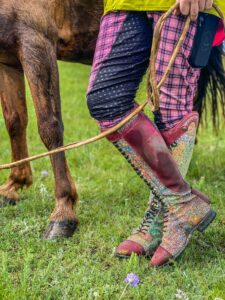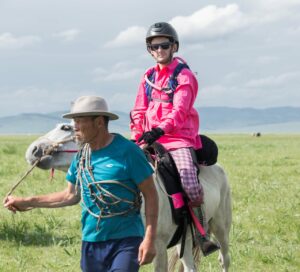 With saddlebags successfully wrestled into position, riders headed for the horse lines to get their heads around their tack and tackle the challenge of mounting Mongolian horses. Chaos promptly ensued: Gabrielle Tigan (GTI) experienced a steering malfunction and disappeared into the distance, Flurina Hammer (FHA) wisely elected to swap horses after her first choice threw off a herder and exited the horse line stage left (although the errant steed soon changed its mind and came back to join the party) and Siobhan Ryan's (SRY) horse demonstrated some impressive ballet skills to deposit her on the ground mid-mount. She dusted herself off like a champ and leapt on smoothly on take two.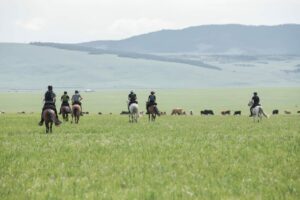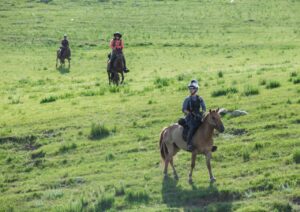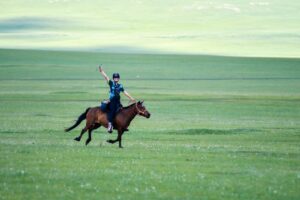 The Mongolian weather delivered some spectacular entertainment on Wednesday evening. Riders (and tents) were (quite literally) blown away by some stormy displays, while lightning lit up the horse lines. The rains (and winds) returned on Thursday for Day 2 of start camp, pitching the highly prized shower tent upside down and providing a handy last minute test for riders' waterproofs.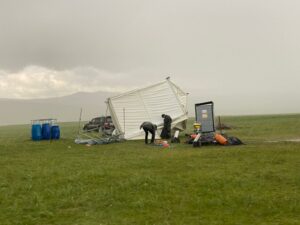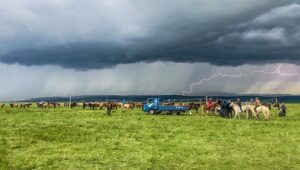 On Day 2 of training camp, as well as dealing with the weather, riders had a course briefing complete with maps and GPS, before again teaming up with a Mongolian mount to test their newly honed navigational skills and test out a couple of practice vet checks. Lena Haug (LHA) was the first rider back from the navigational test ride, successfully vetting out and pleased as punch with the waterproofness of her waterproofs.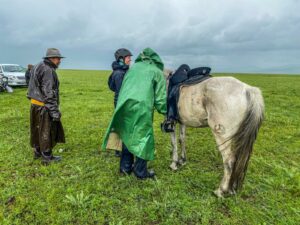 Wojciech Heliasz (WHE) was not so lucky and hit the deck twice owing to his "spicy" horse, but decided all had been quite entertaining in hindsight. We like his attitude. Nancy O'Neill (NON), tackling the Derby alongside her daughter Janet O'Neill (JON), also took a tumble, but saw the funny side and is glad to have had the first mishap out the way.
Rider Renee Senter (RSE) also celebrated a birthday on Day 2, having declared her first test ride "so fun, and then terrifying, and then fun again". What more could you (birthday) wish for?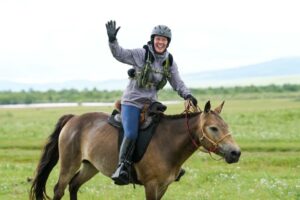 We can't wait to see this intrepid bunch of plucky jockeys blast off from the start line today. Watch this space for daily close of play reports. Best of luck to all tackling the steppe: we have a feeling there will be plenty more excitement to come…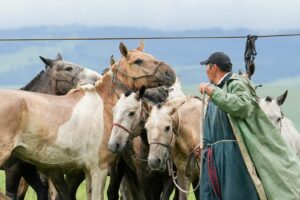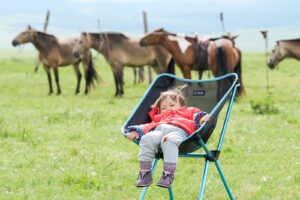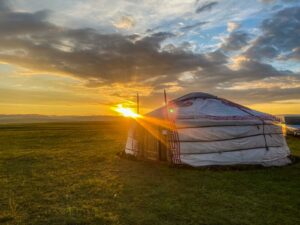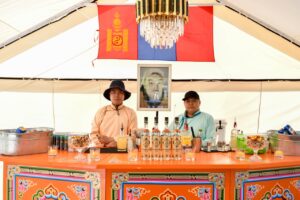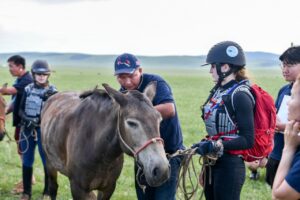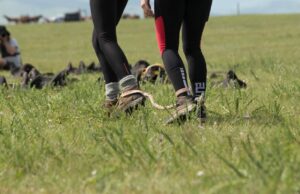 Photo credits: Eledv-Ochir Bayarsaihan, Tulgaa Skizz, Shari Thompson, Louise Crosbie, Yuroo Achit.