Back
August Mongol Derby Day 2: I get by with a little help from my friends
Day 2 of the August 2022 Mongol Derby dawned clear and sunny but with a forecast of rain in the cards to shake things up a bit. Would those last-minute gear decisions – to pack or not to pack the rain pants – come back to bite any riders in the @ss? Not only must these riders withstand a grueling 12 hours plus in the saddle, but they must also look Mother Nature in the face and smile as she slaps them about the mug with blistering temperatures followed closely by near-freezing soggy conditions. Fortitude indeed.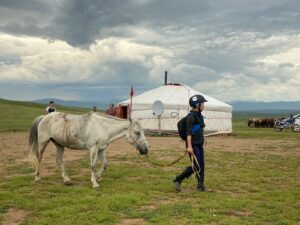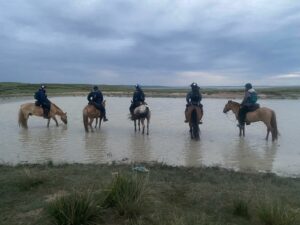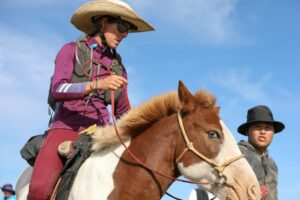 Nevertheless, all 46 were out the gate bright and early at the ring of the 7am bell (imaginary of course; we don't supply sound effects of that sort) with the exception of campers ESE, LSE, and ESU between HS2 and HS3 who elected to savour the bright Mongolian morning a few minutes longer; and BBE who finished sitting a 3-hour penalty at HS2 while vets Erin, Lucia, and Patrick rolled up the carpets getting ready to fly to their next post.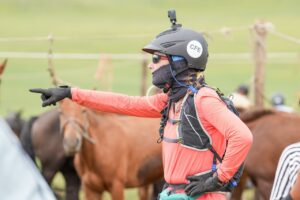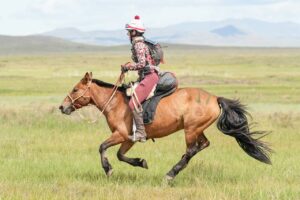 Speaking of camping, there were a record number of campers between HS2 and HS3 – 26 campers! – which kept crew busy checking on riders and horses after hours. For those who think they may be avoiding the beady-eyed scrutiny of the vets and crew by choosing to not stay in a horse station they are sadly mistaken, as this crew will track you down with the dedication of a bloodhound sniffing out rabbit tracks. No rest for the wicked, they say; and even less for the dedicated Derby crew who often work around the clock to ensure safety and fairness out on the course. Next time you are raising a glass, give them a nod and a silent 'cheers' in appreciation.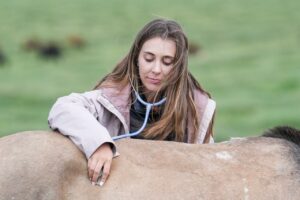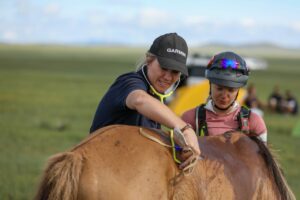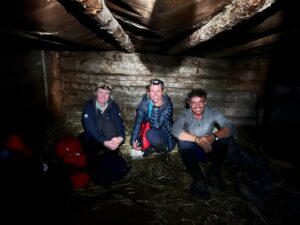 At close of business on Day 1 the field was a squishy sort of affair with not a lot of spread, which is quite normal this early in the race. The back pack of RLI, KSL, KMC, MJO, MJA, NBE and BBE were parked at HS2 with the front runner OSU camped between HS3 and HS4; the balance of the field (the famous 26 campers) were between HS2 – HS3 and the chasing lead pack CFE, HDA, TLA, RTI, AMU, MKE, CKI, LSM, ZGE, AKE, RLA and PLO at HS3. Would Day 2 see things stretch out a bit?
Amazingly at the end of Day 2 there has been little deviation from this cramped-up squishiness of a leaderboard. We watched spellbound as OSU Olof Sundstrom, the Viking warrior racing machine, continued his lead, expecting him to rock up if not at HS7 by close of business, at least within spitting distance. However, the Derby gods had other plans and he picked up his first penalty of the race at HS6 mid-afternoon. This two-hour enforced rest allowed the chasing pack to narrow the gap and at close of business OSU was camped just 15km forward of HS6 with the chasing pack eyeing his lead with increasing intensity. Will he crack on first thing Day 3 and maintain or increase his stride? Or will the chasers find another gear and narrow the gap? Watch this space for details of Day 3.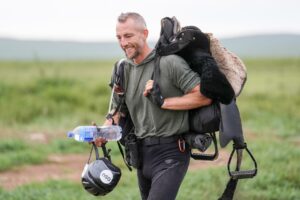 The mid pack had their fair share of fun today with lost horses, found horses, friends chasing down the wrong horses…the best of intentions and it's the thought that counts and all that. As often happens in the Derby, things never go as planned. Case in point: Hugh HDM flew out on a rocket from HS3 while his brother Ben BDM turned back to exchange his horse for something a bit faster to keep up. It was only a few hours later that HQ received the ubiquitous "lost horse" message from HDM. That's right, he was on foot searching for his errant steed somewhere between HS3 – HS4. In an admirable display of chivalry fellow rider Jessica JDP gave chase…only to catch up to the wrong horse. What!? It was then event manager Deb's turn to round 'em up with a herder in tow. HDM's horse was located thumbing it's nose at them from the vantage point of a nearby hill, earning him an endearing nickname (see photo.)
Horse recovered, Hugh remounted, and off to races he went once again but not in time to catch his brother Ben who overnighted at HS6 while Hugh weathered the weather in the mountains northeast of Ugii Lake.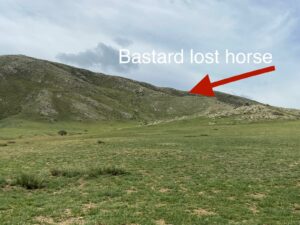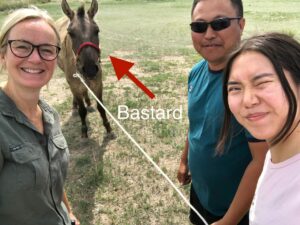 Riding was strong and steady for the majority of riders today despite the odd lost horse, with some excellent horsemanship on display with the likes of Alice AGU walking her horse into the station after a climb into the mountains between stations. The ground has ranged from flat and fast to rocky and challenging so it's good to see riders abiding by our credo "horses come first." Jessica JDP had the ride of her life between HS4 – HS5. "These horses are amazing!" she declared, from the warmth and safety of a ger at HS5. "We just said 'chu chu' moth#rf#ck@r" which apparently is the magic phrase for getting where you need to go out on the steppe. Noted.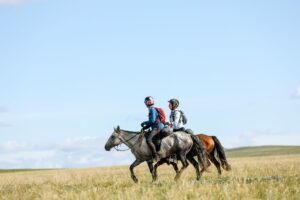 We've also seen some evolution of racing strategies: ZGE split from the pack and rode a good portion of today on her own, savouring the solitary experience and the magic of the steppe. And chivalry did not just apply to the rounding up of lost horses: here's Lisa LSM toting Patti's PLO backpack. Every little bit of kindness helps out there. Kudos to you Lisa.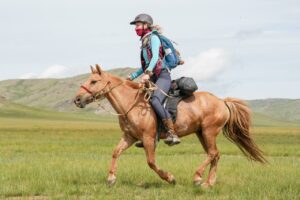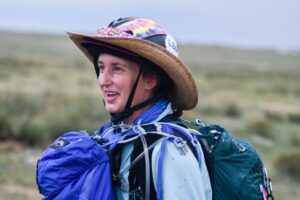 Day 2 ended on a soggy note but the lucky riders at HS5 were treated like royalty by the N. Altangerel resident family, supplying the riders with warmth and shelter and decadent edibles to lift the spirits, while a lucky bunch midfield between HS5 – HS6 found themselves some hospitality near Ugii Lake with a "young people party ger". Lucky ducks. Meanwhile, MJO Maria Johansson kept herself company camped between HS4 – HS5 with a handy corral for her steed. Well done Maria.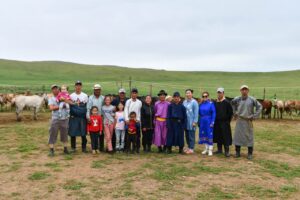 This race may only last ten days but it will leave an impression on these riders that will last a lifetime. Is it about horses and racing? Yes, by all means. But it's also about an incredible cultural immersion, an exploration of self, an exercise in camaraderie that changes lives. We'll leave you with these images and an invitation to join us tomorrow for more memories in the making.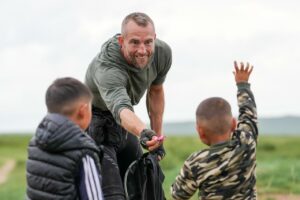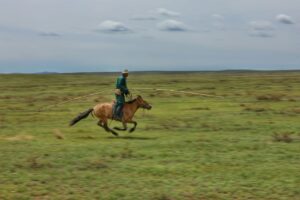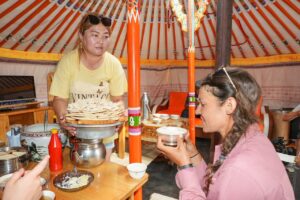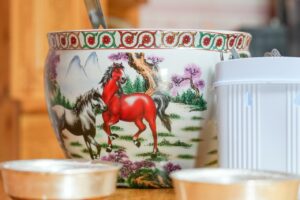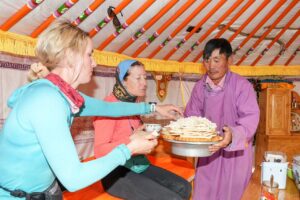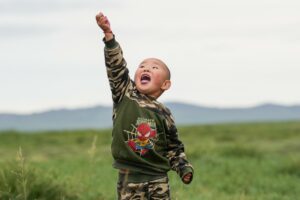 Day 2 Close of Play
Between HS6– HS7: OSU
HS6: ZGE, AMU, AKE, VWA, HDA, RTI, CFE, BDA, MKE, CKI, RLA
Between HS5 – HS6: AMC, HDM, WEV, SMI, MDO, KCA, BHO, JDP, TLA, PLO, LSM, EOU, ABE, BBE, SJO, EOU
HS5: KMC, RLI, KSL, ADO, HMC, CDV, SBU, ELE, ALE, AGU, CRA, NBE, JBE, ESU, KMA, BMA, MJA, SCA
Between HS4 – HS5: MJO
Penalties to date:
Vet penalties (2 hours): BBE (x2), ELE, EOU, ESU, KSL, MJO, MJA, NBE, OSU, BDA
Lost tracker (1 hour): ELE
Lost vet card (1 hour): KMC
Photo credits: Shari Thompson, Louise Crosbie, Deb Swann, Charles Van Wyk, Bayarsaihan Ochiroo, Babi Photography, Mandakhaa