Back
Gaucho Derby 2022 Riders
The horses are fit, the landscape is stunning, and Patagonia is calling. The second edition of the mighty Gaucho Derby is ready to roll. Presenting the Gaucho Derby riders of 2022: they are prepped, pumped, brave and buff – ready to take on the greatest test of horsemanship and wilderness skills on earth.
Alfonso Castro, Mexico
Alfonso will be bringing his showjumping, horse training, and trail riding experience to Patagonia. When not riding his gypsy vanners or quarter horses he can be found on a mountain bike exploring new trails and honing his backcountry navigation skills. He's also a proficient triathlete: this experience could come in handy for those unplanned river immersions during the Derby.
Andrea Lazzaro, USA
Andrea (Andy) from the USA is a lifelong rider, experienced outdoorsman and naval aviator who is looking forward to "the ride of a lifetime." He will combine his trekking, camping and navigation skills with the beautiful and powerful Patagonian horses to make a run for the win…or at the very least, to enjoy the adventure with some good people along the way. Andy is raising funds for a cause near and dear to his heart – The Wingman Foundation which supports the US Navy and Marine Corps Aviation community and their families. Check out his GoFundMe page at https://gofund.me/3a20ddba and follow his adventures on Instagram at GauchoAndy2022.
Alejandro Castro, Mexico
Alejandro is winging his way south from Mexico City to partake in (his words) "this unique and life-changing event." An accomplished trail rider, he is no stranger to overnight excursions, often camping out alone or with a group on weekend rides. He is looking forward to the solitude and the rugged simplicity of Patagonia.
Antoine Carle, France
Antoine is an avid fencer, showjumper and veteran of the 2014 Mongol Derby. He is a financial wizard by day and a New York City DJ by night. We'll be watching for his distinctive style in the Patagonia outback.

Anna Boden, UK
Anna competed in the 2018 Race the Wild Coast and is a teacher from London. She has ridden racehorses, polo ponies and on safaris in Africa but can mainly be found jumping hedges at her parents' home in Dorset. Anna runs marathons for fun and is looking to push herself to her limits.
Brenda Johnson, USA
Brenda, a ranchhand/farrier from the USA, admits to having a lifelong equine obsession. She has been riding longer than she can remember and currently counts an Arabian, Fresian/Quarter Horse cross, two Norwegian Fjords and an "adorable little riding donkey" among her current equine partners. She has a wide range of experience including trail riding, western pleasure, gaming, herding cattle, hunter-jumper, team penning, vaulting, liberty work, backcountry packing and mounted black-powder pistol shooting (as a train robber in a historical reenactment group!). She is keen to throw herself into the Gaucho Derby to find out what she's made of, and while she expects to be competitive, is looking forward to the adventure and experience.
Camilla Shepherd, UK
A wine-dealing wine-tour-organizing investment portfolio manager by day, Camilla has been riding since she can remember. She evented in Europe full-time for 20 years (up to five star level) and has dabbled in racing. Although she has since stopped competing, she keeps her skill level up by riding two or three horses per day. She admits to missing the adrenaline and thrill of competition, and while "slow and steady wins the race" is her motto, she's ready to give it her all in Patagonia.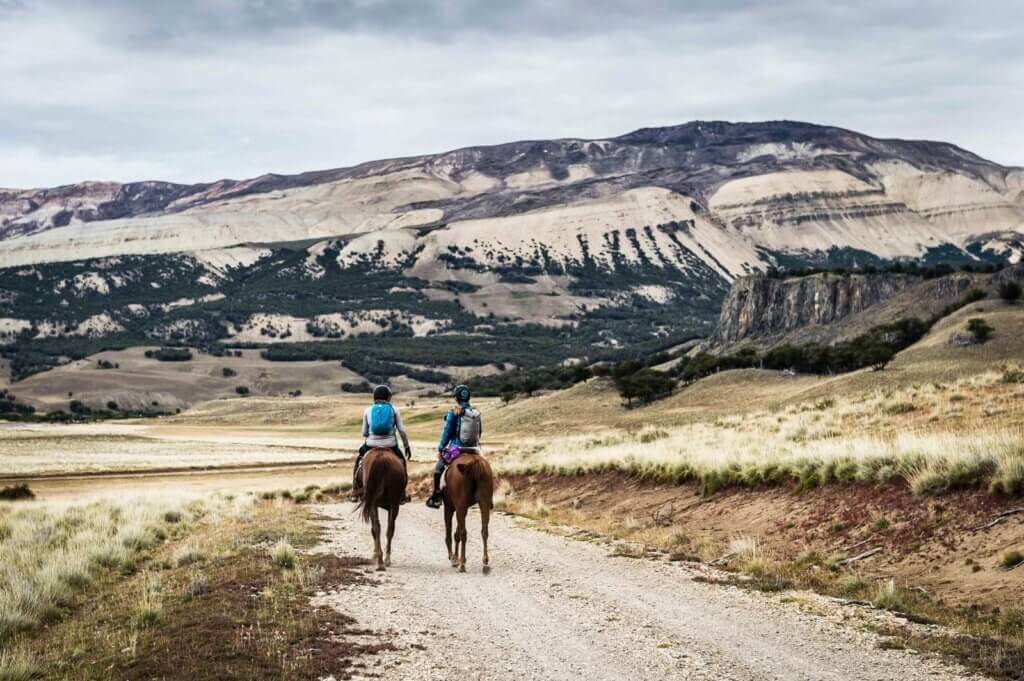 Carmen Jackson, USA
Carmen loves horses, the outdoors and any combination of these two. She is excited to make some new horse friends and get lost in Patagonia! She's no stranger to surviving in the wilderness: she's walked hundreds of miles through the Sierra Nevada, backpacking alone for weeks at a time, and has racked up over 1,000 endurance miles on horseback including completing the 2019 Gobi Desert Cup in Mongolia and finishing the 2021 Tevis Cup. She's been prepping for the Derby by getting out on some snowy horse camping adventures with her teammate Mackenzie Stabler.
Charlotte Outram, UK
Currently living in Kenya but originally from the UK, Charlotte credits her horsey family with igniting her life-long passion for equestrian endeavours. She was an avid hunter and eventer in her 20s but then fell in love with Kenya while on a riding safari and has spent the last 15 years running a yard of 30 horses, guiding horse safaris in Laikipia where "exciting riding, fast thoroughbreds, rough terrain, heat, dust, plus big game encounters are all part and parcel of life." She admits she's less familiar with mountains, blizzards, and glacial lakes, but is determined to tackle the challenge head on. In her words, she's not in it to win it…just to survive it, and to be grateful for the incredible experience. Charlotte is raising awareness and funds for the charity ForRangers which supports wildlife rangers and their work to protect endangered wildlife.
Ciara Cahill, Ireland
Ciara has been riding since age 8 and travels as often as possible to experience other horse cultures in faraway places. She loves wild places, wild weather, and wild ideas; has plenty of solo adventure experience; and can often be found adventuring in the mountains with her husky. She will be relying on "fortitude, wild Atlantic weather experience, and following the stars" to get her over the finish line.

Cristóbal Ortiz, Chile
Cristóbal, from Chile, is a FEI endurance rider with a plan to ride some of the major endurance races around the world beginning with the Gaucho Derby. When he's not riding and racing he is on the road to Asia, Europe and the USA on business. Considering he also knows his way around Patagonia, he'll be a contender to watch.
Daniël van Eeden, Netherlands
Daniel is joining us from the Netherlands where he notes that the distinctive lack of mountains makes it difficult to train for the Patagonian topography – but we know he can fall back on his experience riding in some of the most rugged and fascinating places in the world including Afghanistan and Mongolia. A lifelong rider, working from home during the pandemic has allowed him time for daily riding which he pairs with running to make sure he arrives in Patagonia in tip-top physical shape. He is riding to win but is also keen to learn from the experience and from the other riders.
Esther Leenen, Netherlands
Esther joins us from the Netherlands and is no stranger to adventures in far-off lands. She is a veteran of the 2019 edition of the Mongol Derby and has 10 years' experience solo backpacking around the globe, including traveling the Chile/Argentina border back in 2010. She admits that while backpacking over a mountain range is within her comfort zone, traversing the Andes on a horse is definitely not. Nevertheless, she is training hard to meet the challenge head-on, and has her sights set on galloping over the finish line.
Hinke van der Werf, Netherlands
Hinke, born and raised on a dairy farm in Friesland, is a Mongol Derby veteran who placed seventh in the 2018 edition. She is a nurse and sociologist, working as a lecturer and researcher at the academy for nurses in Groningen. Now that she is nearly done her PhD she is looking to blow off some of the cobwebs, or as she puts it, find some "me-time in the wilderness again."
Holly Chamberlain, USA
Holly grew up on a farm and "survived the ponies that taught me some of my best lessons as a kid." She has certainly learned the value of tenacity and perseverance: in 2020 Holly shattered both ankles in a snowboarding accident, has since fought her way back to mobility, and is determined to participate in the Gaucho Derby. She currently shares her home with eight horses and two dogs, and counts trail riding, fox hunting, polo, endurance and pack riding among her equestrian passions. When asked her reasons for riding in the Derby, she says, "I want to race because I like to step out of my comfort zone and test my fitness, fortitude and skill set. I want to race for the adventure, the challenge, the camaraderie of like-minded individuals, the equines, the culture, the sheer beauty and thrill that comes from being in the saddle and sighting between the horse's ears. It is where I am most at peace."
Holly Conyers, UK
Currently based in London, Holly has a colourful and varied equestrian résumé. She began her riding experience at the age of three in the hills of Scotland; has worked in various trekking yards and riding schools since the age of 10; currently volunteers as a civilian exercise rider for the Royal Household Cavalry; and has completed a ten day ride across the Mongolian steppe. In 2014, she spent six months as a riding guide in Patagonia and is familiar with the beautiful Patagonian landscape, including the bogs, ferocious winds, and "ridiculously steep climbs." She admits to a bit of a Patagonian obsession and says the Gaucho Derby is her idea of the dream equestrian experience.
Jaco Storm, South Africa
"Horses are part of my DNA," says Jaco. His competitive riding began with showjumping and has progressed to owning, breeding and training horses. He is also no slouch in the adventure department: he completed his first solo adventure at the age of 12 and has been on safaris in Botswana, camped and fished in Southern Africa and explored much of South America. He's looking forward to the challenge, the adventure, and the camaraderie in Patagonia and says, "the journey is important; the position at the finish line immaterial." He is raising funds to sponsor a student in the Bachelor of Veterinary Nursing program at Onderstepoort Veterinary department of the University in Pretoria.
Kade Brassington, Canada
Kade, from Canada, is the youngest competitor in the 2022 Gaucho Derby but has equestrian chops that defy his young age. Originally from a dude ranch, he has guided pack trips in the mountains, has started young horses and is currently apprenticing with Todd Hickerson Arabians near Sacramento. He's looking for something very action-packed and is ready for whatever the Gaucho Derby can deliver.
Kirsteen Thain, Hong Kong
Kirsteen joins us from Hong Kong, has a love of adventure endurance racing, and says the Gaucho Derby has been a life-long goal. She is an experienced endurance racer: she began riding at age eight, continues to ride regularly, and has recently raced in Dubai and several Arab countries. She is looking forward to being a contender for the 2022 Gaucho Derby title.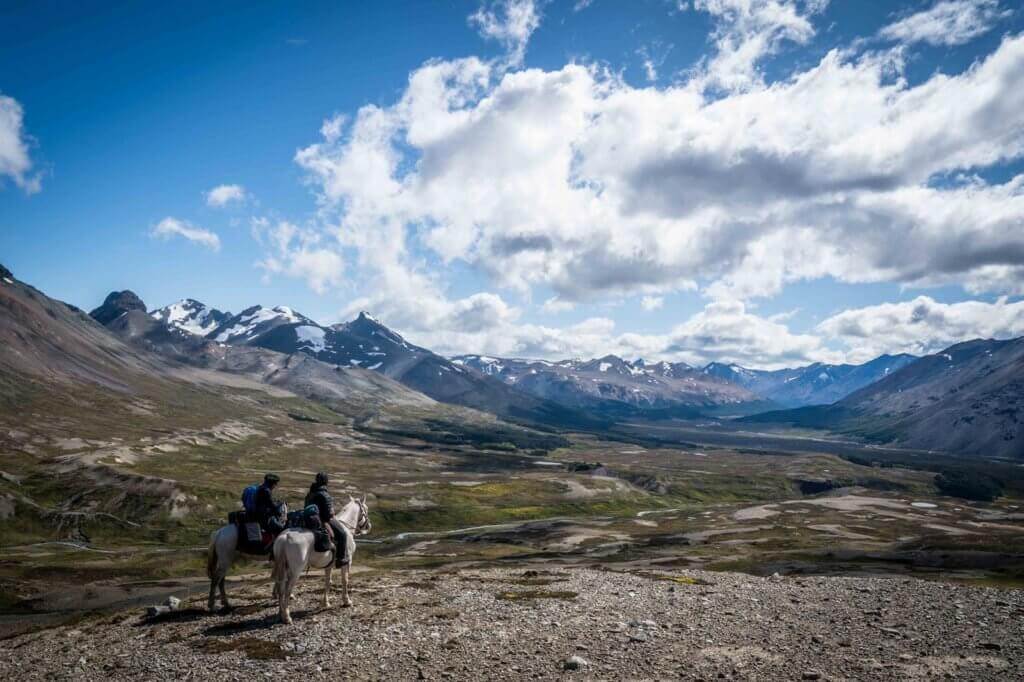 Laura Heuer, Germany
Born and raised in the German countryside, Laura has spent most of her childhood falling off ponies and scrambling back into the saddle. She spent a couple of years dairy farming in New Zealand where she trained horses for rounding up cattle, and is now enrolled in veterinary medicine at university in Berlin. She was working for a farmer in the Icelandic Highlands when she first heard of the Mongol Derby and has had her eyes fixed on it since, but when the Gaucho Derby was launched she knew those mountains were calling for her.
Leonie Menten, Netherlands
Patagonia has always featured high on Leonie's bucket list and she is looking forward to experiencing the spectacular countryside on horseback. She loves the idea of a challenge that tests her survival and endurance skills and is looking forward to everything that Patagonia can throw her way.
Mackenzie Stabler, USA
Mackenzie grew up in western USA and southeast Asia which afforded her some pretty varied horse experiences ranging from jumping to backcountry horse packing. She's doing the Derby because it combines everything she's passionate about in one event: travel, horses, perseverance, nature, extreme locations, new people, resourcefulness, endurance and competition. She has been training hard for the past two years and says "it's been one of the best journeys of my life." She is raising funds for Campfire, an organization that helps kids find their "spark" through outdoor experiences and educational and work opportunities.
Marcie Gately, USA
Marcie is a polo-playing globetrotter from the USA. She has spent time on the polo fields of Mongolia and Argentina, and aside from polo, lists trail riding, hunt seat and jumper experience among her equestrian pursuits. She admits she's an endurance newbie but is committed to preparation: she will be brushing up her long distance skills in the southern hemisphere before the Gaucho Derby start gun fires.
Megan Hodgson, South Africa
Megan began her riding career at age 7 (after failing miserably at ballet). She started out as an eventer, but has since worked in the Netherlands and Australia as a riding groom; guided safaris and trained horses in Kenya; and studied Equine Science in Australia. She is looking forward to the life-changing experience of the Gaucho Derby but acknowledges that it is "possibly the most terrifying adventure I have ever signed up for." She is raising funds for ForRangers, and is sponsored by Dirt Road – Matt Findlay and Physical Performance Specialist – Jake Ward.
Morgan Van Overbroek, Belgium
Morgan was looking for some "slow riding in the Andes" combined with spas, relaxing massages, and wine tastings to celebrate her birthday but (thanks to her husband), has found herself Gaucho Derby-bound instead and has decided to go for the win. Morgan splits her time between Switzerland and Argentina; owns polo clubs in both countries; has been the polo champion of Switzerland; and has recently been elected the president of the Swiss Polo Association. Despite her longing for some pampering she has no problem roughing it in the wilderness, and according to her husband is "very tough, very resilient, very sportive, very competitive, and very dedicated" – all things that will see her in good stead in Patagonia.
My Nordström, Sweden
Although she took up riding at a later age, My has jumped into the equestrian world with both feet. She has been guiding week-long riding tours in Iceland for the past 10 years, has worked with Icelandic horses in Sweden and Australia and just recently brought her first horse home from Iceland – "what a thrill!" She credits her family for her love of outdoors: skiing, skating, hiking, fishing, camping and moose hunting were always staples in her childhood. Growing up in both Sweden and Finland she has two badass countries in her veins. While she thinks the Derby will be the "craziest, toughest and most incredible thing" she will have done, she says she is stubborn, determined to finish what she started and eager to find new experiences.
Nathalie Blomquist, Sweden
Nathalie describes herself as a six foot giraffe whose natural habitat is on the back of a horse or on a sailboat on the water. She used to ride at speed and jump solid fences for a living before retiring to an office. She describes herself as stubborn: she started riding at age six and her stubbornness took her all the way to the national team. While she has strong navigation and first aid skills and is competent in icy environments, she admits she doesn't like being cold or wet and is "not really made for temperatures below +25C." Nevertheless, she's hoping her stubborn nature will get her across the finish line in Patagonia.
Neil McGrigor, UK
Neil was born in Kenya and is a life-long adventurist. An engineer by trade, he sees the nuts and bolts of the Gaucho Derby as being navigation, survival, and equestrian skills all "bound together in a delicate balance." Well said. He is seeking to savour the wilds of Patagonia while treasuring the truck load of memories.
Pamela Karner, USA
Pam is a retired large animal vet currently splitting her time between USA and Australia. She is a veteran of the 2018 Mongol Derby, and says that endurance racing and vetting are her main passions but she's "game to do almost anything that is exciting and has an element of the unpredictable." She's definitely come to the right place. She will be in Patagonia to compete and hopes to place well but won't let that get in her way of the overall experience. She acknowledges that navigation is a challenge for her but she learned in Mongolia that "what you worry about is generally not what bites you in the ass!"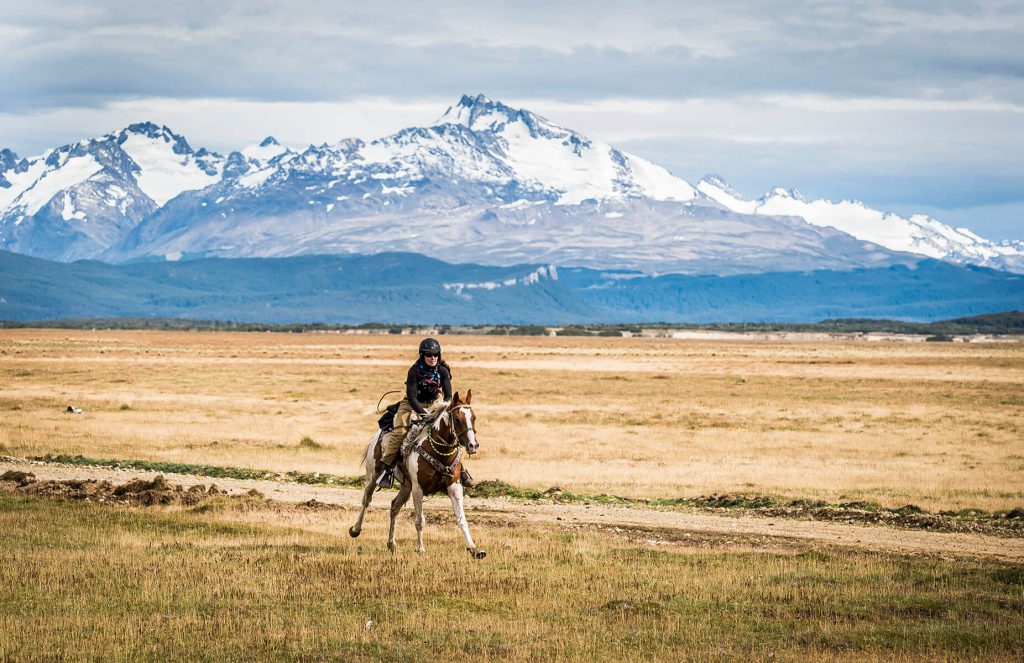 Rochelle Latka, USA
Rochelle was "a bit late to the horse game" but definitely made up for lost time with an amazing variety of equestrian experiences. She began working on dude ranches at age 19 and has since worked on ranches throughout the western US, on a horse rescue in the Galapagos, with an outfit in Ecuador, on an estancia in Argentina and as a donkey trainer while volunteering with the Peace Corps in Tanzania. She is a self-described huge procrastinator, terrible planner, and admits navigation has never been her strongpoint; as such, her race prep strategy is to "kind of wing it" and trusts her tracker (and HQ) will serve to keep her from veering off into Chile. She just wants to raise more money for her charity (St. Jude Children's Research Hospital), cross the finish line and see her mom standing there "hopefully tipsy on wine and crying when she sees me!"
Rosie Bathurst, UK
Rosie is a veteran of the 2016 Mongol Derby who has lived to tell quite a few tales from that experience. She's looking to add to her repertoire via the 2022 Gaucho Derby, and when not competing in three-day eventing, she is on the pitch kicking some ass in field hockey, or creating magnificent custom cake sculptures in her own bakery.
Sam Taylor, Kenya
Born and raised in rural Kenya, Sam is a passionate conservationist with extensive wilderness experience. He has been a walking guide in the Masai Mara and Laikipia; Chief Conservation Officer on Borana Conservancy; ops manager for 51 Degrees, a company that trains rangers and implements wildlife security oversight; and is currently working as the Chief Conservation Officer for African Nature Investors, developing new conservation areas in Laikipia. In 2015 Sam helped found ForRangers, a charity which directly supports the frontline men and women in the anti-poaching battle in Africa by encouraging people to take part in extreme endurance expeditions. To date, Sam has personally led ForRangers teams in the Marathon Des Sables; an Ultra run of 250km through the Amazonian rain forest; and has summited some of the worlds highest mountains, including Nepal's Mt Manaslu and Mt Everest, being the first Kenyan to do so. These initiatives have raised over $3m over the last five years. Sam is an enthusiastic rider and enjoys riding in the bush, although this will certainly be his hardest challenge yet!
Samantha Verduzco, USA
Sam has served as a field artillery officer since commissioning in 2016 from the US Military Academy West Point – an accomplishment that she describes as both challenging and rewarding. Her equestrian background ranges from competing in ranch sorting and helping train horses and start colts back home in Missouri to fox hunting, eventing and dabbling in polo and working equitation during her time in the military. The Gaucho Derby perfectly combines her unique skills with her equestrian passion, and she will be riding to honour the memory of CPT Dave Fraser, a fellow West Point graduate who was killed in an IED strike in Iraq in 2006. She will carry a piece of CPT Fraser's uniform across Patagonia, which she says will remind her to stay resilient throughout the journey. She is also supporting War Horses for Veterans, a local non profit that supports service members.
Sarah Endress, Switzerland
Sarah has been hooked on adventure horse racing since tackling the 2019 edition of Race the Wild Coast (alongside her brother Tobias – also competing in the Gaucho Derby 2022). She's an avid equestrian, competes in endurance and jumping, and while one major endurance race per year is enough for most people, not so Sarah. She and Tobias will be heading for Mongolia this summer to also take on the 2022 Mongol Derby.
Simon Kenyon, Kenya
Simon is looking to test himself and challenge his riding ability in the Gaucho Derby. Considering he's done some guiding in Patagonia and dodges elephants and lions as head guide for riding safaris across the Masai Mara in Kenya, he should be up to the task. He is raising money for ForRangers, supporting conservation and ranger welfare in Africa.
Tobias Endress, Switzerland
Tobias is an avid horse enthusiast, and like his sister Sarah, seeks out extreme adventures wherever they may be – as long as they take place on the back of a horse. He competed alongside Sarah in the 2019 Race the Wild Coast and will travel to Mongolia this summer to have a crack at the 2022 Mongol Derby.