Back
Gaucho Derby Race Day 2
Holy moly, what a day that was. Anyone watching the dots would have noticed that the tracking between VS1 & VS2 resembled some madman's abstract Sharpie art project with riders' tracks circling around mountains, reversing directions, and laying down tracks over and over and over again. Did we mention this race would be largely about navigation? It's all fun and games until you are actually lost in the mountains. To be fair, the riders are traversing some pretty gnarly countryside, with trails through passes, river valleys, dense forests, and bogs – yes, bogs – while trying to chivvy along a reluctant packhorse and keep their own horse on an even keel. Not an easy task by any means and that hard and fast first leg may have given some the impression that this race would be easier than they thought. By mid-afternoon, riders were calling 1-800-HelpMeGaucho seeking assistance with reluctant horses and wayward packhorses, but even the gauchos weren't immune to the seductive charms of the bogs with one gaucho taking an unscheduled bog-bath enroute to VS3. So in other words, Day 2 has been quite a bit slower. The weather has played its part, delivering on its reputation as a fickle beast, turning colder and wetter with possible snow in the higher elevations.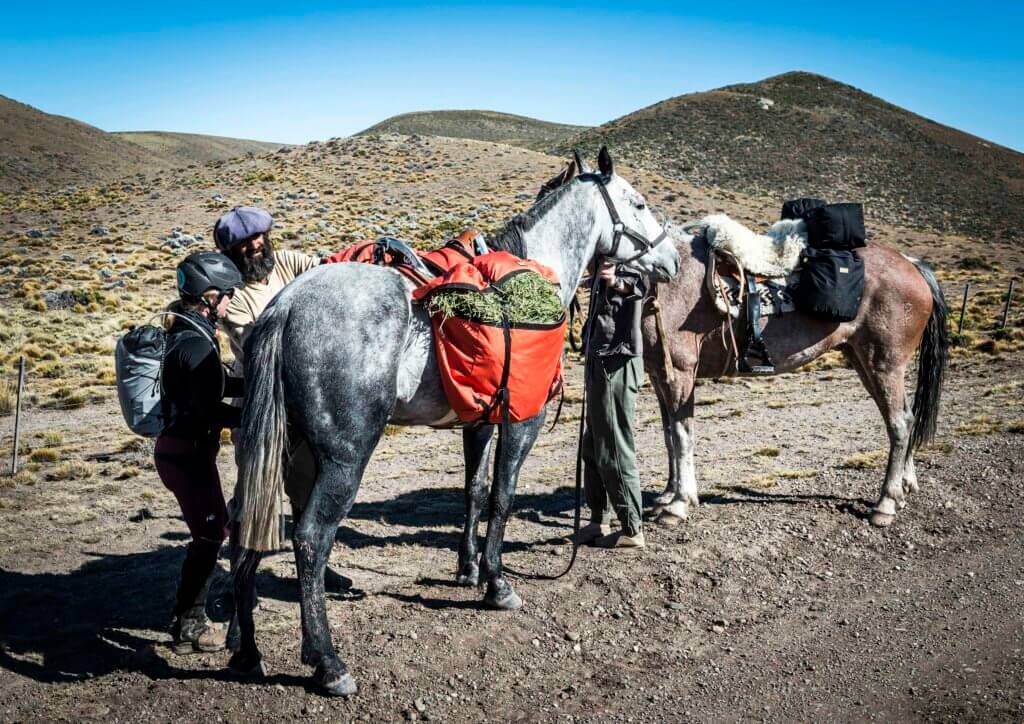 Photographer: Richard Dunwoody 
Many of the riders have decided to park it between vet stations to wait it out. Chris P (CP), Clare (CKI), and Courtney (CKZ), tired of bush-bashing in the treed and boggy terrain south of VS2 called a truce and put up tents for the night in the shelter of the trees. Roberta (RM) and Charles (CW) set up a cozy camp with EM Erik and photographers Ivo and Anya. The big gang of happy wanderers Dylan (DD), Stevie (SD), Warren (WS), Zsofia (ZH), Lisa (LY), Hanna (HB), Louise (LD) and Laura (LR) are hunkered down almost halfway to VS3.
Corie (CD) and Marie (MG) had a cracking good day, manoeuvring their way to a joint lead at the front of the pack heading out of bog territory en route to VS3. Perhaps they will build upon this lead tomorrow, assuming they find their way out of the bog forest before tomorrow evening…?
Meanwhile, Annie (AA), Linda (LV), and Chris (CM) are nicely camped just out of VS2; and Julie (JY) and Sophie (SS), having had a wretched day with uncooperative pack horses, have called it a night at VS2 with vet Dori and Robert (RS) for company.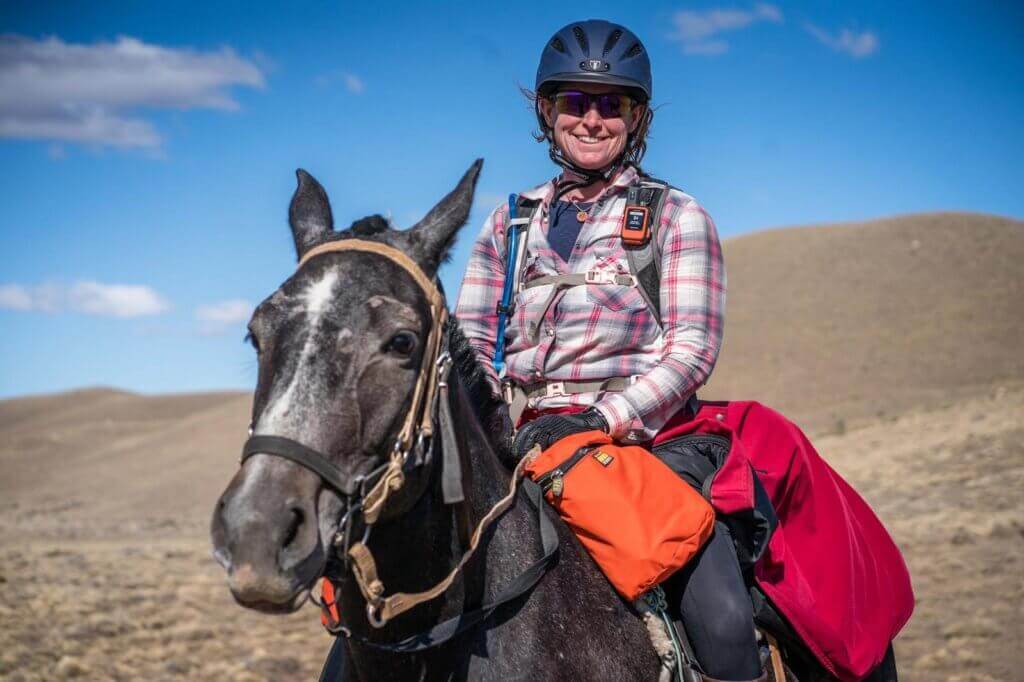 Photographer: Richard Dunwoody 
For those of you paying close attention, you will have noticed that Shirley (SH) and Nichole (NM) have parted company, with Nichole suddenly appearing at VS3. Qué? Nichole has taken a carry-forward after a lengthy delay with a wayward pack horse (now being rounded up by the gauchos) which will earn her a whopping 10-hour technical penalty. Shirley, loyal to a fault, stuck with Nichole as they attempted to rein in the uncooperative horse (the same foul-mannered beast who gave Nichole a couple of nice hoof-shaped bruises on her leg) and then chose to ride on alone from just outside VS1 to VS2 today. Well done guererra Shirley!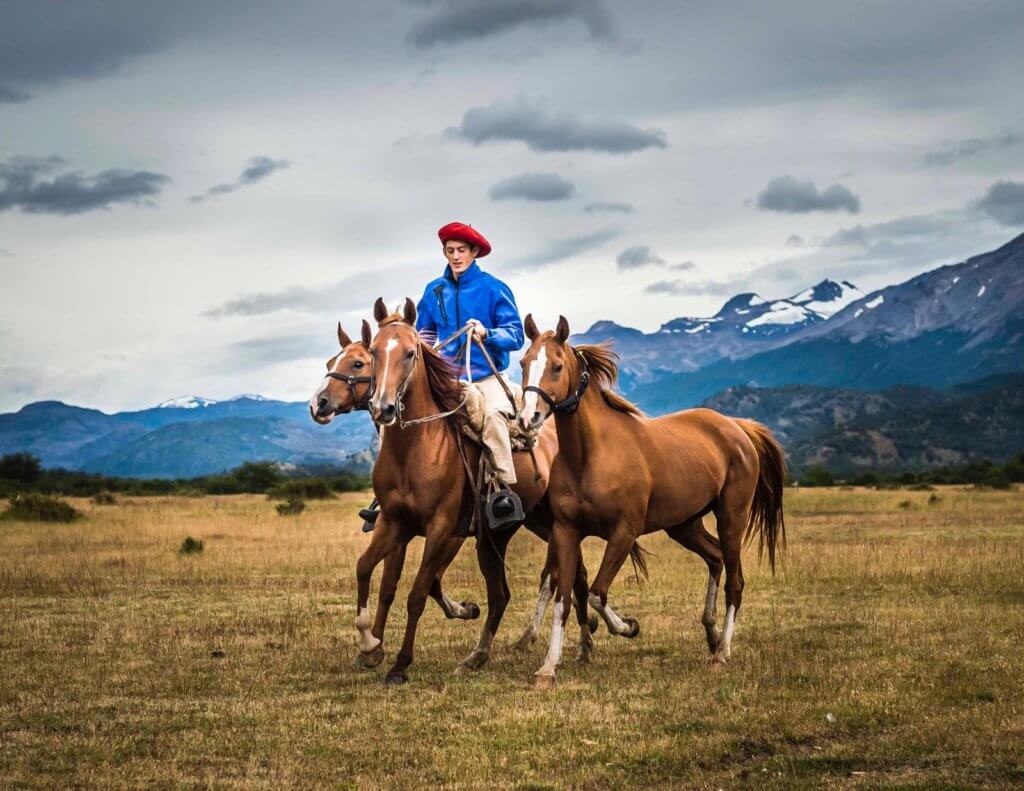 Photographer: Richard Dunwoody
The race will change personalities once more tomorrow as riders roll into VS3 at beautiful Estancia Entre Rios. They will have their first fresh horses of the race, ditch the packhorse and climb aboard a feisty Arab provided specifically for the faster leg between VS3 and VS4. This could again change the flavour of the race, and tomorrow's report may have an entirely new set of riders out front. Either way, it won't be boring. Till then, hasta mañana.