Back
Day 1 – And they're off!
Aaaand they're off!
35 riders lined up and charged out into the wilderness to contest the second annual Gaucho Derby on the 3rd of March 2022. A mix of tension, excitement and anticipation were buzzing at the start line. Strong winds and the feel of foreign saddlebags were keeping these fit and fiery horses on the tips of their hooves. Some mounts gave their riders a small taste of what could be in store for them over the next 10 days. Mackenzie Stabler's (MST) bucking bronco decided the start line wasn't for him and took off with all her belongings.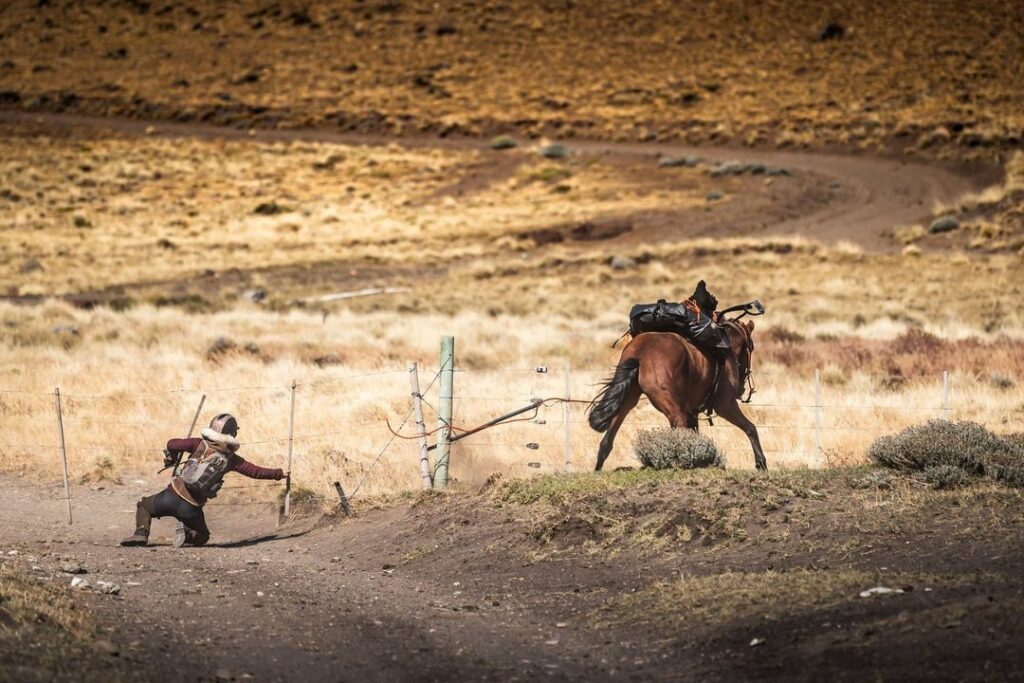 Although each rider was given traditional gaucho tack, many modified it to suit their needs and the chosen range of clothing and apparel varied greatly: from neutrals to neons, they donned it all. Sarah Endress (SEN), representing Switzerland, has a backpack swag with her countries flag and two other labels reading "But did you die?" and "Don't follow me, I'm lost too".
Alejandro Castro (ALC) also soon parted company with his horse and the whole group was held up while he switched horses.
Finally the race started and the riders took off at a decent canter as a huge group, picking their way across the barren and rough looking landscape. The skies were vivid blue but what weather they would be facing later was unknown, they were heading straight towards ominous looking clouds on the horizon.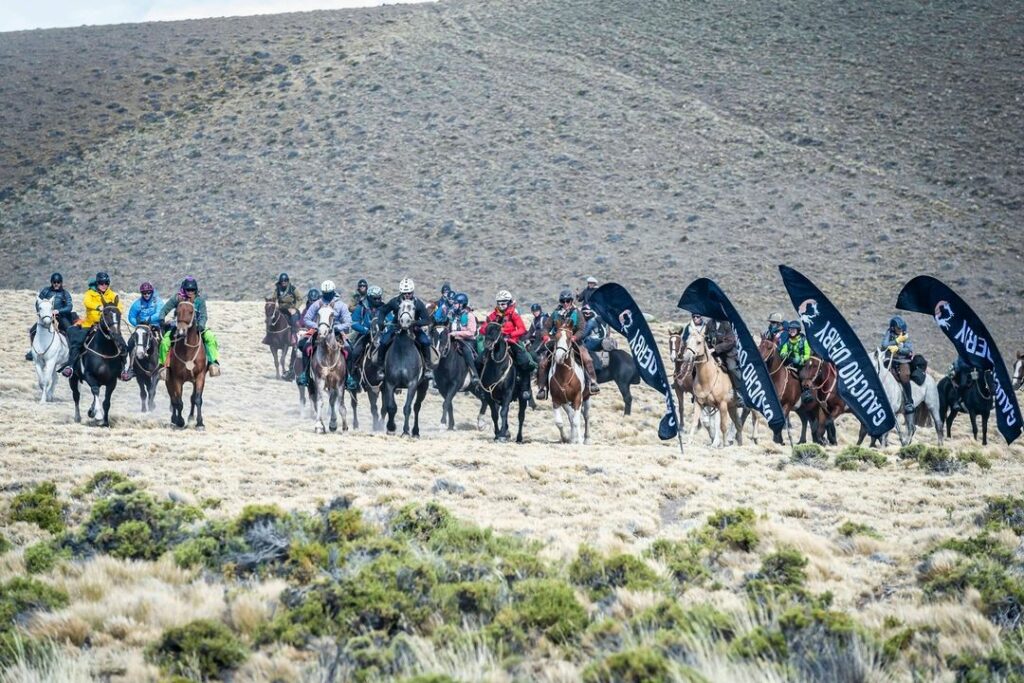 Many areas are inaccessible by vehicle so mounted crew hurried to get suppliers, medics and vets where needed. The riders were fast and very good at navigating which meant our crew had to hustle into position to stay ahead of the field.
Cristóbal Ortiz (COR) took the lead and was determined to be the first rider to reach VC1. Riders arrived thick and fast and vets worked tirelessly ensuring all the heart rates were taken and recorded. Horse welfare is paramount and the horses must pulse down to 56bpm or below within half an hour. Once riders cleared the vet and refueled, they were free to ride on.
Esther Leenen (ELE) found a nice 14km steady trot and was leading the pack into VC2, followed closely by Laura Heuer (LHE), Cristóbal Ortiz (COR), Kirsteen Thain (KTH). Then Andrea Lazzaro (ALA) broke away from the pack with Kade Brassington (KBR) right on his tail.
My Nordström (MNO) discovered she lost her hobbles and other kit. Esther Leenen (ELE) had a run in with a fence but both her and her horse were okay. It was a muddy start for Nathalie Blomquist (NBL), with her and her mount ending up in a bog.
Ciara Cahill (CCA) headed for the hills after having trouble with her Garmin 64 GPS and ended up way off track. She was the last rider to arrive at VC2, coming in 1 hour and 10 minutes past the allowed riding time of 6pm. However no late riding penalty was issued due to technical problems. Daniël van Eeden (DVE) and Alejandro Castro (ALC) both received a heart rate penalty, but due to the need to keep the crew and field moving forward, they will sit the penalty out later in the race. Unfortunately Marcie Gately (MGA) had a fall and has retired. She was taken to El Calafate as a precautionary measure but is in good spirits.
Leader board:
Horse station 2: RLA, HCO, ABO, LHE,MNO,COR,KTH,HVW,BJO,RBA,ALA,ELE,MVO,SEN,TEN,PKA,CCA,DVE,KBR,MST,CJA,NBL,COU,STA,AFC,JST,SKE,ALC & ACA.
Penalties issued at VC2 to be sat at a future station:
Vet penalties:
DVE – heart rate: 2 hours
ALC – heart rate: 2 hours
Technical penalties late riding:
ELE – 10 minutes
RBA – 10 minutes
JST – 10 minutes
ALC – 6 minutes