Back
August Mongol Derby Day 1: The lone ranger
A hot and heavy Day 1 of the August 2022 Mongol Derby draws to a close, and one brave man has proved he can handle the heat to propel himself into an early lead: Olof Sundstrom (OSU), a Swede bearing an improbable resemblance to his Viking forefathers, has arrived to conquer the steppe. Camping out with one of Mongolia's many unbelievably hospitable families this evening, he is the only rider to have made it beyond HS3 today. But he's in no position to rest easy: no less than 12 competitive riders have made it into HS3 tonight, just 8km behind him. Will he manage to put more distance between himself and the trailing pack tomorrow, or will they hunt him down?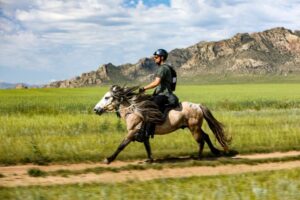 Start camp this morning, feeling like a world away to all 46 riders now out at the mercy of the steppe, was a much more crowded affair. The weather gods continue to smile on our August Derby cohort: blazing sunshine and deep blue skies greeted riders this morning, topped off with a few puffs of white cloud. All riders had to complete their baggage weigh-in: limited to just 5kg of kit in their saddlebag and backpack, kit was packed, unpacked, and repacked over and over, with many a rider optimistically strolling up to the scales for attempt one, only to return dejectedly to their pile of gear in order to shed yet more precious cargo. Rochelle Latka (RLA) finally cracked the winning combo on approximately attempt 12, having unfortunately overlooked her raincoat last night on her trial run thus necessitating some last minute alterations. Alex Muirhead (AMU) was concerned to discover one of his six crucial GPS batteries had already gone AWOL, while Arianna Leoni Sceti (ALE) was having to make some heartbreaking choices between snacks and waterproof trousers. Krista Carter (KCA) was taking no such chances when it came to her larder, having painstakingly dehydrated her wet wipes in order to maximise calories on board. That's commitment.
While most riders appeared stressed about the contents of their kit responsible for keeping them arrive for the next 10 days, Aussies Jessica Di Pasquale (JDP) and Natalie Bell (NBE) had other priorities, spotted basting themselves in some patriotic green and yellow warpaint. With weigh-in (finally) successfully passed, riders left the safety of their gers and marched towards the horse lines, laden with their gear, to be paired up with their first mounts of the Derby. Birthday boy Hugh McMurtrie (HMC) was making a wish for a nice quiet horse to see him safely to HS1, after parting company with his steed at training camp. Curiously, several jockeys were kitted out in their full waterproofs head to toe, despite the ominously warm morning sun. The weigh-in had got to them: waterproofs count as part of the 85kg rider weight if worn off the start line, but as part of the 5kg luggage allowance if packed. Hence the need to cross the line wearing as much of your gear as physically possible, even if this was likely to result in some extremely sweaty initial rides.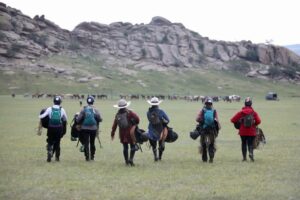 With final gear adjustments and emergency sprints to the loo over with, all 46 riders were safely mounted and milling around between the start flags, pointing mostly in the right direction. Seizing his moment, race founder Tom launched a rather tense countdown: ponies pranced, while riders' heartbeats could be heard from inside nearby vehicles. Finally, an agonising 10 seconds later, the wait was finally over: the riders of the August 2022 Mongol Derby were released to thunder forth across the steppe with HS1 firmly in their sights, narrowly avoiding mowing Tom down in the process. They were off, leaving nothing but an almighty cloud of dust in their wake. And Chloe Dvorak (CDV), who parted company with her phone in the melee, and had to do an about turn to rescue it before scooting off after the rest of the field. Luckily, Amy McNamee (AMC) was feeling generous and stuck with her for the quick break. Callie King (CKI) had a flyer out the gates to take an early lead, but was soon ridden down by the field behind her.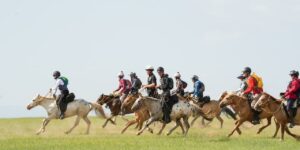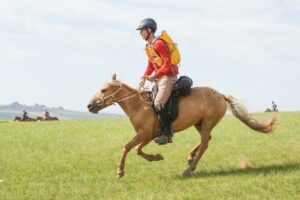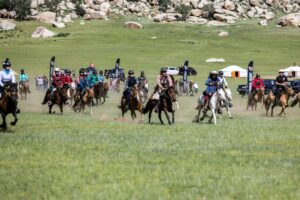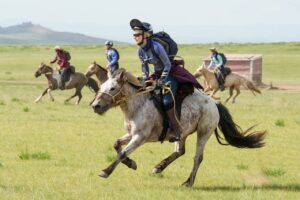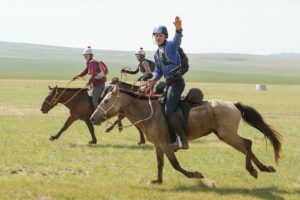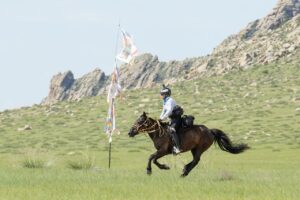 Setting a blistering pace, jockeys careered off towards HS1 across some hard and fast terrain, criss-crossed by some helpful sandy tracks. Halfway to HS1, and an early leading pack had begun to sneak ahead of the rest of the field, comprised of ALE, AMU, RLA, Ron Tira (RTI), Emma Sunnucks (ESU), Victoria Wang (VWA) and Rachel Liebelt (RLI). By the time they reached HS1, RTI and AMU had edged away from the group to come in first. Hoping to keep their early advantage, they vetted through quickly and were soon perusing the horse lines for their next steed. On the Mongol Derby, riders select their own horses for each leg. A tactical headache, approaches vary: trust the herder and take his selection, even if it looks like it's capable of breathing fire, or follow your gut and choose the sweet little pony at the back who looks quiet as a lamb?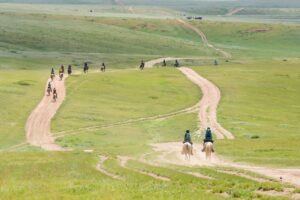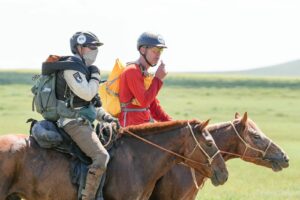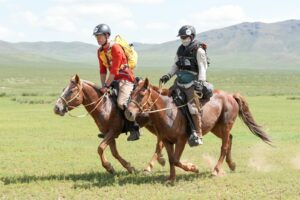 HS1 typically descends fairly quickly into a feeding time at the zoo situation. There isn't much of a gap between the riders by this point, so all arrive in fairly quick succession to present their horses to the vets and choose their next mount, tack up and rocket out of there. RTI and AMU were keen to avoid the melee and were straight down to business, heading swiftly on to HS2. But not before ESU and ALE had also made it into HS1, the second pair to do so. The duo were elated by their early success, with ESU lavishing praise on her "legend" of a horse, dubbed "Grateful" in recognition of her relief at pulling such a champ for her first leg.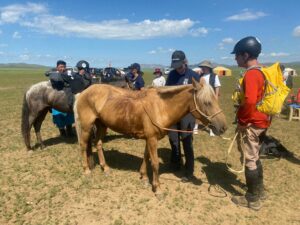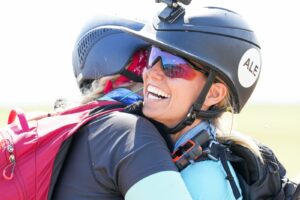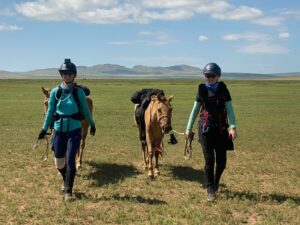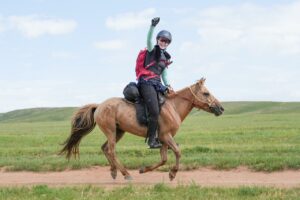 Shortly after, Gaucho Derby veteran RLA also stumbled into HS1, looking a little whiplashed and clinging to her mount's neck, who didn't appear to have broken much of a sweat despite the steadily climbing heat. Initially only able to repeat "SH!T!" while grinning from ear to ear, she eventually calmed down enough to explain the reason for her delight: "like nothing I've ever done before in my entire life…". Her steed was duly christened Wild Ride, and earned a lot of praise and pats for his ability to tank off across the course while remaining perfectly in control of the situation. Perhaps unsurprisingly, it was then revealed her star ride is in fact an experienced naadam racehorse, which might explain his comfort travelling at breakneck speed. VWA was similarly chuffed, reporting her chestnut "little chunky boy" was "perfect", having merrily carted her up and down hills with both horse and rider having had "a lot of fun". What more could you wish for?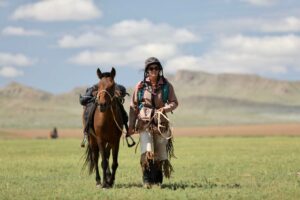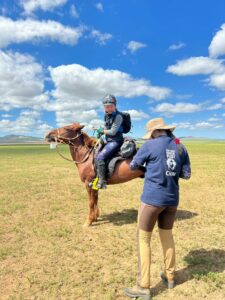 Brittany Hook (BHO) and Mongol Derby 2018 veteran Carol Federighi (CFE), back for a second crack at the beast, also made it into HS1 before AMU managed to high tail it out of there, but not by much. Hot on his hocks was RTI, still with his sights set on the lead. No sooner was AMU out of the station than the cavalry arrived: the main body of the race swept into HS1, and queues at the water trough quickly formed as riders rushed to ensure their sweaty steeds were properly catered for. Twins Allina Keers (AKE) and Margaret Keers (MKE) were wisely going native, rubbing mud into their horses backs to cool them down as quickly as possible, like all true Mongolian herders. Helen Davey (HDA) had a slightly steady start to proceedings, relieved to have had a calm launch but wishing for something with a little more va va voom for the next leg. Her second very handsome stallion did not initially look like he was going to change her luck much, apparently having woken up from a snooze. Natalie Bell (NBE) had the opposite issue: her first horse had taken her out of the start gates rather quicker than she had planned, but she had clung on and made it to HS1 in cracking time.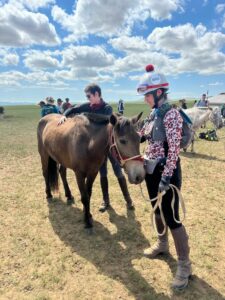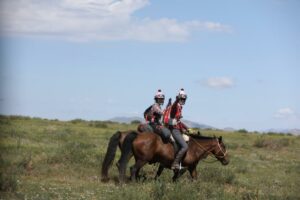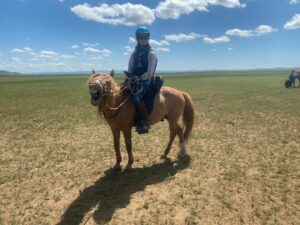 Earning bonus points for just the attitude to horse welfare we like to see, Abbi Bell (ABE) and Ben Dampier-Crossley (BDA) pulled up en route to HS1 to have their horses assessed by our vet team. Concerned their steeds were struggling slightly, head vet Fred confirmed they were a little dehyrdated in the heat of the day. Both were rehydrated to his satisfaction, and ABE and BDA were given a non-penalised lift to HS1 to continue continue to ride on, having earned the vet's choice award for the day. Other riders were not so lucky: the heat of the day was already causing issues, with heart rate vet penalties going to Erdene-Ochir Uuganbauar (EOU), ESU and Maria Johansson (MJO). There is a slight change to penalty rules for this second Derby of the summer. In the July Derby, riders could choose where to sit out their time penalties up until the second last horse station, by which point all remaining penalty time had to be served. This time around, penalties must usually be sat wherever they are incurred, unless race HQ decides the rider needs to ride further on to catch up with the field. In that case, extra un-sat penalties can be served later on, or accounted for in the placings after the race is over.
Meanwhile, back at the head of the race, CFE was putting her Derby experience to good use: she managed to close the gap between her and the lead, and snuck ahead en route to HS2. RTI and AMU were not so easily dissuaded, and doggedly clung to her tail. RLA and VWA paired up to trot together towards HS2, while Adele Dobler (ADO) and OSU had also formed an alliance, perhaps grounded in their mutual navigational nous: OSU has previously won our sister company the Adventurists' sailboat race the Kraken Cup, while ADO is a rescue helicopter pilot. Quite the combo.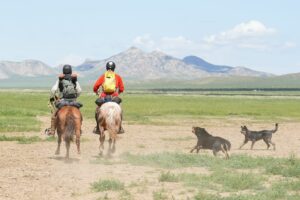 But they weren't going to catch the leaders before HS2: CFE, RTI and AMU were keeping up the pace at the front to stay ahead. Never a dull moment, disaster struck for RTI in the form of a marmot hole: he took a tumble, but a nearby crew vehicle was able to nab his horse before it took off. He reported a slightly stiff shoulder, but nothing race-threatening, and hopped back in the saddle. The trio arrived together into HS2 where the vets were working quickly, but riders knew the chasing pack wasn't far behind. Would they take a pause to refuel, or press on to try and build an advantage?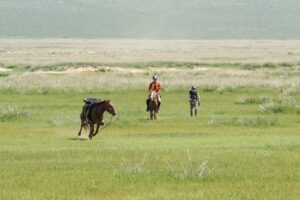 The leaders vetted out faultlessly at HS2, but not before OSU arrived to spoil the party. CFE, first to remount and make for HS3, was waiting for no man, and left HS2 on a one woman mission. With riding hours set until 20:00 today, she had a decent chance of rocketing all the way to HS4, if she had managed to pick the correct horsepower for the job. The partnership looked good, as the new pair trotted briskly out of HS2 in more or less the right direction. Riding alone, she decided to stay low and skirt the hills between HS2 and HS3. Shortly behind her, and now with OSU to join them, RTI and AMU opted to go over rather than around the obstacle, and headed straight up into the hills.
Hot on their heels, RLA, CKI and VWA rocked up at HS2. Shortly behind them, Zoe Geddes (ZGE) was honing in on HS2, followed closely by AMC. The main pack then began to wander in, led by Tom Lambert (TLA), Shandie Johnson (SJO), Patti Long (PLO), HDA and Lisa Smith (LSM). HDA's sleepy stallion had made quite the impression, leaving HDA enamoured despite his best attempts to shake her off with the old "drop and roll" upon discovering an ideal snack spot best accessed from closer to the ground, earning him his title "Munchies." CDV rolled in with a striking spotty pony along with Stefanie Buettner (SBU), on a high after an "awesome" leg.
TLA was remounted and ready to shoot for HS3 with 2 hours and 45 minutes left of riding time, although unsure of exactly how far he was intending to ride. Luckily for him, riding companion ZGE seems much more au fait with the GPS, and two headed out smartly to "get their chu on" in the hope of making it to a safe ger to conk out in for night 1 of the Derby. For the uninitiated, the Mongolian "chu" roughly translates as "faster please, pony".
Meanwhile, CFE and OSU's navigational divergence was coming into play in a tense race for HS3. OSU had managed to shake off RTI and AMU, the latter starting to suffer in the heat, and emerged from the hills alone, while CFE had skirted around the mountains. Easier on the horse to avoid the hillier terrain, but the longer distance could also have tired him more. OSU gained the upper hand, and rolled into HS3 in the lead. All Scandinavian efficiency, he was wasting no time in ensuring his mount was cooling off happily before planning to crack on and push out of HS3 this evening to maintain his lead. The early leader emerges, but can he retain his advantage? It's a long, lonely road to the finish line leading from the front.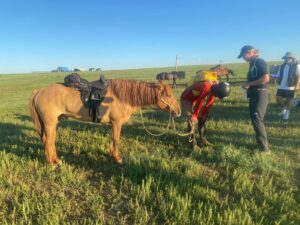 CFE had the same plan, but in an unfortunate turn of events, she missed the equine chu-chu train which departed without her for HS4, but laden with all of her gear. The trusty "man on a motorbike" was dispatched to shepherd her rather fresh mount, plus all her gear, back to HS3, where she now spends the night. Meanwhile, AMU and RTI cleared their vet checks at HS3 with no issues, but eventually decided they would spend the night in the safety of HS3 and crack on with fresh horses in the morning. RLA and CKI made it into HS3 with a mere 10 minutes to cut off time, timing their day to perfection. Having ridden a cracking day, HDA and LSM positively skipped into HS3, thrilled with their day's slog, and leading "Ping Pong" and "Cutie" in their wake: "Could you find two better ponies?"
OSU made it to around 8km out of HS3 before reporting that things were looking a little dry, spelling trouble for his horse on a hot day, so he bedded down for the evening with a welcoming Mongolian herder family at 19.57.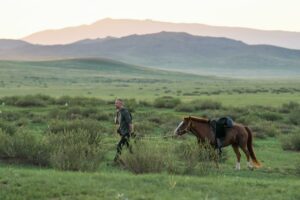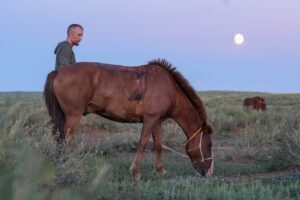 Further back in the field, riders have landed on their feet accommodation wise this evening, with the majority camped between HS2 and HS3. BHO and Stan Michael (SMI) pulled up at the ridiculously picturesque hilltop ger of the Ulziibat family, boasting stunning valley views and an epic sunset. With food being thrust into their hands before they had even exchanged names, they can't quite believe their luck this evening. Similarly, KCA, Mary Donohue (MDO), JDP, Willy Evert (WEV), Hugh Dampier-Crossley (HDM) and BDA have found a family willing to host something of a school trip, while VWA has found herself one of the plushest gers on the steppe. Vet Anna, checking in on VWA, also scoped out the host family's horse, and earned herself some milk tea and curds for her troubles. SBU and Carla Rasdall (CRA) are enjoying girls night on the steppe, complete with TV dinner and a Pixie movie. Much of the Derby magic happens when you learn to think outside the horse station.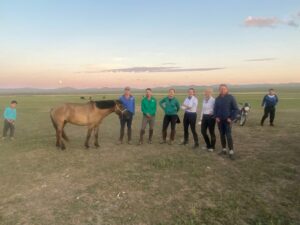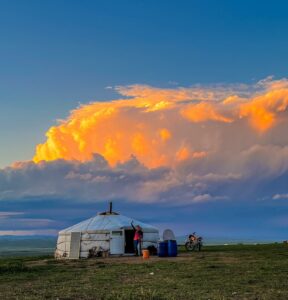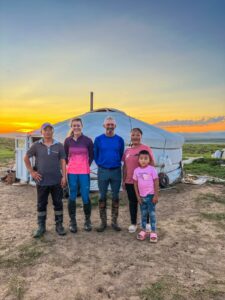 And there we have it: Day 1 survived, with all setting a sterling pace as they embark on the 1,000km to the finish line. We leave you with some more photographic highlights from Day 1 followed by today's Close of Play summary (to be found at the tail end of each daily report), before we're back tomorrow to report on all Day 2 has to offer: it's all to play for.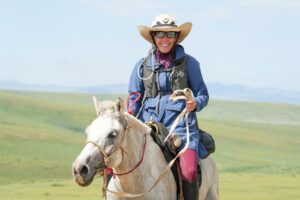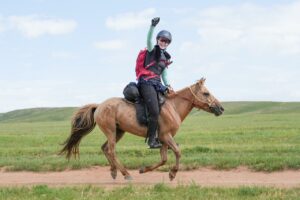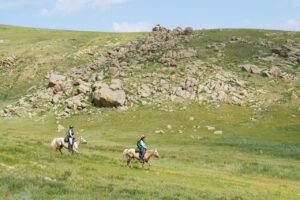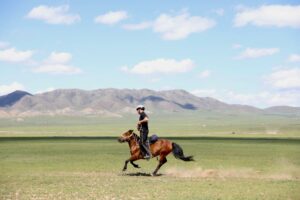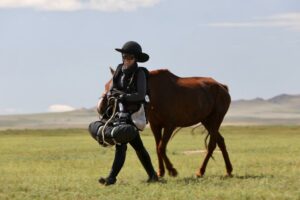 Day 1 Close of Play
Between HS3 – HS4: OSU
HS3: AKE, AMU, CFE, CKI, HDA, LSM, MKE, PLO, RLA, RTI, TLA, ZGE
Between HS2 – HS3: ABE, ADO, AGU, ALE, AMC, BDA, BHO, BMA, CDV, CRA, ELE, EOU, ESU, HDM, HMC, JBE, JDP, KCA, KMA, MDO, SBU, SCA, SJO, SMI, VWA, WEV
HS2: BBE, KMC, KSL, MJA, MJO, NBE, RLI
Penalties
Vet penalties (2 hours): BBE (x2), ELE, EOU, ESU, KSL, MJO, MJA, NBE
Lost tracker (1 hour): ELE
Photo credits: Louise Crosbie, Bayarsaihan Ochiroo, Tulgaa Skizz, Shari Thompson, Erik Cooper, Babi Photography