Back
August Mongol Derby Day 10: Here comes the cavalry
Mercifully for those still out on the steppe, the Mongolian weather gods awoke on Day 10 of the August 2022 Mongol Derby feeling a little ashamed of themselves for their stormy strop yesterday, and pulled out all the stops to redeem themselves. The sun was out, there was a pleasant breeze in the air, and nary a rain cloud in sight. Hallelujah.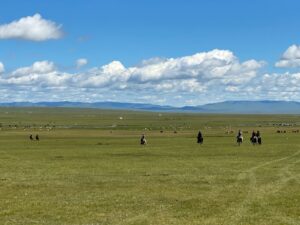 With the inviting lights of the party at finish camp practically within sight this morning from HS27, just one final leg away, Brittany Hook (BHO) and Jessica Di Pasquale (JDP) sprang out of bed full of beans, ready to mount up and charge for the line at 7am on the dot. There was time for a final family portrait at HS27 before they started on their final leg of the adventure of a lifetime. The pair were the first to blaze through the flags at finish camp this morning, to many cheers from the assembled crowd.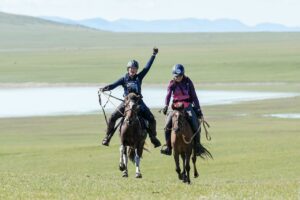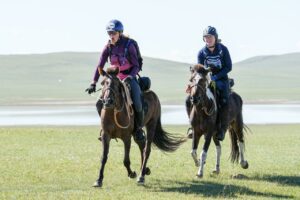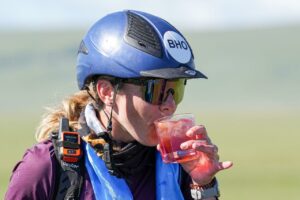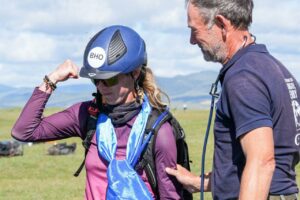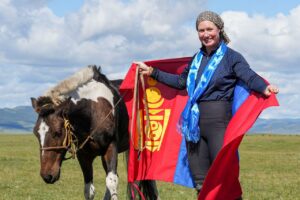 On their tails, Krista Carter (KCA) and Mary Donohue (MDO) were also keen to hit the bar as soon as possible, mobile from their final camping spot somewhere between HS26 and HS27 bright and early this morning. They passed through HS27 in irrepressibly good cheer, savouring their last ger tea break before shooting out and storming across the line hand in hand.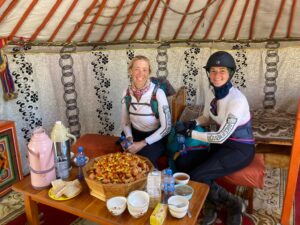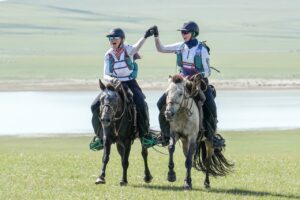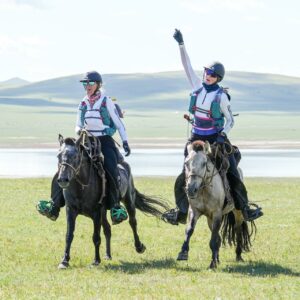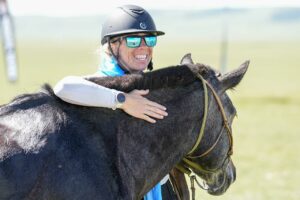 Waking up at HS26 this morning, Arianna Leoni Sceti (ALE), Kate MacTaggart, Sarah Carroll (SCA), Ron Tira (RTI) and Olof Sundstrom (OSU) were in merry spirits and bounded out of HS26 on fresh mounts, revelling in the sun-soaked steppe for the their last day on horseback. Meredith Jarman (MJA) rocked up at HS26 shortly after their departure, having moved out from her overnight camping shed between HS25 and HS26 a little early in order to take full advantage of the morning sunshine. She vetted through like the (literal) pro she is, and was off, chasing down the pack ahead of her.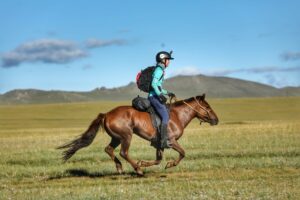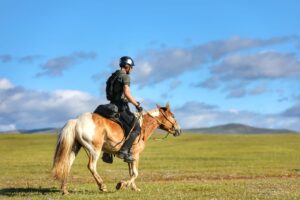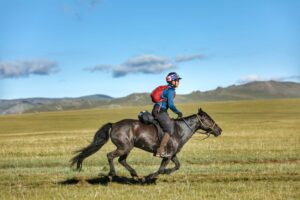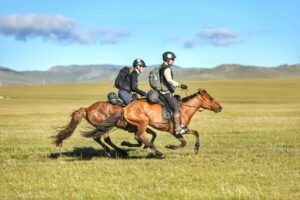 The group ahead made it into HS27 in fine fettle, with OSU a little behind the others due to his customary habit of carrying his own saddle into every station, never one to forsake his horsemanship. ALE finally rounded off her Mongol Derby experience with her first fall en route into HS27, her horse having soaked up a little too much of the party atmosphere and completely taken his eye off the job, stumbling straight into a sizeable marmot hole. Undaunted, she hopped back on to see out the race after a superhuman effort the whole way through. The atmosphere remained festive, with SCA literally dancing for joy while selecting her final steed. OSU was slightly later than the others to depart for the finish line, trotting out shortly after on a pretty paint while MJA emerged on the horizon to barrel into HS27, having made stonking time from HS26.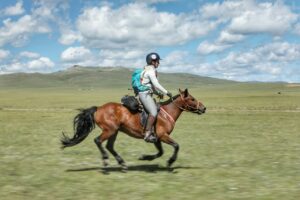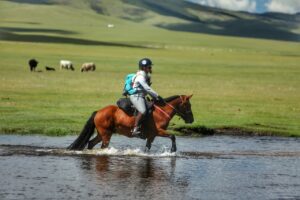 RTI was the first of the bunch to cross the line, albeit on foot after his steed identified a serious threat to life in the form of our finish line flags. Next up were fast friends, ALE, KMA and SCA, loyal to a fault and brimming with pride to make it home united. True to form, OSU of course crossed the line on foot, bearing his saddle on his back. The most considerate Viking ever to have conquered the steppe, a firm favourite with crew and hosts alike.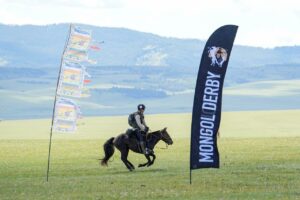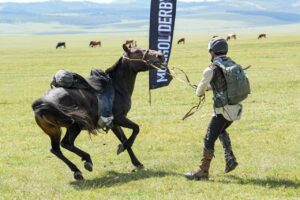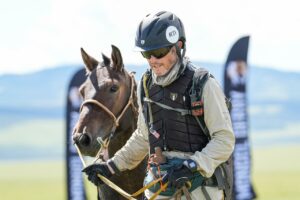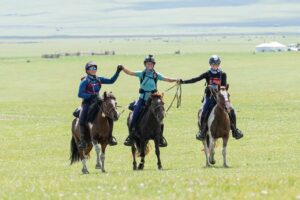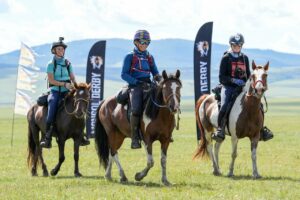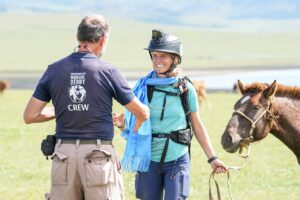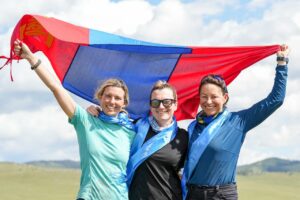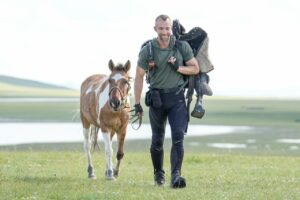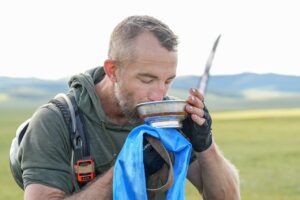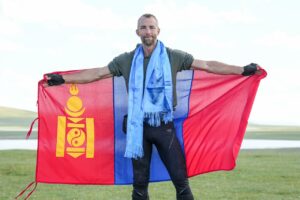 MJA was the final rider still in the race to cross, having pulled off an extraordinary feat over the last few days to traverse the steppe solo when her companions joined the blood wagon. What a plucky ride.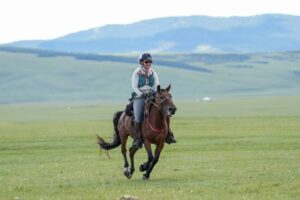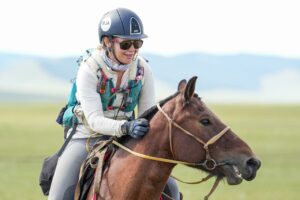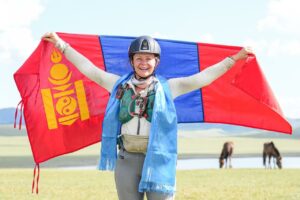 But the fun wasn't over yet: all of our Adventure class riders who had been medically cleared to get back in the saddle thumbed a lift back from finish camp to HS27 so they could mount up and ride across the line. Shandie Johnson (SJO) had a very specific brief today for horse selection: her mount must be comfortable with drunk driving, in order to allow his jockey to cross the line swigging from a hefty bottle of vodka, hands free. Assured by some amused herders her pick would be relaxed about the situation, she was mounted and set, bottle at the ready. Obligingly providing our last taste of Derby drama, Bailey Martinez (BMA) had an unplanned run-in with the horse lines after her first pick steed tanked her back to his friends. She executed a quick steed switcheroo, and was back up and ready to roll for the line with the rest of the blood wagon contingent.
Happily, all crossed shortly after, enormous grins plastered across all their faces (and SJO simply plastered). Congratulations to SJO, BMA, Stefanie Buettner (SBU), Joyce Bergesma (JBE), Carla Rasdall (CRA), Kim Mackenzie (KMC), Alice Gully (AGU), Natalie Bell (NBE), Emma Sunnucks (ESU), Lisa Smith (LSM) and Maria Johansson (MJO). You are all made of seriously tough stuff.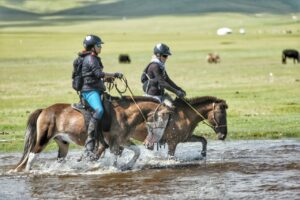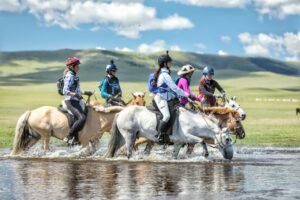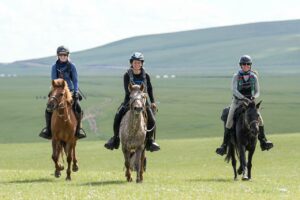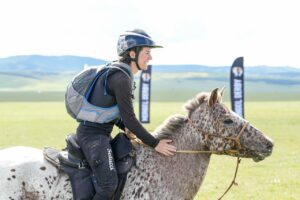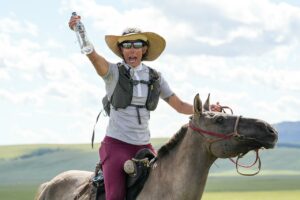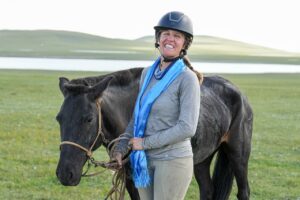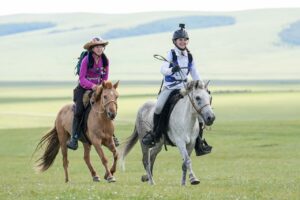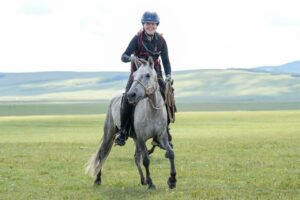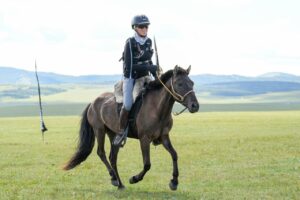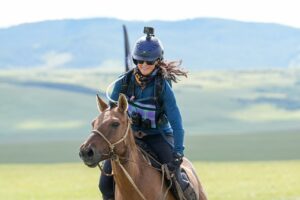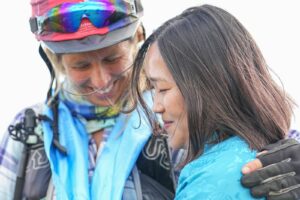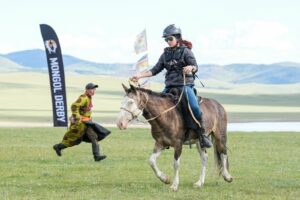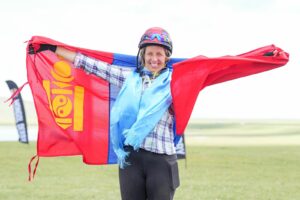 As the sun sets on the steppe and our second Derby of the year, we are still beavering away back at HQ to tot up the final rankings, taking account of all that early riding, late departures and penalties you have been reading about over the last 10 days. Never fear: the results will be published shortly.
In the meantime, please join us in sending a massive thank you and congratulations to all of our sensational riders, crew members, host families and behind the scenes, unsung heroes who have come together to make the August Derby, and the July Derby before it, such a roaring success. And, most importantly, the astonishingly mighty Mongolian horses, who keep us coming back for more year after year. Until next time, dot watchers. Now to party.
Photo credits: Shari Thompson, Louise Crosbie, Andy Fraser, Anna Bowker; Charles Van Wyk, Bayarsaihan Ochiroo, Babi Photography, Mandakhaa, Erik Cooper, Erin Nagle
Penalties
Early departure: MJA (47 mins)