Back
August Mongol Derby Day 4: Ride, rinse, repeat
Day 4 will go down in the riders' memories as the day their gear either stood up to the ravages of weather or failed miserably while the skies chucked down moisture to an already saturated and soggy steppe.  Did we mention that this race is tough? And Mother Nature can be a bitch? Not only are riders gunning for 100+ kilometers per day, they are withstanding incredible physical stress as they weather the weather and keep on pointing their horse's nose towards that elusive finish line goal.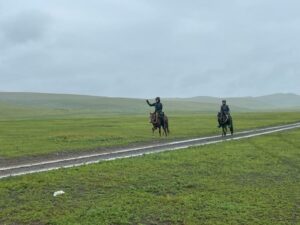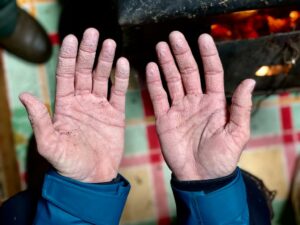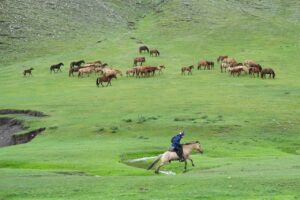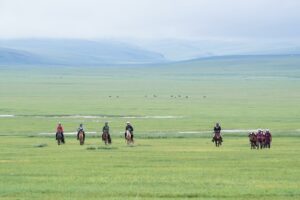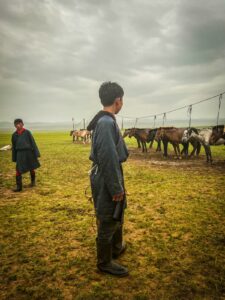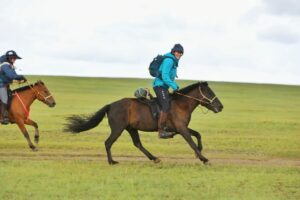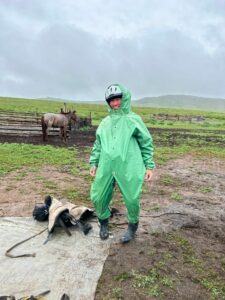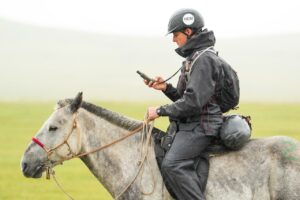 It's at this point in the race that the little things matter: the candies/snuff/vodka graciously shared by the herder families at the horse stations; the warmth of the fire in the ger at the end of the day; the good humour of the medics as they patch up your butt.  This race is an exercise in perseverance and an interesting case study on the effects of small acts of kindness, to say the least.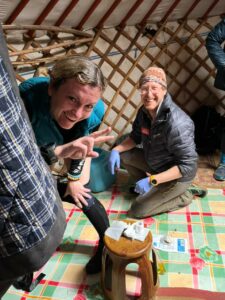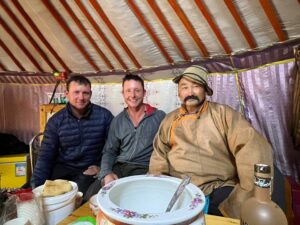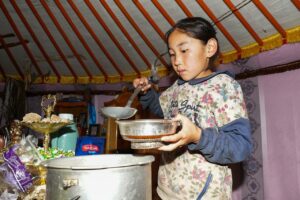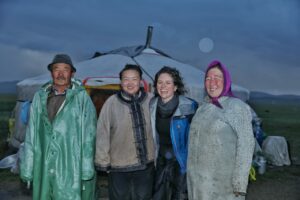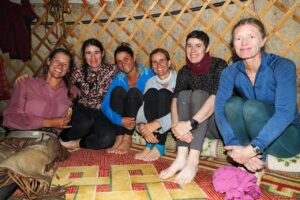 It was also a day of lost and found, with a number of riders hitting the squidgy ground. BHO Brittany and SMI Stan, riding together mid-field, found themselves taking turns with catch-the-pony as both horses ran amok after BHO's heroic attempt at a mounted recovery. On the flip side, KCA Krista messaged into HQ after finding a rider-less horse in the middle of nowhere. We scanned our collective memories for recent reports of a missing horse with no luck; mystery solved when Krista identified the horse as belonging to a herder. "It's a Mongolian horse with Mongolian tack!" she reported. Not sure where the herder was at that point but they're a mysterious bunch with an uncanny ability to blend into the vastness of the steppe.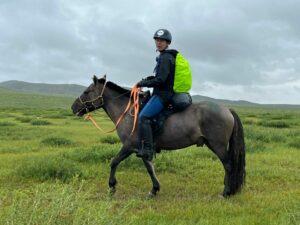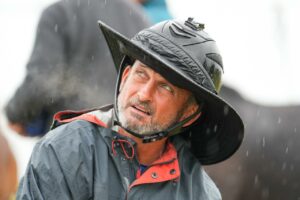 Coming into HS12 mid-afternoon it was the leading bunch of CKI, ABE, HDA followed by EOU and BBE who have been pouring on the coals making their way back to the front. In case you've not noticed, EOU and BBE ride very much in the traditional herder style of standing in the stirrups at anything faster than a walk. That's some serious thigh burn! Don't try this at home, folks. These two have picked up ABE Abbi as their teammate and later in the day were given strict marching orders to scrap their plan to eat at HS12 in the interest of saving time. "We can eat at HS13" were her sternly delivered words. Gotta love ABE and her bloody-minded determination.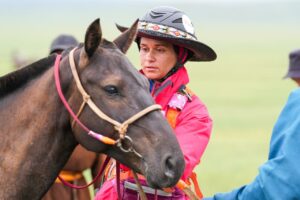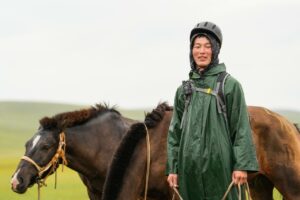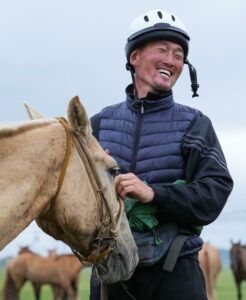 As the field closed down at the end of riding hours, riders were spread between stations 10 and 13, clothing draped around fires with the hopes of some dryness come morning. As we near the midway mark of the race it's still anyone's game and the coming days will deliver much more excitement before we're done.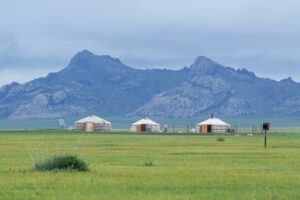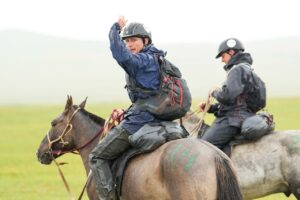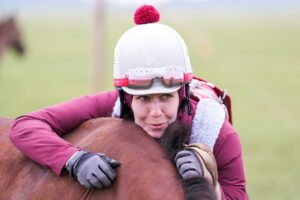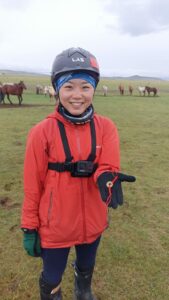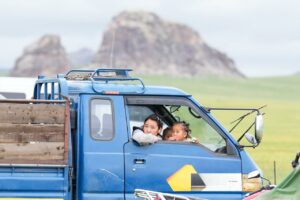 Day 4 Close of Play
HS13: ABE, AKE, RLA, MKE, HDA, BBE, EOU, CKI
Between HS12 – HS13: HDM, BDA, CFE, VWA
HS12: ZGE, JDP, AMU, HMC, TLA, RTI, WEV
Between HS11- HS12: MDO, KCA, BHO, SMI, OSU
HS11: AMC, SJO, SBU, KMA, SCA, LSM, CRA, ALE, ADO
Between HS10 – HS11: JBE
HS10: MJO, NBE, MJO
Adventure Class:
KMC, RLI, KSL, BMA, ESU, CDV, PLO, AGU
Penalties to date:
Vet penalties: BBE (x2), ELE, EOU, ESU, KSL, MJO, MJA, NBE, OSU(x2) , BDA, ZGE, AMU
Lost tracker (1 hour): ELE, CRA
Lost vet card (1 hour): KMC
Late riding: EOU, TLA (x2), ABE, HMC, JBE
Carry forward: OSU
Photo credits: Shari Thompson, Louise Crosbie, Andy Fraser, Anna Bowker, Charles Van Wyk, Bayarsaihan Ochiroo, Babi Photography, Mandakhaa, Erik Cooper