Back
August Mongol Derby Day 5: Halfway horse
Day 5 of the August 2022 Mongol Derby, and our glorious jockeys have made it at least halfway through the ride of a lifetime. Five days down, another five maximum to go (most likely less for our eventual winner). And yet, the podium positions remain too close to call. The leading pack, comprised of the six riders bedding down at HS17 tonight, has put some daylight between themselves and the next closest threats, a rival sextet stationed at HS16. But in Derby terms, a one horse station advantage is hardly cause for comfort: easily won or lost by a stroke of navigational genius or disaster; a champion racehorse or a steady plodder. The next few days remain crucial, as we take a look at how today's events unfolded as competitors passed through pre-historic rock formations, sand dunes and hilly terrain.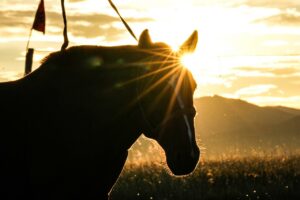 The morning of Day 5, although an improvement on yesterday's deluge, did not providers riders with much of a chance to dry off their soggy clothes and selves. A grey morning with some thick mist pregnant with icy drizzle resulted in a notably subdued field, all cocooned in many layers of fetching waterproofs. At a busy HS12 this morning, Alex Muirhead (AMU) marched towards his horse having transformed into the Michelin Man, leaving him with an inconveniently inhibited range of motion with which to mount his prancing pony. Some readjusting of layers later, and he was able to heave himself onboard, waterproof armour intact. Luckily, his steed proved mercifully honest, and did not take advantage of his relatively slow movement to deposit him in the muck.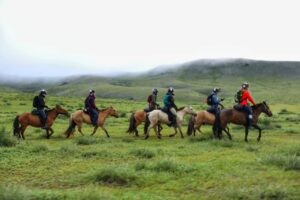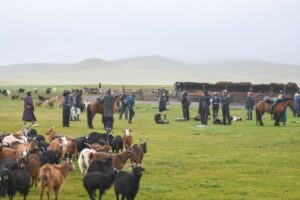 Also departing HS12 this morning, Ron Tira (RTI) was looking a little forlorn in some thoroughly waterlogged waterproofs, describing himself as "freezing and soaked" following his adventures on Day 4 and hoping for an improvement in the forecast for Day 5. Meanwhile, Tom Lambert (TLA) and Hugh McMurtrie (HMC) were assessing their steeds for the day. TLA reported feeling "wet everywhere" with some particular problems arising from leaky boots, with HMC cheerfully insisting it's actually "awesome" once you get going and your aching joints have warmed up a bit, his face half obscured by his buff and rain gear. The pair rode out of HS12 this morning into the mists and have ended up camped somewhere between HS15 and HS16 this evening with Zoe Geddes (ZGE) for company, having teamed up with her between HS13 and HS14.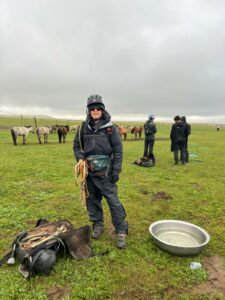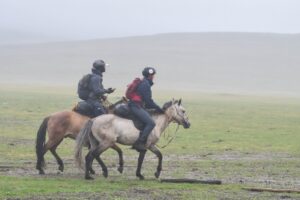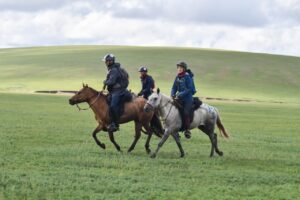 Alice Gully (AGU) was more concerned with her discovery of fresh fruit on offer at HS12, lingering in the ger beside the swiftly diminishing stacks of watermelon rather than face the conditions on the steppe. She had another nice surprise this morning, as she was reunited at HS12 with Kate MacTaggart (KMA) after AGU found herself resigned to the blood wagon. The pair reunited, they rode out of HS12 together. The trials and tribulations of the Derby forge bonds not easily laid aside.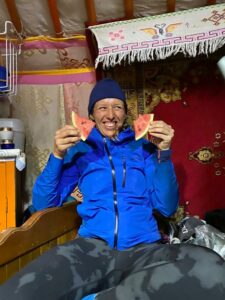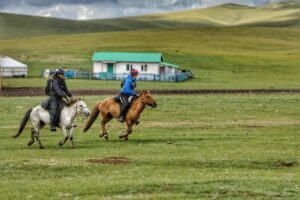 Also making the most of the catering on offer was Olof Sundstrom (OSU), taking time out from carb loading for the day ahead to gush about the truly special experiences to be had camping on the steppe, which is he taking full advantage of. He has found himself hosted so far by a herder family with whom sign language was his only form of communication, a software developer from Ulaanbaatar visiting her in-laws who he claims spoke better English than he does, and a family resident in a rare actual house constructed on the steppe. Never a dull moment. Breakfast down the hatch, he was paired up with a frisky mount this morning on leaving HS12, after getting some star jumps in to regain the feeling in his tiptoes.
Slightly further back in the field leaving HS11 this morning, Adele Dobler (ADO) was philosophical about the weather: as they say in her native Canada, "If you don't like the weather just wait ten minutes, it always changes." Positive outlook notwithstanding, her gear appears to be finding the wait for better weather a bit of a challenge: her chaps have begun to deteriorate at an alarming rate, now welded together with some handy duct tape.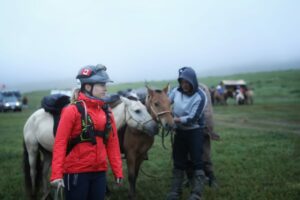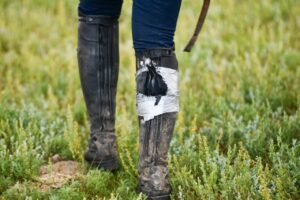 ADO's chaps are not the only gear malfunctions being creatively addressed on the steppe. Jessica Di Pasquale's (JDP) water bladded suffered a puncture, leading event manager Erik to sweep the steppe for a satisfactory replacement. Her bad luck was apparently done for the day (leaving aside a marmot hole-related tumble between HS13 and HS14): having had a stonking day's riding, particularly out of the Ser-Od family's HS12 aboard event manager Erik and July Derby veteran Kathy Gabriel's rocket of a horse 'Naadam', JDP has reached a campsite somewhere between HS15 and HS16 this evening.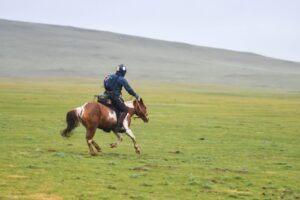 Also suffering from the same kit issue was Mary Donohue (MDO), who wasted no time in improvising by shoving a squished 1 litre plastic water bottle in her rucksack instead, with the help of Krista Carter (KCA). Finding that positioning a little impractical, MDO duly stuffed the bottle down her trousers instead. Ingenious yet possibly uncomfortable tactics.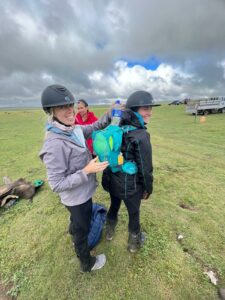 It wasn't just human kit backfiring: Chloe Dvorak (CDV) lost her bridle so recruited a jovial herder helped make her a new one, which Carla Rasdall (CRA) had a bolter so strong he managed to snap the bridle clean in two. Luckily, it remains true that there is nothing a good bungee cord can't fix.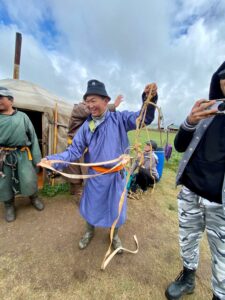 Meanwhile, ahead of the rest of the field, the front runners were shaking off the rain at their overnight camp at HS13 this morning, blasting out sharpish for HS14. Rochelle Latka's (RLA) game plan for the day was to "keep chugging along" as far and as fast as her steeds could carry her, conscious that any second her Derby good luck streak could come to an abrupt end for any manner of reasons. Helen Davey (HDA) continues to work her way through her alphabet of horses, mounting up this morning onto the as yet nameless letter N: his title was to depend on his performance. Hopefully he did prove himself too much of a Nag. Erdene-Ochir Uuganbayar (EOU) took full advantage of a fine opportunity to showcase his bronc riding prowess, entirely unfazed by his mount's best attempts to bury him on the way out of the station. Our Mongolian riders pick their horses from a lottery at each horse station to even the playing field a bit with the rest of the riders who have not benefitted from a lifetime of steppe rodeo experience.
First out were Gaucho Derby veteran RLA, HDA, Callie King (CKI) and Aliina Keers (AKE) hotly pursued by Abbi Bell (ABE), EOU and Bilegbat Erdensukh (BBE), followed up by Margaret Keers (MKE). The overnight leaders scooted out onto the steppe, heading into some ominously low-hanging and dark clouds shrouding the mountains in their path.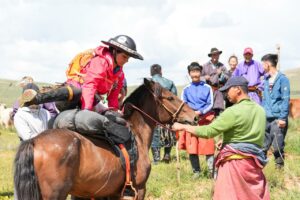 Scarcely had MKE vacated HS13 before Victoria Wang (VWA) rolled in at around 8am, followed soon after by Ben Dampier-Crossley (BDA), Hugh Dampier-Crossley (HDM) and Carol Federighi (CFE). BDA courteously offered event manager Louise a ride aboard his pony today in exchange for a seat in her crew vehicle, an offer Louise politely refused.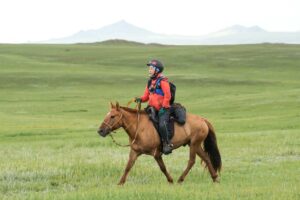 At around midday, the Mongolian weather gods snapped out of their funk and cleared the clouds to reveal bright sunshine and picture perfect blue skies. Still riding as a three ball, ABE, EOU and BBE made light work of the gap between themselves and the leaders, catching up with RLA and CKI en route to HS14 to ride in together. HDA and AKE couldn't quite keep up with the blistering pace and fell slightly behind, but the margin was only around 8km by the time the leaders checked into HS14. Nothing was certain.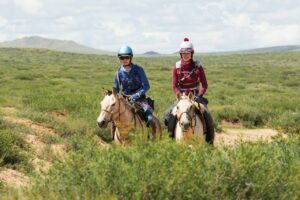 RLA and CKI appear to have fine tuned their horse change routine, and were the first to whizz out of HS15, hounded as always by ABE, BBE and EOU. But by HS16, the Mongolians EOU and BBE and honourary Mongolian ABE had managed to pip RLA and CKI to the post, seizing the lead thanks to some nifty river navigation. RLA almost had the unlucky incident she had been dreading on the way into HS16, when her steed proved oddly ungrateful for her efforts to save him some energy by dismounting to walk him into the horse station and tried to return from whence he had came. Luckily, the worst was avoided, and RLA managed to coax him into HS16 to successfully vet through.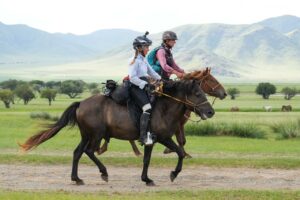 BBE and EOU continued their stormer of a day through HS16, which they skipped through and tore out of on fresh horses in short order. But ABE had encountered some problems: her horse was not so convinced about the merits of leaving behind his pony pals at HS16, and was taking some persuading to hit the road. ABE pushed on as best she could, as she watched her erstwhile companions shrink into the steppe without her. Meanwhile, RLA this time pulled a chestnut with an infamous nip, leading her to christen him "Chomper". Luckily, what he lacked in manners he made up for in speed, tanking off towards HS17 with RLA doing her best to cling on.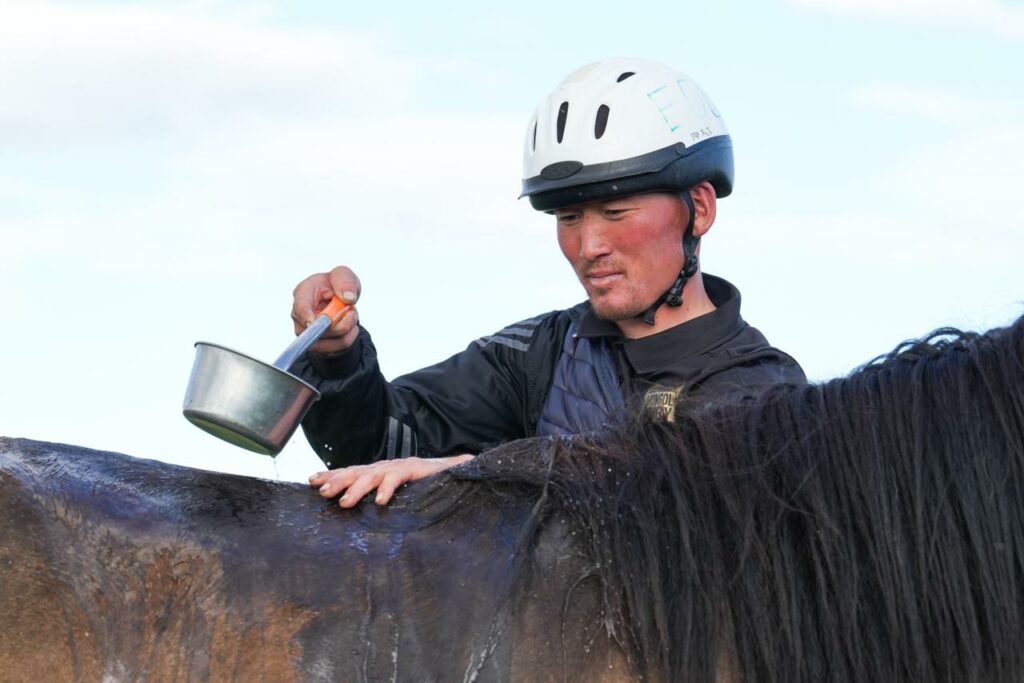 So chomping at the bit was Chomper, RLA flew past the stricken ABE en route to HS17. But even a horse with wings wasn't going to be enough to catch EOU and BBE, who made it into HS17 first today and decided to call it a day with 30 minutes riding time still to go, keen for a relaxing night in a cosy ger. RLA and CKI rode into HS17 together shortly after: would they also decide to save themselves the potential risk of camping out on the steppe but sacrifice the potential gain of 30 minutes on the boys in the morning, or head out but risk a dodgy night's sleep or losing a horse?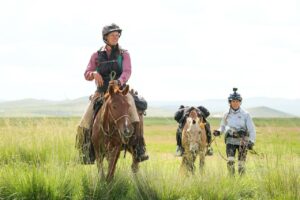 After some painstaking deliberation, they decided to stick to shelter, and settled in for the night. This wasn't the end of the drama for the leaders: ABE was subsequently overtaken on the way into HS17 by VWA, the latter riding a doggedly determined day aboard a final equine akin to a Ferrari to claw her way back up to the front. ABE's mount ground to a halt just 5km shy of HS17, so she ambled in at a fairly sedate pace just before cut-off time, managing to keep herself neck and neck with the leaders.
The leading pack have called a truce this evening to enjoy a spot of basketball with the resident family and event manager Erik. Tomorrow morning is bound to bring some drama for this bunch: HS17 is a lottery station, meaning riders cannot select their mounts and instead have to rub along as best they can with whatever pony pal they are given. Could this change in procedure break up the field and stick somebody out in front?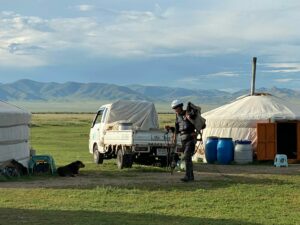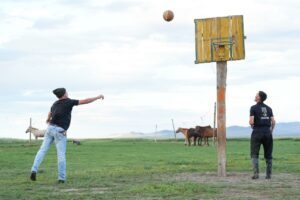 Back to the chasing pack, and HDA and AKE vetted clear at HS16 tonight with two hours of riding time still to use, but have decided to pitch up there for the evening. AKE was relieved to be reunited with twin sister MKE, who had had some horse issues between HS13 and HS14 which had resulted in her dropping off the pace. Riding in just before cut-off time with HDM, BDA and CFE, the trailing six are camped together this evening, knowing they are tantalisingly close to the group just one station ahead of them.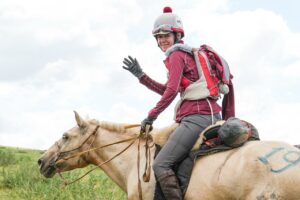 Stan Michael (SMI) struck out on his own from HS14 earlier today, only to confidently trot off in the wrong direction. Soon shepherded back on track by a concerned herder, he was made it to a campsite between HS15 and HS16 tonight, as have AMU, HMC, RTI, TLA and ZGE. Back at HS14 this evening, KMA strolled in beaming after a "wonderful" day in the addle, while Sarah Carroll (SCA) was appalled to discover her extremely frisky mount was billed as a children's pony. Straight in at the deep end for the Mongolian youth. They were followed into HS14 right at 19:00 cut off time by OSU, still loving every second of his rollercoaster ride across the steppe.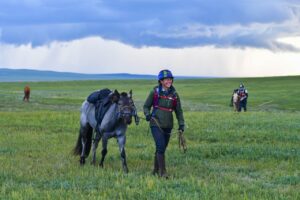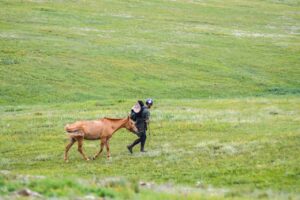 We'll be back tomorrow to report on the day's dramas: will there be anything significant enough to produce an out and out favourite? Only time will tell. For now, here are some more of our top snaps from today.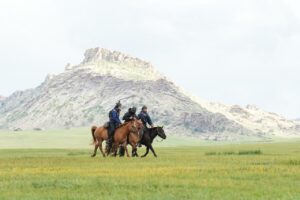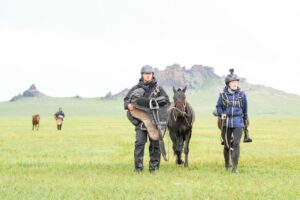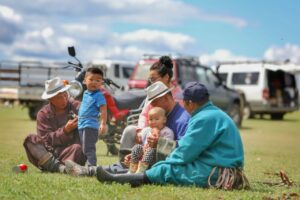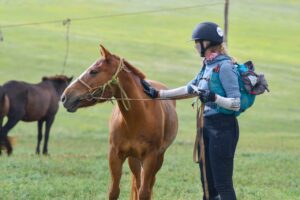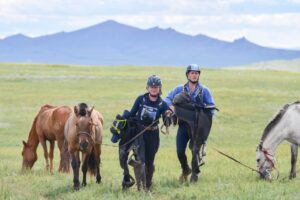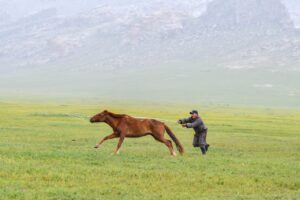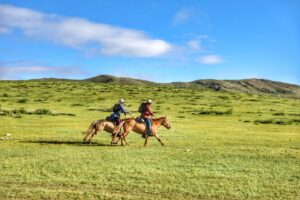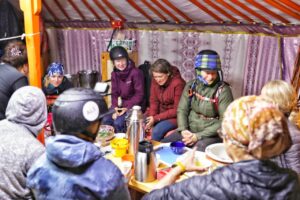 Photo credits: Shari Thompson, Louise Crosbie, Andy Fraser, Anna Bowker, Charles Van Wyk, Bayarsaihan Ochiroo, Babi Photography, Mandakhaa, Erik Cooper, Erin Nagle
Day 5 Close of Play
HS17: ABE, BBE, CKI, EOU, RLA, VWA
HS16: AKE, BDA, CFE, HDA, HDM, MKE
Between HS15 – HS16: AMU, HMC, RTI, SMI, TLA, ZGE
HS15: JDP, WEV
HS14: ADO, ALE, BHO, KCA, KMA, MDO, OSU, SCA
Between HS13 – HS14: CRA, SBU, SJO
HS13: JBE, MJA, NBE (AGU, ESU, KMC, LSM, MJO, PLO – Adventure Class)
Adventure Class: AMC, BMA, CDV, KSL, RLI
Retired: ELE
Penalties
Late riding: JBE (190 mins), MJA (190 mins), NBE (190 mins)