Back
August Mongol Derby Day 8: A home win
Day 8 of the August 2022 Mongol Derby, and we are bursting with pride to report that a first home-grown champion has done it: Erdene-Ochir Uuganbayar (EOU) has held off the pack of riders hounding him to clinch victory for Mongolia in the Mongol Derby. And what a champion he is: a supernaturally talented horseman with limitless reserves of good cheer and kindness, his elation on crossing the line will be a memory we cherish for a long time to come. Complete with hands-free flair, of course.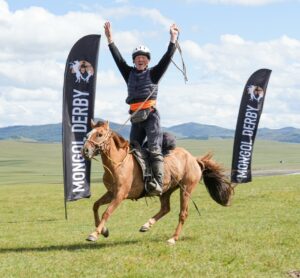 The action unfolded on another blindingly sunny day on the steppe. EOU had HS25 to himself last night, and woke this morning to sit his 8min late riding penalty incurred before launching his bid for the line. Despite knowing that Callie King (CKI) was camped out between HS24 and HS25 not far behind, EOU was in no major rush, taking his time to savour what was most likely has last morning on the Derby in some stunning surroundings, clocking out at 07:23.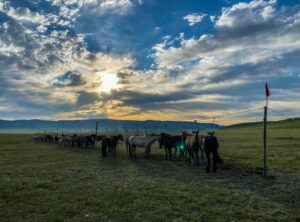 Rochelle Latka (RLA) was departing from HS24 this morning, never far off the pace. Her lucky mount looked a little startled to have her on board at first, but mercifully remained pretty malleable before transforming into a lightning bolt once onto the steppe, rocketing RLA towards CKI, who had camped 6km ahead last night. Bilegbat Erdensukh (BBE) had an incident free departure from HS24 this morning after a challenging day yesterday, also trotting out on a steady looking mount. Victoria Wang (VWA) headed out without too much drama too, despite briefly activating stealth mode after forgetting to switch on her tracker.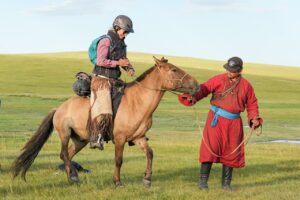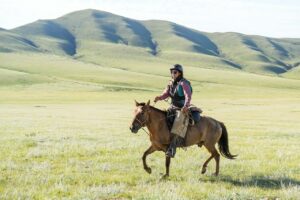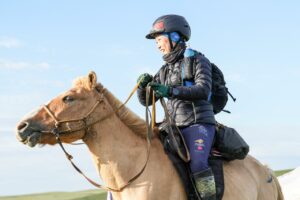 VWA managed to reel CKI in en route to HS25, where the two vet checked through cleanly and shot out together. CKI was sharing her tips for horse selection at HS25: this one caught her eye, wasn't a "porker" and looked like a "lean mean running machine". Clearly the tactics are paying off: she rolled into HS26 declaring him her best choice yet.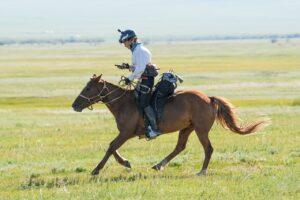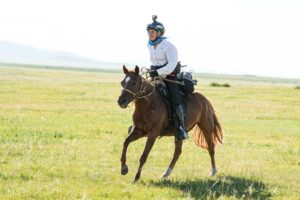 A little further behind, after her night camping between HS23 and HS24, Abbi Bell (ABE) was making good time on those ahead of her trying to catch the front runners, but she hadn't managed to close the gap before VWA and CKI were spotted strolling into HS25 having made stunning time. EOU's lead had been narrowed to only one hour thanks to their plucky riding. CKI cleared straight through, as we have come to expect of her and her uncanny talent for managing her horse. VWA had to wait for her mount's heart rate to come down a little, and watched with good grace as CKI saddled quickly and shot off towards HS26 on a fiery chestnut. As always, the pair were impeccably mannered with each other, despite the race heating up: exemplary sportsmanship only.
VWA wasn't left behind long, soon clear and picking her next pony. The chosen one put on a spirited display of his broncing credentials, culminating in a dedicated attempt to throw off the herder testing him out, but luckily he resigned himself to his fate quite quickly and VWA was soon flying, once she had managed to mount his sneaky side-step.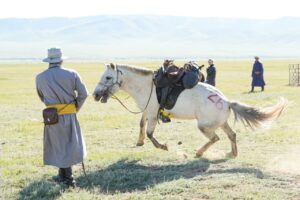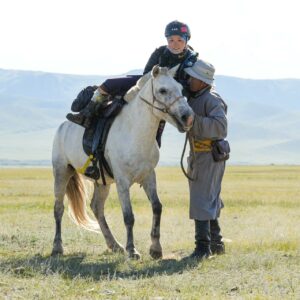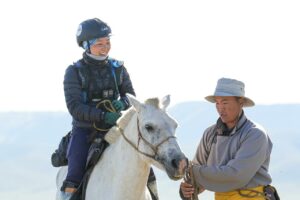 RLA was in and out of HS25 in a flash, riding conservatively to avoid another dreaded vet penalty. She picked a spicy leggy chestnut to give chase. Giving VWA's pick a run for his money, RLA's choice also expressed his displeasure with the herder giving him a whirl, but RLA frankly had no time for any such nonsense and gamely took him anyway, citing the need for yet more "adventure". They went off on a merry buckaroo ride around the horselines, before RLA successfully wrestled his head back off the floor and prevented him smashing through the onlooking horses. Chastened, he thought better of his antics and gamely ploughed ahead to HS26.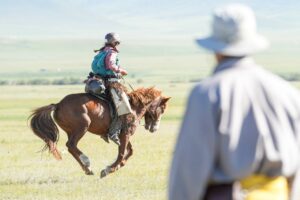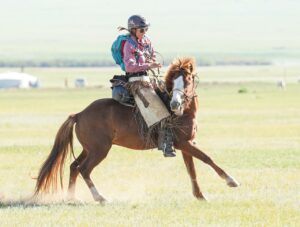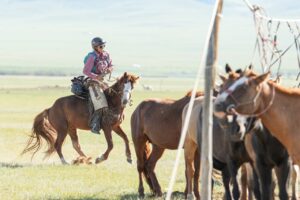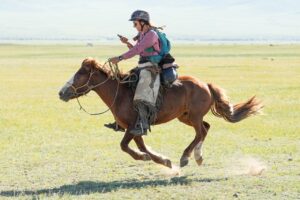 Shortly afterwards, BBE was rolling into HS25 and checking through and out quickly, but compatriot EOU was already a stage ahead of him arriving into HS26. He was struggling to extend his overnight lead. Tenderly cooling off his horse, dousing it in water while it picked at grass, he waited to clear the vet check. He whooped in delight on passing, and took a touching moment to thank his steed for his efforts before moving on. He had time for a quick sip himself before mounting up onto his new pick and shooting for HS27, riding out a few feeble obligatory bucks from his new wheels with trademark ease.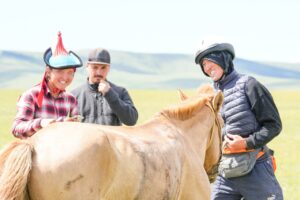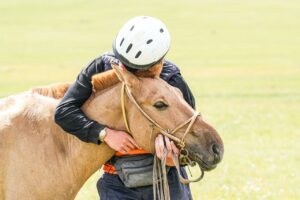 After EOU, CKI and VWA arrived at HS26 again neck and neck. VWA was having difficulty formulating words: her horse's speed had apparently rendered her speechless, entirely unable to stop him for the first 3km. She is now showcasing her acquired Mongolian riding style: standing bolt upright in the stirrups as her unbelievably fast horse tore along to HS25 pulling all the while, embracing the relative lack of control.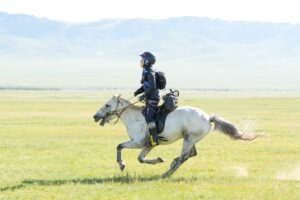 CKI once again floated through the vet check as if she's just been out for a quick trot, with VWA passing through just after. RLA made it in shortly after and breezed through her vet check, while BBE made it in just behind her, the gap closing. No time to talk, BBE saddled up and headed right back out before RLA had gathered her thoughts, let alone her tack. Galvanised, she mounted up and rocketed out behind him shortly after, determined to make up for lost ground. Her horse appeared to have the same idea, ears pricked and moving forward very happily. Unfortunately, she had a slight navigational issue en route to HS27 where riders have to cross a railway line. She ended up taking a tour round a local mine instead, but righted herself and was soon back on track.
Further back, ABE had checked out of HS25 but returned to swap her horse, while up ahead EOU was proving too speedy for both riders and crew, who were desperately trying to keep up with him as he soared to HS27, standing bolt upright and chatting away on the phone while cruising along at 35kmph. Taking a short breather, he took the time to call his wife, and explain he was a bit busy bowling across the steppe in the lead.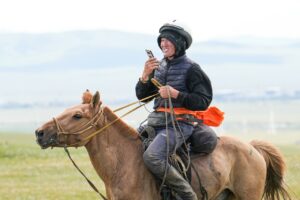 On hitting HS27, after a tense few moments glancing anxiously over his shoulder across the steppe back to HS26, he had cleared his final vet check before the finish line, to his extreme relief. Moving on to select his new horse, he selected a blue eyed beauty off the lines. But CKI and VWA were bearing him down on him, so he wasted no time in saddling up his last horse. His excitement was palpable, grinning from ear to ear and chatting animatedly to everyone at the station before flying out of HS27 on his very handsome final horse, who seemed to have got the memo: the pair settled quickly into a steady gallop, and were off. The race was his to lose, but stranger things have happened: would he make it across the line unhindered?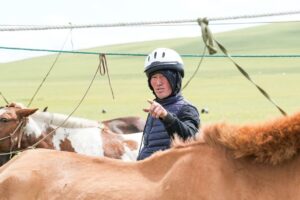 EOU couldn't quite believe he was clear coming into the line, checking over his shoulder repeatedly. But never too busy to think of his horse, he stopped to take his mount to water, even dismounting to ensure his horse relaxed his horse as much as possible. He mounted up for the final kick for the line, and was back racing.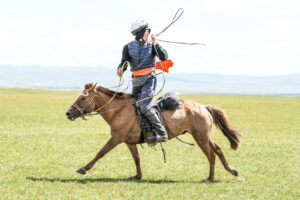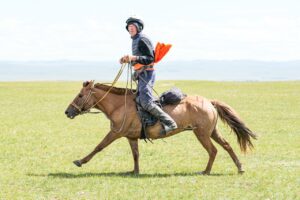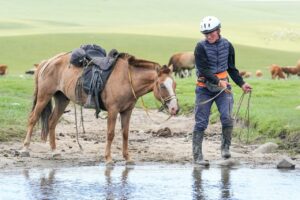 While ABE was heading out of HS26 against an absurdly beautiful backdrop of rolling steppe meeting rocky mountain topped by puffs of clouds straight out of a cartoon, EOU did it: he smashed through the finish line at the furious pace we have come to expect of him in first place, victorious at last after leading from the front for the past few days. EOU's joy on passing the vet check and learning he had been confirmed as the champion was infectious, although his horse couldn't quite understand what all the fuss was about and fell into a nap while EOU was busy celebrating for both of them.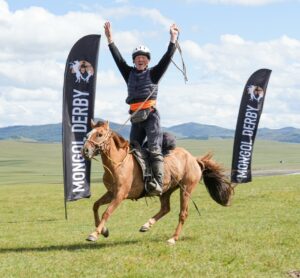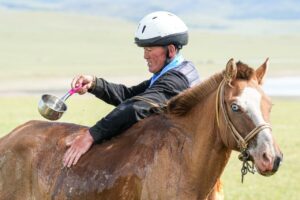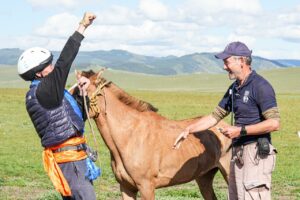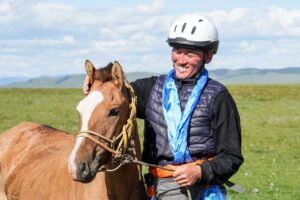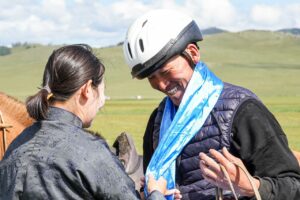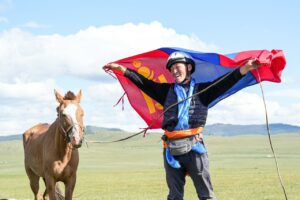 But the race wasn't over: VWA, BBE and CKI were all loose between HS27 and the line. Who would take second place? VWA and BBE seemed to have edged ahead, with CKI's dot drifting back slightly. In the end, BBE and VWA appeared on the horizon with CKI in the background, and thundered towards the line to cross together, hands raised in triumph and mutual respect for their superhuman efforts. CKI passed across shortly after, but was casting her usual spells on the vets to clear through in record time. BBE and VWA were still anxiously waiting for their horses' heart rates to hit those 56bpm before the extended hour long finish vet check was over to confirm they would retain their spots ahead of CKI when RLA tanked across the finish line. The anxious wait for BBE and VWA ended shortly after when they successfully vetted through, landing them joint 2nd place and meaning CKI stayed in her phenomenally impressive 4th, with RLA coming in 5th.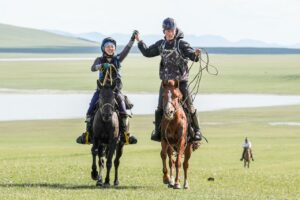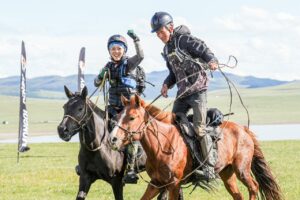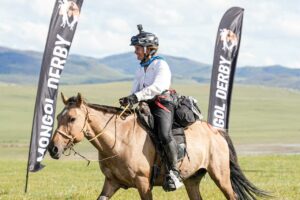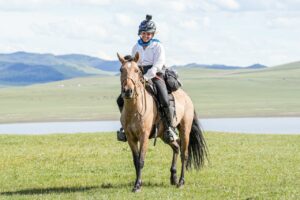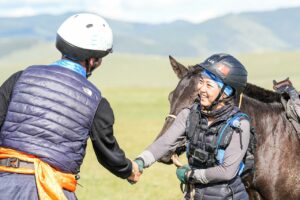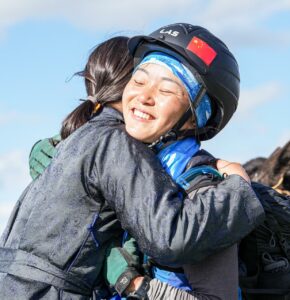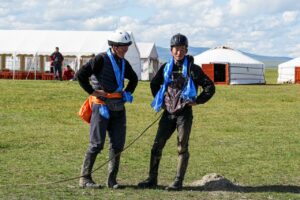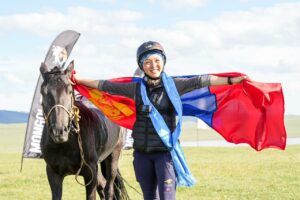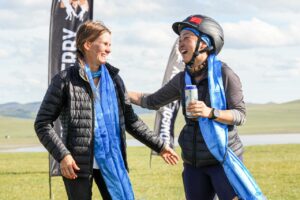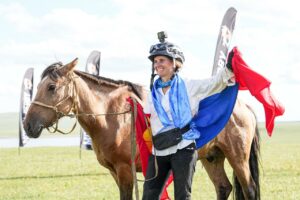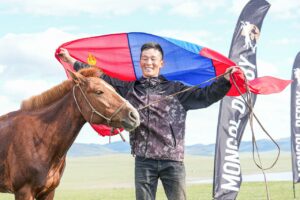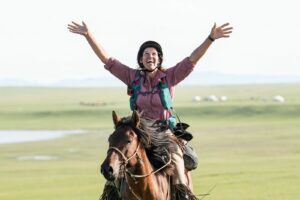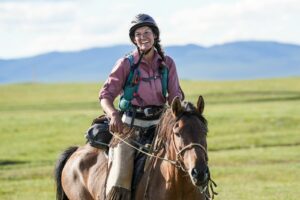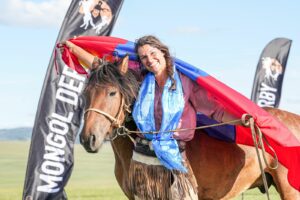 A massive congrats to all of our finishers today. You have all ridden incredible races, showing bountiful determination, bravery, horsemanship and good humour. A bunch of seriously good eggs.
For the rest of the field lucky enough to be enjoying another night on the steppe, the day was predictably unpredictable.
Brothers Ben and Hugh Dampier-Crossley (BDA, HDM) set off from their campsite somewhere between HS22 and HS23 this morning in the company of trusty Stan Michael (SMI), aka Stan the Man. BDA was starting to feel some unpleasantly painful sensations creeping in as some useful painkillers began to wear off, and was looking forward to administering some liquid self-medication at finish camp. Carol Federighi (CFE) was also camped out on the same stretch last night, and had a tough old time of it today. Thrown off into a patch of stinging nettles, she was mercilessly ditched again when trying to remount. Nevertheless, she stumbled into HS26 this evening still smiling: the woman is irrepressibly positive, blaming her tumble on being tired, forgetting to steer and forgetting to stay on. Admittedly not the ideal piloting conditions.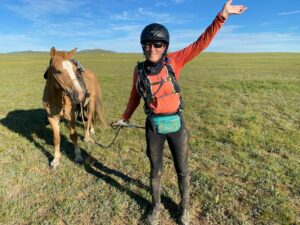 SMI and BDA (abandoned by HDM who this evening camps ahead of them at HS27 with ABE, vying for 6th place across the line tomorrow) arrived into HS26 to a chaotic scene, as a herder was dispatched to wrangle CFE's notably absent steed who had made off with her tack and gear. SMI was sad to leave his latest mount, a lean, athletic looking thing which turned out to be his best ride so far, with an insatiable "need for speed". BDA meanwhile was looking on while nonchalantly munching a snack as the herders were dragged around the horselines by a horse they called "the Rocket" desperately trying to make BDA's tack stick. BDA was happy for them to jump on to "take the sting out of him", but amazingly enough none of them were fighting for the job. A brave man with a death wish eventually stepped forward, and did not die. Satisfied, BDA strode forward with a cry of "Let me have him!" and was off with Stan the Man in tow to HS27. SMI's mount appeared to be a less exuberant personality which would hopeful providing a calming influence for BDA's choice, but BDA was initially struggling to cool the Rocket's engines and disappeared off into the haze of the afternoon steppe firing on all cylinders. Horse returned, CFE decided she'd had enough for one day thank you very much, and bedded down in the station for a night of uninterrupted shuteye, at the last minute joined by Helen Davey (HDA) and Zoe Geddes (ZGE).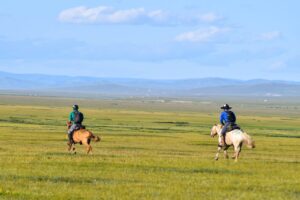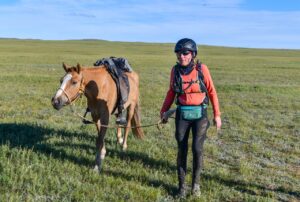 Spotted camping out on the steppe with BDA next to the main road this evening en route to HS27 and within touching distance of the bliss awaiting them at the finish line, SMI was busy ordering crew members to locate him and shoot him if he did not appear at the finish line tomorrow. Somebody is badly in need of a cold beer.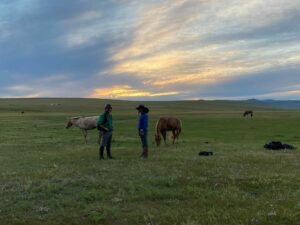 Departing from HS22, Aliina Keers (AKE) had a lovely surprise this morning. Last night, she had spied a horse on the lines who looked like her own horse back home's clone. Striking up a conversation with resident herder Bold about how much she liked him, she was initially disappointed this morning to discover he hadn't appeared on the horse line. Shortly after, reappearing after getting packed up and a little morose to have missed her friend, Bold appeared towing the prized pony. Delighted, AKE mounted up and crowned him her favourite horse yet. A special end to a luxurious stay at HS22, where AKE enjoyed a steppe pedicure last night with sister Margaret Keers (MKE) and HDA. Later in the day, AKE bonded quite deeply with a little palomino she had been on a bit of an adventurous detour with en route to HS24 beside her sister, and seemed a little reluctant to be prised away from him after passing the vet check.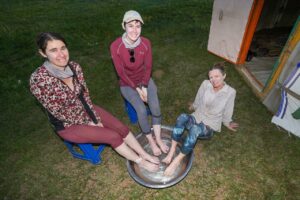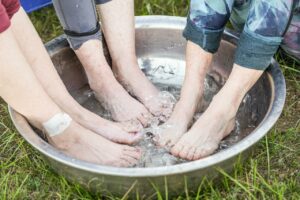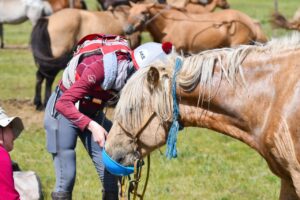 Next behind them this morning were Ron Tira (RTI) and Willy Evert (WEV), camped out between HS21 and HS22 in the middle of absolutely nowhere, sleeping in an open plain under the stars (and wind and rain). During the night, a herd of feral horses swept through. RTI's horse felt the call of the wild and abandoned ship, but was luckily located by Event Manager Charles a mere 4km away the next morning, and dragged back to camp. Their loyal partnership ended today somewhere between HS23 and HS24 where WEV was located roaming around on his lonesome, musing about pushing on to hit HS25 for the evening. In the event, he has put in a very respectable innings to wind up at HS25 as planned tonight, with RTI one stage behind him at HS24.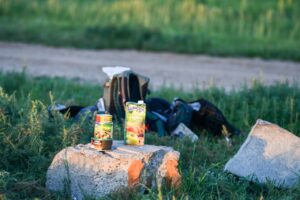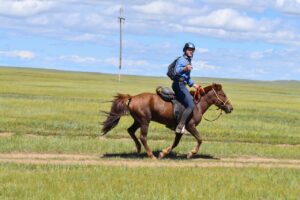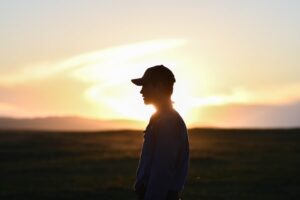 ZGE was also sleeping on the same stretch but managed to find herself some excellent hosts. She strolled into HS22 this morning dressed to the nines in a gorgeous dell bestowed upon her by the family she stayed with last night. Shortly afterwards, HDA and ZGE joined together and were spotted powering from HS25 to HS26. HDA had picked the most bombproof pony on the steppe, who didn't bat an eyelid when all of spare her clothes slowly wriggled free out of her unclipped backpack and floated away behind her. Despite catching her horse on the bum along the way, he just kept barrelling along, matching ZGE's mount stride for stride. Anyone who's ever tried to take a jacket off while riding a remotely lively horse will know this is a pretty unusual trait. Unfortunately for HDA, her horse's steady character meant she was totally unaware she had shed some baggage, and galloped on oblivious. The pair made it into HS26 with four minutes left to ride to a raucous round of welcome whinnying from the resident equines this evening, to tackle just one more horse station tomorrow before the finish. HDA's gear was rescued by our wonderful crew, who had witnessed the incident and, taking pity on her, pulled up to pick it up.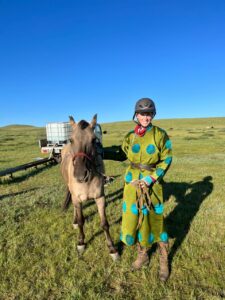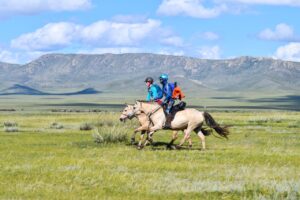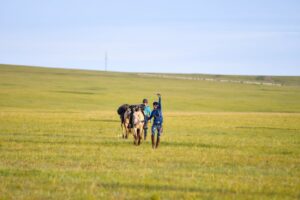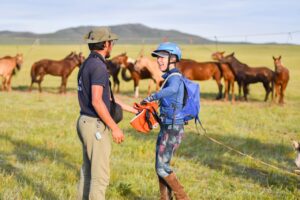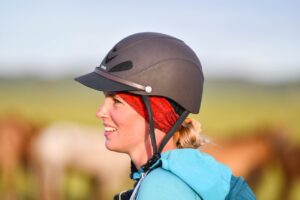 Having bedded down overnight with Tom Lambert (TLA) and Hugh McMurtrie (HMC) at HS21, Alex Muirhead (AMU) made the mistake of hesitating just a split second while swinging his leg over his saddlebag today, which gave his steed ample opportunity to whirl around before AMU gained purchase in the saddle and fling him straight to the ground. An inauspicious start, salvaged by AMU's efforts to propel himself to HS23 this evening.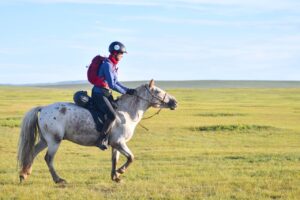 Arianna Leoni Sceti (ALE), Sarah Carroll (SCA) and Kate MacTaggart (KMA) were sticking together as a merry unit today having woken up at HS20 (where KMA was channelling her inner warrior for the day and SCA was busy befriending the locals), spotted looking adorable en route into HS21 this morning. The trio have stuck by each other through thick and thin (and ALE's projectile vomiting), and camp together tonight at HS23.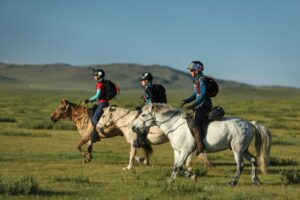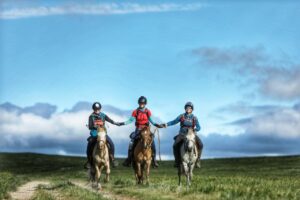 Jessica Di Pasquale (JDP) was taking full advantage of her replacement stirrups today, spied eating up the ground between HS21 and HS22 on a very rapid roan, redeeming himself after pulling some antics while being tacked up.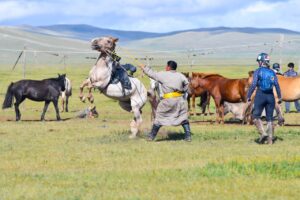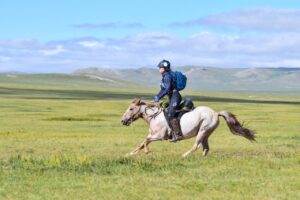 Mary Donohue (MDO) was finally relieved of her replacement water bladder and provided with a new Camelbak for which she was very grateful, as her terrifying noisy plastic contraption had apparently been whipping some more highly strung horses up into a frenzy. Not what you need when you're already trying to drink one handed from a bottle stuffed down your pants.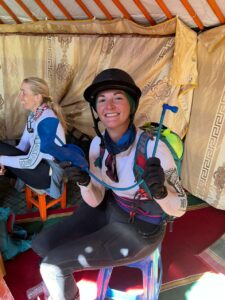 Meredith Jarman (MJA) was spotted weeping what she insisted were tears of happiness today, counting her lucky stars she had pulled such a wonderful string of horses, and also that she had been supplied with pizza and vodka she enjoyed last night while camped out on her tod between HS19 and 20. She made it all the way to HS23 this evening, having ridden a little over the cut off time for the safety of a sturdy ger.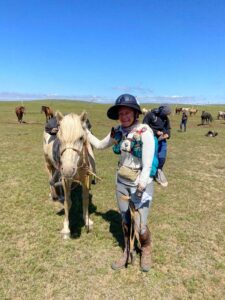 MDO and KCA find themselves camped out tonight between HS23 and HS24 with a glorious family who immediately roped them into their evening foal branding, whizzing through 30 in 5 minutes. Quite the experience.
Adventure Class was back today as several riders rejoined us on the steppe. Bailey Martinez (BMA) chose a proud painted pony to come back with a bang, unflatteringly christened "Tubby" for obvious reasons. Deceptively, he turned out to be very forward, propelled by a hidden motor, and loved a cuddle. The ideal combination. Emma Sunnucks (ESU) was also very pleased with her dreamy ride on a delightful steed, while Alice Gully (AGU) and BMA found themselves unwitting witnesses to a bromance for the ages: their two horses stuck like limpets to each others side the whole way. Also returning to the steppe were Natalie Bell (NBE) and Lisa Smith (LSM), the latter joining up with her firm favourite "Creampuff" for the leg from HS21 to Hs22, a docile looking thing who turned out to be packing some serious horsepower.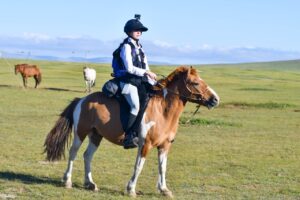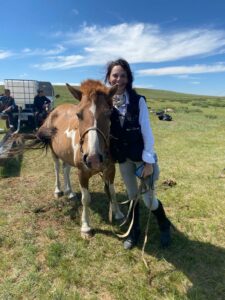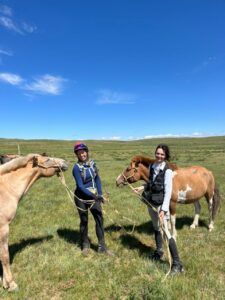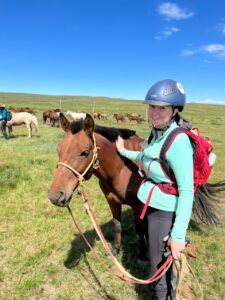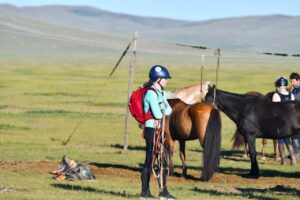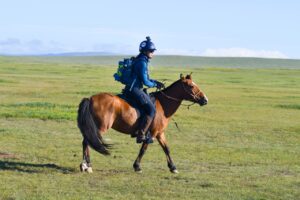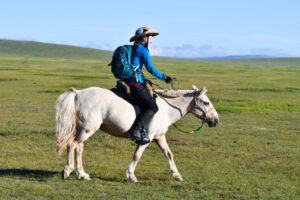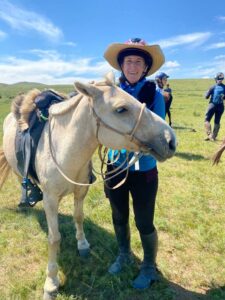 We leave you today with a touching example of rider camaraderie, in which Shandie Johnson (SJO), riding with Amy McNamee (AMC), found that her mount was a little stubborn and could not be persuaded to move his feet. AMC, riding in Adventure Class, nobly handed over her own horse to SJO, still in the race, to allow her to ride on. Sportswomanship 101.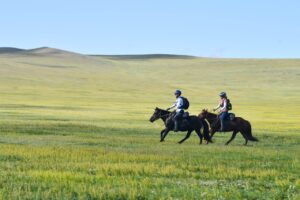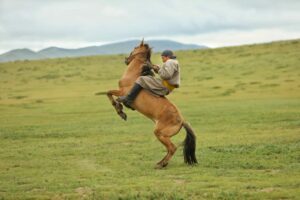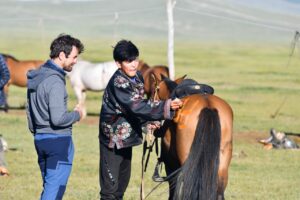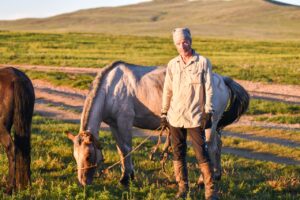 Photo credits: Shari Thompson, Louise Crosbie, Andy Fraser, Anna Bowker, Charles Van Wyk, Bayarsaihan Ochiroo, Babi Photography, Mandakhaa, Erik Cooper, Erin Nagle
Day 8 Close of Play
Finish line: BBE, CKI, EOU, RLA, VWA
HS27: ABE, HDM
Between HS26 – HS27: BDA, SMI
HS26: CFE, HDA, ZGE
HS25: AKE, MKE, WEV
HS24: ADO, BHO, HMC, JDP, RTI, TLA
Between HS23 – HS24: KCA, MDO
HS23: ALE, AMU, KMA, MJA, OSU, SCA
HS22: CRA, JBE, SBU, SJO
Adventure Class: AGU, AMC, BMA, CDV, ESU, KMC, LSM, MJO, NBE
Retired: ELE, KSL, PLO, RLI
Penalties
Vet penalties: RTI (2 hours)
Late riding: MJA (100 mins)