Back
August Mongol Derby Day 9: When it rains, it pours
If riders thought they had seen rain during the Derby so far, or for that matter anywhere else in their lives, Day 9 of the August 2022 Mongol Derby was here to laugh in their faces and highlight their ignorance. Crew members and riders alike were awoken this morning by the din of raindrops akin to bullets hammering gers and tents, as the previously amiable blue sky and fluffy clouds were replaced by a solid wall of dark grey cloud and sheets of driving rain, all hints of sunlight extinguished. Temperatures plummeted, boots filled with icy rain and substandard waterproofs were blasphemed and exchanged for dry crew kit. It's been quite frankly hellish out there, but that hasn't stopped 13 more of our astonishing August 2022 Mongol Derby cohort chugging over the finish line. And those who were still going by the mid afternoon were rewarded with another seismic change in the weather: a beautiful evening, complete with glowy pink sunset. Never a dull moment.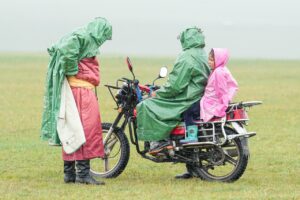 First up, we applaud all of our incredible jockeys who made it into finish camp today, to warm up with a hot coffee or vat of mulled wine in place of the usual obligatory cold beer. First in on Day 9 were the marvellous Abbi Bell (ABE) and Hugh Dampier-Crossley (HDM), crossing the line together having ridden in from their overnight campsite at HS27. Both have ridden absolute corkers to power home into 6th and 7th place, rolling up in rain so torrential they nearly missed the finish line flags.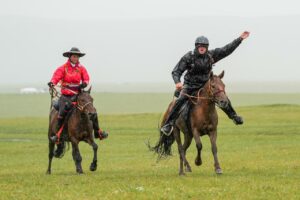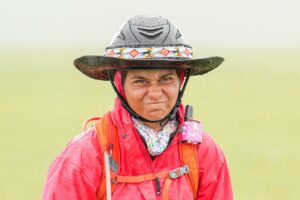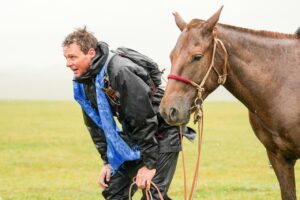 Next up were Ben Dampier-Crossley (BDA), reunited with brother HDM, and Stan Michael (Stan the Man) (SMI), having ridden together for the majority of the race. Both cited the thought of a hot shower as inspiration while slogging it out this morning en route in from camping out between HS26 and HS27 last night.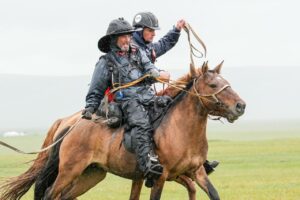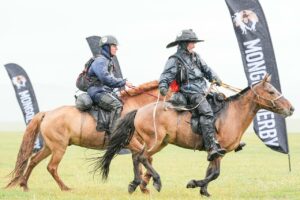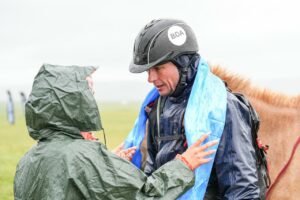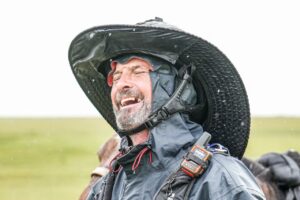 Having left HS26 as a trio this morning, Zoe Geddes (ZGE) ended up strolling over the line just ahead of Helen Davey (HDA) and Carol Federighi (CFE), looking impossibly fresh despite having just ridden 1,000k through extreme heat and life threatening rain. HDA and CFE had a final moment of equine entertainment during their approach to the line, as CFE's horse bolted out stage left rather than get any closer to the terrifying flags. HDA's promptly followed suit, giving the pair a final looping gallop back into and eventually across the line. It ain't over 'till it's over, ladies.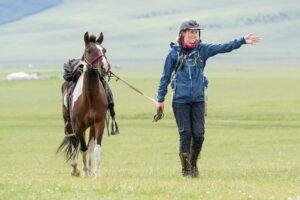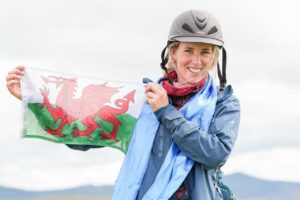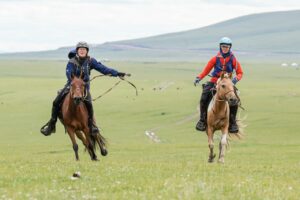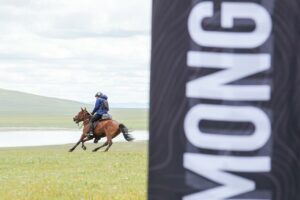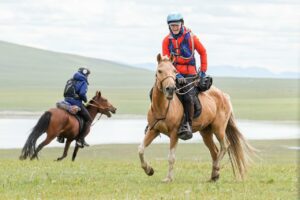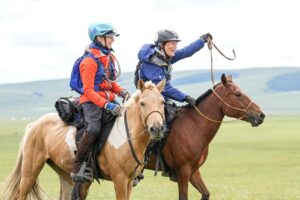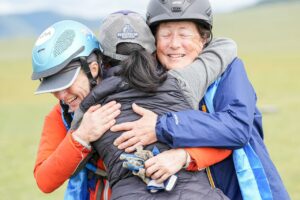 Willy Evert (WEV) crossed the line as a long ranger having been separated from long time companion Ron Tira (RTI) yesterday, boasting a clean vet card and his usual top class attitude. Luckily for the finish line photos, by this point he had ditched some unusual rain gear he had been rocking since HS26: arriving soaked through and chilled to the bone, the herder in charge had begun taping WEV and every other rider in his sight into layers of black bin bags, strapped to them in duct tape. Simple yet effective.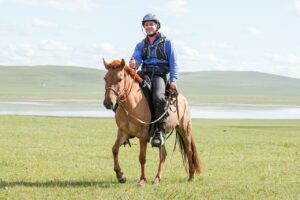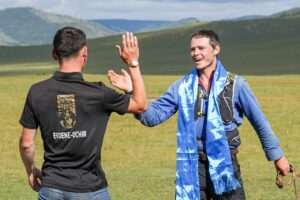 In after WEV was Aliina Keers (AKE), but she was alone: twin sister Margaret Keers (MKE) had been ditched, left behind to sit out her 3hr vet penalty at HS27. AKE deliberated over whether to wait with her sister or ride on and secure herself the highest possible spot on the leaderboard. As any good sister would do, she chose to leave MKE on the naughty bench to wait out her penalty and scooted out of HS27 for the line on her own. Luckily, she didn't have to wait too long for MKE: penalty sat, she mounted up and shot home to finish camp, for an emotional reunion with her sister after the ride of a lifetime.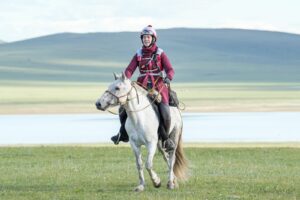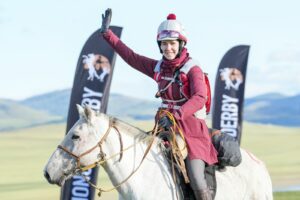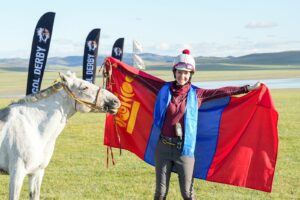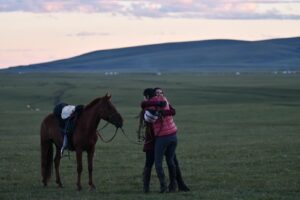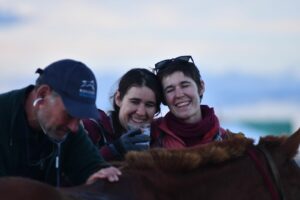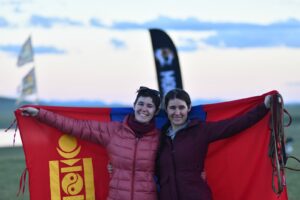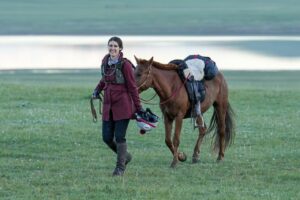 Just ahead of MKE, Tom Lambert (TLA), Hugh McMurtrie (HMC) and Adele Dobler (ADO) skipped across the line as a trio, TLA and HMC having ridden together since they both joined the start camp tumblers club in record timing. ADO made a great addition to the team, teaching her buddies how to warm up "the Canadian way" at HS26: shrugging your shoulders up and down aggressively with your arms by your sides to "get the blood flowing to your fingers". The three made an odd sight, huddled in the ger furiously pumping their shoulders like soggy, overgrown penguins.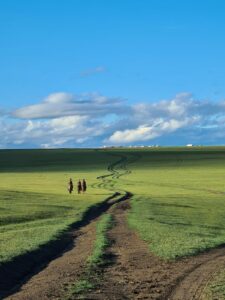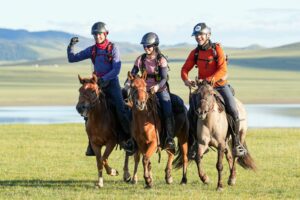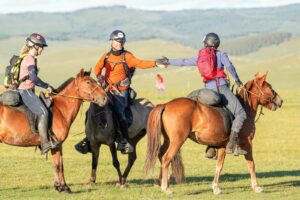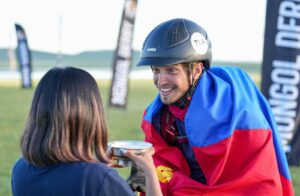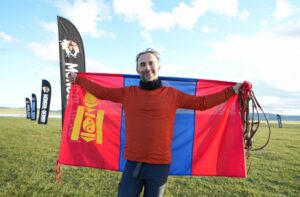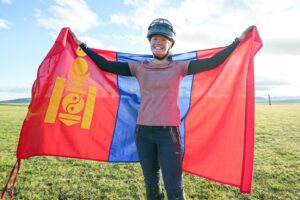 As for the rest of the field, they have today proved they are made of very tough stuff.
Meredith Jarman (MJA) has tonight set up camp in a sheep shelter about 8km out of HS26, on a beautiful raised plain with mesmerising views of the steppe below against the dusky pink sunset.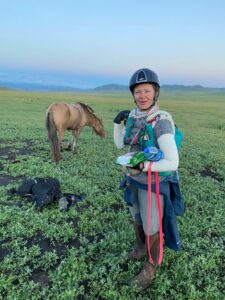 HS26 is busy tonight. Olof Sundstrom (OSU) strolled in shouldering has saddle like a total gent as always against a candyfloss pink sunset, just in time for a mouthwatering steppe BBQ. He was recovering from a busy day modelling on the steppe, having pinched a flattering assortment of the crew's dry clothing at HS24.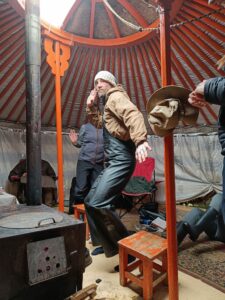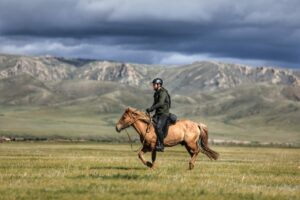 Arianna Leoni Sceti (ALE) was relieved to have made it to HS26 for bedtime along with loyal companions Sarah Carroll (SCA) and Kate MacTaggart (KMA), revelling in the warm sunset defrosting her toes and drying out her clothes, and gushing about her ride to HS26, her best horse so far. KMA was full of praise for the crew team at HS24, who had apparently been busy patching them all up enough to make it into HS26 this evening after a dangerously cold and wet morning leg, slightly extended due to a navigational mishap involving a bog. SCA was feeling "all the emotions": "another day of mind and body being blown", with phenomenal horses and mindblowing landscapes. SCA and KMA could not believe what they were seeing when the evening banquet, complete with vegetables, was presented to them. A fitting end to a tough day.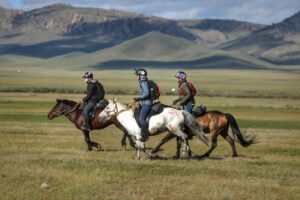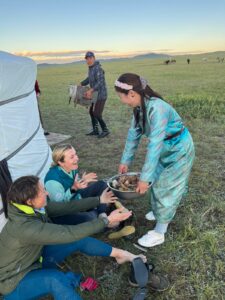 RTI was also in residence this evening at HS26, rivalling OSU for his role as top steppe model, rocking a raincoat he had purchased from a herder earlier in the day.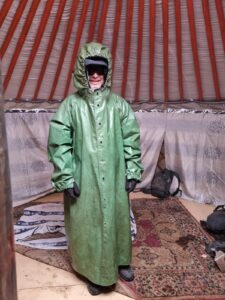 A little further ahead, Mary Donohue (MDO) and Crista Karter (CKA) are camping out at ger roughly 11k from HS27, still recovering from their big night out on the steppe at a couple of foal branding parties last night, courtesy of their host family. Eyebrows were raised at HQ when their dots began flying across the steppe at 60mph, before word was received the pair were being chauffered to another local family's branding fiesta.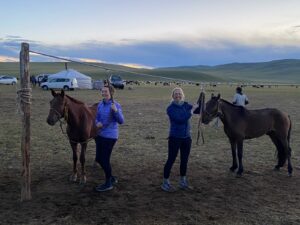 Jessica Di Pasquale (JDP) and Brittany Hook (BHO) made it into HS27, feeling good and ready to smash across the line in the morning. JDP provided some entertainment for those at HS25 earlier in the day, where emptying her boots produced a small reservoir. BHO is at this stage just pleased to remain in the race after suffering bouts of norovirus and hypothermia, but somehow managing to avoid the blood wagon. Tough cookie.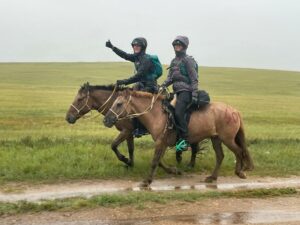 Some riders had a particularly hard time of it, and elected to join Adventure Class to skip ahead a few legs to ride across the finish tomorrow: Carla Rasdall (CRA), Stefanie Buettner (SBU), Shandie Johnson (SJO) and Joyce Bergsma (JBE) will catch a ride to the finish line having ridden out from HS22 this morning.
We'll be back tomorrow to round up the action as the remaining August 2022 Mongol Derby riders hoof it across the line.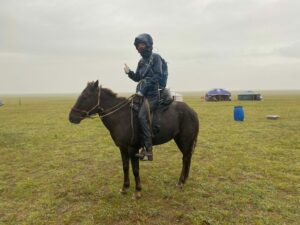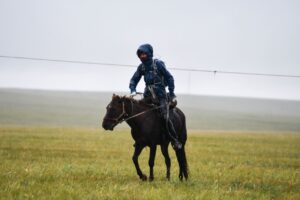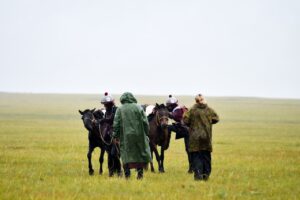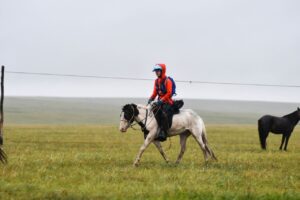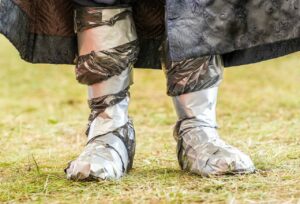 Photo credits: Shari Thompson, Louise Crosbie, Andy Fraser, Anna Bowker; Charles Van Wyk, Bayarsaihan Ochiroo, Babi Photography, Mandakhaa, Erik Cooper, Erin Nagle
Day 9 Close of Play
Finish line: ABE, ADO, AKE, BBE, BDA, CFE, CKI, EOU, HDA, HDM, HMC, MKE, RLA, SMI, TLA, VWA, WEV, ZGE
HS27: BHO, JDP
Between HS26 – HS27: MDO, KCA
HS26: ALE, KMA, OSU, RTI, SCA
Between HS25 – HS26: MJA
Adventure Class: AGU, AMC, AMU, BMA, CRA, ESU, JBE, KMC, LSM, MJO, NBE, SBU, SJO
Retired: CDV, ELE, KSL, PLO, RLI
Penalties
Vet penalties: MKE (3 hours)
Early departure: CRA (50 mins), JBE (50 mins), OSU (5 mins), SJO (50 mins), SBU (50 mins)
Late riding: ALE (18 mins), KMA (18 mins), MKE (56 mins), MJA (90 mins), OSU (140 mins), SCA (18 mins)
Delayed departure (no horses): ALE (-30 mins), CFE (-50 mins), HDA (-50 mins), KMA (-30 mins), MJA (-30 mins), SCA (-30 mins), ZGE (-50 mins)