Back
August Mongol Derby Pre-Race: Cleared for blast off
We can't quite believe our luck. The dust has barely settled on the steppe following the unbelievably high-octane return of the Mongol Derby in July after a two year hiatus and yet, here we are again: on the eve of another life-changing adventure for 46 riders from all corners of the globe successfully graduated from start camp, united by passion for the horse and a high pain threshold. What an absolute treat.
As usual, our team will be running themselves ragged to bring you live updates from the steppe on our social media pages, while daily race reports will be published here and live tracking will be available for the duration of the race after it kicks off tomorrow morning Mongolia time. Happily, you don't have to wait until then for some top notch Derby drama. Start camp is only just wrapping up, and we have already had a taste of some of the excitement to come.
As is Mongol Derby tradition, our August cohort of riders congregated on Day 1 of training in Ulaanbaatar, to receive their official welcome, rules briefing and face the dreaded weigh-in. Riders must be 85kg or under dressed to ride. Cue some anxious morning coffees and curiously pale faces. All passed with flying colours (and a few sighs of relief): the scales safely negotiated, the riders and their not inconsiderable luggage were loaded onto the Derby party bus and off they trundled out to the steppe.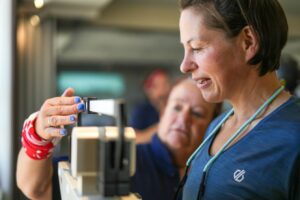 A surprise awaited them on disembarking in the glorious summer sunshine: a customary Mongolian welcome for each rider, involving a round of applause accompanying a blessing with airag (fermented mare's milk, the tipple of choice on the steppe) and a crash course in Mongolian ger etiquette. Then it was down to business: the opening night party, manned by pro mixologists stationed behind our custom hand-painted bar. It's not all saddle-sores and emergency dismounts, folks.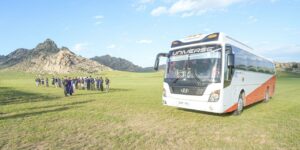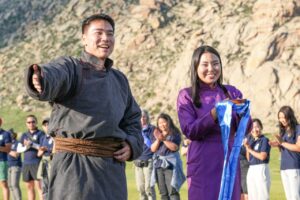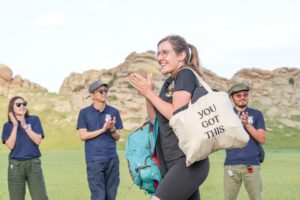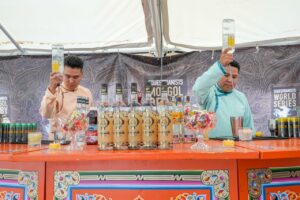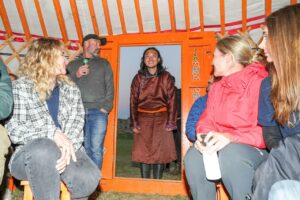 Day 2, and the promising weather continued: a sunny breakfast for some bleary-eyed and not so bushy-tailed riders who had taken enthusiastic advantage of all the Derby bar had to offer the night before. Hangovers swiftly dispatched, riders came face-to-face for the first time with their horsepower for the event with the morning's first briefing on all things Mongolian equine, delivered by our resident herders. Crash courses in hobbling and tacking-up were provided, resulting in some perplexed looking riders peering at their hobbles in confused silence, much to the amusement of their onlooking coaches. An essential skill on the steppe when camping out overnight, hobbling your horse increases the chances of waking up to find it where you left it. Sadly, this is by no means guaranteed, these horses being adept at bunny hopping and generally outsmarting their dozing jockeys.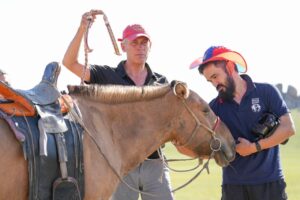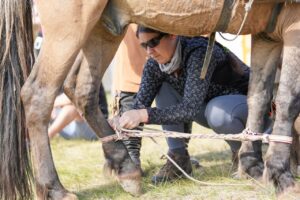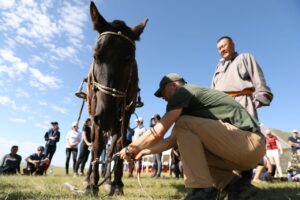 Mongolian bridles were proving something of a headache for Lisa Smith (LSM) and Kate Mactaggart (KMA). Things were apparently happily resolved, with LSM later declaring she had had the best day of her life at the end of start camp.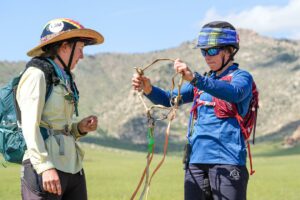 A lesson on mounting was also provided, which might seem a bit unnecessary given the calibre of our international competitors. However, things are done a little differently in Mongolia: the chances of finding a horse which will stand politely while you take your time neatly swinging your leg over and adjusting your stirrups are essentially nil. This is a challenge in itself: turn his head tight towards you, and woe betide you if he wriggles free while you are still halfway up rather than securely seated.
The riders then took a break from the excitement of meeting their typically exuberant steeds to receive an equally sobering medical briefing by our crack team of Intrepid Medics, followed by a session on rules and safety on the steppe. The fun stuff over, the moment they had all been waiting for finally arrived: the first (attempted) test ride on a Mongolian horse, fully kitted out in all their gear. Tom Lambert (TLA) wasted no time in scooping up the first prize on offer on the Derby: first to hit the deck, an impressive scant 30 seconds after leaving the ground. A particularly flappy saddlebag was identified as the cause of his steed's wrath: strapped down securely, he was back in the saddle and scooting out of camp shortly afterwards in the company of patient companion Hugh McMurtie (HMC). In his own words, scores on the doors for the warm-up match stood at "Horse 1, Tom 0". We are happy and mildly relieved to report that the score has ended 2-1 to TLA by close of start camp. Unfortunately, TLA's initial luck was apparently infectious: HMC had his own taste of the dust shortly after, having found himself halfway round his horse's belly thanks to some saddle slippage. Both horse and rider recovered quickly, and were back to regale the media team with their tales of adventure.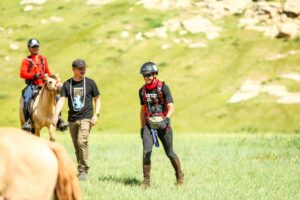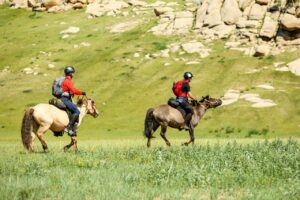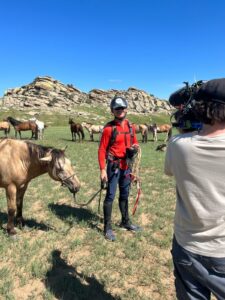 Stan Michael (SMI) discovered his potential "downfall": his GPS. Struggling to communicate with his stubborn device, he was spotted riding in circles around start camp, squinting at the screen in a pained effort to identify the correct exit route for his navigation ride before locking onto his target and hitting the road.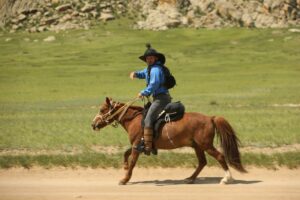 Bailey Martinez (BMA) was having no such problems, executing a textbook mount onto a mercifully co-operative steed on her way out of camp, while LSM came up against an unexpected early kit malfunction: hair tie misplaced, she was struggling to keep her own mane out of her eyes, problematic when navigating at speed. Hugh Dampier-Crossley (HDM) found himself partnered with a majestic looking stallion who could sympathise with LSM: with a forelock so long it tickled his chin and entirely obscured his eyes, responsibility for steering was clearly in HDM's hands.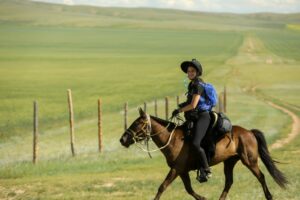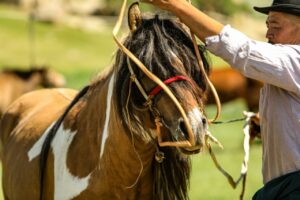 Helen Davey (HDA) was very enamoured with her test drive, declaring she would happily keep this one, thanks very much. The subject of her affection appeared very grateful and rather full of himself, nodding along vigorously when he heard himself declared a "very good boy". Stefanie Buettner (SBU) did not gel quite so quickly with her mount, finding herself being towed around in some energetic canter circles as she attempted to shorten her stirrups. A helpful herder was dispatched to pilot her horse while she did the business, before she zoomed out of camp.
Rochelle Latka (RLA), back for more after completing the Gaucho Derby earlier this year, was nervously preparing to mount a horse she was assured by a herder with an "evil laugh" was the "best horse". Clothed in distinctive fringed "hot-weather chaps", she was hoping her horse would not take offence from the terrifying swishy sounds she makes whenever she moves. No stranger to flighty horses, she was "fully mentally prepared to hit the ground." There was certainly some uneasy side-eye action as she mounted up, but this particular pony didn't seem too threatened.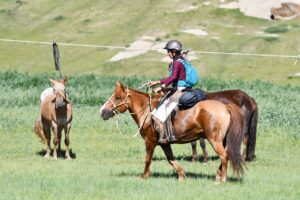 Meredith Jarman (MJA), fresh from her stint vetting the Gaucho Derby earlier this year and now seizing the reins herself, is taking no chances on the hydration front. Bedecked in a confusing array of tubes against a bright pink wardrobe, she rides carrying water, ready mixed electrolytes and a mystery pouch which may or may not at some stage be filled with vodka. She hits the start line with an interesting pre-race injury, now one tooth down. While the mysterious circumstances surrounding the incident have not been confirmed, we are pretty confident horses were not involved.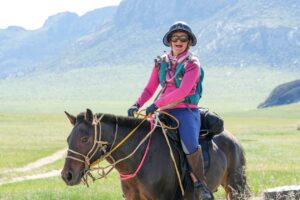 Maria Johansson (MJO) was also turning heads on the steppe with both a devilishly handsome horse and a little piece of home: a pretty unique reindeer seat-saver, brought all the way from Sweden.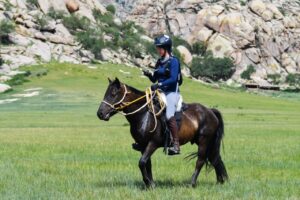 Shandie Johnson (SJO) was delighted to have made it home in one piece from ride one, while Alex Muirhead (AMU) was similarly chuffed to receive some assistance from our photographer Eldev-Ochir, equally talented at sorting out tack issues from the ground.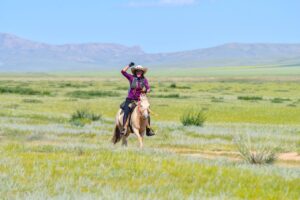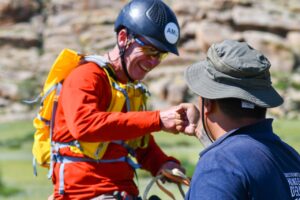 We are very excited to have two Mongolian riders with us this time round: Erdene-Ochir Uuganbayar (EOU) and Bilegbat Erdensukh (BBE) will be flying the flag for the home team. Both have daunting horsey CVs: EOU is a former competitor in our Herder Trials with a particular flair for the rodeo, while BBE is a national horse racing champion. They have been careering about the steppe on their steeds displaying the traditional Mongolian riding style: standing straight up at anything faster than a walk. But they are more used to the unique structure of supportive Mongolian wooden saddles, and have never used a GPS before: will their tactics succeed with our custom built endurance saddles and befuddling tech? EOU certainly isn't planning on messing around with any new-fangled nonsense. In fact, he is carrying absolutely no luggage, planning to eat and drink only at horse stations. The real deal.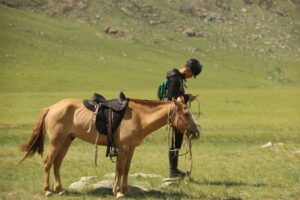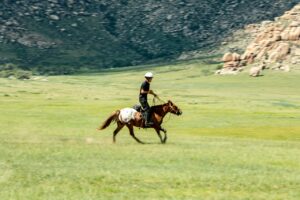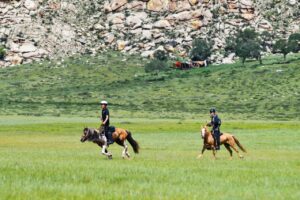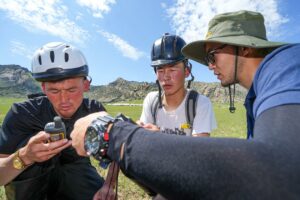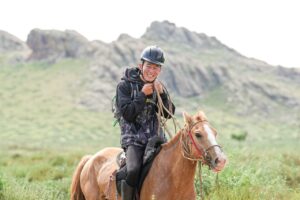 After all the excitement of actually getting on a horse, riders' nerves were calmed for the evening with a traditional Mongolian musical recital. A pretty special setting, with the horses dozing in the background as the sun set on the steppe.
Day 3, and the final day of pre-race training before the start gun heralds 10 days of racing. Riders received their final briefings from the vets on horse welfare and care during the race, before they clambered back into the saddle to tackle a full-blown practice navigation ride, during which they would (optimistically) navigate through a serious of vet checks and safely back to where they started. Willy Evert (WEV) was sensibly allowing a supportive herder to take the first spin on his frisky mount today before getting onboard himself. Already sporting a scrape on his cheek from a disagreement with his steed yesterday, he is quickly learning caution is a wise approach. Which turned out to be a justifiable measure: his mount was extremely keen to show off his preferred pace, a flat out gallop.
Meanwhile, Victoria Wang (VWA) was clocked today making a decent crack at smashing through the sound barrier, while Amy McNamee (AMC) was also seen satisfying a need for speed and Jessica Di Pasquale's (JDP) mount appeared to be on something of a mission with a mildly deranged glint in his eye.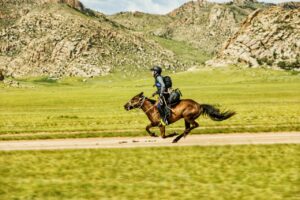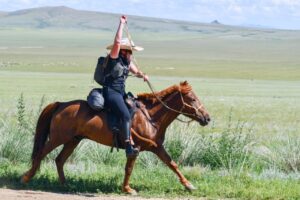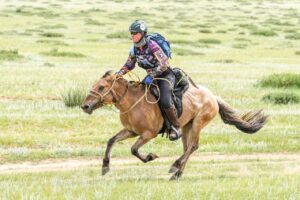 Carla Rasdall (CRA), for her part, was having none of such antics today, and has been effectively communicating her desire for a horse which understands STOP to the herders.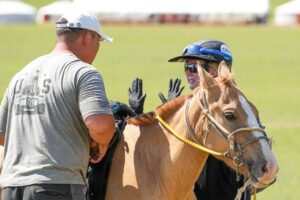 Not to be outdone by TLA, Joyce Bergsma (JBE) earned another Derby crown today, in being the first rider to lose her horse and tack. Luckily for her, after her steed took to the mountains in an attempt to shake her off, a concerned herder passed by and took it upon himself to bring the errant pony to heel. A brief high speed motorbike chase later, and JBE was reunited with her disgruntled mount. Despite his questionable behaviour, JBE insists he was actually a very good horse, even if getting on and off "is not his favourite thing in the world." She hits the steppe tomorrow with a very sweetly adorned helmet, covered in personalised photos donated by her friends as a birthday present. Let's hope it's lucky.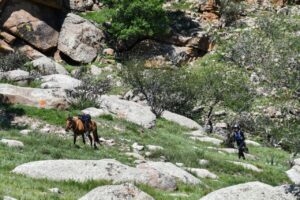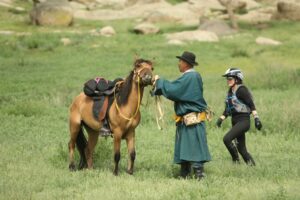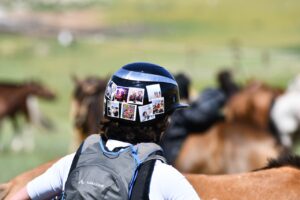 We closed out Day 3 of start camp with a uniquely Mongolian form of entertainment: a mini naadam, the national horse race which is mostly ridden by children. Start 'em young.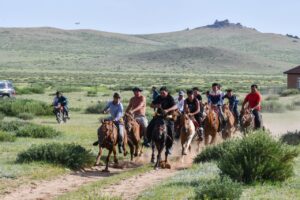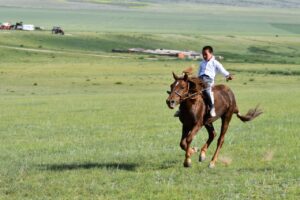 Close encounters with the equine kind largely survived without incident, all of our riders are now bedding down in the comfort of start camp for the last time before they blast off the line tomorrow for the ride of their lives. But who will reach the finish line first, and how will the thrills and spills unfold along the way? Join us tomorrow for all the live action and a full race report from Day 1 of the August 2022 Mongol Derby. We leave you with some more of our favourite snaps from the last few days. The fun is just beginning.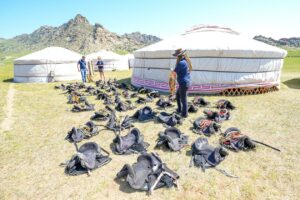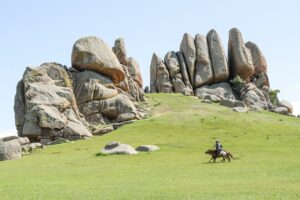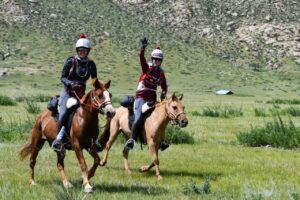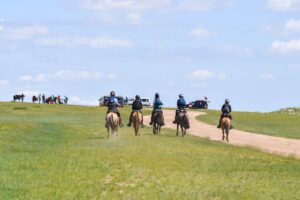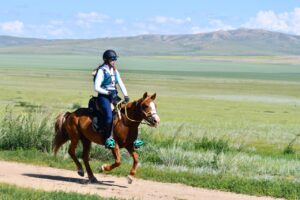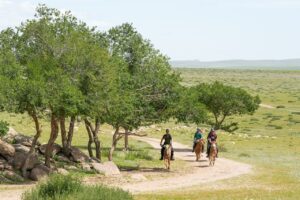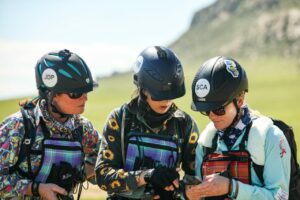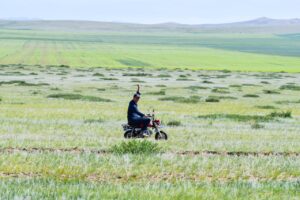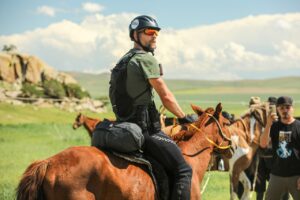 Photo credits: Louise Crosbie, Bayarsaihan Ochiroo, Tulgaa Skizz, Shari Thompson, Erik Cooper, Babi Photography