Back
Day 4: The hustle continues

Catch all the video highlights
Race Report Day 4
The steppe curse seems to have continued for Randy RCA. What has such a impeccably sportsmanlike gentleman done to offend, we wonder. Mid day on Day 4 saw him off another horse with riding mate Izzy IDS giving chase. Finding this strategy unsuccessful,  Randy hitched a ride on the back of a herder's motorbike. We witnessed his tracker ziz-zagging across the steppe at great speed as they gave chase and miraculously, RCA was able to nab his elusive mount. Meanwhile, not one to miss out on a golden opportunity, IDS tucked into afternoon tea with the herder's wife. You can't say things are boring out here, that's for sure.
No matter how fast you moved out on the steppe today, riders and crew were bombarded with buzzing insects whenever they got near the fly-infested swamp lands. When crew packs up to head out on the steppe for 10 days there is an exhaustive list of things that they must consider packing: food, camping equipment, toilet paper, more toilet paper; and somewhere on that list, if they're lucky, is insect repellant. Judging by the comments coming from crew like "PLEASE BRING SOMETHING THAT CAN KILL EVERY FLY IN A 10km RADIUS"  perhaps bug spray didn't make the list. Not too many comments from the riders; as long as they were moving it seemed to not be much of a problem, or maybe they're stunned after a good 300 – 400km of riding that buzzing insects don't even register.
We've built some incredible relationships  out here with herding families, and Purevkhishig. D for one has provided horses three times for the Mongol Derby. He's also participated in our Herder Trials, where herders display their talents and skills. His thoughts on the Mongol Derby: "I'm very excited about the Mongol Derby because it showcases our culture and most importantly our horses. I love seeing the international riders and how well they can ride my horses, it's really incredible."
Linda LHE who has been riding at the front of the field since the beginning, drew a feisty partner at HS10. A couple of laps around the horse line with Linda on the end of the lead earned her a well-placed kick.  The horse was none the worse for wear of course, despite Linda's steel core. She was checked and cleared by our medics, redrew for a new horse and blasted through HS11 and was the first one to leave taking the lead in the race. She's one tough horsewoman.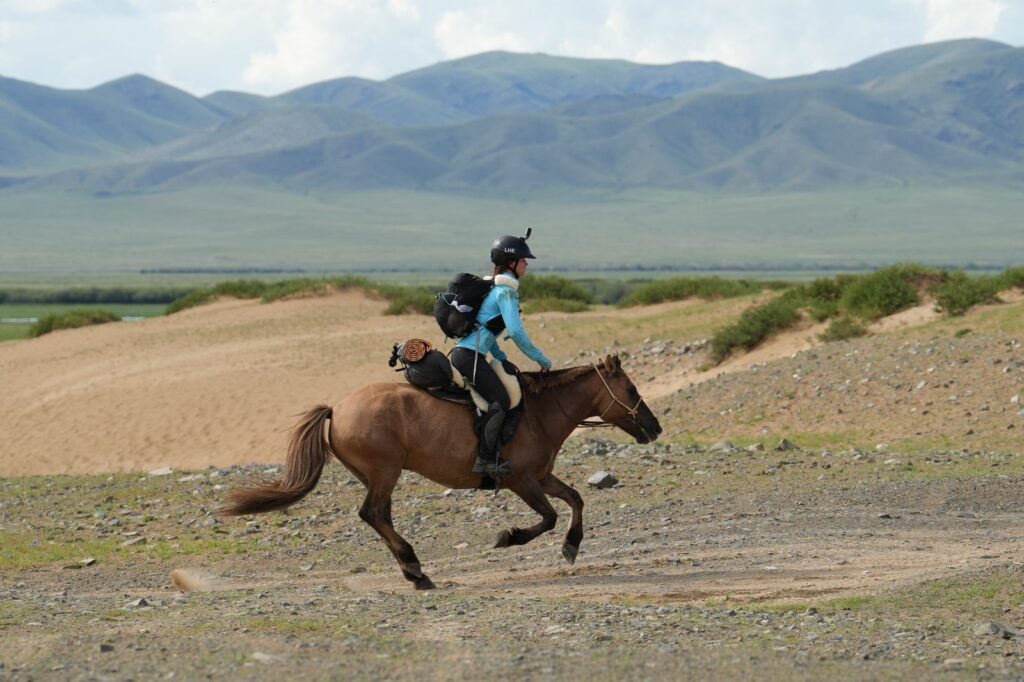 Solana Perez SPE has been enjoying the hospitality of the steppe, and spent a very heartfelt evening with the horse family she stayed with last night. The mom of the family took her in and treated her like she was another daughter. "She even tucked me into bed and stroked my hair until I fell asleep then this morning they gave me a beautiful red deel, it was so hard to leave."
Matthew Perella, another gentleman of the race, is noted for always greeting the herding families with a hand shake and a leaving them with a thank you. As with most cultures, this gesture of friendship goes a long ways towards  fostering the good relations that will stand out in Matthew's memory forever.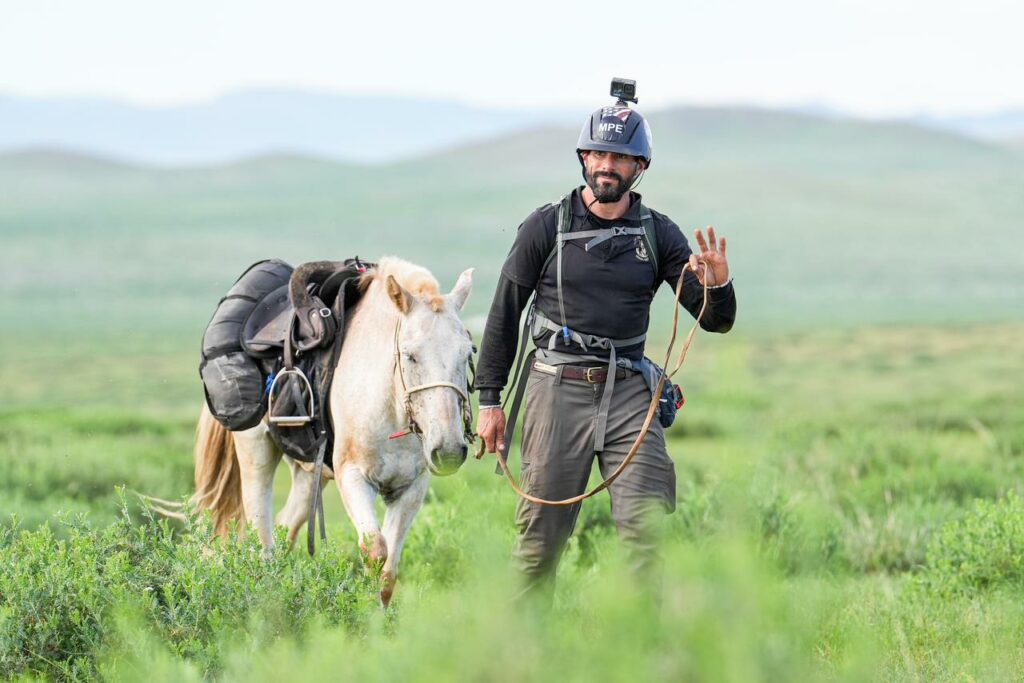 And finally, the news from mid field where the Pakistani team who showed a gentler pace at the beginning are now starting to hustle to launch themselves towards the lead. They're some pretty damn good riders so this is not just wishful thinking. Umair UKA had a bit of a rodeo outside HS11 where he was chased by one of the ever-present ger guard dogs. His horse bucked and kicked at its canine nemesis but UKA rode it like a pro cowboy. He managed to stay on and raced together out of the station with his brothers. We will watch for his debut at the Calgary Stampede.
Day 4 Leaderboard:
Day 4 Leaderboard
HS13:
JJA
LHE
TNE
XFE
Between HS11 – HS12:
JDO
LJO
HS11:
ADO
AGR
DGJ
EBA*
EPO
ESY
FJA
HBC
KDU
MHK
OHK
PRA
RAL
RDJ
SFL
UKA
MPE
CFA
Between HS10 – HS11:
SCO*
LPE
BFA
ARO
AOC
MHA
MMC
JRA
HCO
HS9:
RCA
IDS*
OGA*
SPE
Retired:
EAS
HBL
RHE
In bloodwagon:
SPY*
*Adventure class