Back
July Mongol Derby Day 10: That's all, folks…until next week
We can't quite believe it's over. 10 days of top drawer thrills and spills later, all of our riders still out braving the steppe have ridden across the finish line, on another stupefyingly sunny day. A massive congratulations to all who participated for a superhuman achievement. We are busy totting up the final placings taking account of all those penalties and extra riding hours you've been reading about all week, but for now here is a rundown of the day's action.
Closest to finish camp as the sun came up this morning were Lena Haug (LHA) and Kayleigh Davenport (KDA), camped just 10km shy of home. Holding their overnight position against those starting behind them at HS28, they were the first to storm across the finish line this morning, to raucous applause from the gathered crowds gathered. So raucous, in fact, that one of their two baffled mounts executed a swift about turn about 50 feet short of the line. Blip swiftly sorted, the two rode over the line together, hand in hand and enormous smiles plastered over their faces.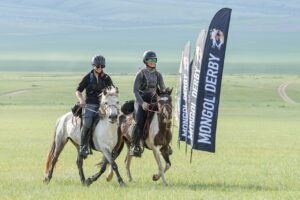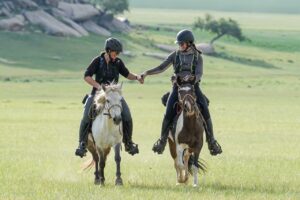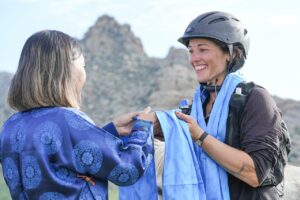 Next across the line were those stationed at HS28 overnight, Gabrielle Tigan (GTI), Michael Field (MFE), Kristin Carpenter (KCA) and Heidi Falzon (HFA). They made a brisk start this morning to make as fast a break for the finish line as possible, and rode a mercifully uneventful leg to cross during the morning. The ladies shook off MFE somewhere along the road to thunder across as a three, fist pumping the air. KCA had overcome a last minute hiccough at HS28, where medic Andrei had strongly advised her not to ride on for fear of heat exhaustion, apparently requiring KCA to sign a "death waiver". Merrily waving his concerns aside, she grit her teeth and got back in the saddle to cross the finish line with a much-celebrated clean vet card. Just the kind of dedicated insanity we like to see.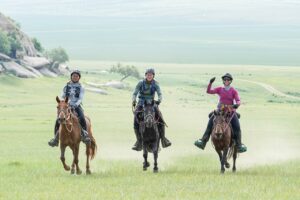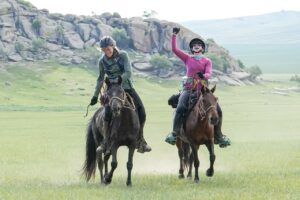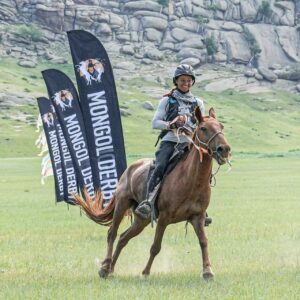 There were highly touching scenes at the finish line for HFA, as her husband appeared to envelop her in an enormous bear hug as soon as she dismounted, justifiably bursting with pride. On top of that, in a magical turn of events she had been reunited with GTI, a friend from pre-Derby days, to ride the last leg together.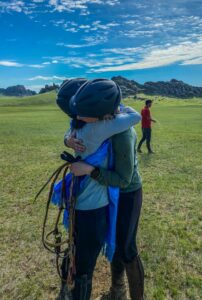 MFE's other half was also in attendance to welcome him back from the steppe, clearly grateful to his final steed for its sterling effort in keeping her husband alive: she was spotted patting him enthusiastically to murmurs of "good horsie!". He appeared on the horizon shortly after the other three to rocket across the line: his second Derby completion, because clearly once just wasn't impressive enough.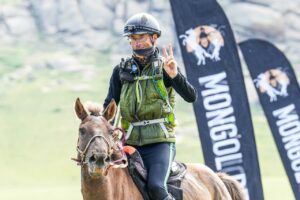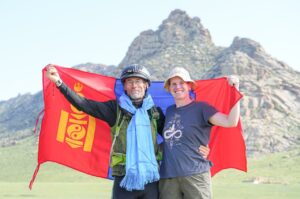 Next up were Morgan Kelly (MKE), Alexandra Fetterman (AFE) and Iona Hutley (IHU), passing through HS28 after camping overnight between HS27 and HS28. Heading straight for the finish at quite a pace, the ladies crossed the finish line as a gang. Plenty of pats for the ponies and some very relieved grins.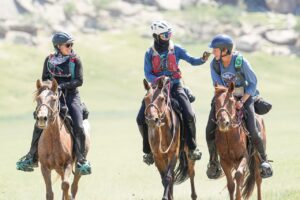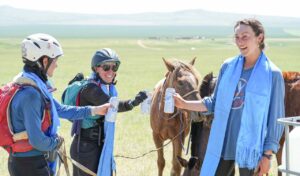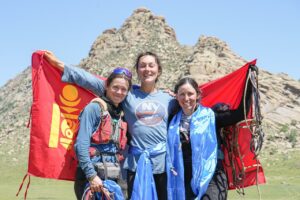 Ashton Garner (AGA) and Wendy Oswood (WOS) were the next to join the party. In WOS' words, an "overwhelming" experience. AGA would probably have said the same if she could, but she was too busy actually being physically overwhelmed by her family appearing at the finish line to give her a well earned cuddle.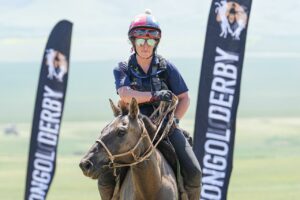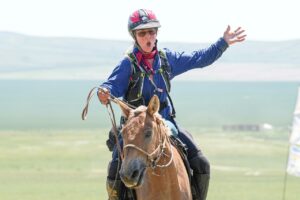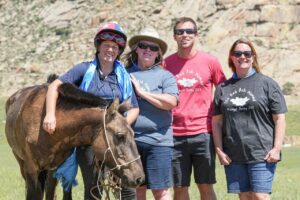 The intrepid explorers Renee Senter (RSE), Claire Vile (CVI) and Julie Wolfert (JWO) were next home together, a fitting end to a race spent predominantly in each other's company paying scant attention to their GPS but having a wonderful adventure. CVI had a unique celebratory gift awaiting her at the finish line. Not a fan of beer, she had instead requested pickles. Don't ask.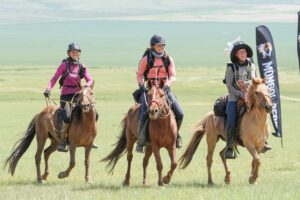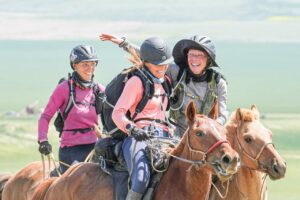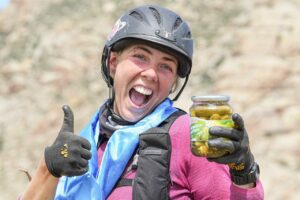 Longtime riding companions Pumba Goess-Saurau (PGO) and Madeleine Motelay (MMO) were next into camp, crossing the line hand in hand in a fitting end to a loyal partnership forged in the pressure cooker of the Derby.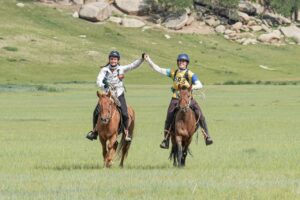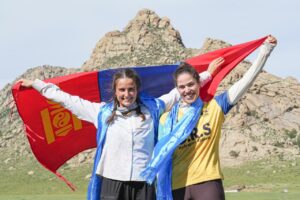 Bianca Farmas-Griffith (BFA), determined to the last in Adventure class, made it across shortly afterwards, to a very warm welcome from all gathered at finish camp.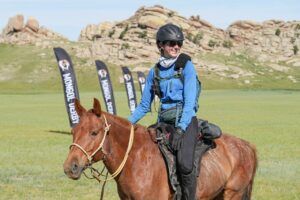 Last but definitely not least of those riders still in the race, Tobias Endress (TED), Eleanor Aitken (EAI), Wojciech Heliasz (WHE) and Alexa Towersey (ATO) crossed the finish line at pace wearing some elated grins, to much fanfare from their assembled fans.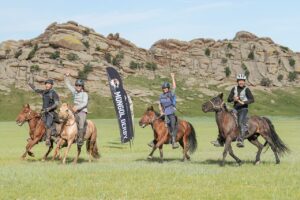 Hot on their heels was the iron lady Brandy Dobbyn (BDO), finishing in Adventure class having refused to let a set of broken ribs deter her Derby ambitions. Get that lady a drink.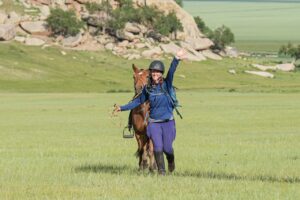 Finally, the July 2022 Mongol Derby closed out with a very special moment as mother-daughter duo Nancy O'Neill (NON) and Janet O'Neill (JON) crossed the line side by side. What a bonding experience. Once NON has recovered, of course. JON seemed concerned for the future of their relationship at the finish line, muttering "I've broken my mother." Her concerns misplaced, NON was happily sipping a cold beer five minutes later, and giving rave reviews of her experience: "Best thing ever."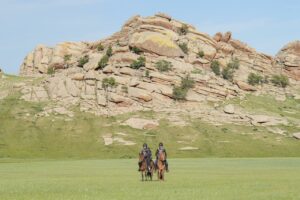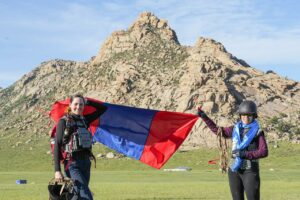 The hugest congratulations to all of our phenomenal July 2022 Mongol Derby riders. You have been an absolute treat to follow for all back home, providing some exhilarating entertainment. More importantly, you have conquered the longest and toughest horse race in the world. You will be dining out on this tale for quite some time. Enjoy the finish line fiesta tonight!
For all of you reading this in despair and wondering what on earth you will do for kicks now, fear not: our second dose of Derby drama is just around the corner, kicking off on 10 August 2022. Mark your calendars, and join us then for more action from the steppe: we have a feeling this next round could be just as thrilling as the first…
July Derby placings:
1st: Deirdre Griffith, Willemien Jooste
3rd: Chris Walker, Patrick Heffron
5th: Tiffany Atteberry
6th: Howard Bassingthwaighte, Tyler Donaldson-Aitken
8th: Sam Edney, Sean McBride
10th: Kathy Gabriel
11th: Annie Hackett
12th: Sarah Endress
13th: Flurina Hammer
14th: Kayleigh Davenport, Lena Haug
16th: Kristin Carpenter, Gabrielle Tigan, Heidi Falzon
19th: Michael Field
20th: Morgan Kelly
21st: Ashton Garner
22nd: Renee Senter, Claire Vile
24th: Wendy Oswood
25th: Julie Wolfert
26th: Alexandra Fetterman
27th: Iona Hutley
28th: Wojciech Heliasz
29th: Madeleine Motelay
30th: Tobias Endress
31st: Alexa Towersley
32nd: Pumbaa Goess-Saurau
33rd: Eleanor Aiitken
Adventure Class:
Allison Kohlberg
Brandy Dobbyn
Bianca Farmas-Griffith
Francesca Green
Janet O'Neill
Nancy O'Neill
Retired:
Brian Stengel
Ciara Cahill
Marianne Finch
Nathan Tarlinton
Phoebe de Raeve
Sarah Beck
Siobhan Ryan
Photo credits: Louise Crosbie, Eledv-Ochir Bayarsaihan, Stevie Delahunt, Tulgaa Skizz, Shari Thompson, Erik Cooper.