Back
July Mongol Derby Day 7: Battle of the sexes
Day 7 draws to an end on the July 2022 Mongol Derby, and the tension has ratcheted up a notch at the head of the race. Overnight leaders Chris Walker (CWA) and Patrick Heffron (PHE) have ridden their pants off today to cling onto their advantage by a nose, camped at HS25. Still tantalisingly close behind them but just out of reach remain Deirdre Griffith (DGR), Willemien Jooste (WJO) and Tiffany Atteberry (ATA), riding hard and fast to reach a campsite between HS23 and HS25. Can the gents cling on until the finish line, just three horse stations away, or do the girls still have enough time to run them down?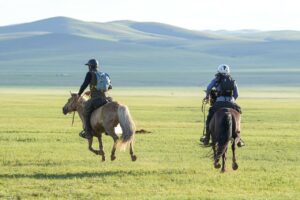 First, some housekeeping before we get to the action. All riders finishing at HS21 or further back today were allowed an extra hour of riding time to be accounted for once they pass the finish line, in an attempt to squish everyone back together again as the leaders keep up a daunting pace at the head of the race and stretch the field out. In addition, HQ has decided to drop HS24 from the route, meaning riders are heading out of HS23 straight to HS25. It's the length of an average leg and the total length of the race is still over 1,000km, so they're not exactly getting off lightly. This does mean, however, that all riders will partner up with one less steed to finish the race. Tyler Donaldson-Aitken (TDO) took the loss of precious time in the saddle badly, but has since regained his composure.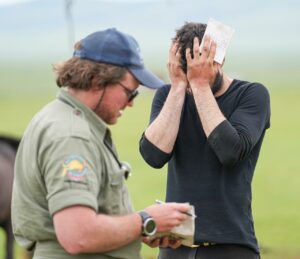 Admin out the way, back to the fun stuff. After yesterday's damp start, riders awoke this morning to another sunny day on the steppe. This may sound more appealing to those of us sat at home, but spells trouble for the riders: the hotter it is, the more watering holes you need to find for your noble steeds, and for yourself. Heart rates are higher, everyone's hot and bothered and riders begin to smell a little "ripe", according to some vets at HS19 (which at this stage of their stint on the steppe we imagine is a little rich coming from them).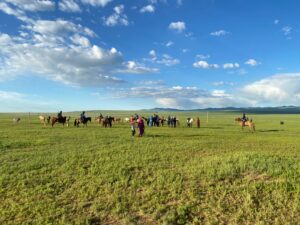 At the head of the field, CWA and PHE were up bright and early at HS20 to maximise their chances of maintaining their lead over the baying pack today. The duo have made stunning progress throughout the day, picking equine rocket after rocket and fine-tuning their horse station routine down to an incredible 9 minute changeover at HS21, which they passed through at 10:06. They continue to ride together, but there's something of an elephant on the steppe: PHE picked up a vet penalty last night at HS20, which means he has 2 hours to sit out by the time he leaves HS27. Electing to push on this morning, and blasting through four legs today to reach HS25, he's running out of time to do it. This leaves CWA in a rather handy position: if he chooses to ride on without PHE, he will gain a two hour advantage on his unlucky riding partner. While PHE and CWA ponder the fate of their so far successful partnership, the heat is on behind them.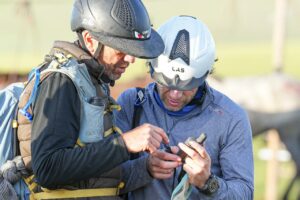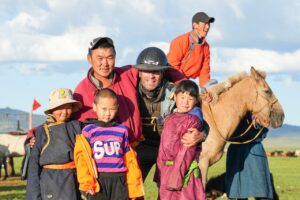 It was an emotional end to the day for CWA and PHE, thanking all the crew and herders at HS25 as the physical and mental exhaustion of a week's hard riding begins to catch up with them, the adrenaline starts to wear thin and they realise what they could be on the brink of accomplishing.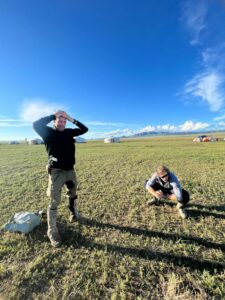 CWA shared some of his horse selection tips this evening: ask the herder, obey them unless in strong disagreement, and take a look from behind. If belly is wider than bum, they're a bit too porky for this gig.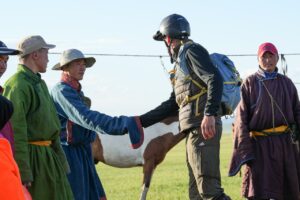 DGR, WJO and TAT also continue to ride like the clappers, keeping the leading pair in their sights. Tonight camped about 15km short of HS25, the ladies have been spied riding efficiently in a concentrated silence: no time to chat. They continue to pick some strong mounts to keep them moving fast and in contention. DGR and WJO have been overheard analysing their next choice of steed before they've even vetted their existing pony, eyeing up the horse lines from a long way out.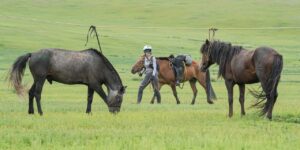 For a brief stint heading to HS21 this morning TAT dropped off the blistering pace by around 5km, but caught up with her teammates to reach HS22 at the same time. Disaster struck for TAT after staging this impressive comeback: a vet penalty for lameness means she is now riding on in the same position as PHE, delaying the inevitable and trying to put as much distance as possible between her and those behind her before having to get off her horse and sit still for those excruciating two hours. Will she manage to make up the time, or will her penalty see her fall off out of contention?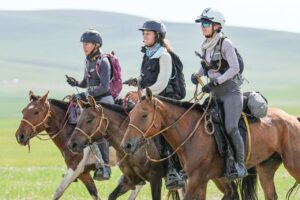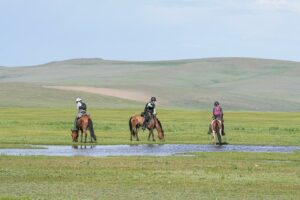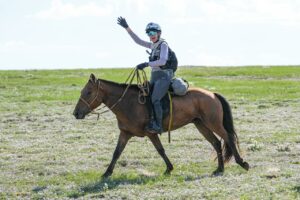 The remaining six of the 11 leading riders started off this morning from camp at HS20. The irrepressible Kathy Gabriel (KGA), having been stung with her third vet penalty last night, elected to have a little lie-in this morning and let the others ride out without her before attempting to make up some time haring after them. Now self-identifying as "Miss Penalty" she is living dangerously: one more vet penalty and she's out of the race. Delighted with pulling into HS22 with no penalties to add, she kips down in the comfort of the gers all to herself. Despite some disappointment over her run-ins with the vets, she is having a pretty special time out there on the steppe, having been plied with snuff, vodka and airag (fermented mares' milk) by supportive local herders.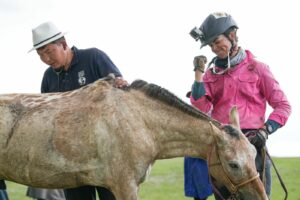 Annie Hackett (AHA), Sam Edney (SED), Tyler Donaldson-Aitken (TDO), Sean McBride (SMC) and Howard Bassingthwaighte (HBA) have come together to form a new supergroup, catchily dubbing themselves the "Awesome Fivesome" (oddly overlooking the perhaps more obvious "Famous Five"). They headed out of HS20 this morning together, although AHA had penalties to sit out later in the race. Adopting a different tactic to KGA, she will ride until HS27 and sit out whatever she has to there, if all goes to plan (but this is the Derby so it almost definitely won't, and so it proved).
They powered on as a unit until HS23 where they are bedded down for the evening, although all incurred some late riding penalties for their efforts. HBA had a hairy moment heading out of a horse station earlier where his mount determinedly seized the bit between his teeth and hared off in exactly the wrong direction, much to the amusement of the onlooking vet team. HBA regained steering shortly after his mishap, and was able to persuade his admirably enthusiastic steed to rejoin the gang.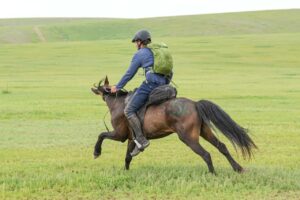 AHA also incurred her third vet penalty today, to be served by HS27 at the latest: how will she choose to play her hand now her previous plan seems scuppered?
Meanwhile, further back down the course the rest of the field were having an eventful day.
Claire Vile (CVI), Renee Senter (RSE) and Julie Wolfert (JWO), deciding the conventional path wasn't for them, headed off into the mountains between HS16 and HS17 last night in search of something a bit more adventurous. RSE explained that they had been having such a jolly time aboard some "fabulous galloping horses" heading out of HS16 that navigation had seemed like an unnecessary distraction, resulting in the missing of a few crucial turnings. Finding themselves lost in the hills, they had stumbled across a camp of 30 gers in a mystery hidden canyon. Edging closer, they were soon adopted into a summer camp for local Mongolian children, offered ger-service for dinner and even managed a spot of shopping for CVI at the camp shop, still lacking her gear. Not all those who wander are lost. Having got back on track this morning, they rode into HS17 with fantastical tales to tell, blissfully unaware they were about to have to turn to their GPS again to negotiate some testing sand dunes en route to HS18.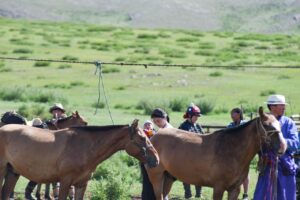 Sara Beck (SBE) meanwhile was displaying her trademark "Aussie spirit" at HS17, her customary huge grin on her face as she declared she would be waiting for her mates Marianne Finch (MFI) and Eleanor Aitken (EAI) at the station before riding on. Another "awesome" day in her "spirit country." Lovely stuff.
Unfortunately for SBE, MFI was by this point sporting a black eye to complement her purple thumb, and has decided to call it a day and join the party in the Blood Wagon. Not a bad place to be at the moment: Phoebe de Raeve (PRA) was back on top form today, proudly showing off her smashed scapula to her fellow passengers while enjoying the sun on the steppe.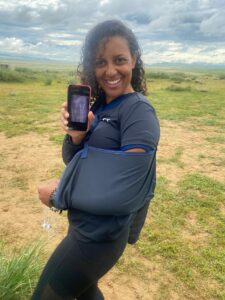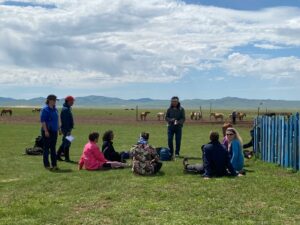 Tobias Endress (TEN) was looking a little lovestruck out on the steppe today, spotted at HS17 clinging somewhat possessively to a majestic chestnut beast who had ferried him there from HS16. His tips for those looking for love? "Listen to the herder…He saw me and pointed at this horse. It was a match made in heaven." TED vetted out safely and was soon reluctantly prised away from his new beau to head to the horse lines in search of a replacement.
Wendy Oswood (WOS) was also quite taken with her mount today, christened "Champion" after putting in a major shift to get her through the morning. "Champion" seemed to be rather happy with the coupling too, very contentedly standing by WOS' side to accept some well-earned ear rubs for his efforts.
Slightly further on the course, a monumental thunderstorm rolled into HS19 just as RSE, CVI, WJO and Kristin Carpenter (KCA) were pondering whether to ride on for the day. Squinting in the direction of HS20 and the impenetrable wall of steely rain blocking their path, the ladies decided they had better just stay put for the evening, thank you very much. Sensible call.
Heidi Falzon (HFA), Gabrielle Tigan (GTI) and Lena Haug (LHA) were not so lucky: caught out in the open between HS19 and HS20, they took a drenching before making it to HS20 for the evening, where they met a rather chilled Michael Field (MFE) who had also been caught by the downpour. MFE, HFA and GTI all have time to serve, which they have elected to get out the way at this station.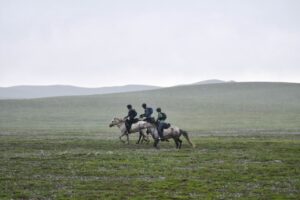 The Swiss team of Sarah Endress (SEN) and Flurina Hammer (FHA) agonised for some time over whether to push on from HS20 to HS21. They went for it, and made it in a cracking leg to secure HS21 to themselves for the evening, although incurring some late riding penalties for their troubles.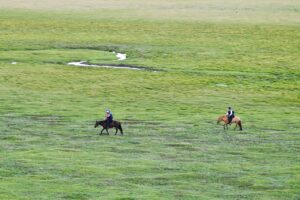 Ashton Garner (AGA) also made it into HS20, having taken shelter from the storm in a convenient nearby ger.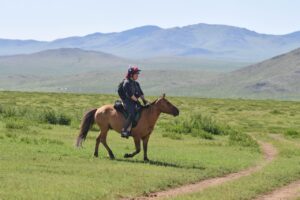 Iona Hutley (IHU) is getting the hang of this camping out business. Evidently finding gers a little too comfortable, she has fashioned herself a private suite in the back of a herder's truck this evening at HS19, to get a little closer to the stars.
Our closing shoutout for the day once again goes to the remarkable Brandy Dobbyn (BDO), the only rider on the Blood Wagon to ride the full day today, and with a set of broken ribs at that. We are in awe of you, Wonder Woman.
Tomorrow promises to be a crucial day for final placings: it's all to play for. Will the penalties dictate the outcome, or will some unforeseeable drama upset proceedings even further?
Day 7 Close of Play
HS25: CWA, PHE
Between HS23 – HS25: DGR, TAT, WJO
HS23: AHA, HBA, SED, SMC, TDO
HS22: KGA
HS21: FHA, SEN
HS20: AGA, GTI, HFA, KCA, LHA, MFE
HS19: ATO, AFE, CVI, EAI, IHU, JWO, MMO, MKE, PGO, RSE, SBE, TEN, WOS, WHE (BDO – Adventure)
Blood Wagon (Adventure Class): AKO, BFA, CCA, FGR, AKO, NTA, MFI, SRY
Retired: JON, NON, BST, PRA
Penalties
Late riding penalties: AGA (58 mins), AHA (20 mins), FHA (42 mins), HBA (10 mins), SED (10 mins), SEN (42 mins), SMC (20 mins), TDO (10 mins)
Vet penalties (2 hours): AHA, TAT
Photo credits: Louise Crosbie, Eledv-Ochir Bayarsaihan, Stevie Delahunt, Tulgaa Skizz, Shari Thompson, Erik Cooper.